This post contains affiliate links. As an Amazon associate I earn qualifying purchases. Click here for more about this policy.
Healthy Low Calorie Coleslaw made with Greek yogurt instead of mayo and no added sugar. This simple, healthy coleslaw recipe is bursting with vegetables and nutrients while being lower in calories and fat. Low Calorie + Gluten Free + Low Carb with a Paleo/dairy-free option.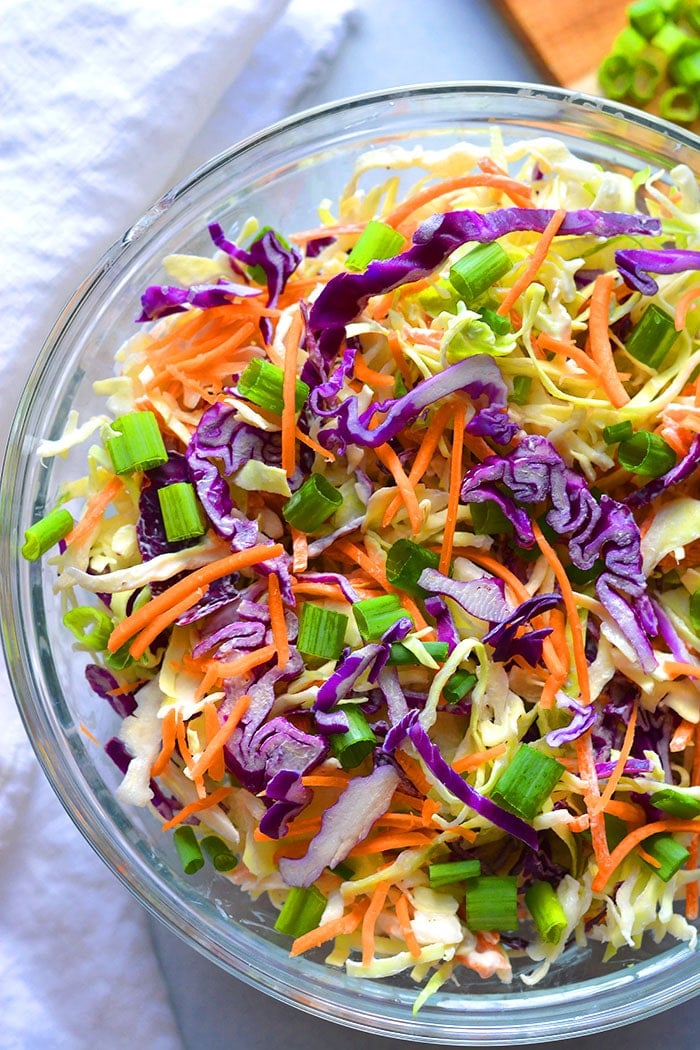 A little honesty here. I am not a big fan of eating Greek yogurt on its own. It's tangy and sour tasting and if your taste buds are used to the standard American diet then it will taste awful to you.
But Greek yogurt sure makes a wonderful substitute to higher calorie foods containing mayo. It's higher protein, lower fat and calories and adds just the right touch of tangy flavor in a recipe. I love Greek yogurt in this fruit salad, Waldorf salad, potato salad and broccoli salad.
So before you knock Greek yogurt, give this HEALTHY COLESLAW a try. It's a goodie served with my BBQ chicken.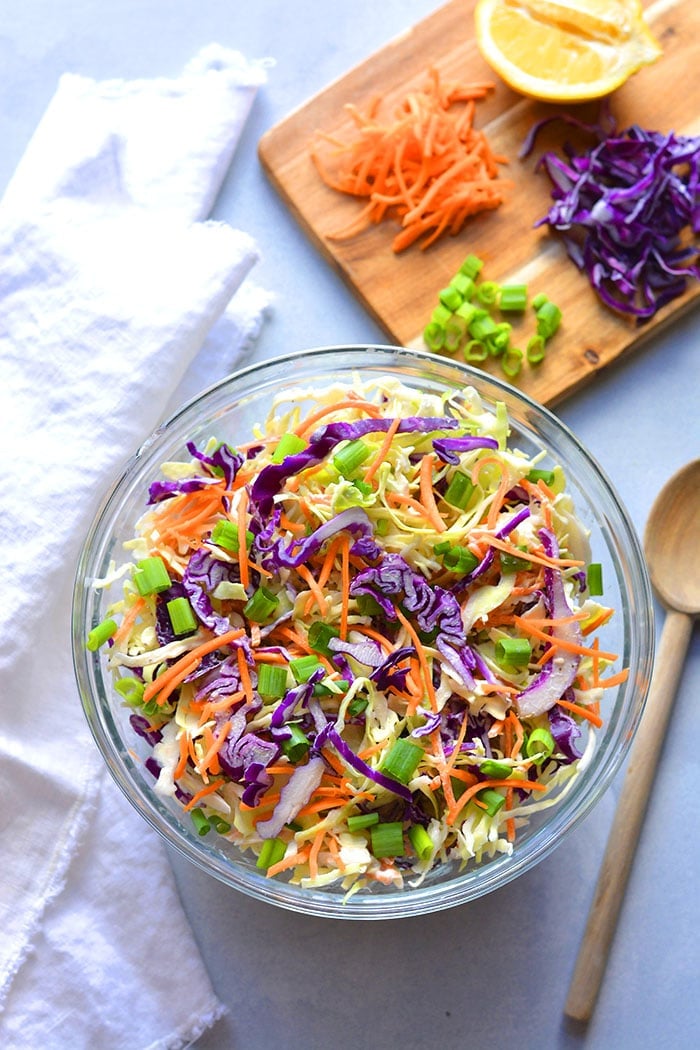 What Makes This Coleslaw Healthy?
There's many reasons why I love this coleslaw, but the primary reason is that it's better balanced in nutrition while being more calorie conscious at the same time.
Low Calorie - This slaw recipe is more calorie conscious by swapping mayo for Greek yogurt. It only have 40 calories per serving it's a high volume of nutrient dense food that will keep you fuller!
Gluten Free - The recipe is naturally gluten free (see substitutions for dairy free and Paleo options).
Higher Protein - The Greek yogurt adds protein to this coleslaw so you get 3 grams per serving. Protein is important for stabilizing hunger.
Lower Fat - Since there is no mayo in the recipe and I used nonfat Greek yogurt, the fat content is lower. You can, of course, use a higher fat content Greek yogurt if you choose.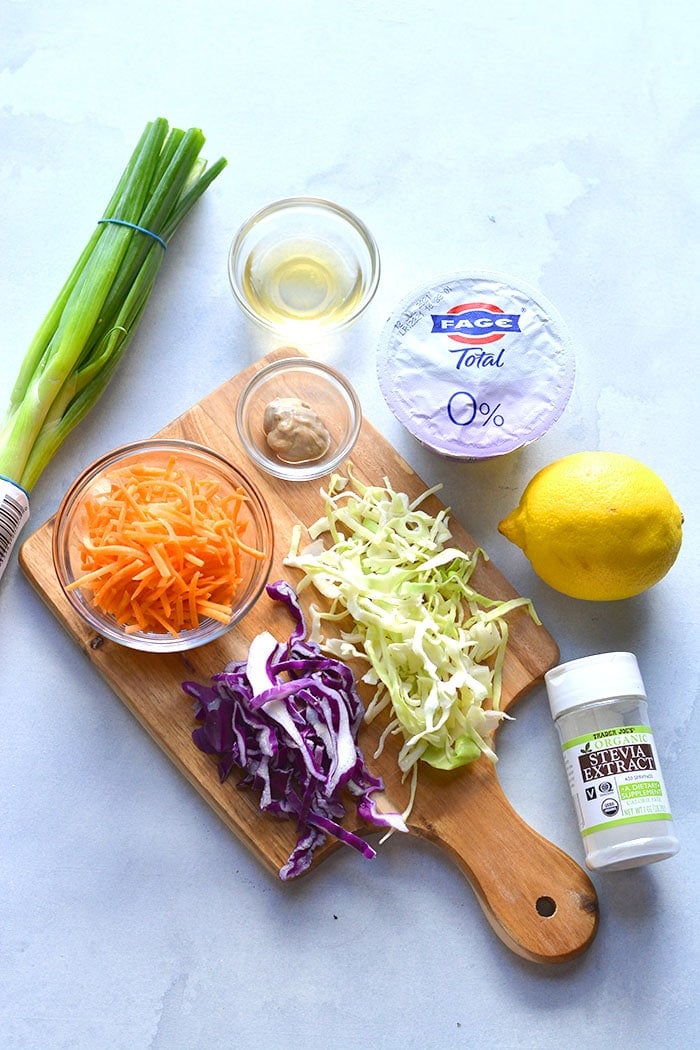 Ingredients For Healthy Coleslaw
Here's how to make a low calorie coleslaw you and your family will love! I recommend you have a large mixing bowl to make this recipe. These bowls are always my go to for making healthy salads.
Green cabbage
Red cabbage
Carrots
Green Onion
Lemon
Dijon Mustard
Greek Yogurt (see substitutions below)
Champagne Vinegar
Black Pepper
Stevia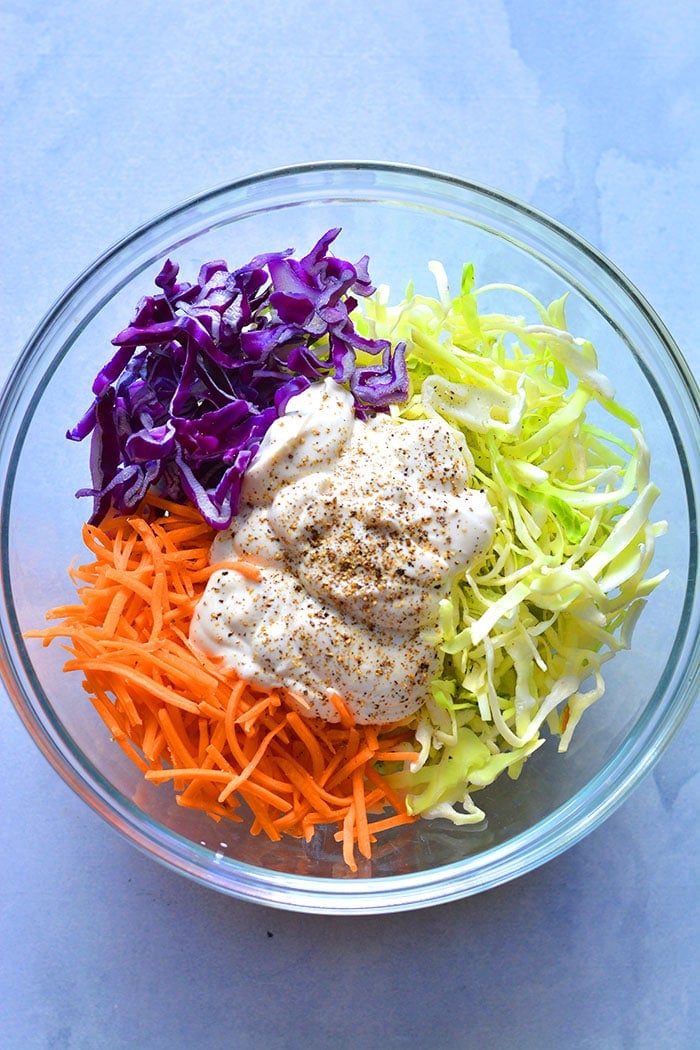 How To Make Coleslaw with Greek Yogurt
Making this low calorie coleslaw recipe is a breeze! All you do is mix the sauce together then combine with the vegetables in a mixing bowl and chill before serving. Healthy eating seriously doesn't get easier than that!
I purchased my cabbages and carrots pre-shredded so I could save time. I literally just had to slice the green onions, mix together the sauce and combine. It's a little more expensive to buy vegetables pre-cut and pre-shredded but it sure is a huge time savior and as many vegetables as I eat, the money is worth it to me!
How To Store Coleslaw
Coleslaw should be stored in the refrigerator. I recommend chilling the slaw at least 20 minutes before serving. After serving, store leftovers in the refrigerator up to 5 days. I do not recommend storing coleslaw in the freezer as the vegetables will get very soggy.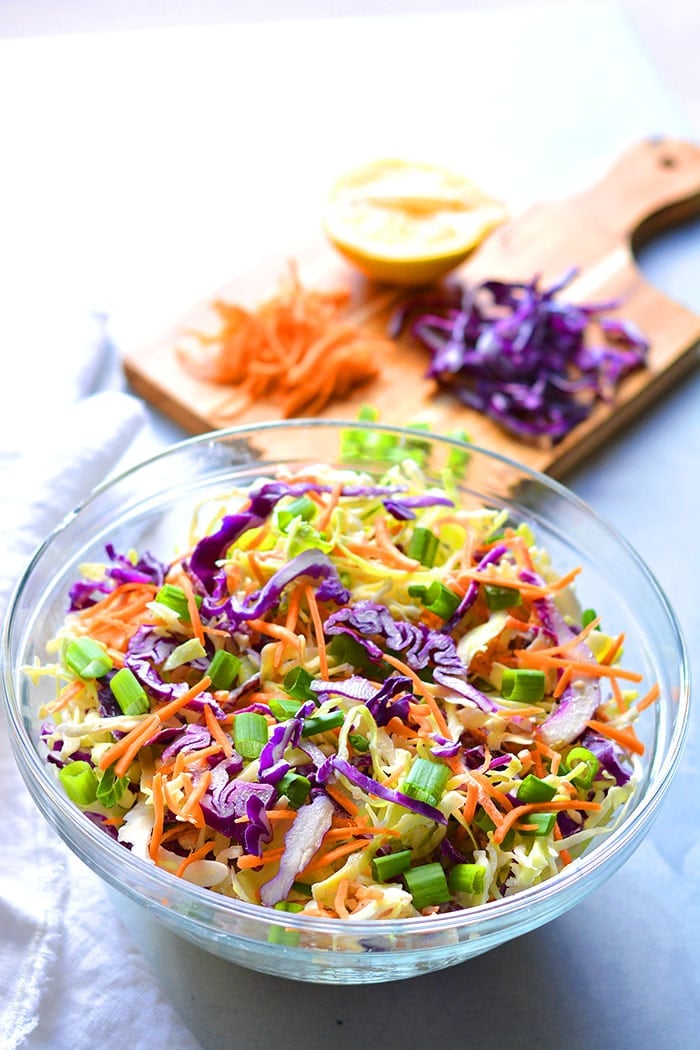 What To Serve With Healthy Coleslaw
I love serving this low calorie coleslaw recipe with BBQ chicken. I load up a plate of coleslaw and add the BBQ chicken (with no bun) to the top of the slaw. The flavors are amazing together! Here's a few more options for foods to serve with coleslaw.
Recipe Substitutions For Healthy Coleslaw
Here are the substitutions I recommend making for this mayo free coleslaw. Please keep in mind that substitutions do alter the nutrition values you see in the recipe card below.
Greek Yogurt - Dairy free yogurt can easily be used instead. I recommend looking for a dairy free yogurt that has no added sugar and is plain.
Stevia - Any sugar free substitute can be used. I prefer the Trader Joe's stevia. It has a very good taste and doesn't have a weird aftertaste like other stevia products. You can also substitute maple syrup or honey; however, this will increase the calories and change the nutrition significantly.
Champagne Vinegar - White wine vinegar or apple cider vinegar may be used instead.
Lemon Juice - Can be omitted or replaced with lime.
Cabbage - Coleslaw wouldn't be coleslaw without the cabbage, but you could do spiralized zucchini instead! Here's a zucchini pasta salad recipe for inspiration.
Carrots - Can be omitted and you can do cabbage only.
Green Onions - Can be omitted.
Additions - Sesame seeds, pumpkin seeds or cashews would make delicious additions to the slaw along with protein like shredded chicken.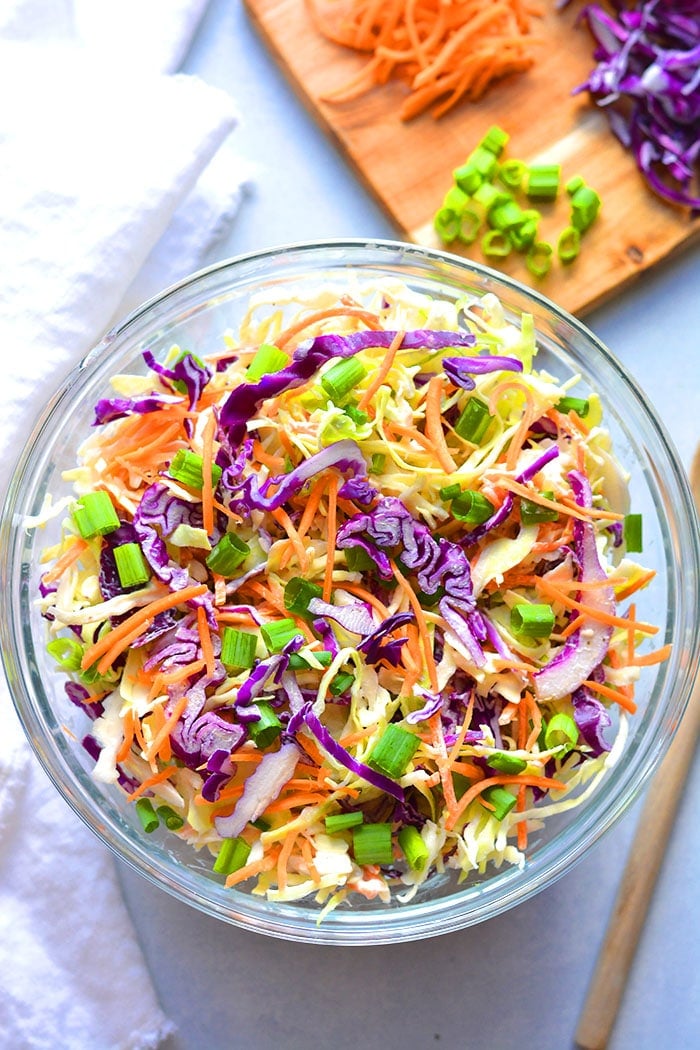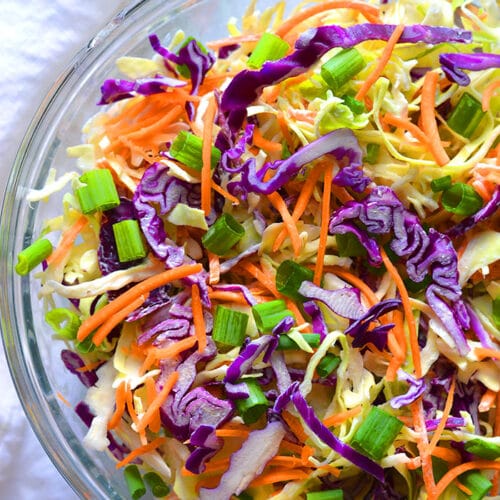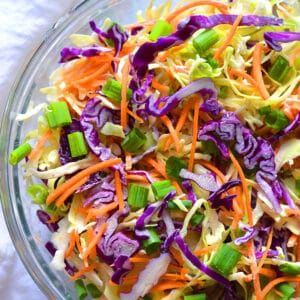 Healthy Low Calorie Coleslaw
Healthy Low Calorie Coleslaw made with Greek yogurt instead of mayo and no added sugar. This simple, healthy coleslaw recipe is bursting with vegetables and nutrients while being lower in calories and fat.
Ingredients
4 cups green cabbage shredded
1 1/2 cup red cabbage shredded
1 cup carrots shredded
2 green onions sliced
1/2 cup nonfat plain Greek yogurt
1/2 tablespoon lemon juice
1 teaspoon Dijon mustard
1 1/2 tablespoons champagne vinegar
black pepper and stevia to taste
Instructions
Add the green cabbage, red cabbage and carrots to a large mixing bowl.

In a separate bowl, combine the Greek yogurt, lemon juice, champagne vinegar, stevia and Dijon mustard. Stir well then pour over the veggies in the large mixing bowl. Add the green onions. Toss to combine and chill 20 minutes before serving.
Nutrition
Serving: 1servingCalories: 40kcalCarbohydrates: 7gProtein: 3gFat: 1gSaturated Fat: 1gPolyunsaturated Fat: 1gMonounsaturated Fat: 1gTrans Fat: 1gCholesterol: 1mgSodium: 46mgPotassium: 240mgFiber: 2gSugar: 4gVitamin A: 3899IUVitamin C: 32mgCalcium: 58mgIron: 1mg