This post contains affiliate links. As an Amazon associate I earn qualifying purchases. Click here for more about this policy.
Almond Flour Pumpkin Cornbread! A healthy cornbread made low calorie and gluten free with no refined sugar. Thick, tasty and healthy cornbread is perfect for the holidays! Gluten Free + Low Calorie
Fall is here and holidays are around the corner! I know I say this every year, but where has the year gone? This year has been particularly crazy and truth be told, I'm ready for the new year because that will mean all the secret projects I've been working on will be behind me.
But hey, we're not here to talk about that. We're here to eat CORNBREAD! My boyfriend's daughter likes the crappy box version. I was looking at the ingredients the other day and was like oh hell no. Sugar and chemicals. No wonder it's $1 and she likes it. 
We can do better than $1 boxed cornbread with questionable ingredients friends! Today we're making cornbread out of REAL FOOD and gluten free!
Almond Flour Pumpkin Cornbread
This cornbread is made with almond flour making it more filling than traditional cornbread and better for you too because there's healthy fat and fewer carbs. Almond flour makes the perfect substitute to cornmeal as it has the same texture.
Don't worry, there's still cornmeal in here just better balance. Most people won't even notice the difference!
This recipe's also lighter using pumpkin and just a touch of honey to sweetened. Fewer calories in a thick slice means you can eat more, yes?
What You Need
Pumpkin puree
Honey
Milk
Egg Whites
Baking Powder
Cinnamon, Nutmeg, Salt
How To Make Almond Flour Cornbread
This is probably the easiest cornbread I've ever made. Start by mixing the liquid ingredients in a standing mixer or using a hand mixer. This step is very important because you want to the egg whites to be fluffy. They do not have to be peaks, but you want the mixer to run two to three minutes.
After it's mixed, add the dry ingredients and mix just until it's incorporated. Do not over mix or the batter will be stiff and dry. Then transfer the batter to a cast iron skillet. Any baking dish will work, but the cast iron is the way to go here and they're not that expensive. I use mine for everything. A great investment!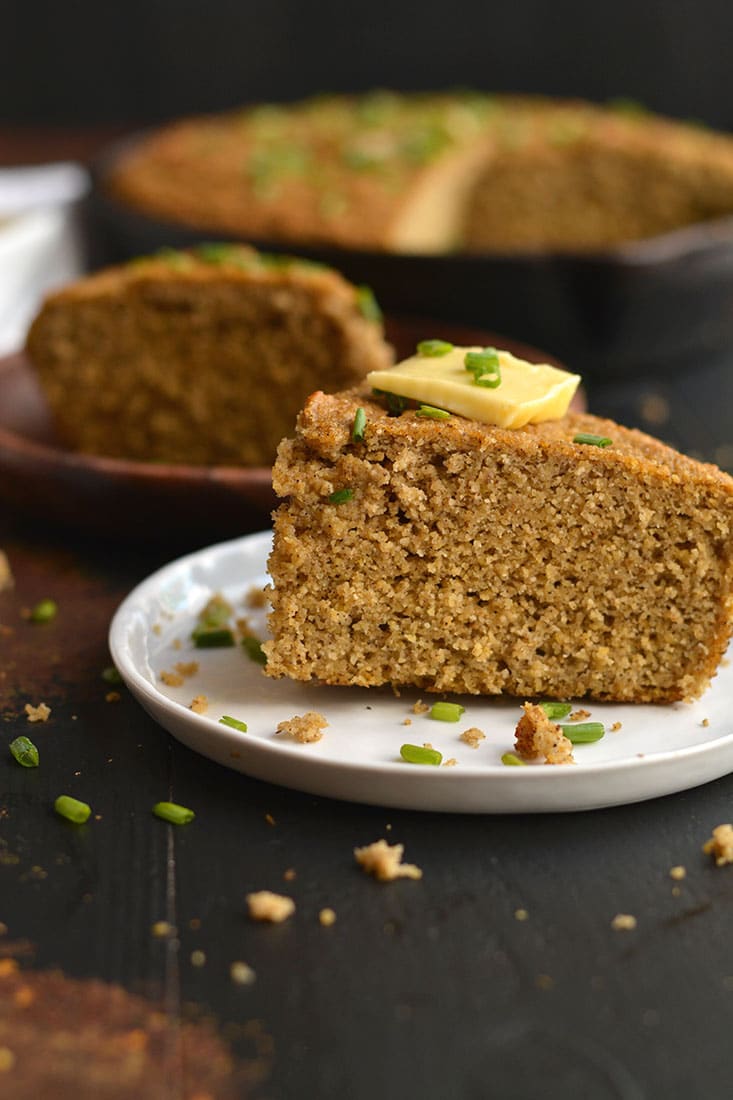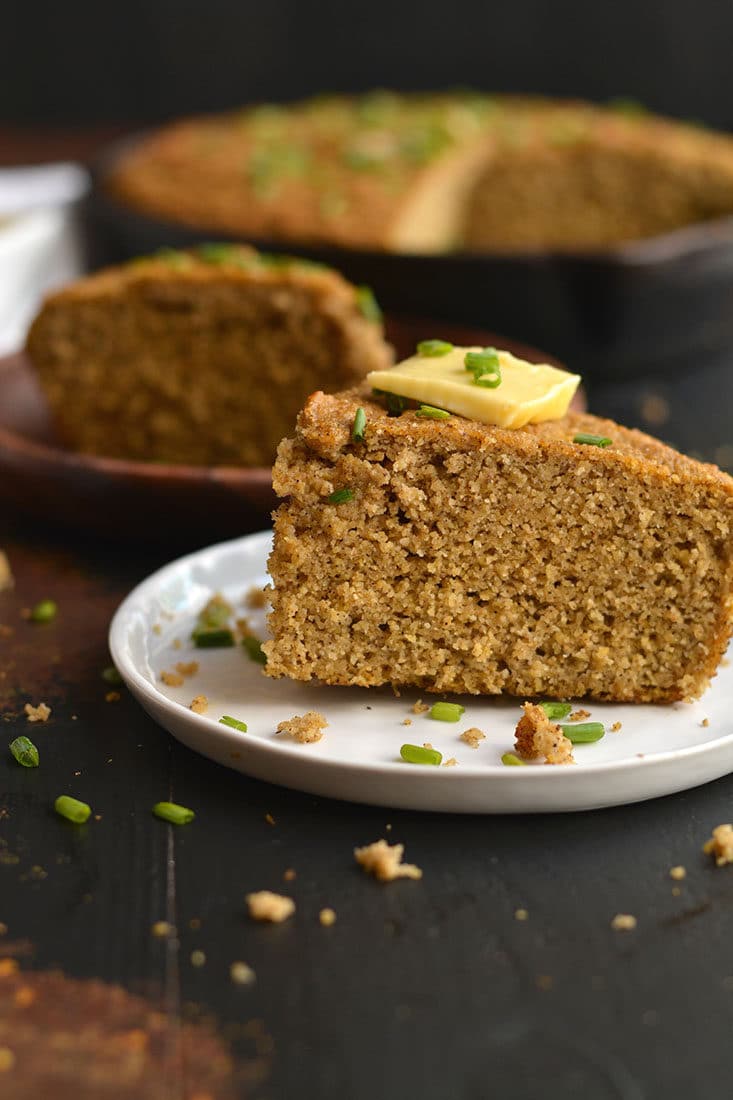 Helpful Tips for Making the Best Almond Flour Cornbread
I have not tested other flours with this recipe, but I suspect 1 to 1 gluten free baking flour or oat flour would work. Coconut flour definitely will not work. Coconut flour can never be substituted one for one in recipes. It requires an entirely new recipe.
Serve your cornbread warm with a grass-fed butter and chives on top. Mmm... I can taste the goodness now!
More Delicious Cornbread:
Almond Flour Pumpkin Cornbread
Almond Flour Pumpkin Cornbread! Almond Flour Pumpkin Cornbread! Gluten free and dairy free cornbread made refined sugar free and lower in calories. The perfect cornbread for the holidays! Gluten Free + Low Calorie
Equipment
Cast Iron Skillet

Standing Mixer
Instructions
Preheat oven to 375 F. Grease a cast iron skillet lightly with oil. Conversely, you can use an 8x8" baking pan for this.

In a standing mixer, or hand mixer, mix together the pumpkin puree, egg whites, milk, honey and vanilla extract for 2-3 minutes.

Add the remaining ingredients to the batter and fold them to combine. Do not over mix.

Pour the batter into the cast iron skillet then smooth into an even layer with a spatula.

Bake at 375 F for 40-45 minutes, until a toothpick can be inserted in the center clean. If using a regular baking pan, you may need to cook longer.

Cool a 10 minutes in the skillet before slicing and serving warm. Serve with sliced chives and grass fed butter.

Store cornbread in the refrigerator up to 5 days.
Notes
I haven't tested other flours with this recipes, but I suspect Gluten Free Baking Flour or Gluten Free Oat Flour would work.
You may need to use whole eggs for those flours though as they are less dense than almond flour and require more fat to balance them.
My Amazon shop has more products similar to those used for this recipe and that I recommend to my nutrition clients.
Nutrition
Serving: 1sliceCalories: 148kcalCarbohydrates: 21.6gProtein: 4.8gFat: 5gSaturated Fat: 0.4gSodium: 29.5mgFiber: 4.1gSugar: 8.2g