This post contains affiliate links. As an Amazon associate I earn qualifying purchases. Click here for more about this policy.
Butternut Sweet Potato Soup is a comforting, veggie packed soup. A healthy and delicious bowl of veggie packed goodness! Gluten Free + Paleo + Whole30 + Low Calorie + Vegan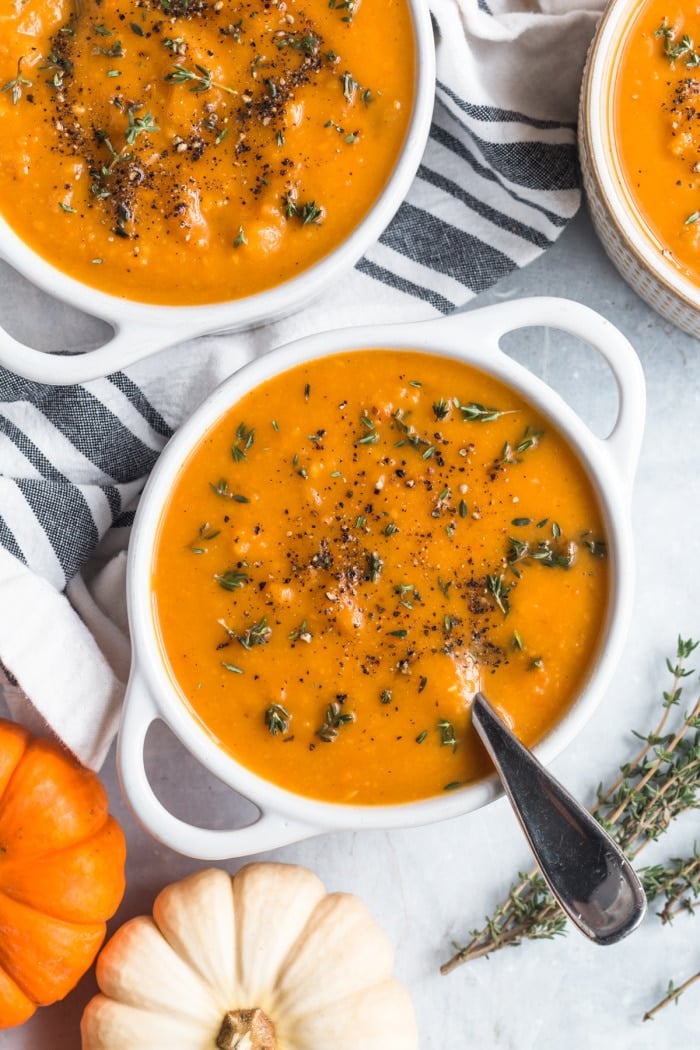 I have an slight obsession with butternut squash so if you love the bursting flavors of fall butternut, you are definitely in the right place today. This comforting bowl of goodness is sure to warm you up and fill your soul!
I have many butternut recipes on this website. Butternut squash maple oat pancakes, butternut squash cranberry salad, dark chocolate butternut bread, crockpot butternut chili, high protein butternut squash breakfast bake and now this yummy Butternut Sweet Potato Soup.
I didn't eat butternut squash until after I lost my 80 pounds and it was a leap for me. I was not a veggie lover, but tastebuds change and I was so surprised by how delicious it was. It is my favorite fall veggie to cook and bake with. It's so versatile and tasty!
Click here to pin this recipe!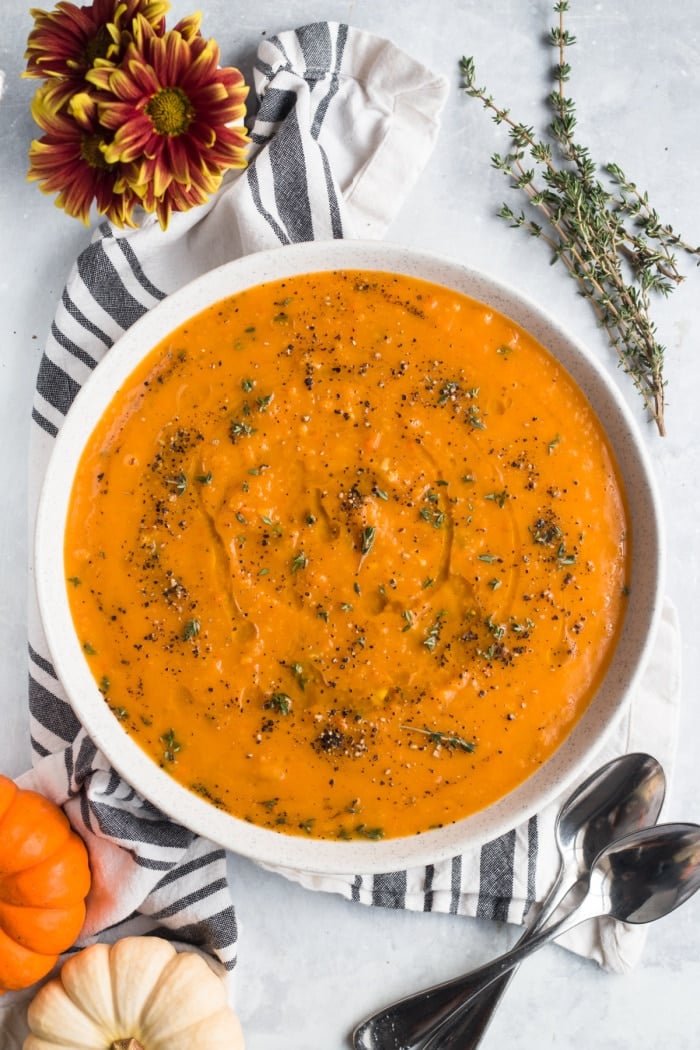 What Makes This Butternut Soup Healthy?
I'm always preaching on my podcast and to my weight loss clients about increasing produce in their diet. Produce has fiber and water that fills us up and doesn't have many calories. Here's a few more reasons why I love this yummy butternut soup!
Low Calorie – 190 calories per serving (about two cups) which is very low calorie. This soup would be great as a side to get your veggies in with a protein on the side or you could add protein to the soup too!
High Fiber – 5 grams of fiber per serving is very good for a meal. I talk about the importance of fiber in my free weight loss class.
Gluten Free – All ingredients are gluten free in this recipe.
Dairy Free – The milk I used is dairy free, but you could choose to use any milk you like.
Vegan / Vegetarian – This is dairy free and meat free making it a good option for vegan and vegetarians.
Paleo / Whole30 – This recipe is Paleo and Whole30 friendly.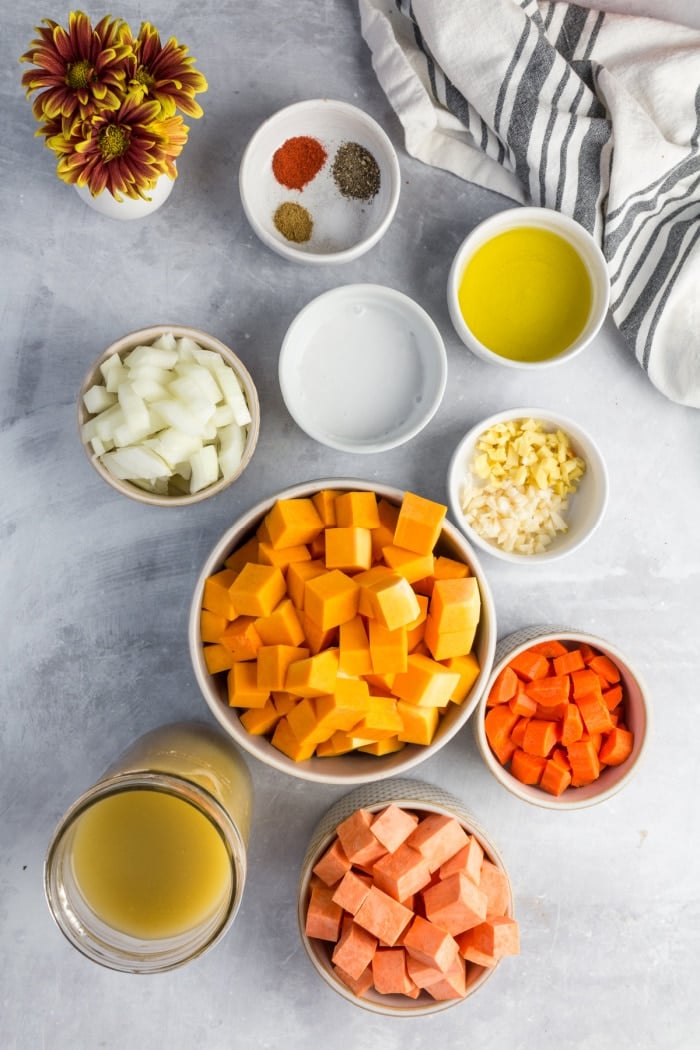 Ingredients For Healthy Butternut Squash Soup
This recipe uses very simple ingredients. You will also need a large baking sheet, large pot (I love my Dutch Oven for this) and food processor or blender.
Butternut squash
Sweet Potato
Carrots
Onion
Garlic, Ginger
Low Sodium Vegetable Broth
Almond Milk
Cayenne Pepper, Nutmeg
Salt, Pepper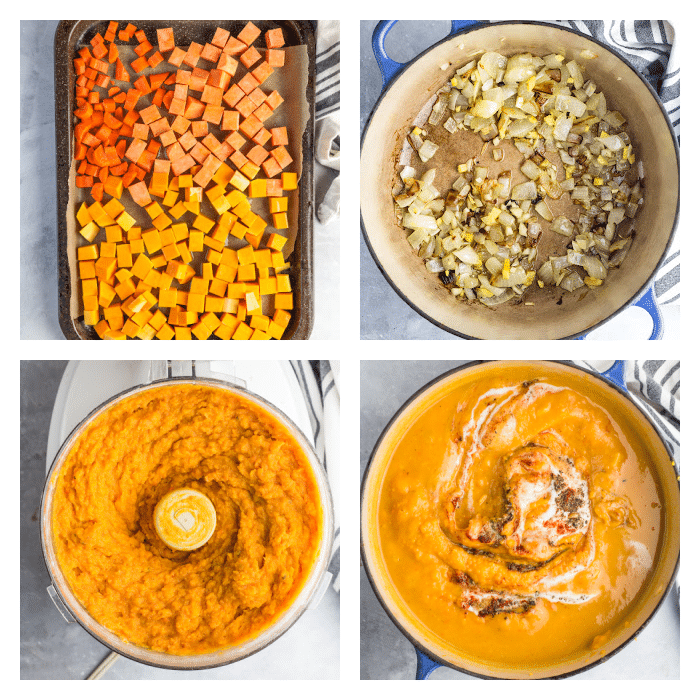 How To Make Soup With Butternut Squash
This soup is actually very simple to make. You can easily meal prep it for a healthy veggie packed meal later in the week, and/or freeze it for a meal at a later time.
First, peel and chop your veggies. If you never have eaten butternut squash you may be asking, can I eat the skin? You can eat it, but I wouldn't recommend it. And if you never have cut butternut squash before, you may be wondering how to cut a butternut squash? Start by cutting the stem then slice the squash lengthwise in half. Remove the seeds and strings. Discard then dice the squash into one-inch pieces.
Place all the veggies on a large baking sheet lined with parchment paper. Spray with with avocado spray. Because you are roasting the veggies at a high temperature, you never want to use olive oil as it will become rancid.
Roast the veggies in the oven until tender then remove and cool briefly. Blend in a blender or food processor with the milk until it becomes a puree.
While the veggies are briefly cooling from the oven heat a large pot over the stovetop and add the olive oil, garlic, ginger and onions. Sauté until tender then add the puree to the pot along with the broth, and remaining seasonings.
Bring to a boil then reduce to a simmer for 20-minutes before serving warm! This soup will last in the refrigerator up to 5 days or in the freezer up to 3 months.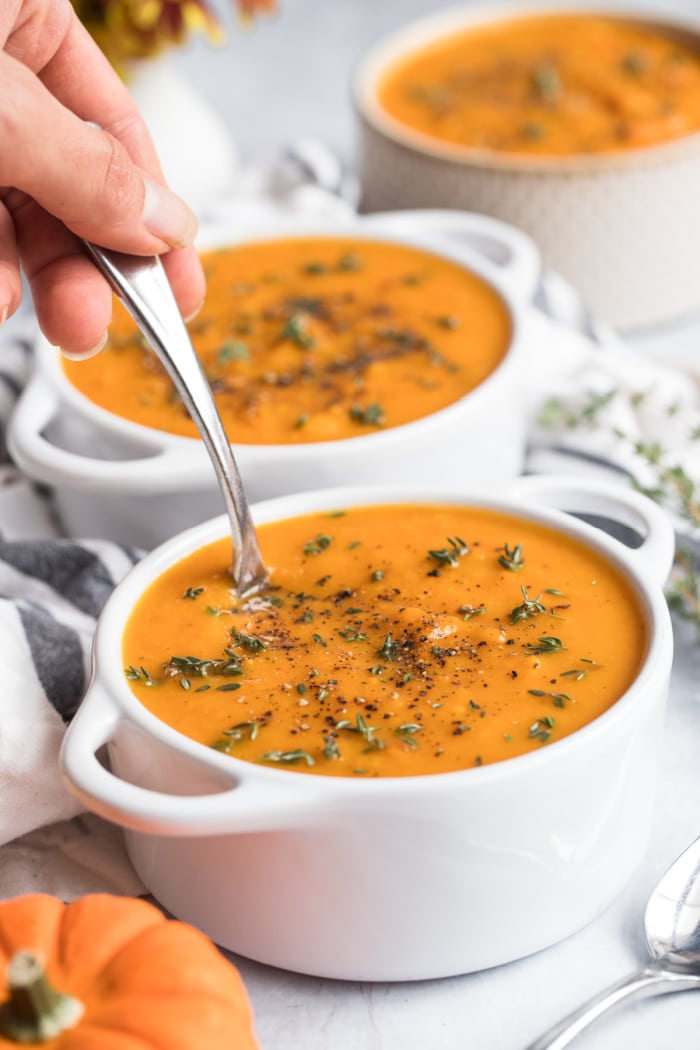 Substitutions For Butternut Soup
Here are substitutions and additions you could make to this recipe! Please remember that substitutions and additions will change the nutrition data from what you see below in the recipe card.
Butternut Squash – Acorn squash, delicata squash, Hubbard squash could be substituted in place.
Sweet Potato – Any potato can be used. Parsnip or cauliflower can be used as well.
Carrots – Parsnips or turnips could substitute the carrots.
Onions – You can omit the onions or use scallions.
Vegetable Broth – Any broth can be used. I recommend a low sodium one.
Almond Milk – Any dairy-free milk can be substituted. I recommend one with no added sugar. You can also use regular milk if you are not dairy-free.
Olive Oil – Avocado can be subbed. I always recommend staying away from canola and seed oils.
Additions – Adding protein like shredded chicken or ground turkey, lean ground beef or ground chicken breast, chicken or turkey sausage, or Beyond Meat would make this a complete meal. Greek yogurt, sesame seeds and sliced green onions are delicious added to this soup as optional toppings.
Click here to pin this recipe!
Butternut Sweet Potato Soup
Butternut Sweet Potato Soup is a comforting, veggie packed soup. A butternut squash soup made low calorie, gluten free, Paleo and Vegan! A healthy and delicious bowl of veggie packed goodness! Gluten Free + Paleo + Low Calorie + Vegan
Prep Time 16 minutes
Cook Time 1 hour 5 minutes
Total Time 1 hour 21 minutes
Servings 5 cups
Calories 190 kcal
Instructions
Preheat oven 425 F. Place carrots, butternut squash and sweet potato on a baking sheet lined with parchment paper and spray with avocado spray.

Roast the veggies 40 minutes or until tender.

Remove the veggies from the oven and cool briefly before placing in a high-speed blender or food processor with the almond milk. Puree the veggies until smooth. Set aside.

Heat a large pot over medium heat on the stovetop. Add the extra virgin olive oil, garlic, ginger and onions.

Sauté a 2-3 minutes until the onions are tender then add the veggie puree, vegetable broth and spices to the pot. Bring to a boil then cover then simmer for 20 minutes.

Serve immediately or store in the refrigerator up to 5 days or in the freezer up to 3 months.
Recipe Notes
Each serving is about 2 cups. This may vary depending on the size of your veggies.
My Amazon shop has more products similar to those used for this recipe and that I recommend to my nutrition clients.
If you enjoy this recipe, check out my cookbook for more delicious recipes!
Course Soup
Cuisine American
Keyword butternut, butternut squash, dairy free, gluten free, healthy, low calorie, Paleo, soup, sweet potato, vegan, vegetarian
Recipe Video
Nutrition facts per serving (1cup)
Calories 190 kcal
Fat 6 g
Saturated Fat 1 g
Cholesterol 0 mg
Sodium 819 mg
Potassium 777 mg
Carbohydrates 34 g
Fiber 5 g
Sugar 8 g
Protein 3 g
Vitamin A 25809 %
Vitamin C 33 %
Calcium 109 %
Iron 2 %
What I Used For The Recipe