This post contains affiliate links. As an Amazon associate I earn qualifying purchases. Click here for more about this policy.
Insanely delicious Dark Chocolate Butternut Squash Bread! Made gluten free with whole grains and lightly sweetened, this protein packed bread is a chocolate lover's dream. You won't even know it has butternut squash or is good for you! Gluten Free + Low Calorie
Just letting you know, this Dark Chocolate Butternut Squash Bread recipe was originally published January 2016. I retested, rephotographed and updated the content for you. Hope you enjoy it!
One of the hardest lessons I've had to learn in my 80 pound weight loss journey is balancing treats and unhealthy food in my diet. For a long time, I was fearful of incorporating these foods in my diet fearing I would go back to my old habits and gain the weight back. It took a really really long time...as in years  before I trusted myself around these foods.
I know people don't want to hear this, but it just takes time to trust. That means being patient with yourself and allowing time to heal your relationship with food. It's much like real relationships with people. Some take more time to heal from than others.
We've talked about this on and off in my membership group the last few weeks. I keep stressing the importance of allowing yourself flexibility to eat off plan. Exactly why there's 2 open days on my meal plans. To allow flexibility, eating out and time off from thinking so hard about what you're eating. I don't think it's healthy to think about what you're eating all the time, just like it's not healthy to workout all the time.
Finding balance takes time and patience, and know people don't want to hear that. We live in a world where everyone wants everything fast. Get every answer you need on the internet fast, auto correct your spelling fast (who needs to know how to spell anymore?) etc.
Technology has turned us into a culture of wanting everything fast with immediate results.
Our bodies don't work like the internet. As a matter of fact, I think the internet stresses more people out than helps them. Too many people who think are better, prettier, thinner, richer than us. Take some time off from social media and thinking so hard for once.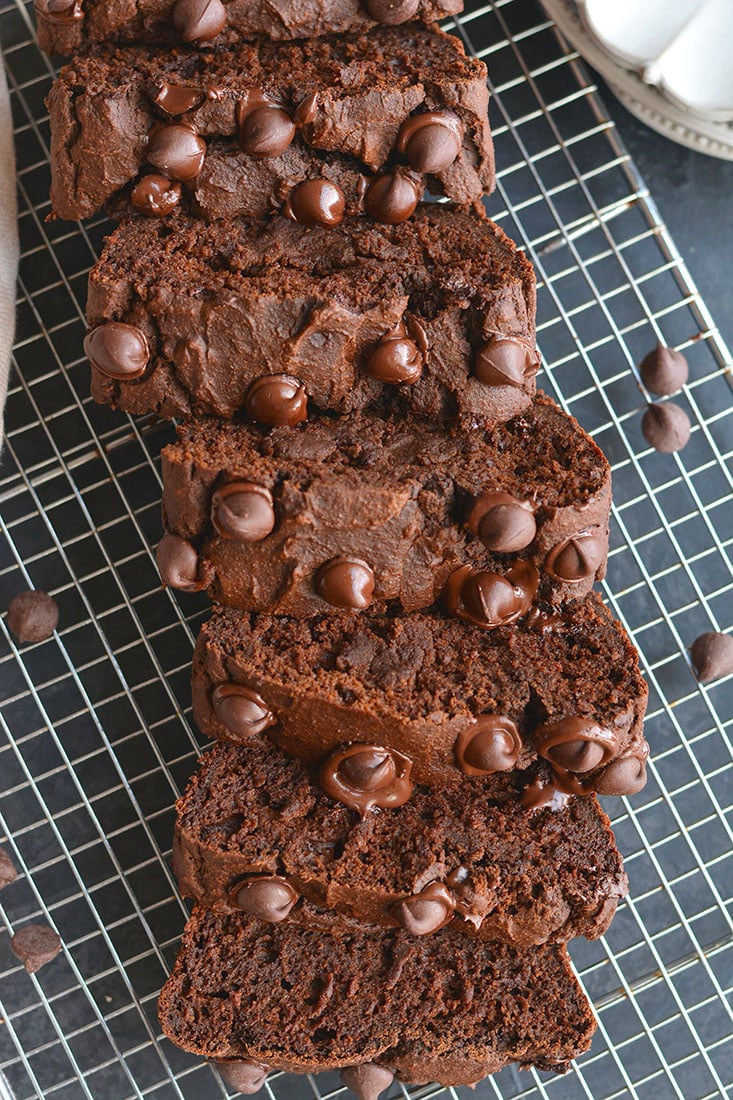 SO I want you to give yourself a freaking break (myself included) and bake. Yes! I'm giving you a license to bake. Baking soothes the soul and I know for a fact this Dark Chocolate Butternut Squash Bread will take your mind off anything and make you enjoy treats again.
Want to know the best part? This insanely delicious bread is healthier. So we get our balance! Made with pureed butternut squash, applesauce, Greek yogurt and whole grains, this cake-like Dark Chocolate Butternut Squash Bread oozes of creamy chocolate. Grab a a glass of milk, coffee, whatever and serve yourself a slice!
Click here to pin this recipe!
Dark Chocolate Butternut Squash Bread
Insanely delicious Dark Chocolate Butternut Squash Bread lightened up and made gluten free with whole grains, Greek yogurt and applesauce. This creamy, low calorie bread is what a chocolate lover's dreams are made of!
Instructions
Preheat oven 350 F. Prepare a

bread pan

by spraying with nonstick cooking spray.

Using a standing mixer or bowl for hand mixer, add applesauce, Greek yogurt and coconut oil mix to combine smooth.

Continue to combine, then mix in sugar, eggs and almond milk mix until fluffy.

Add butternut squash, almond extract, sea salt, baking soda, baking powder and cocoa powder. Mix to combine.

Slowly add the oat flour to the batter while continuing to mix. Do not over mix.

Add mini chips to the batter and fold in by hand reserving a few chips to sprinkle on top when finished. Transfer batter to prepared bread pan.

Bake at 350 F 45-50 minutes until a toothpick can be removed clean from the center.

Remove from the oven and cool in the pan 1 hour before slicing and serving.
Nutrition
Serving: 1sliceCalories: 159kcalCarbohydrates: 22gProtein: 4gFat: 7gSaturated Fat: 5gSodium: 190mgPotassium: 208mgFiber: 2gSugar: 8gVitamin A: 630IUVitamin C: 1.3mgCalcium: 51mgIron: 1.3mg
What I Used For The Recipe