I'm Megan! Certified nutritionist in private practice in Phoenix, Arizona. I help women over 35 lost weight and keep it off for good!
Learn about my individualized 6-month nutrition coaching here.
I lost 80 pounds in 2009, am living with Hashimoto's disease, cycle instructor and creator of Skinny Fitalicious. I love food, fitness, travel and all things wellness with a few unhealthy things sprinkled in here and there!
If weight loss is your goal, here's a free online weight loss masterclass I have for you!
Facts about me:
In 2009, I lost 80 pounds walking.
I am gluten intolerant which means all the food here is gluten free, low calorie and made with real food ingredients!
From 2014-2016, I battled multiple mysterious health problems that no one could diagnose. It took years and I went through hell being shuffled from doctor to doctor telling me I was fine. Eventually, I was diagnosed with Hashimoto's disease. Once gluten was removed from my diet, my symptoms dramatically changed along with quitting my stressful consulting job.
I have Hashimoto's disease and had Avascular Necrosis.
In September 2016, at the age of 38, I had a hip replacement.
My crazy hormones resulted in me going off hormonal birth control in 2017.
In 2015, I quit my IT consulting job and began my journey to becoming a nutritionist and started my practice counseling individuals for free while in school.
In July 2017, I graduated from Southwest Institute of Healing Arts Nutrition Practitioner Program and began my practice as a nutritionist focusing on weight loss for women over 35. SWIHA is accredited through USDE, ACCET and AZPPSE.
I was required to take Nutrition Through The Lifestyle, Human Anatomy, Biochemistry, Staying Healthy With Nutrition, Intuitive Eating, Supplements, Nutrition Research, Cognitive Behavior, Nutrition in Clinical Practice, Nutrition Counseling & Education.
In 2018, I ran a meal planning business with an RD (registered dietician).
I've worked with many other RD's and doctors in my practice in the past as well.
I am a member of NANP (National Association of Nutrition Practitioners).
I am also a certified health coach through IIN.
I am certified in DUTCH hormone testing.
I hold 2 certifications through NASM for weight loss and behavioral change.
I'm the author of the Low Calorie Cookbook which was published June 30th, 2020.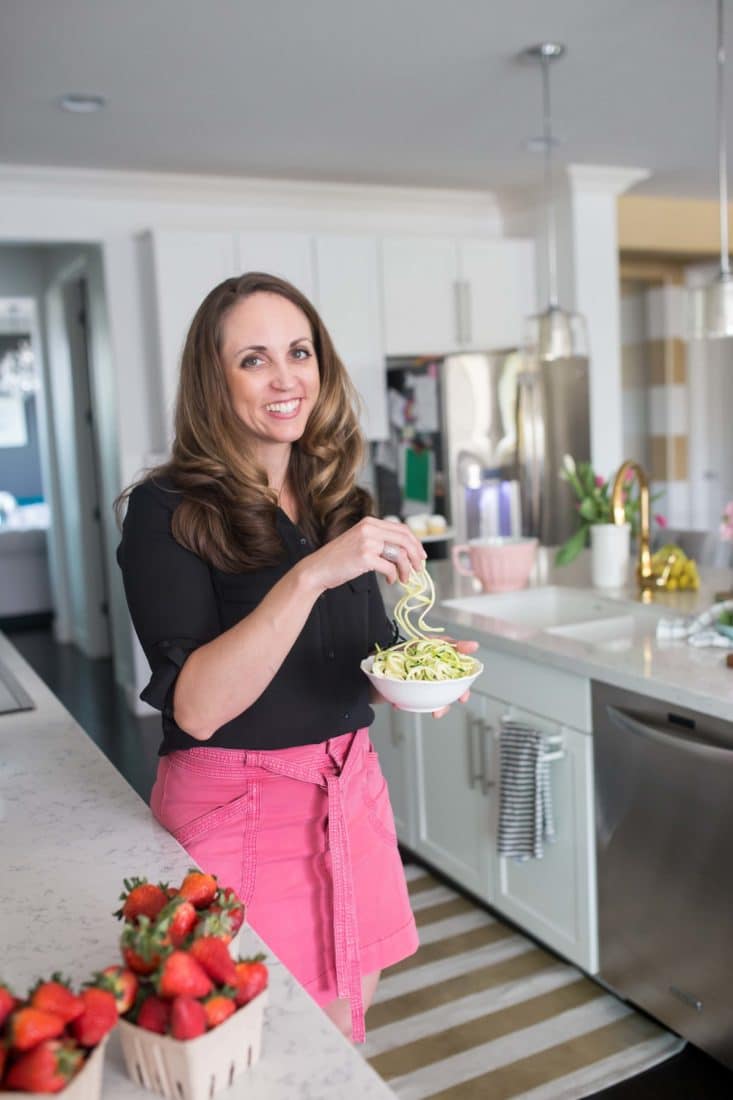 As a nutritionist, I value helping others find real solutions to their health as well as practical solutions and enjoyment in eating healthy foods.
For 2 years, I battled the medical system trying to get answers to my mysterious medical problems which ultimately led to my diagnosis of Hashimoto's disease and living a gluten free life.
Ways I Work With Clients:
Free Online Master Class
This free online masterclass teaches you how to master your cravings and the truth about lasting weight loss without relying on willpower, workouts or deprivation. Get educated on the 5 Diet Myths that are sabotaging your weight loss efforts and the 5 Essential Steps to Lasting Weight Loss.
1:1 Weight Loss Coaching
This 6 month program focuses on eating for your hormones and nutrition with a heavy focus on mindset and behaviors. Coaching takes place virtually 1:1 via ZOOM bi-weekly for 6 months.
If you are serious about weight loss, watch the free weight loss class to determine if its for you!
Podcast
My podcast has a wealth of free information and I have been told by many women that they have lost weight by simply listening to the free podcast.
Subscribe to the Dish On Ditching Diets Podcast on Apple, Google Play, Stitcher, Spotify or Amazon Music.
Skinny Fitalicious provides healthy, gluten-free recipes that are balanced and weight loss friendly.
My recipes are meant to help others find delicious versions of traditional foods they love so they can lose weight or maintain. My LOW CALORIE COOKBOOK is available for sale now!
Many people view weight loss as a temporary restriction of giving up foods they love. But to shed the weight forever, you need to completely overhaul your lifestyle and mindset.
I can give anyone the perfect diet and nutrition plan, but if their mindset isn't in the right place they won't succeed.
That's why I started Skinny Fitalicious!
To inspire you to eat healthier and be the greatest version of you! If I can lose weight and lead a healthy life after overcoming numerous health challenges, so can you!
Listen To My Podcast: iTunes, Google Play, Stitcher or Spotify.
More About Me: Frequently Asked Questions about Me How I Became a Nutrition Practitioner My Battle with Estrogen Too Young for a Hip Replacement Living With Avascular Necrosis Living with Hashimoto's Disease My Gluten Free Story & Hell I Went Through Getting a Diagnosis