One of my biggest fears having my hip replacement surgery (other than not ever being able to walk again which I'll get to in a minute) was not knowing what recovering from a hip replacement would be like.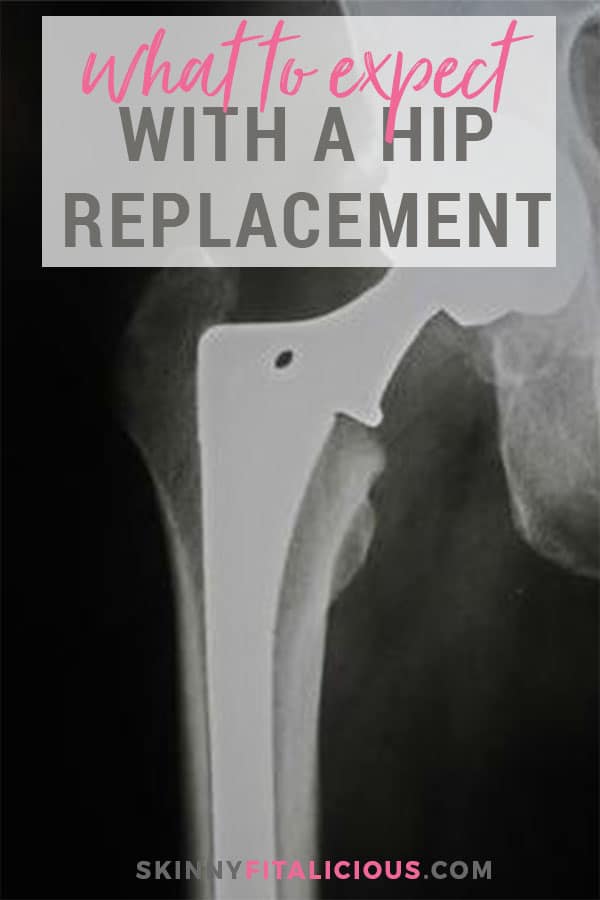 The closest thing I had was a triathlete friend in his 50's. He recommended me to my doctor which I am thankful for. If you know my complicated health history, then you know my luck with doctors has been horrible. My hip surgeon. He listens to every thing I say and doesn't pretend to know my body.
Despite my friend, I felt alone in this. Here I am, a healthy, extremely active 38 year old woman. People in my age group rarely have hip replacements. In fact, less than 5% of women under the age of 50 have them. I had no one to talk to who was as active as me to tell me what this would feel like. It was terrifying.
What To Expect Recovering From A Hip Replacement
The Surgery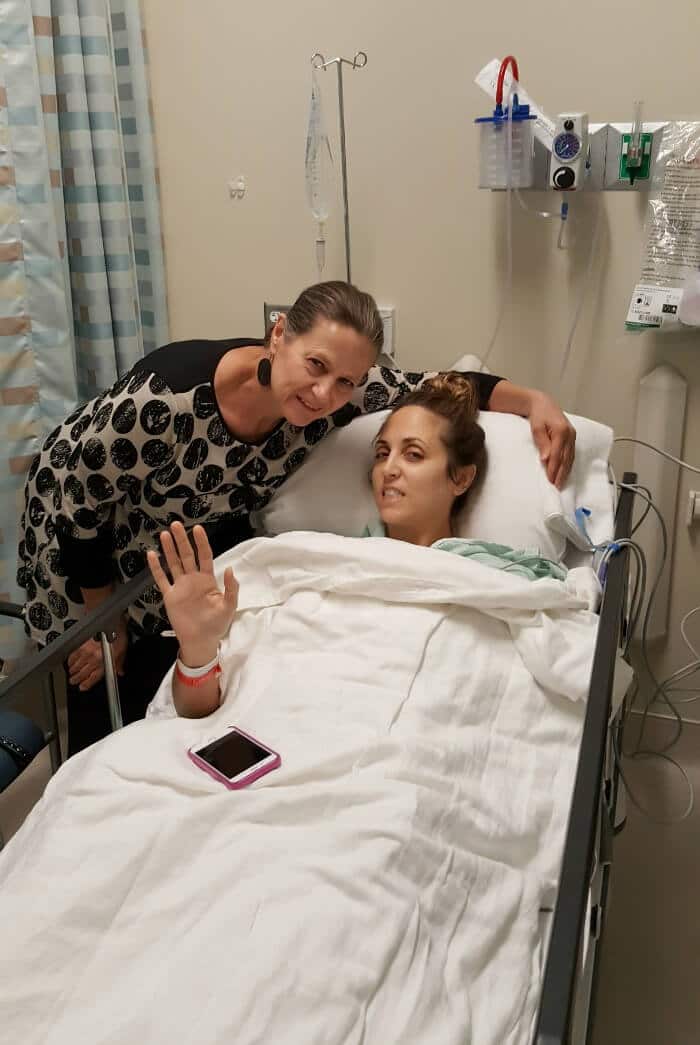 The day of the surgery the nurse took me back to prep and sign forms. When she read the consent form, "you are having a total hip replacement" I lost it. I couldn't believe this was happening to me. Then the doctor came and emphasized how much better I was going to feel. He told me I wouldn't believe him until after the surgery and he was right.
After surgery, the doctor told me it was the worst hip he's ever seen. He didn't know how I could walk. He showed me pictures on his phone which looked like a big blob of bloody tissues. That's exactly what you want to see when you're waking up.
As a side note, I had a robotic anterior hip replacement approach which is the newest surgical procedure with half the recovery of traditional replacements. Mine was also done outpatient to minimize infection.
The Day After Surgery
The day after surgery my physical therapist came to my home. I was very sore. It felt like someone beat my quad and hip with bat. It was very swollen which made movement difficult. But I had NO PAIN. It was a miracle.
In fact, the pain has been so mild I never needed pain meds. I've only taken anti-inflammatories since the surgery - another thing my doctor can't believe. Truth is the pain from the surgery was much less than the pain before the surgery. Imagine living your for 18 years in a lot of pain and one day it disappears. That's what it was like.
One Week Post Surgery
Two days post surgery I was walking with a crutch and/or a cane. That was the only good part about the week. The doctor told me to start biking, but my leg was too swollen and hot with inflammation. It was horribly uncomfortable. I had to constantly elevate and ice. I couldn't sleep or work that week because of the swelling. My back also hurt. My pelvis is tilted from years of a bad hip. The back pain is my pelvis adjusting to the new hip which can take months I'm told. Overall, it was not fun and I was going out of my mind.
Two Weeks Post Surgery
I knew the only way I wouldn't go crazy was getting to the gym and doing what I could do which was recumbent, spin bike and strength training. The doctor also released me to swim, and I quickly jumped in the pool only to realize how hard it was going to be. This was something that used to be easy for me.
Now it's hard. When I kick, it pulls my hip flexors which are still healing from surgery and my weak glutes tire quickly. What's good about the water though was that it helped the inflammation. It also made it very obvious how off balance I am on my right side which is why I started working on a BOSU to fix bilateral discrepancies.
Three Weeks Post Surgery
I was freaking out that I wasn't walking yet. Not being able to walk was my biggest fear recovering from a hip replacement. By week three, I could drive, climb stairs, ride a bike, elliptical, swim. Basically do everything except walk. It was frustrating not being able to do something that seems so simple. It felt like my brain didn't know how to make my muscles work.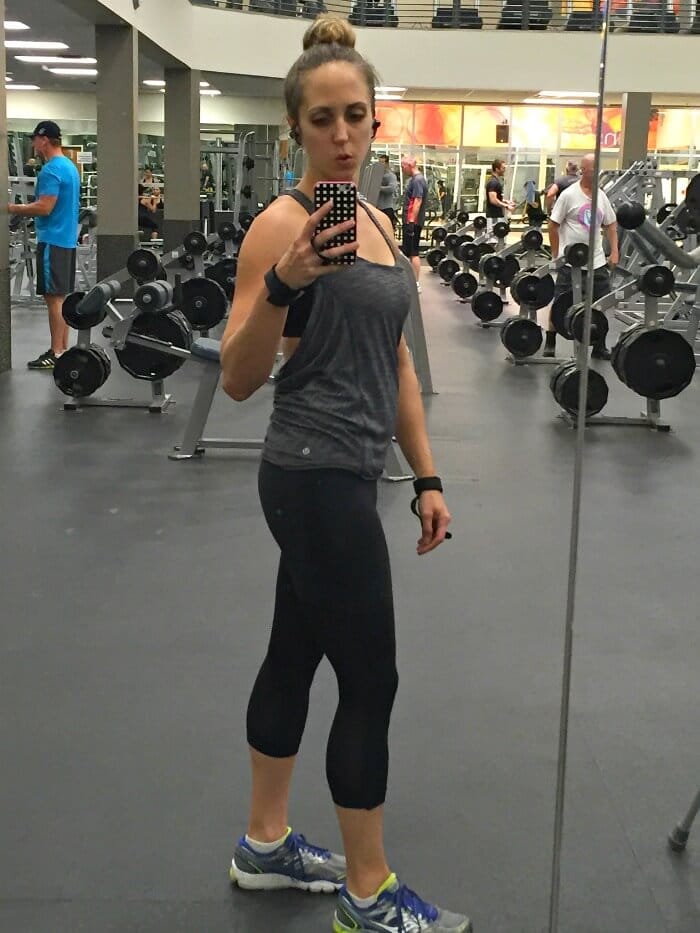 My therapist assured me it would take time. In fact, he stressed over and over how advanced I was compared to the average patient who takes 8+ weeks and that I'm recovering from a hip replacement which can take up to 6 months. While I know these things, I also know I'm not the average patient. Maybe I was being overzealous.
Four Weeks Post Surgery
I transitioned to outpatient therapy to my therapist who I've seen for two years. I knew if anyone could figure me out, it would be her. She had me incorporate weird things into my workouts like walking backwards on a treadmill for 5 minutes at a time and doing all weight lifting on my knees (one and two legged) to strengthen hamstrings, abductors, glutes and more importantly, my brain. I'm also kneeling while working during the day.
She said to me, "sometimes you need to do things differently to make your brain work again." As it turns out, the day after I saw her I started walking and I've been walking ever since. Go figure. No, I'm not walking great because I'm weak. But hey, I'm WALKING!!!
Today
I'm very active with my hip replacement teaching 5-6 cycle classes a week, swimming, walking and weight training. I do not run because it will ruin the hip replacement and wear it down faster. I don't feel running is worth it and truthfully, I'm so grateful to be pain free that I don't miss running at all.
For those having a hip replacement, here's some things to keep in mind.
What To Expect Recovering From A Hip Replacement
Strengthen your body before surgery especially core, hamstrings and glutes.
It will take a long time to recover. For most, 3-6 months.
You will need help at home as you recover.
Walking will be hard, very hard. Be patient & do your PT exercises consistently.
Have multiple ice packs. You will need them.
Expect swelling up to one year post surgery.
Put weight on the operated leg even if it hurts. Hips are weight bearing joints and need weight to strengthen.
Move! It helps with swelling.
Change positions frequently.
Find a good therapist or trainer to help you recover. My recommendation is someone pilates trained as they are able to identify very specific weaknesses in the body as compared to traditional physical therapists.
Last thought, YOU ARE GOING TO FEEL SO MUCH BETTER! I never imagined I could feel this good and there are things I can do now that I haven't been able to in years for example last week was my first time sitting Indian Style in 18 years!
If you're scared of having surgery, DO NOT BE! It's going to give you your life back.
October 2020 Update
Everyone keeps asking me how I'm doing with my hip replacement. I'm doing great, have had no issues and I am very active. I'm able to workout like I have in the past. I teach cycle classes, walk daily and weight training. Having a hip replacement was the best thing I ever did to regain my life back!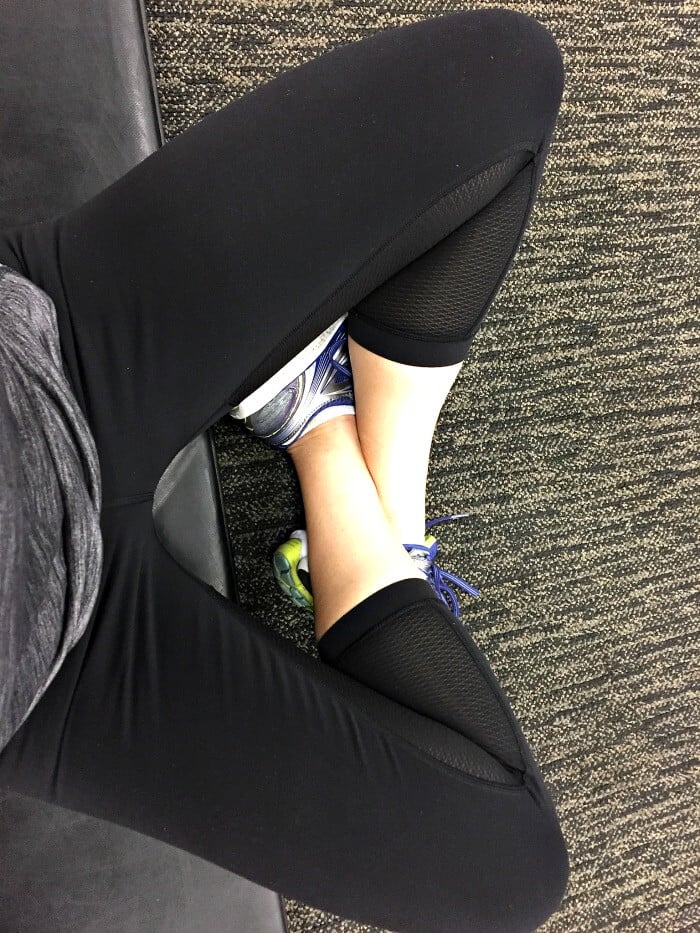 Since writing this post, I've had many people reach out to me about AVN asking for treatment recommendations. I cannot give you medical advice on AVN or hip replacements. Please consult your orthopedic on this.