As if I didn't already have enough medical issues with 
avascular necrosis
,
a total hip replacement at 38
and years of
amenhorrea
, I also have an autoimmune disease called Hashimoto's. Hashimoto's is a disease in which the body's immune system destroys the cells of the thyroid glands. I've been living with Hashimoto's disease for two years. That was when I was diagnosed, but based on my complex medical history I suspect I've been living with it much longer.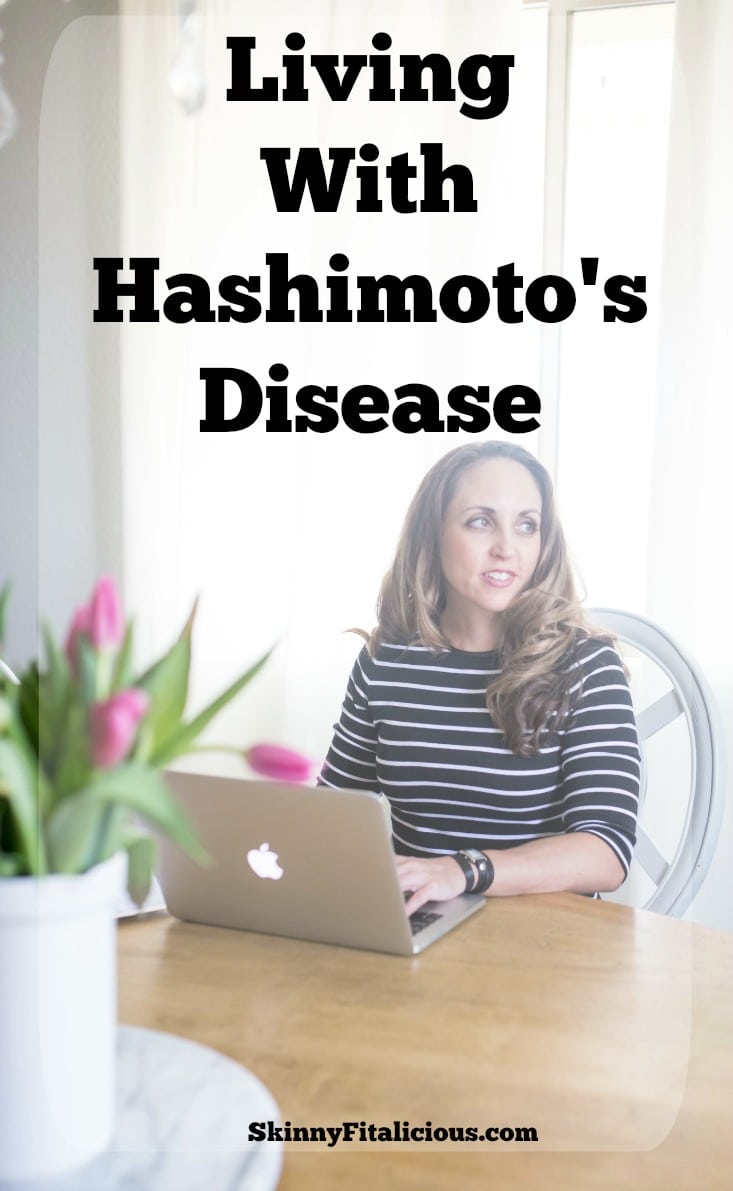 At 21, I was diagnosed with hypothyroidism, was put on medication (levothyroxine aka synthroid) to control it then 7 years ago when I lost 80 pounds, I became anemic and B12 deficient. Test after test and no one could tell me why I was deficient. Ironically, I was taken off the levothyroxine at this time as doctors told me my thyroid function was normal after losing weight.
But I knew something wasn't right...I had low energy, felt foggy, struggled to concentrate or sleep, was constantly cold and bloated.
After years of searching for a doctor who could help me, a friend recommended a functional doctor. This doctor was who diagnosed me with Hashimoto's. Until then no other doctor had run any other thyroid test other than TSH on me, and TSH levels can show normal even when the thyroid isn't functionally properly especially those triggered at the hypothalamic or pituitary level. My doctor ran every thyroid test and the results were incredible. My body wasn't converting T4 to T3 (the active thyroid hormone) on its own and my antibodies were off the charts.
My immune system was slowly killing my thyroid.
She treated me by focusing on gut health and removing gluten from my diet (hence why this blog is gluten free). The gliadin wheat in gluten is believed to trigger thyroid autoimmune disease in 50% or more people. Additionally, she put me back on levothyroxine and prescribed a new thyroid medication, liothyronine aka Cytomel. This medication is the active form of T3. Since my body wasn't converting on its own the medication was the missing ingredient in my treatment.
Once I did this, I immediately noticed a difference in my energy. Now two years later, my antibodies are much lower. They may never be within a normal range, but they're not as high as they originally were. I try to do the best I can about eating gluten free, but it's hard to navigate primarily when I'm out of the house.
One challenge living with Hashimoto's disease has been remembering to fill my medications every month and pick them up. I hate to admit this, but in this technologically advanced world going to the store for anything is a really big chore. Many of my nutrition clients express this challenge too.
That's why I love Phil! Phil is a smarter prescription refill service that delivers refills to your door on time and free. Phil partners with top-rated, locally owned pharmacies to deliver your medications to you. They make the process easy too!
All I did was sign up with some basic information. Then I told them what prescriptions I wanted to transfer and from what pharmacy. From there, Phil contacted the pharmacy, transferred them, worked with my insurance and doctor. Copays are the same with Phil. The process was so easy! I loved that in every step, someone from Phil emailed me to tell me where we were in the process so I always knew what to expect. Once my prescriptions were en route, Phil emailed me so I knew my prescriptions were delivered to my door, and sure enough there they were!
Phil also guarantees 100% satisfaction. They'll transfer your prescription back to your old pharmacy any time you want. If you're dealing with prescriptions, check out Phil. I've been referring my nutrition clients to them because they make refilling prescriptions so easy!
For first-time customers, Phil will pay up to $20 off your insurance copay, or $20 off the cost of the medication if you are uninsured, while supplies last.
Are you living with an autoimmune disease? How do you make refilling prescriptions easy?
[Tweet "Refillig prescriptions never got easier! #AD #PhilRx #Pmedia #ad"]
3 Smart Strategies To Stop Cravings