These Healthy Chicken Fingers have the same crunch as fried chicken for a fraction of the calories! Made with 4 ingredients, this Gluten Free meal is one you can feel good about eating! Gluten Free + Low Calorie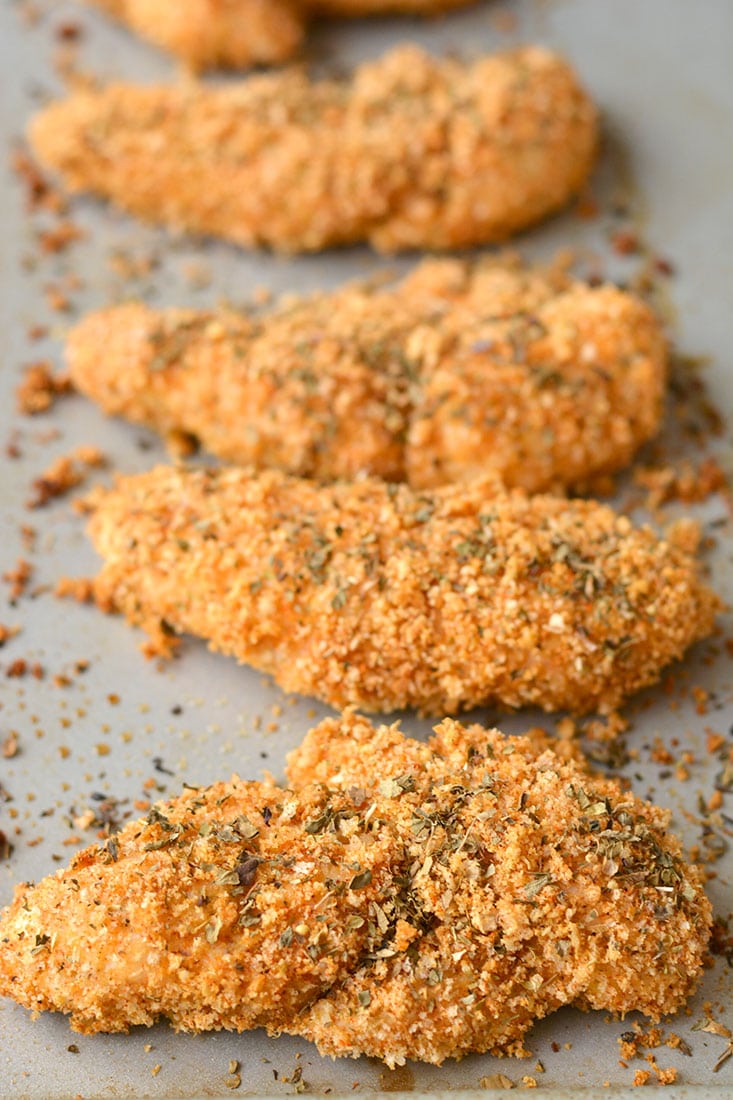 I don't know about you, but I fall hard for a good crispy, piece of breaded chicken. But when I went gluten free a few years ago for my hormone health, I discovered it was really hard finding good Gluten Free bread.
Just because a bread says it's gluten free doesn't mean it isn't processed and full of sugar and chemicals.
Gluten free bread is no different that white flour breads. You have to read the food labels and ingredients to understand if what you're getting is healthy.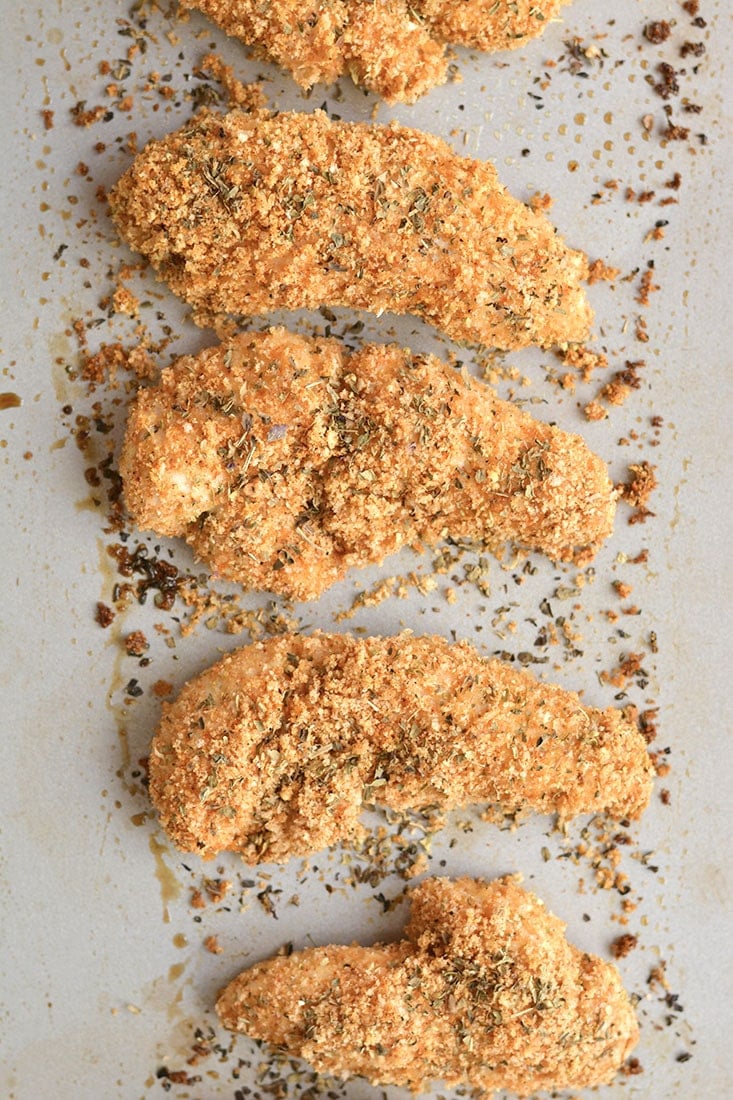 If you've coached with me, then you know bread is one food I caution my clients on eating especially if they're trying to lose weight and eat clean.
Many breads have questionable ingredients which is why I teach in the course how to find one that works for you!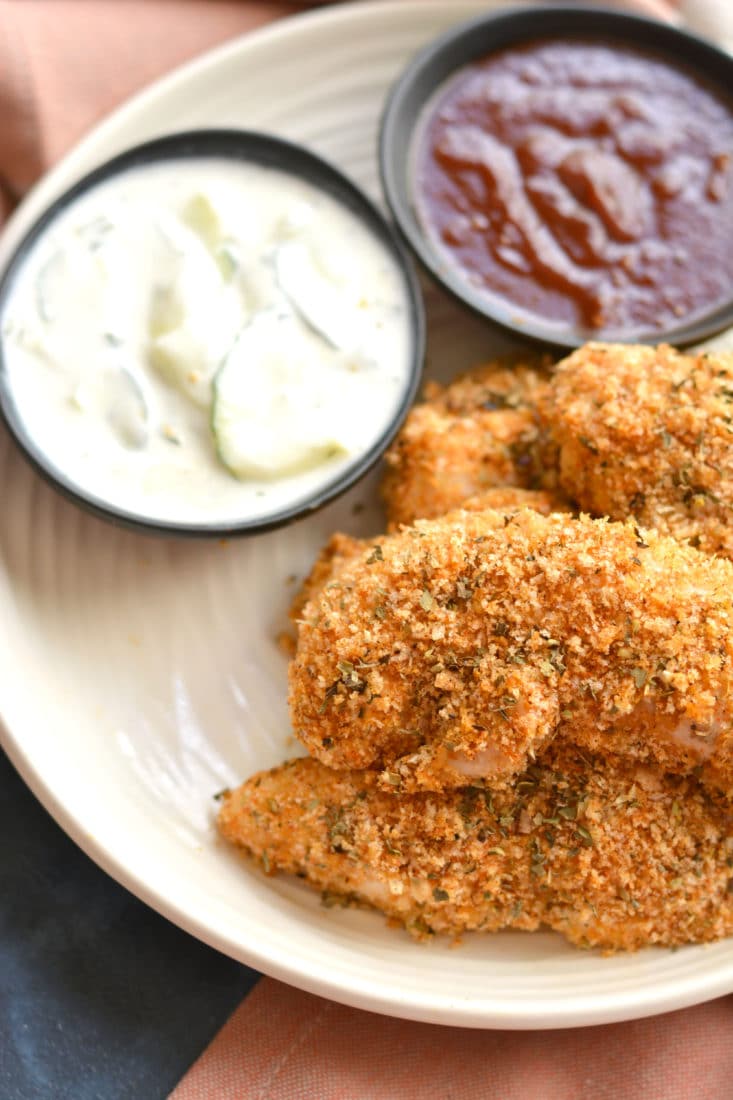 A few months ago, I found this bread at Sprouts. It's gluten free with millet and chia. It's only 70 calories a slice and the ingredients are good to go!
I'm not affiliated with them in any way, but I love their bread so if you, like me, have had trouble finding good gluten free store bought bread definitely check them out!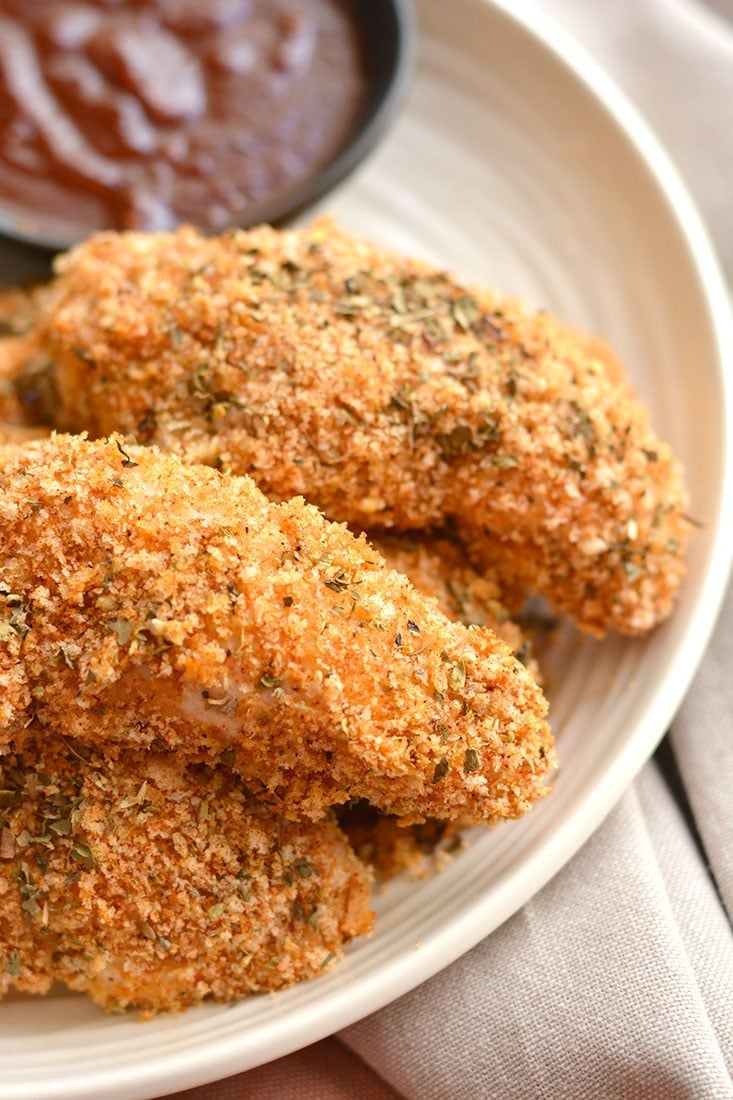 It's what I used as the breading for this recipe! While flour would work, I really wanted a real breaded chicken finger recipe I could sink my teeth into.
A healthy chicken finger recipe that was gluten free with gluten free bread, and this truly does the job!
So get your dipping fingers ready because these crispy, oven baked, healthy chicken fingers are calling your name! The best part is you only need 4 ingredients to make them and about 10 minutes.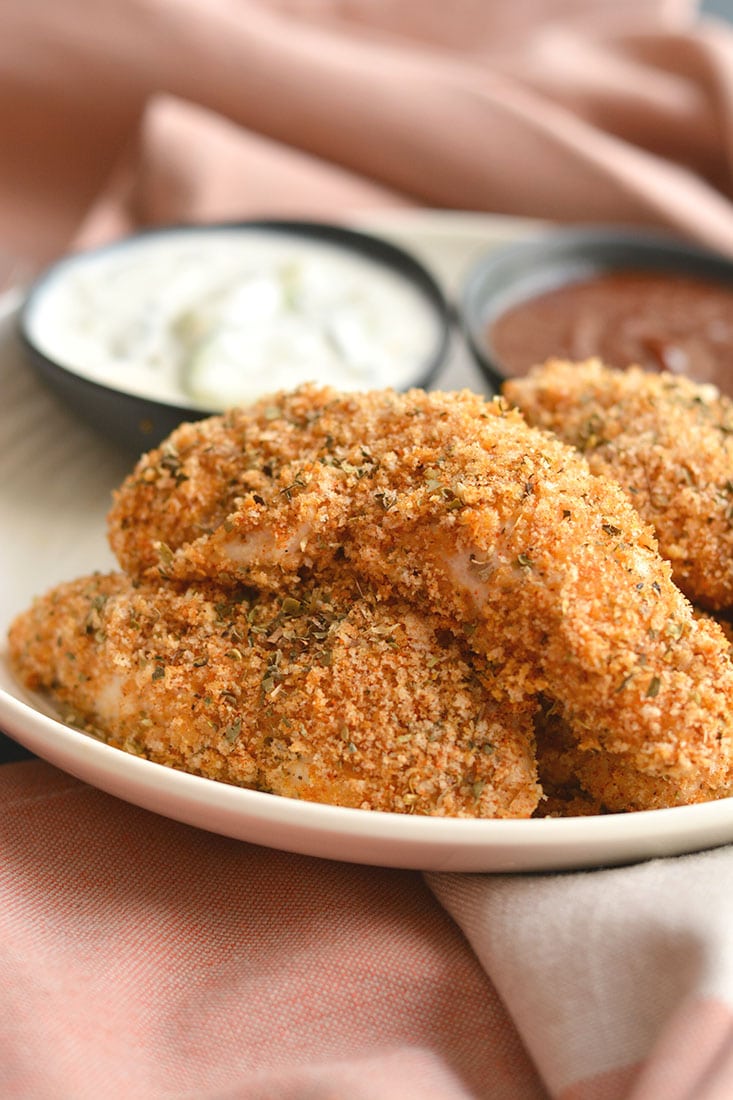 Fast, easy, and so simple! Baked together on a sheet pan for easy clean-up. Great for a no fuss dinner, or meal prepping.
I love making them during the week for a quick dinner with steamed veggies, then eating the leftovers for lunch on a ginormous salad. So good, and really so easy!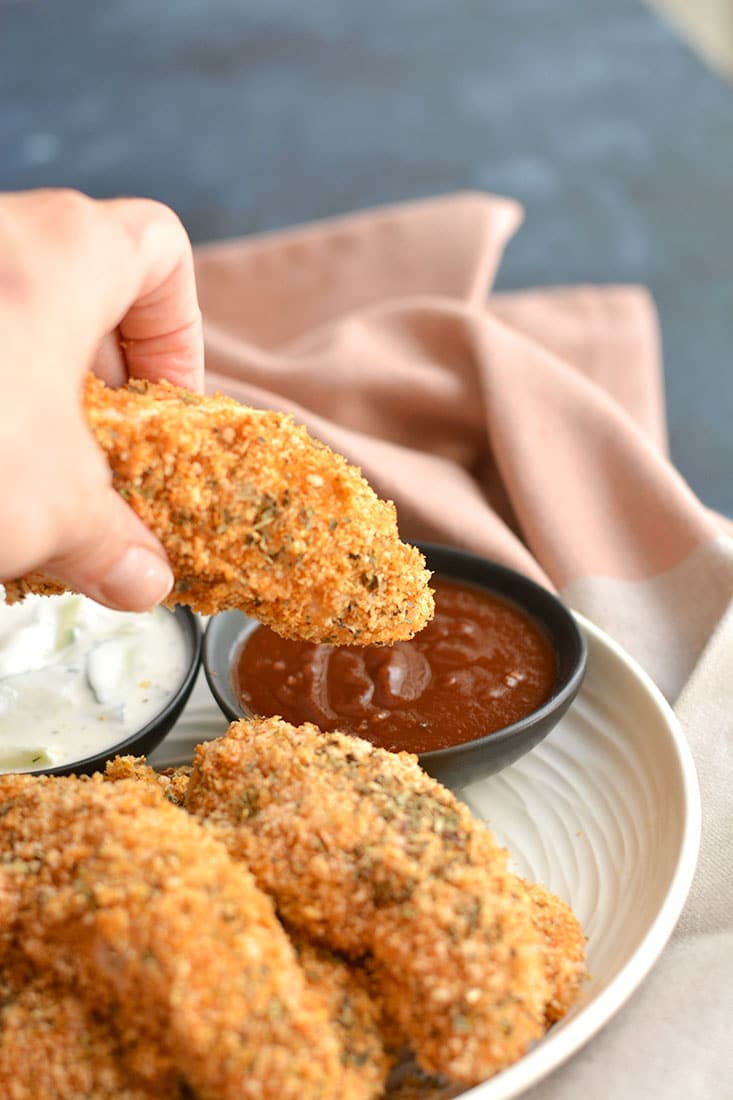 Healthy Chicken Fingers
These Healthy Chicken Fingers have the same crunch of fried chicken for a fraction of the calories! Made with 3 ingredients, this Gluten Free meal is one you can feel good about eating! Gluten Free + Low Calorie
Prep Time 10 minutes
Cook Time 12 minutes
Total Time 22 minutes
Servings 3 servings
Calories 217 kcal
Instructions
Preheat oven to 375 F. Prepare a baking sheet with parchment paper.

In a food processor or blender, pulse the two slices of Gluten Free bread until it turns into crumbs.

Transfer the crumbs to a small bowl, add salt, pepper and Italian seasoning.

In separate bowl, add the egg and whisk it with 2 tbsp. water until frothy.

Make an assembly line with the chicken, egg wash, bread crumbs and baking sheet.

Dunk a chicken tenderloin into the egg wash then directly in the bread crumb bowl, coating it liberally. Then place on the baking sheet. Repeat for all the chicken until complete.

Bake at 375 F 12-15 minutes until crispy and chicken is cooked through.
Recipe Notes
Serving size is about 2-3 chicken tenders depending on the size and amount of each package.
My Amazon shop has more products similar to those used for this recipe and that I recommend to my nutrition clients.
Course Dinner
Cuisine American, Dinner
Keyword bread crumbs, chicken, chicken finger, dairy free, easy, gluten free, healthy, low calorie, sheet pan
Nutrition facts per serving (1serving)
Calories 217 kcal
Fat 3.9 g
Saturated Fat 0.5 g
Cholesterol 135.7 mg
Sodium 550.3 mg
Potassium 0 mg
Carbohydrates 10.8 g
Fiber 2 g
Sugar 1.4 g
Protein 36 g
Vitamin A 0 %
Vitamin C 0 %
Calcium 0 %
Iron 0 %
Meal Plans
Get a meal plan designed to meet your weight loss goals.
Learn More