This post contains affiliate links. As an Amazon associate I earn qualifying purchases. Click here for more about this policy.
Low Calorie Protein Pancakes everyone will enjoy! Make the BEST low calorie protein pancakes with just 5 ingredients. Gluten Free + Dairy Free + Low Calorie + Low Carb + Paleo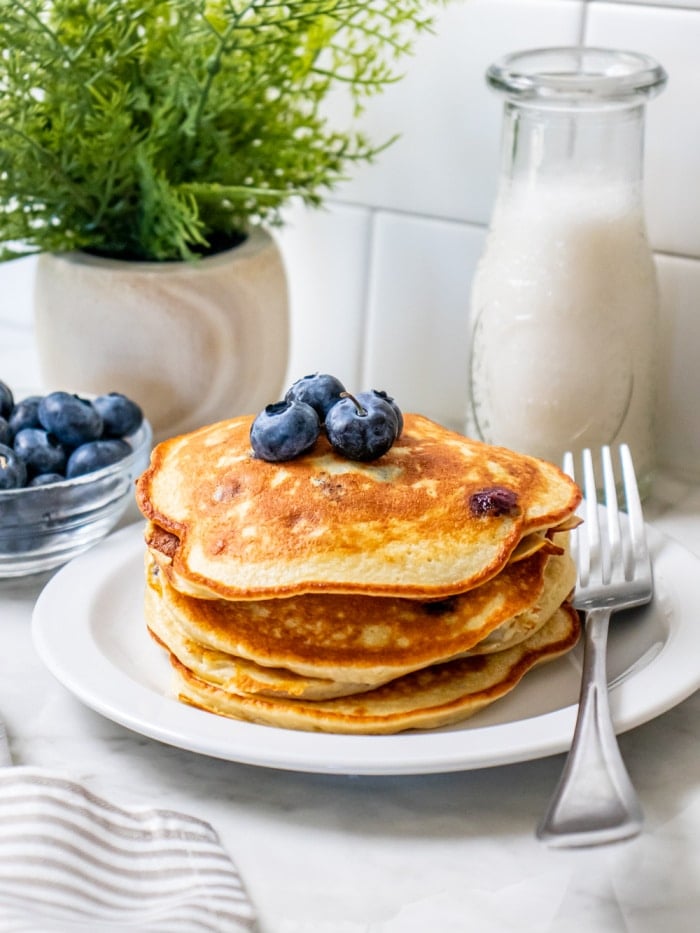 There's something comforting about waking up to a stack of pancakes in the morning! I wanted to make a pancake recipe that was protein packed yet nutrient dense while still being light, fluffy and delicious!
This recipe does just that while adding a solid boost a protein. Protein is SO IMPORTANT and is always the thing my clients are most deficient in.
Building meals and snacks around protein means your blood sugar will be more stable, you'll be fuller longer in between meals and won't have as cravings for snacks and sweets as much.
Increasing protein or balancing meals with protein fixes a lot of things women over 35 commonly struggle with mood, sleep, stress, hunger, hormone balance, weight loss and more!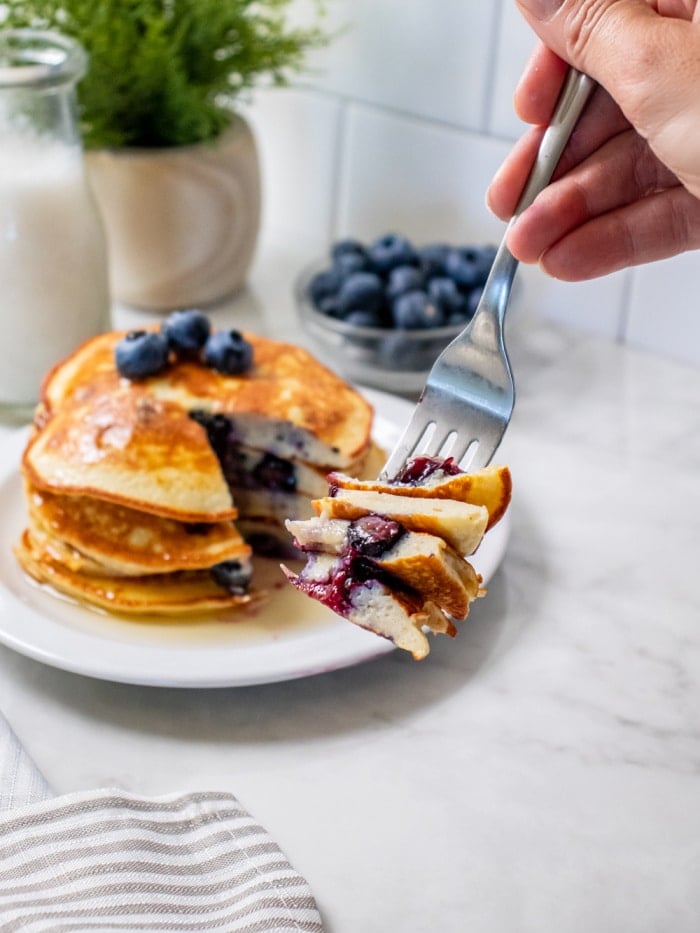 What Makes This Low Calorie Protein Pancake Recipe Healthy?
Pancakes are not generally a nutritious food, but these are! Here's what makes this protein pancake recipe better for you.
Protein – Protein is a critical nutrient to balance in all meals and snacks and lack of protein is the reason for a lot of hormonal and hunger issues I see in my clients. This pancake recipe has 36 grams of protein and even though the serving size is one pancake, that amount of protein will keep you fuller than a meal lower in protein.
No Flour – The protein powder replaces flour in this recipe. Replacing the flour means you will stay fuller longer from the protein. Flour based foods tend to make people hungrier when they are not balanced with protein.
Low Calorie – One big, fluffy pancake is just 235 calories which is much lower than regular pancakes.
Low Fat – These pancakes are lower in fat than traditional pancakes loaded with oil, butter and cream. They only have 3 grams of healthy fat!
Are Pancakes Healthy?
While pancakes are a popular American breakfast, they are not the most nutritious meal. They are usually high concentrations of fat and carbs and are deficient in protein.
I refer to foods like pancakes as non-fuel foods. They are for enjoyment, but not necessarily for nutrition.
This flourless protein pancake recipe, however, is a healthier pancake option for you. They're even dairy free and gluten free!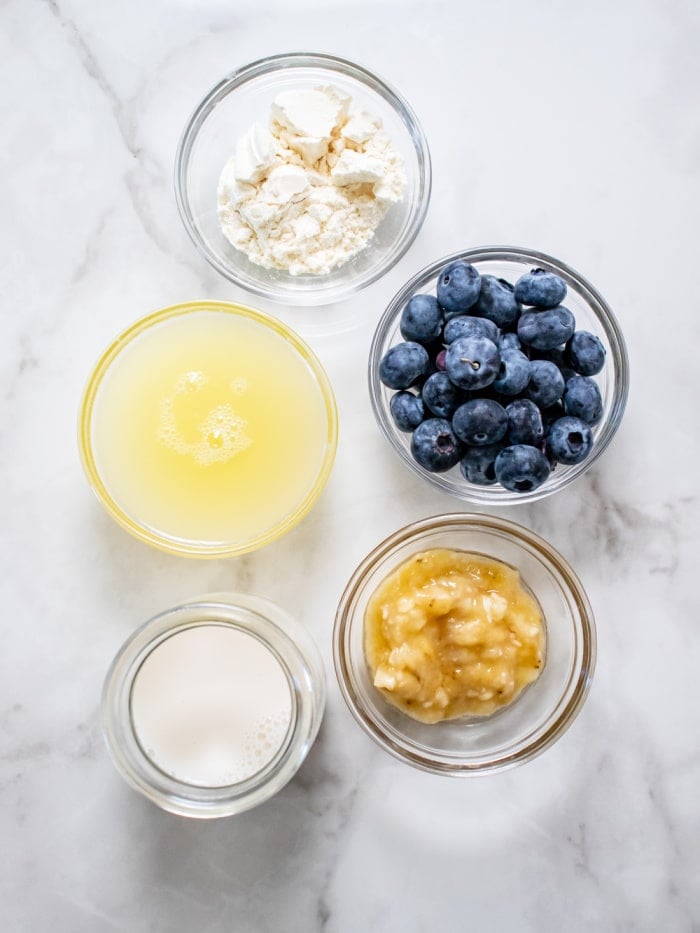 Low Calorie Protein Pancake Ingredients
To make this easy protein pancake recipe, you'll need just 5 ingredients. You will also need a skillet or electric griddle. I love my electric griddle for pancakes. They make them perfectly!
Protein Powder (I used Garden of Life vegan protein powder which is gluten free and dairy free – more on protein powders below!)
Banana
Egg Whites
Blueberries
Dairy Free Milk, optional
You can find substitutions for ingredients below!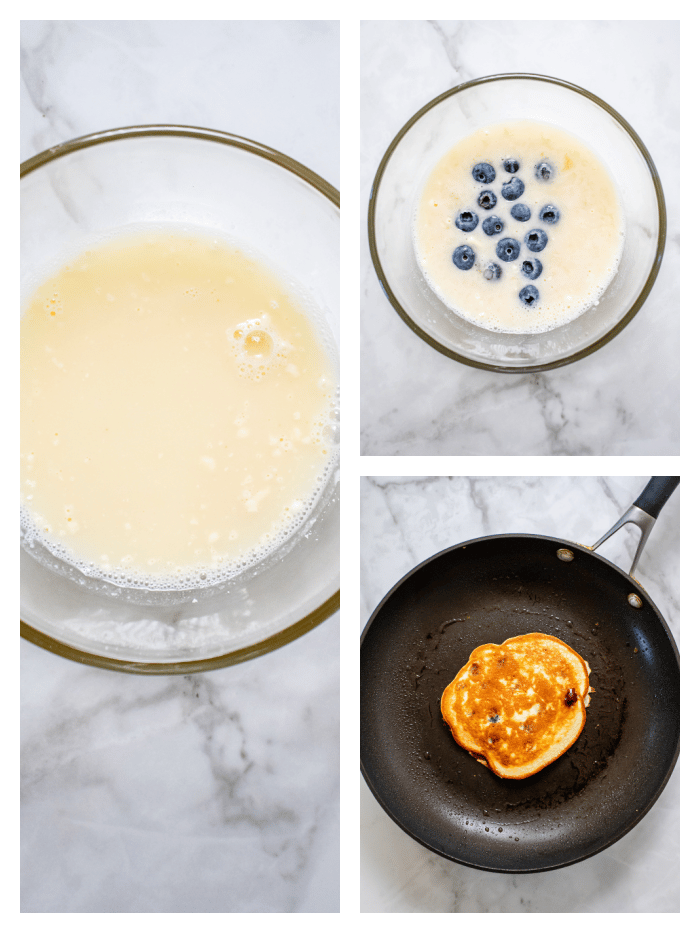 How To Make Healthy Protein Pancakes Low Calorie
Make low calorie protein pancakes is super easy! This recipe makes two large pancakes, but you can certainly make more if you have a larger family.
Step One: Whisk together the egg whites and protein powder in a large mixing bowl.
Step Two: Stir in the mashed banana and blueberries. If the pancake batter seems thick, you can add a splash of milk. Depending on the protein powder you use, you may or may not need to do this. I added about 2 tablespoons to mine.
Step Three: Heat a non-stick pan or griddle to medium heat. Spray with cooking spray.
Step Four: Divide the batter in half and add to the pan or griddle to make two pancakes. Cook 5 minutes then flip and cook another 2-3 minutes.
Step Five: Enjoy!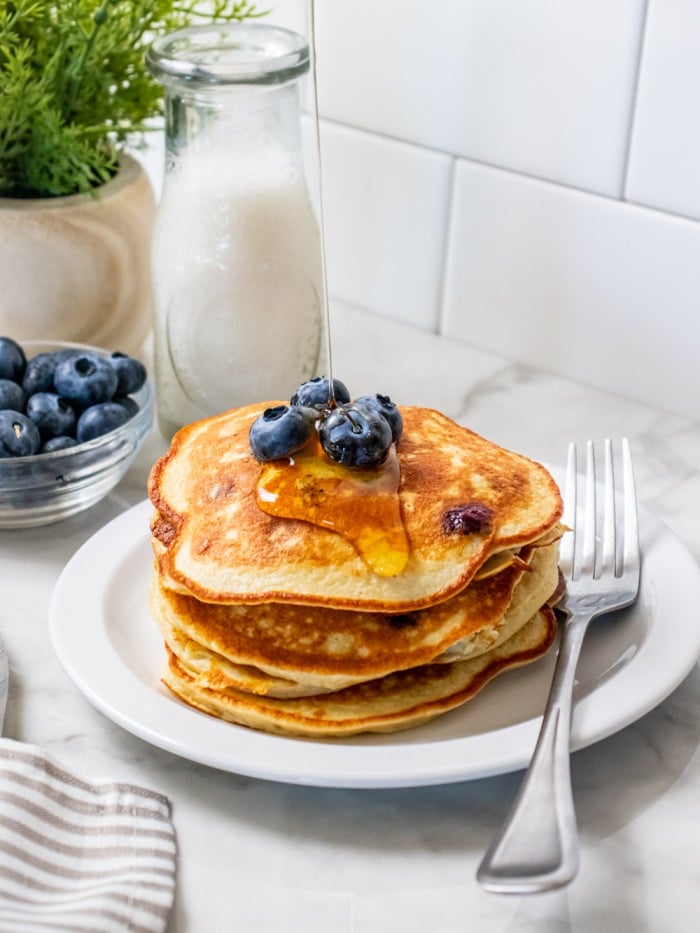 What Protein Powder To Use For Protein Pancakes?
You may be wondering what protein powder to use for your pancakes. I definitely recommend using one that you enjoy and that agrees with your body.
I use Garden of Life vegan protein powder that's flavorless. It's also dairy free, gluten free and lower in carbs. You can do a flavorless one like I did, or a vanilla or chocolate flavored one.
I recommend looking for a protein powder that has 20-30 grams per serving. The nutritional data label will give you that information!
What To Serve With Your Flourless Protein Pancakes
You can add a drizzle of maple syrup, syrup sweetened with monk fruit, warmed peanut butter or nut butter, fruit, nuts or seeds.
Protein Pancake Variations
There's a lot of ways you can customize this protein pancake recipe. Here's a few ideas for you!
Chopped Nuts
Toasted Coconut
Fruit
Mini Chocolate Chips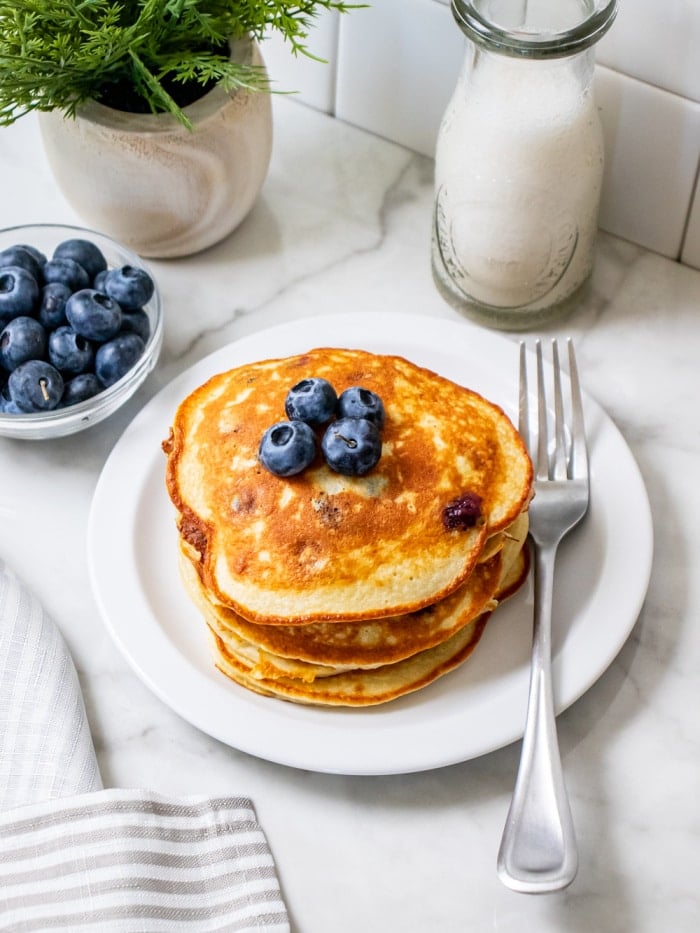 Healthy Protein Pancake Toppings
These pancakes are delicious on their own with a touch of maple syrup, but here's a few more ideas for you!
Greek Yogurt or Whipped Cream
Cinnamon
Fresh Fruit
Nut Butter, warmed and drizzled
Chopped Nuts
How To Store Leftover Pancakes with Protein
You can store these protein pancakes in an airtight container in the refrigerator.
Can I freeze protein pancakes? Yes, you can make them ahead of time and wrap them individually in plastic wrap or freeze them on a baking sheet and then add them to a plastic freezer bag so they don't stick together.
How to reheat protein pancakes? I find they are best reheated in the oven or a toaster oven, but you can also microwave them or warm on the skillet.
How Many Calories In Protein Pancakes?
This protein pancake recipe has 235 calories. The calories will vary depending on the protein powder you use.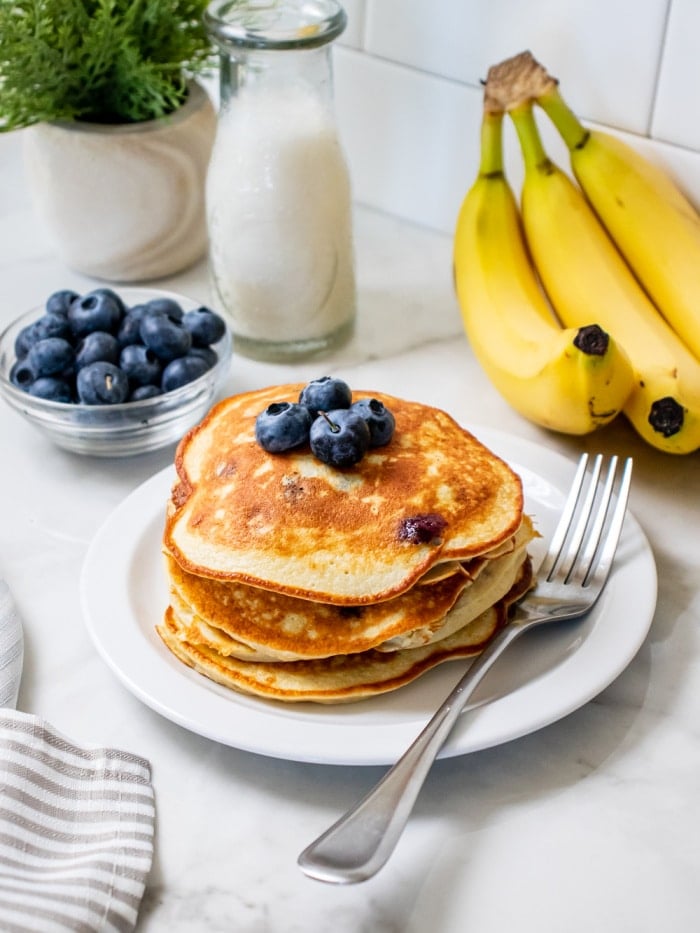 Substitutions For Healthy Low Calorie Protein Pancakes
This is a reminder that when you make substitutions it does change the nutritional values from what you see below.
Egg Whites – I do not recommend swapping whole eggs in this recipe. The egg whites provide the protein, but also make the pancakes super fluffy. You can use carton egg whites if you are concerned about wasting yolks.
Protein Powder – Any protein powder will work. Look for one that is 20-30 grams. Vanilla, chocolate or unflavored works.
Milk – Any milk or dairy free milk can be used.
Banana – You can substitute one banana with a 1/2 cup of unsweetened applesauce. The consistency will be less thick and fluffy with this substitution.
Blueberries – You can omit them or replace with another fruit.
More Healthy Protein Pancake Recipes
Low Calorie Protein Pancakes
Low Calorie Protein Pancakes everyone will enjoy! Make the BEST low calorie protein pancakes with just 5 ingredients.
Prep Time 5 minutes
Cook Time 8 minutes
Total Time 13 minutes
Servings 2 pancakes
Calories 235 kcal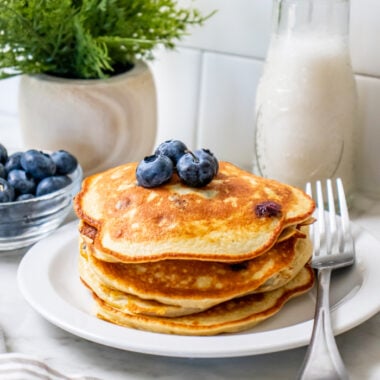 Ingredients
8 Egg Whites
2 scoops Vanilla Protein Powder
1 Banana mashed
1/4 cup Blueberries fresh or frozen
Dairy Free Milk or Regular Milk as needed
Instructions
Whisk together the egg whites and protein powder in a large mixing bowl.

Stir in the mashed banana and add in the blueberries. If the pancake mixture seems too thick, add a splash of milk to thin it a bit.

Heat a non-stick pan (I use an electric griddle – it's perfect for non-stick pancakes!) or lightly spray a pan and bring to low-medium heat over the stove. If using the griddle, bring to low-medium heat as well.

Divide the pancake mixture in half and add to the pan or griddle to make 2 pancakes. Cook about 5 minutes until bubbles form. Once the pancake has set, flip it and cook for another 2-3 minutes.

This recipe makes two large pancakes. One serving equals one pancake. Serve with your favorite toppings!
Recipe Notes
My Amazon shop has more products similar to those used for this recipe and that I recommend to my weight loss clients.
See the substitutions section of the blog post for recommendations on swapping ingredients!
Course Breakfast, Snack
Cuisine American
Keyword blueberry, dairy free, flourless, gluten free, healthy, low calorie, pancake, protein
Nutrition facts per serving (1pancake)
Calories 235 kcal
Fat 3 g
Saturated Fat 1 g
Trans Fat 0 g
Polyunsaturated Fat 1 g
Monounsaturated Fat 1 g
Cholesterol 0 mg
Sodium 380 mg
Potassium 421 mg
Carbohydrates 19 g
Fiber 3 g
Sugar 10 g
Protein 36 g
Vitamin A 48 %
Vitamin C 7 %
Calcium 12 %
Iron 1 %