This post contains affiliate links. As an Amazon associate I earn qualifying purchases. Click here for more about this policy.
Healthy Chocolate Avocado Pudding with Greek Yogurt! This low calorie pudding is high protein and low sugar and made in two minutes in a blender. A healthy chocolate treat to bust cravings! Gluten Free + Low Calorie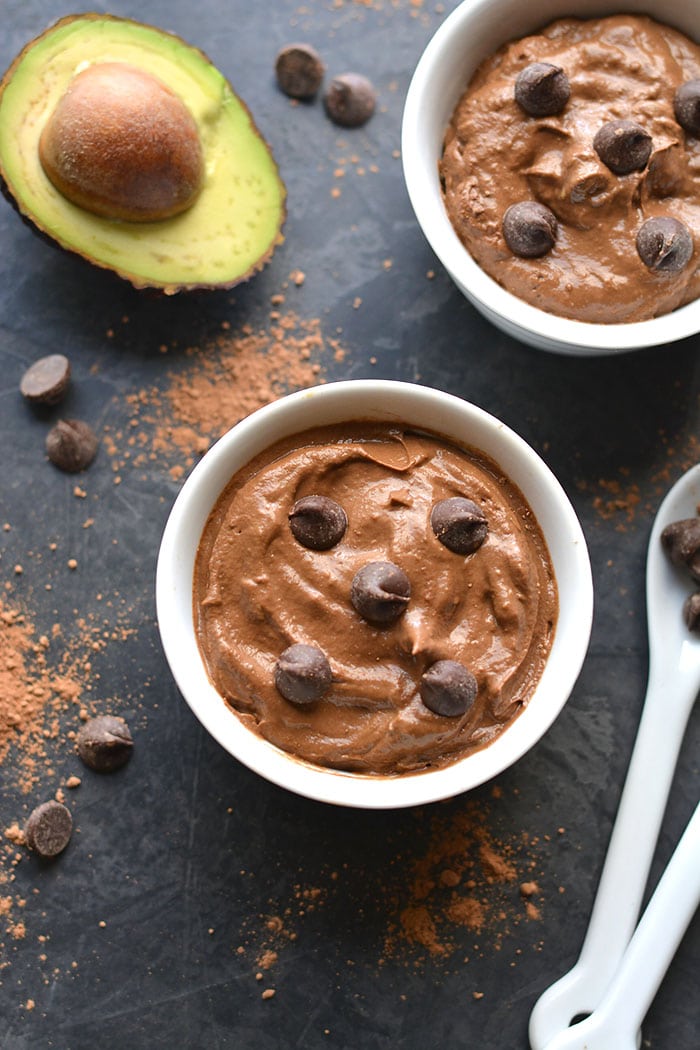 This Chocolate Avocado Pudding was originally published May 2016. I updated the recipe and reshot the photos for you. It's delicious!
I have a confession. I don't love avocado. That's not to say I hate it because really avocado doesn't taste like anything. There's something about the texture though. I just can never eat it on its own. I guess some people are adverse to certain textures and avocado is my adversity.
Suffice to say, it's pretty unlikely you'll ever find me eating an avocado on its own. Either it has to be in the form of guacamole or hidden in something else for me to muster up the strength to eat it like this Chocolate Avocado Pudding!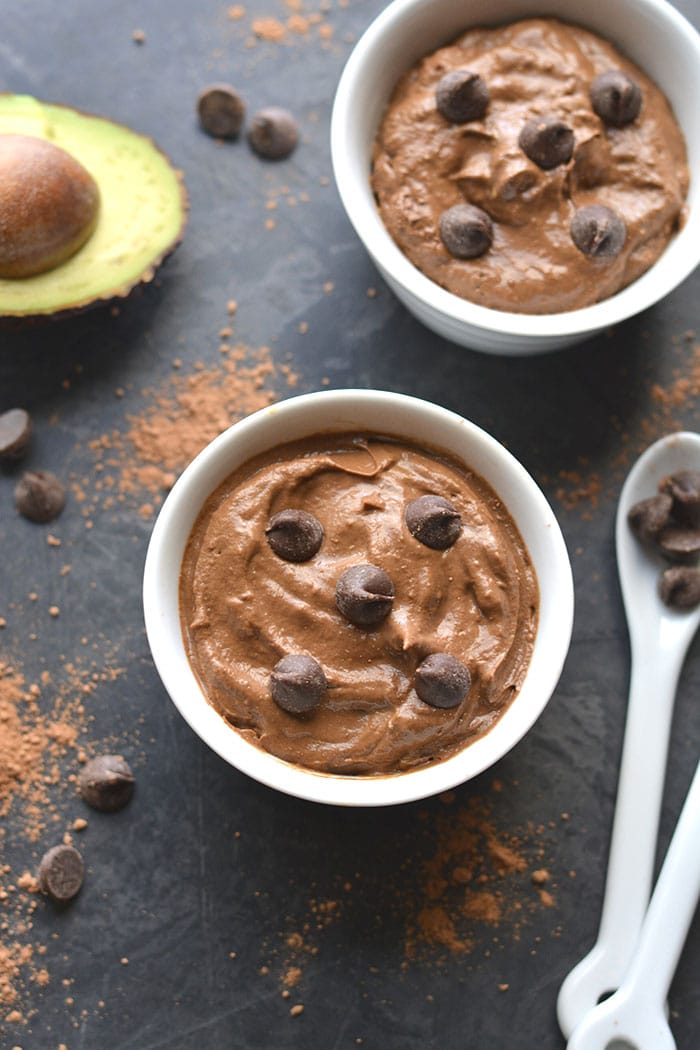 Chocolate Avocado Pudding
True confession. I could eat this Chocolate Avocado Pudding every day of my life. I'm also certain I could give it to a stranger on the street and they would happily gobble it up blissfully unaware of the healthy treat they were eating in disguise.
Say good-bye to your store bought funky monkey, weird ingredient low calorie pudding and say hello to this thick, creamy and luscious Chocolate Avocado Pudding with Greek Yogurt! It's perfect for eating with a fresh fruit or on its own with a clean spoon and extra chocolate of course.
It's made with real food, higher in protein, lower in sugar and so much better for you than store bought pudding. This chocolate pudding is sure to tame your chocolate and sugar cravings!
What You Need
Avocado
Unsweetened Cocoa Powder
Honey or maple syrup or stevia
Dairy free milk
Sea salt
Chocolate chips (optional)
How to make homemade healthy chocolate pudding
Throw it in a blender, blend until smooth and EAT! It really is that easy.
How is this chocolate pudding better for you
If you've ever bought pudding at the store and looked at the ingredients, you may have scratched your head wondering what exactly was in it.
This chocolate pudding has no artificial ingredients. No natural ingredients (*natural* isn't really natural - that's marketing).
This is chocolate pudding recipe is also WAY lower in sugar than other recipes. We're using REAL honey in this recipe. I don't recommend subbing anything other than real maple syrup or stevia. Artificial sugars are not recommended for a variety of reasons which I talk about in this post.
Now I know some of you will say there's too much fat in the recipe. There's not. This recipe is nutritionally balanced. Fat increases fullness, stabilizes blood sugar, balances hormones and is necessary for proper hormone and brain function.
The fat in this recipe is coming from avocados which is low in saturated fat and high in monounsaturated fat. This particular type of fat is shown to be the best kind you can eat.
Remember, not all fat is created equal. Just like not all sugar is either so eat up!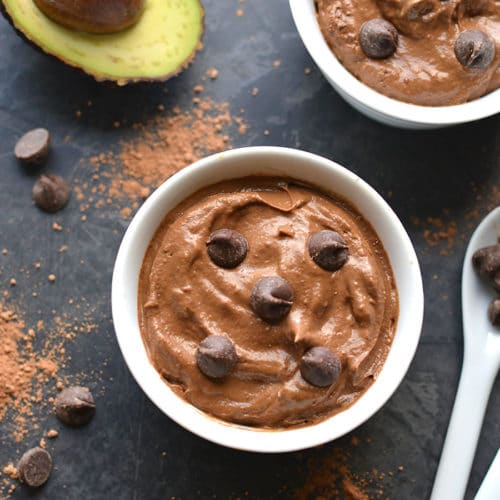 Chocolate Avocado Pudding with Greek Yogurt
Luscious Chocolate Avocado Pudding with Greek Yogurt! Make this low calorie pudding in under five minutes in your blender for a creamy chocolate-y treat you can eat with a spoon or dip fresh fruit into!
Instructions
Place all the ingredients in a blender and blend on high until smooth and creamy.

Remove from blender, divide into 4 portions (estimated is good enough ~1/3 cup each) and enjoy! Store in the refrigerator up to 5 days.
Nutrition
Serving: 1servingCalories: 130kcalCarbohydrates: 15gProtein: 4gFat: 9gSaturated Fat: 2gCholesterol: 1mgSodium: 195mgPotassium: 418mgFiber: 7gSugar: 5gVitamin A: 73IUVitamin C: 5mgCalcium: 66mgIron: 2mg
What I Used For The Recipe