This post contains affiliate links. As an Amazon associate I earn qualifying purchases. Click here for more about this policy.
Chickpea Pumpkin Chocolate Protein Bars are low calorie, packed with protein and taste like pumpkin pie! Made with garbanzo beans, these ultra creamy bars are an easy blend and bake snack anyone will love. Gluten Free + Low Calorie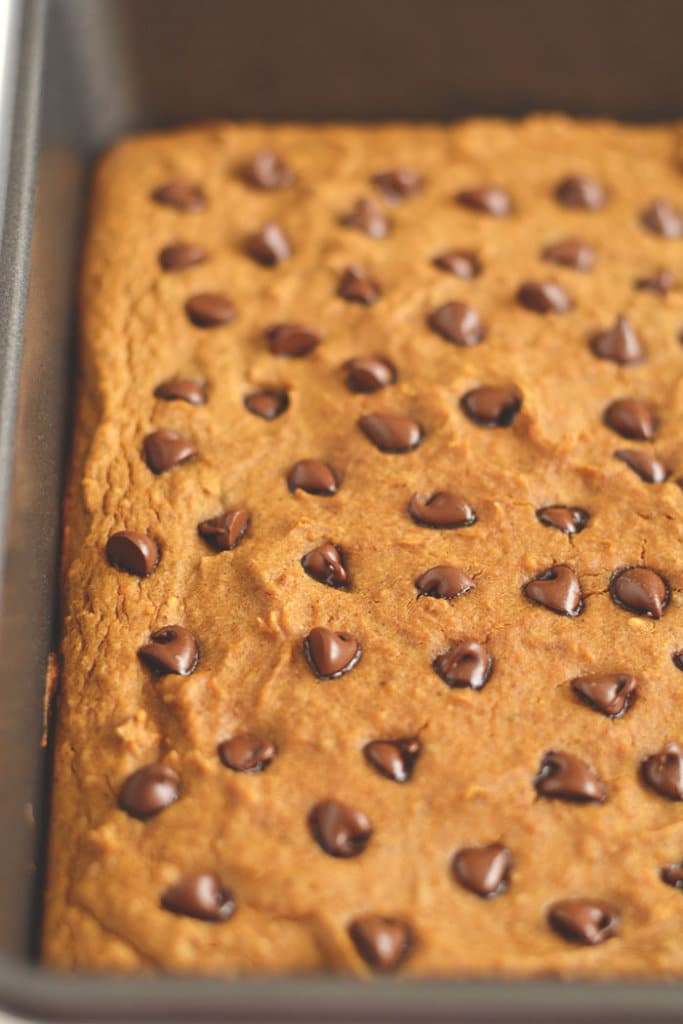 One holiday down, one to go! I have to admit I'm not a fan of how close together Thanksgiving and Christmas are. I feel like they get lumped as one holiday instead of getting the individual attention they deserve. But it is, what it is.
Something I do treasure about this time of year is all the baking! There's something warm and cozy about a homemade dessert freshly baked from the oven. And for those of you who were out shopoholicking last weekend, I've got an easy, protein packed bar for you to make that I'm sure will be much needed refuel.
Those of you who shop in the madness between Thanksgiving and Christmas are seriously BRAVE! Me, I'd rather stay in the safety of my kitchen baking and order from Amazon Prime. Today's bake off comes in the form of Chickpea Pumpkin Chocolate Protein Bars and they're only 77 calories. Now that's what I call a sale!
Thanksgiving may be over, but the pumpkin continues! It seems it will never end either because I always have just enough leftover to make another treat. Is that bad? NAH! Not when it's a magical healthy treat packed with protein and chocolate. I mean who can say no to chocolate?
So I will happily be indulging in everything pumpkin all winter long because let's face it, pumpkin is a magical ingredient. You can put it in anything and never even know it's there. A great way to get someone to eat more veggies!
You know what else is a magical ingredient? Chickpeas! OMG. Not only are they packed with plant based protein and fiber (you know, to make you go), they transform desserts into thick, luscious, creamy, delightful treats! I love adding them to baked goods.
Chickpea donuts, chickpea muffins, chickpea brownies and now chickpea protein bars!
Combine those magical chickpeas with a little pumpkin, protein powder and toss in a handful of chocolate chips, and you've got yourself a dance party in your mouth. Not only will you say YUM, you'll say FEED ME MORE!!!
These are guaranteed not to last long. I promise. But two big tips here so listen up! Number one. Use real chickpeas. Do not shortcut and use garbanzo bean flour. It's really bean-y tasting and will hijack the flavor of the bars.
I'm not a fan so if you try it, don't come back to me crying. You have to use a blender anyway so dropping in a can of garbanzo beans to blend into the batter is easy.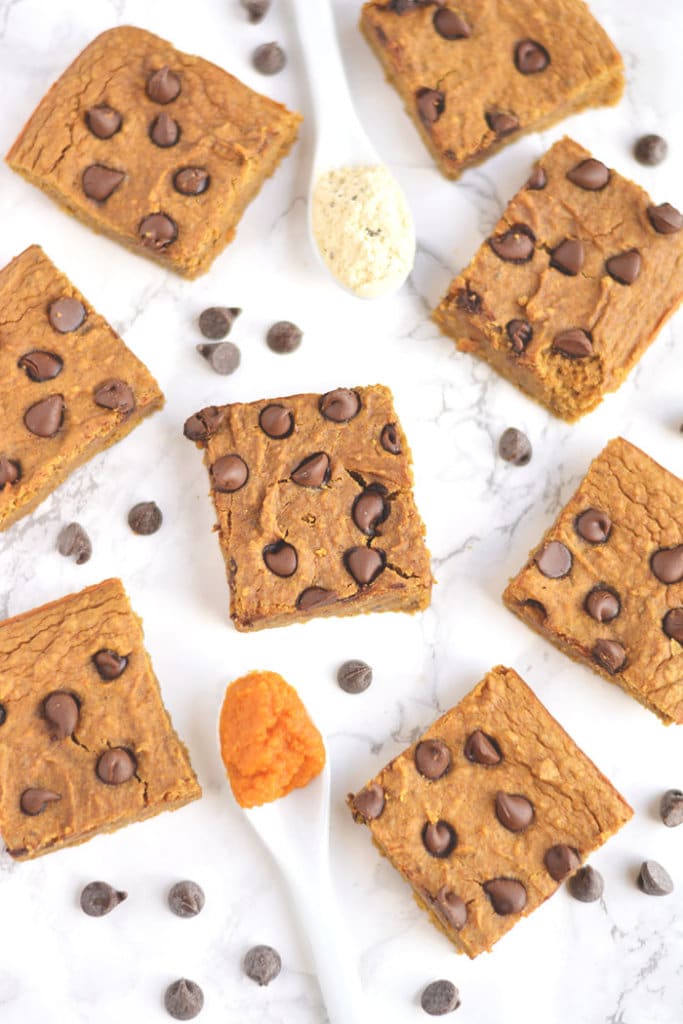 Number two. Use a protein powder you love. I can't stress this one enough. If you don't love the protein powder with regular ole' water, you're not gonna love it in a baked good. No matter how many chocolate chips you put in there, it will taste plain ole' ugly.
For this recipe, I used Vega protein and tossed in a little collagen. The collagen is optional, but highly recommended!
Okay, so now that we got the baking rules out of the way, who's ready to bake?
Click here to pin this recipe!
Chickpea Pumpkin Chocolate Protein Bars
Chickpea Pumpkin Chocolate Protein Bars packed with protein and taste like pumpkin pie! Made with garbanzo beans, these ultra creamy bars are an easy blend and bake snack any will love. Gluten Free + Low Calorie
Instructions
Place all ingredients except chocolate chips in a

food processor

or blender. Blend on high until the batter is creamy smooth.

Transfer the batter to the prepared baking pan and spread into an even layer.

Add chocolate chips by hand, pressing them with your fingers into the batter.

Bake 25 minutes at 350 F until bars are hard and a tooth pick can be inserted into the center of the bars clean.

Remove from the oven, cool in the pan 20 minutes prior to slicing into 16 bars to DEVOUR!
Notes
My Amazon shop has more products similar to those used for this recipe and that I recommend to my weight loss clients.
1 whole egg may be substituted for the 2 eggs whites, however, this will increase the calories and reduce the protein.
If you loved this recipe, check out my cookbook for more delicious recipes!
Nutrition
Serving: 1brownieCalories: 77kcalCarbohydrates: 12.9gProtein: 3.6gFat: 1.6gSodium: 63.4mgFiber: 2gSugar: 6.4g
What I Used For The Recipe