This post contains affiliate links. As an Amazon associate I earn qualifying purchases. Click here for more about this policy.
Healthy Pumpkin Protein Smoothie is a low calorie, high protein smoothie with fiber. The perfect fall weight loss smoothie! Low Calorie + Gluten Free + Paleo + Vegan
Pumpkin spice meets smoothie with this healthy pumpkin smoothie, and this isn't just any smoothie friends... it's a HEALTHY Pumpkin Spice Smoothie packed with irresistible flavor!!!
If you're a pumpkin spice latte lover, this recipe will be right up your alley!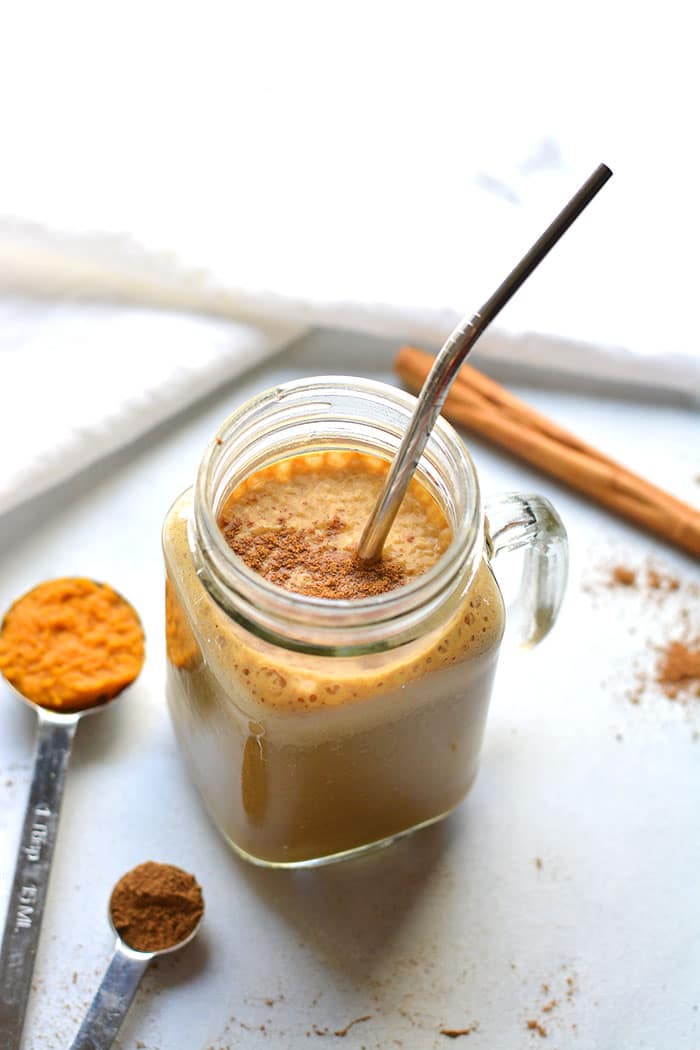 What Makes This Pumpkin Smoothie Healthy
High Protein - Protein is frequently a missing ingredient in smoothies, but it's so important for balancing blood sugar, to keep cravings away and to promote lean muscle mass for weight loss.
No Added Sugar - This recipe uses stevia to sweeten the smoothie making it a healthier option. Added sugar is everywhere these days!
High Fiber - Pumpkin is an AWESOME source of fiber and high fiber is a carbohydrate necessary for weight loss and hormone balancing. This high fiber smoothie is a client favorite!
Veggies - Frozen cauliflower rice adds veggies (aka volume and water) to the recipe which is important not only for nutrition but also for promoting fullness. I promise you won't taste it!
Low Calorie - Most smoothies are fruit and fat focused which means they tend to be higher in calories. This smoothie is more protein and veggie focused which is better for balancing blood sugar while keeping the nutrition lower in calories.
Ingredients For Pumpkin Smoothie
Vanilla Protein Powder (high protein like this one)
Frozen Cauliflower Rice
Coffee or espresso (optional)
Pumpkin, canned
Pumpkin pie spice
Milk of choice
Stevia
How To Make the BEST Healthy Pumpkin Protein Smoothie
Making pumpkin protein smoothie with coffee is simple with just two steps!
Step one to making the best homemade pumpkin protein smoothie is measuring out the ingredients and placing them in a blender. I recommend blending with a high speed blender like this one, but you can alternatively place the ingredients in a mug and use this milk frother to blend too!
Step two is blending the ingredients until they are smooth and bubbly then transferring to a large glass and enjoying!
Can You Meal Prep A Smoothie
Yes, you can meal prep a smoothie ahead of time.
You can make your pumpkin smoothie then place in the refrigerator overnight to enjoy the next morning for breakfast OR you can freeze it then place it in the refrigerator the night before you plan to drink it.
Another option is to measure out the ingredients for your smoothie, place it in a plastic bag and in the freezer. Take it out the night before you plan to make it and place in the refrigerator. The next day, blend your smoothie and enjoy!
Substitutions For A Pumpkin Smoothie
Stevia - Stevia is one of my favorite no calorie sweeteners. It is sweeter than real sugar so a little goes a long way. You can substitute stevia with monk fruit or banana, maple syrup, honey, coconut sugar or maple sugar. Keep in mind the real sugars are not calorie free and will increase the calories and carbohydrates of the recipe.
Cauliflower Rice - The cauliflower rice adds volume to the recipe. Spinach and/or zucchini could be substituted to give it the same thick consistency.
Pumpkin - Well, this wouldn't be a pumpkin smoothie without the pumpkin, but if you did want to substitute the pumpkin puree I would recommend using canned sweet potato. Pumpkin butter is not a great option as it is high in added sugar.
Coffee - You can use espresso, regular coffee with no flavor, decaf coffee or cold brew coffee for this recipe.
Pumpkin Pie Spice - 1/2 teaspoon of cinnamon and 1/4 teaspoon of nutmeg can be substituted instead of using pumpkin pie spice.
Milk - This recipe uses dairy-free, unsweetened almond milk. Any milk will work in this recipe though.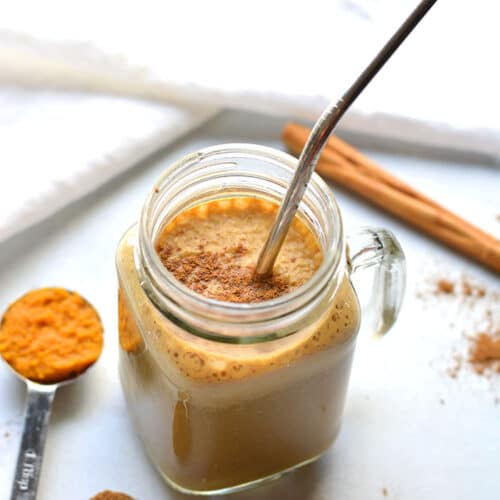 Healthy Pumpkin Protein Smoothie
Healthy Pumpkin Protein Smoothie is a low calorie, high protein smoothie with fiber. The perfect fall weight loss smoothie!
Instructions
Measure the ingredients and place in a blender. Blend until smooth.

Transfer to a mason jar or large glass and serve immediately!
Nutrition
Serving: 1smoothieCalories: 210kcalCarbohydrates: 19gProtein: 26gFat: 4gSaturated Fat: 1gCholesterol: 74mgSodium: 244mgPotassium: 613mgFiber: 4gSugar: 6gVitamin A: 12710IUVitamin C: 42mgCalcium: 223mgIron: 2mg
What You Need