This post contains affiliate links. As an Amazon associate I earn qualifying purchases. Click here for more about this policy.
High Fiber Protein Smoothie! This weight loss smoothie recipe has the right balance of ingredient for fat loss. Great for breakfast or a meal replacement! Low Calorie + Gluten Free + Paleo + Vegan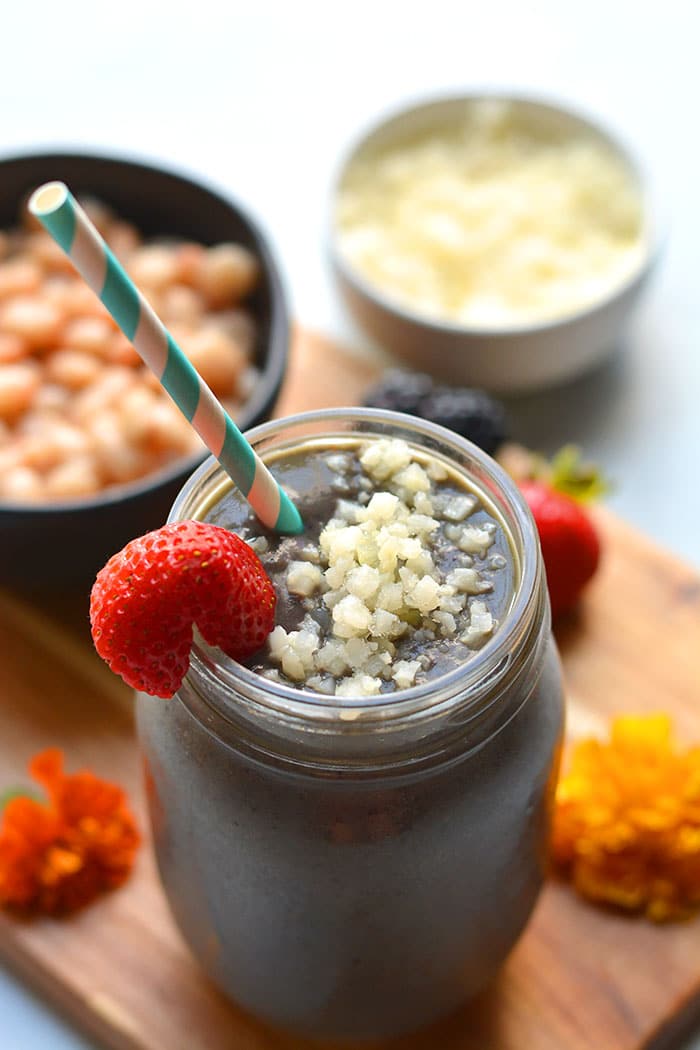 Smoothies can be such a great addition to your weight loss program when you combine the right ingredients that keep your metabolic hormones in check.
Keeping metabolic hormones in check is SO important to a successful weight loss program. How many calories you eat, how perfect your macros are, or how much you exercise will never matter if your metabolic hormones are not balanced because you will always be battling cravings, hunger and relying on willpower to adhere to the diet rules.
It SO MUCH EASIER when you eat for your hormones and ditch the diet rules. If you're ready to do that, I've got the perfect recipe for you today!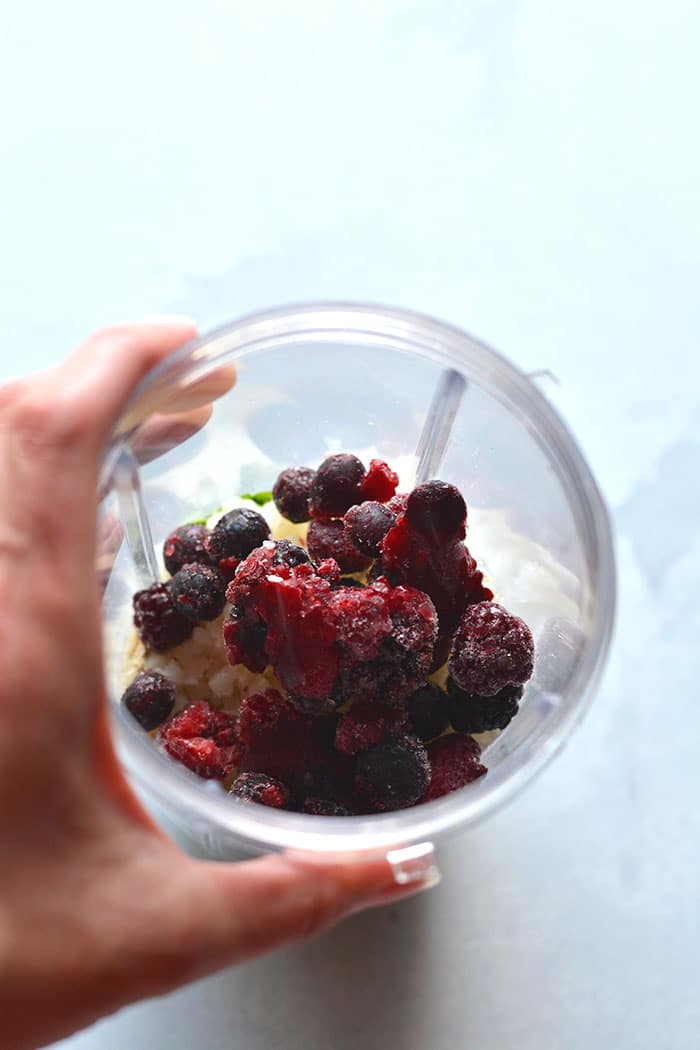 High Fiber Protein Smoothie
A secret ingredient makes this smoothie high fiber.... BEANS!!! Now before you tell me you hate beans, I can assure you that you will NOT taste the beans at all in this bean smoothie!
One of my clients (Jessica) tested this recipe with every bean out there. White beans and chickpeas were the best because you couldn't detect them. Truthfully when she told me to add beans to a smoothie I was skeptical, but I was blown away how thick the beans made the smoothie and you could not taste them at all!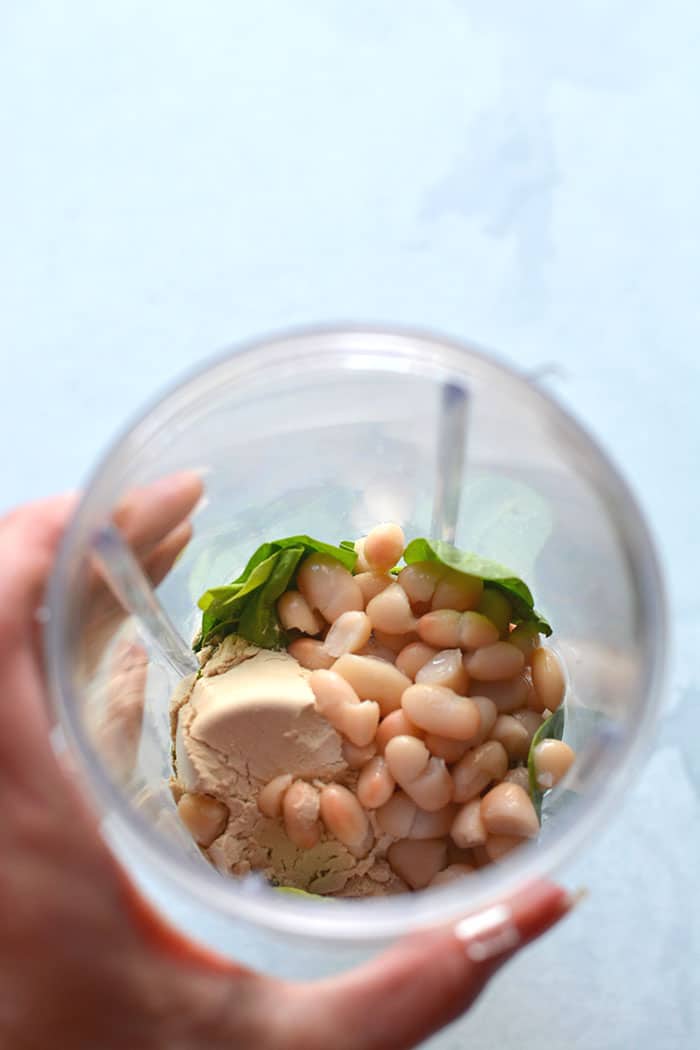 Beans are a wonderful, high fiber food and fiber is KEY to balancing metabolic hormones and losing weight. What I see is a lot of women cutting carbs like beans and confused why they're not losing weight. You're not losing weight because you're not eating fiber! I talk more about this in my free class.
This bean smoothie has 11 grams of fiber which is awesome and it's still lower in calories and balanced with the right nutrition to keep hunger hormones stable.
What You Need
Dairy Free Milk or milk of choice
Strawberries and Blueberries, frozen
Cauliflower Rice, frozen
White Beans or beans of choice
Spinach
Protein Powder
Stevia (optional) or monk fruit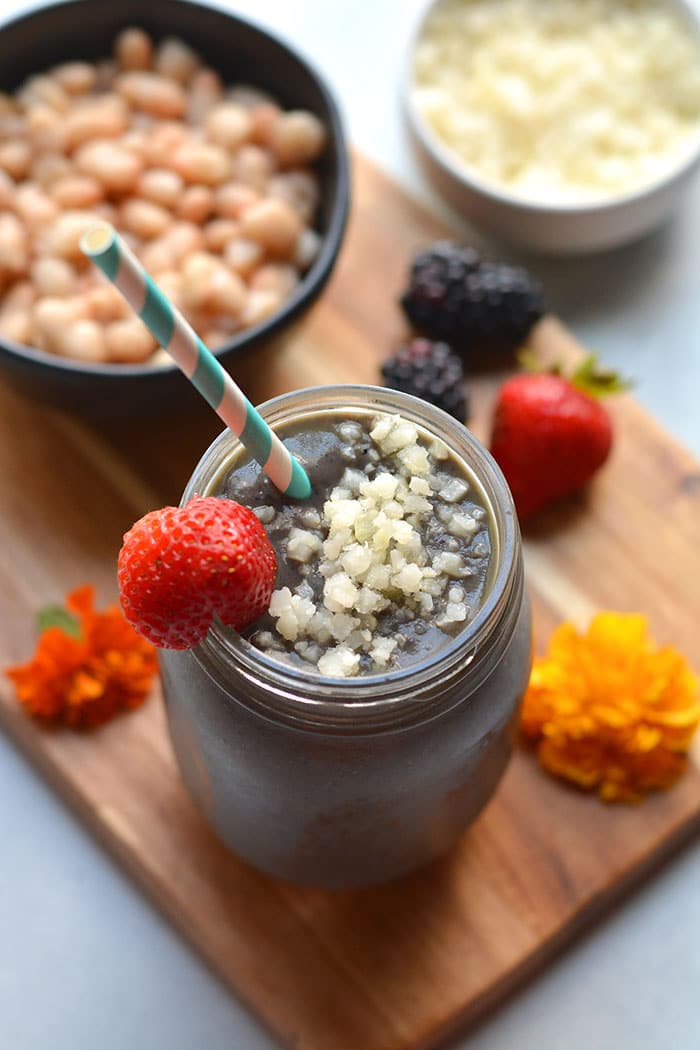 What beans are best in a smoothie
To get your fiber the simplest way is to add canned beans. Drain the beans, rinse well under water, drain, measure and add to your smoothie.
Black beans
Pinto beans
Chickpeas
Lentils
White beans
Chili beans
They will all work in a smoothie! I found white beans and chickpeas to go undetected in a smoothie whereas, some of the other varieties you may be able to detect.
How to make a high protein smoothie with beans
Making a high fiber smoothie is pretty simple. The important part of making a fiber protein smoothie is having a good, quality protein powder with minimal ingredients, no (or little) added sugar, but that has a great taste.
I use Garden of Life protein powder. It's Vegan and Paleo friendly with no artificial colors or ingredients, no added sugar, dairy free and gluten free and tastes great!
To make your fiber smoothie, you simply add the ingredients to a high-speed blender and combine until smooth. You want to ensure the beans are completely blended and when you do, the result will be the perfect drinkable fiber protein packed meal!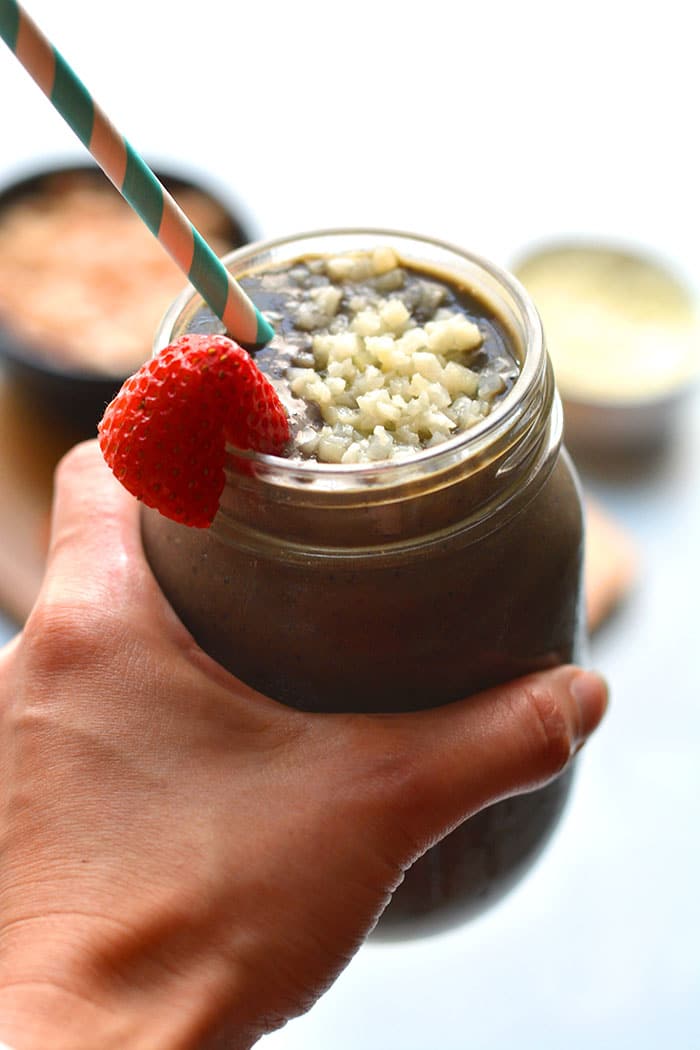 What vegetables are best in a smoothie for weight loss
Vegetables are a must addition to smoothies and something a lot of people forget. Honestly, adding vegetables to a smoothie is a simple way to add nutrition, water and fiber to a smoothie. I promise you won't even know they're there!
Spinach
Kale
Cucumber
Zucchini
Beets
Cauliflower rice, frozen
Carrots
What fruits are best in a smoothie for weight loss
The good news about smoothies is that almost any fruit will work that you enjoy. However, if weight loss is your goal, you want to aim for the lower sugar fruits to control insulin and cravings.
Strawberries
Blueberries
Blackberries
Raspberries
Cherries
Pineapple
Melon
Banana
Oranges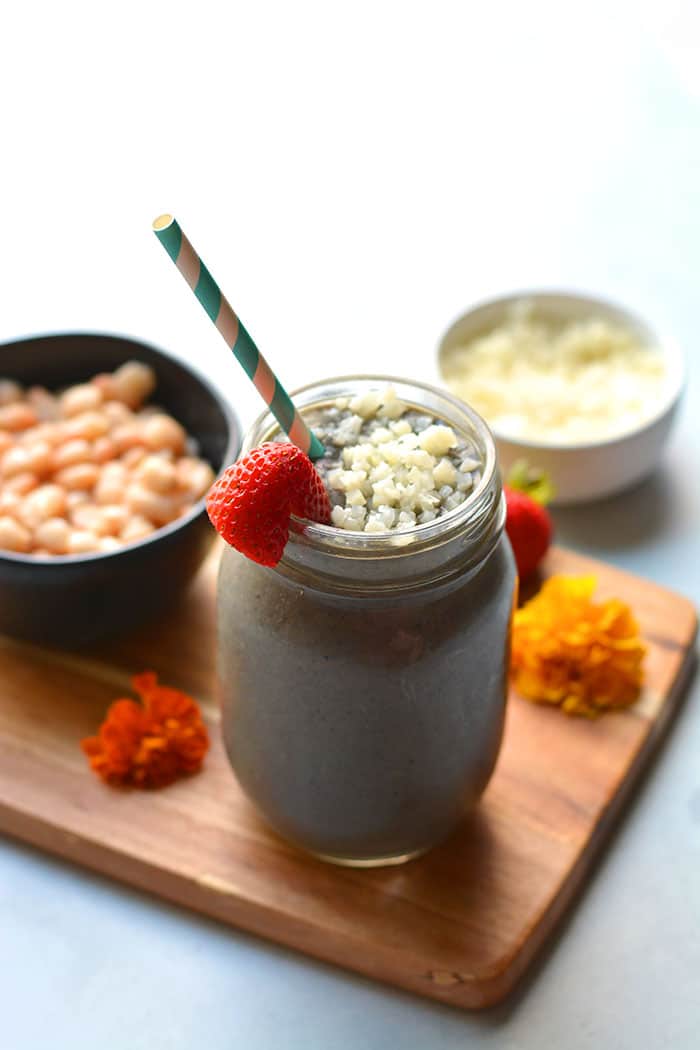 Tips for making the BEST high fiber smoothie
Smoothies are an easy to make meal and are loaded with wholesome ingredients. To make the best high fiber smoothie, here's a few tips to keep in mind:
Always add a protein source. This keeps the sugar content balanced in the smoothie and helps to keep you full and prevent cravings.
Omit juices and coconut waters. These have a ton of added sugar which can increase cravings and the calories. Milk or water are always the best base for a smoothie.
Add a source of fiber to your smoothie. Fiber is critical to weight loss. Avocado, beans, lentils and oats are a few examples of fiber!
Loading your blender in the following order works the best - liquid first, vegetables, fruit, protein and sweetener.
Smoothies aren't just for fruits - add your veggies and greens! They add extra nutrients. I particularly love frozen cauliflower rice because it makes smoothies frothy and you can't even taste it!
If your smoothie is too sweet, add a squeeze of lemon juice to it. If your smoothie is not sweet enough, add a squeeze of orange to it.
Add a healthy fat to your smoothie. I used flax in this recipe but other healthy fats include chia seeds, peanut butter, almond butter, tahini and avocado.
I added a touch of stevia to my smoothie. If you don't like stevia, you could use cinnamon or 1 tablespoon of maple syrup or honey.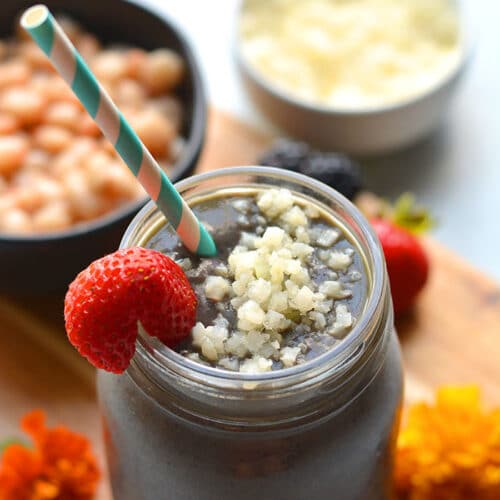 High Fiber Protein Smoothie
High Fiber Protein Smoothie! This weight loss smoothie recipe has the right balance of ingredient for fat loss. Great for breakfast or a meal!
Instructions
To make your protein smoothie ahead of time, you have two options. First, you can measure the ingredients and place in a food storage bag in the freezer. Then blend when you're ready to eat. Second, you can blend everything together and store in a mason jar or protein shaker in the freezer up to 5 days.
Nutrition
Serving: 1smoothieCalories: 372kcalCarbohydrates: 39gProtein: 43gFat: 8gSaturated Fat: 1gCholesterol: 60mgSodium: 434mgPotassium: 1127mgFiber: 11gSugar: 8gVitamin A: 2909IUVitamin C: 89mgCalcium: 557mgIron: 7mg
What I Used For The Recipe