This post contains affiliate links. As an Amazon associate I earn qualifying purchases. Click here for more about this policy.
Healthy Asian Meatballs are a low calorie meal made with a sweet chili glaze. An easy and nutritious meatball recipe everyone will love! Low Calorie + Gluten Free
Meatballs are one of our favorite low calorie dinners. They're easy, filling and pair well with just about anything. The meatballs I have for you today aren't your typical Italian meatballs.
These ASIAN style meatballs are Italian and Asian fused into one and about to knock your socks off which their great taste. If you love Asian flavor and meatballs, these are definitely for you!
Healthy Asian Meatballs
These Asian inspired meatballs are juicy and flavorful. They're baked in the oven and coated with a 2-ingredient sweet and spicy sauce. Compared to Asian inspired meals that are deep fried, they're much lower in calories!
What I love about these meatballs is that they're crowd pleasing and are not only great for a takeout-like dinner at home, but also double as an appetizer for parties and gatherings.
These delicious Asian meatballs are soft and tender with the addition of veggies and oats. I love using oats in my meatball recipes instead of breadcrumbs. There's much more fiber in oats and it gives the meatballs a nicer consistency I find.
For your Asian inspired meatballs, I recommend using a no sugar added sweet chili sauce. The majority of sweet chili sauces have a TON of added sugar so, read the label and look for one with little to no added sugar. I've seen them at all the major stores.
What You Need
Ground Turkey, 97-99% lean or you can use ground chicken breast
Ginger
Garlic
Broccoli Slaw
Green Onions
Gluten Free Oats
Can Meatballs Be Made Ahead of Time
You can form your meatballs up to 24 hours in advance before baking. I wouldn't recommend any longer than that as the other ingredients may alter the flavor.
Can Meatballs Be Frozen
Yes, meatballs can be frozen! There's two ways you can do this. One is to prepare the meatballs ahead of time and freeze without cooking.
The other is to bake the meatballs and the sauce and freeze them together. Either method will work. My preferred method is to cook everything ahead of time then thaw for a quick meal!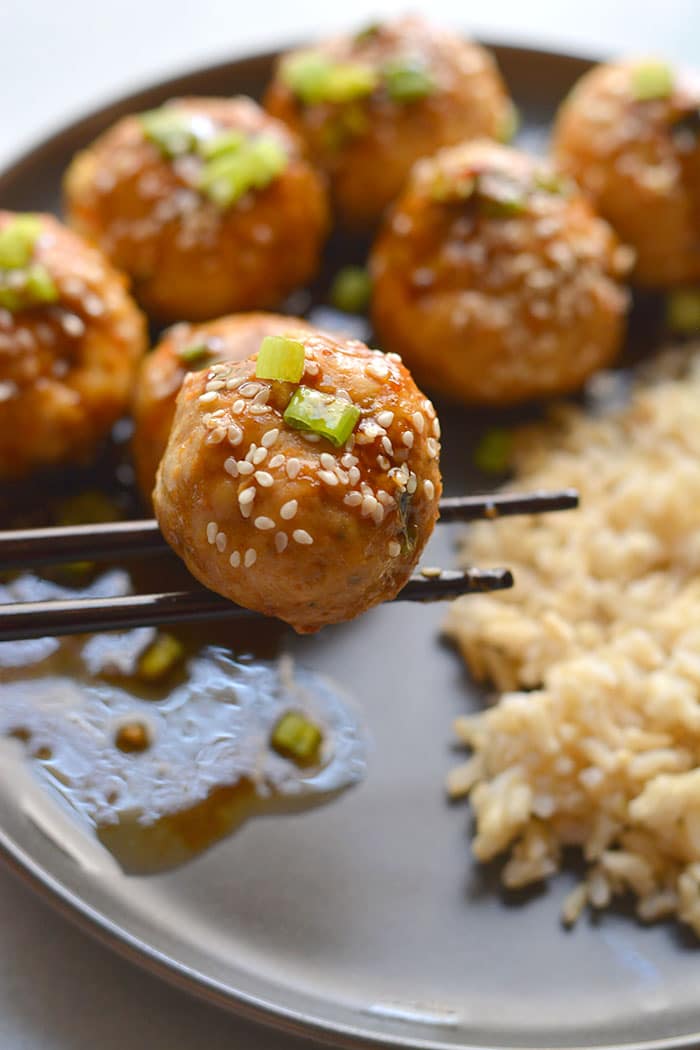 What To Serve With Asian Meatballs
Brown Rice, Quinoa, Lentils, Cauliflower Rice - I enjoy mixing brown rice and cauliflower rice together for a higher volume meal.
Broccoli, Cauliflower, Brussels sprouts, Asparagus - Any veggie you love will pair nicely. I recommend roasting the veggies!
Broccoli Slaw Salad - Use the remainder of your broccoli slaw and make a quick cold salad by combining one part olive oil and two parts vinegar OR you can cook the broccoli slaw in a skillet with salt, pepper and olive oil until al dente and serve!
Healthy Asian Meatballs
Healthy Asian Meatballs are a low calorie meal made with a sweet chili glaze. An easy and nutritious meatball recipe everyone will love! Low Calorie + Gluten Free
Ingredients
For the Meatballs
1 lb ground turkey 99% lean
1 1/2 tablespoons extra virgin olive oil
1 tablespoon ginger chopped
2 tablespoons garlic chopped
1/3 cup broccoli slaw lightly packed
2 green onions diced
2 tablespoons Gluten Free oats or almond flour
1 tablespoon sesame seeds
salt and pepper to taste
Instructions
Preheat the oven to 350 F. Prepare a baking sheet with parchment paper and set aside.

Place the ginger, garlic, oat flour and broccoli slaw in a food processor. Pulse several times until it is finely diced. Remove from the food processor and transfer to a large mixing bowl with the olive oil and ground turkey.

Using your hands, work the ingredients together until dispersed. Scoop 1 1/2 tablespoons of the mixture out and roll together in your hands to form one meatball. Place on the prepared baking sheet. Repeat the process until all the mixture is gone. I got 16 meatballs total. The amount you get will depend on the size of your balls.

Bake the meatballs in the oven 12 then flip and cook another 10 minutes. Then remove from the oven.

Whisk together the ingredients for the sauce in a small bowl then transfer to a large skillet and bring to a boil. Simmer for one minute while whisking the reduce to low heat and add the meatballs to the skillet.

Sprinkle with the sesame seeds and diced green onions then serve! Meatballs keep in the refrigerator up to 5 days or frozen with the sauce up to 60 days.
Notes
Each servings is about 4 meatballs depending on the size you make them. I made 16 meatballs from the recipe.
My Amazon shop has more products similar to those used for this recipe and that I recommend to my weight loss clients.
If you enjoyed this recipe, check out my cookbook for more delicious recipes!
Nutrition
Serving: 1servingCalories: 276kcalCarbohydrates: 20gProtein: 29gFat: 9gSaturated Fat: 2gCholesterol: 62mgSodium: 532mgPotassium: 454mgFiber: 1gSugar: 10gVitamin A: 126IUVitamin C: 10mgCalcium: 37mgIron: 2mg
What I Used For The Recipe