This post contains affiliate links. As an Amazon associate I earn qualifying purchases. Click here for more about this policy.
Awhile ago, I wrote a post on what your sugar craving is telling you about you health. That's my #1 post on the site and the most frequently asked question I get from that post is how to spot added sugar. Today, I'm going to show you how to do this and explain with an example why you need to.
Added sugar is harmful to health in excess quantities. Not only is it linked to weight gain and obesity, it interferes with sleep, leads to insulin resistance, type 2 diabetes, can increase the risk for heart disease, and much more.
It's good to have chocolate or a dessert when it is truly meaningful to you, and fruit in moderation. In fact, I don't believe in living a zero-sugar lifestyle but learning to scout out and cut back on added sugar that is so pervasive in everything we eat can go a long way for your health.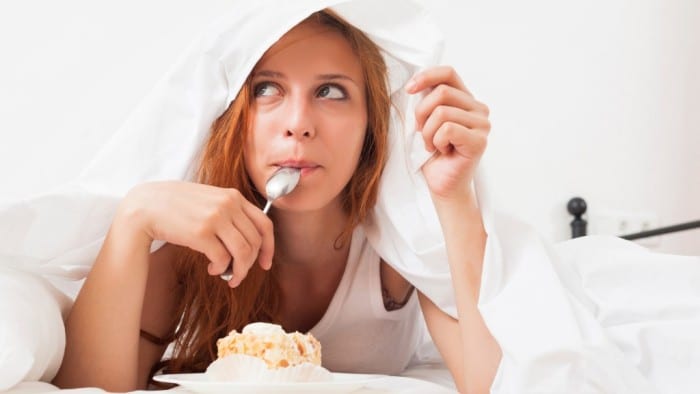 I will explain here how to find added sugar on nutrition labels and show you an example of what a huge difference this can make in the average person's daily diet.
It's no secret most of us are consuming more sugar than our bodies need. When people start cutting back on sugar, they often wind up confused: do you need to cut fruit too? Or is it only the sugar in candy and donuts? And what is this "added sugar" that everyone keeps talking about? Where can I detect added sugar on nutrition labels?
These days, added sugar is in almost everything as it is not regulated by the FDA. In fact, 71% of products in the average supermarket contain added sugar.
Food manufacturers make money making delicious food and don't get penalized if they market a product as healthy but include unhealthy ingredients liked added sugar masked by confusing terminology and unregulated health claims, so it's no wonder they're dumping this stuff into everything to make a buck.
Added Sugar vs. Natural Sugar
What is added sugar?
To understand this, you must understand that all sugar is either naturally occurring. For example, lactose in dairy products or the natural sugars in fruits and vegetables.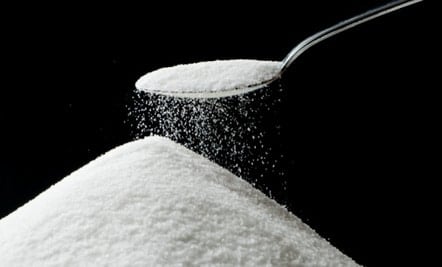 Added sugar is anything that does not grow or occur naturally in food and has to be added by manufacturers.
Added sugar can be from a somewhat healthier source (like honey or maple syrup), or it can be from a chemical, or manufactured source such as an insulin-spiking substitute (like high fructose corn syrup).
While the healthier sources like honey have the added benefits of nutrient content and lower fructose concentration, for the purpose of this article, let's assume that all added sugar is equal, and that we are trying to avoid all of it.
Personally, this is how I gauge the quality of my personal food intake. I would rather have 1g of honey than 1g of high fructose corn syrup, but I would also rather have 1g of high fructose corn syrup than 10g of honey. In my mind, any added sugar really is harmful in excess, even when it is from healthier sources like honey.
How To Spot Added Sugar On The Nutrition Label
The FDA now requires a line item for added sugar to be on the nutrition facts label to make it less confusing for consumers. It is required that by 2021 all food manufacturers comply with this. The new label will look like this.
If you do not see an added sugar line, it is a bit more difficult to figure out how much sugar is from added sources. You'll see a line item for total sugar, which lumps both naturally occurring and added sugars together.
Once you see that there are more than 0g of total sugar, you need next to look at the ingredients. If you see an ingredient like dates, apples, or blueberries, you can infer that the sugar is from naturally occurring sources.
If you see the word "sugar" instead on the ingredient list, this means the sugar content comes from added sources.
What if you see neither of those? Unfortunately, there are 200 FDA-approved names for added sugar that can be found on labels today. If you look for the these three things, you'll be able to identify most of them:
Sugar (or any phrase containing "sugar," like maple sugar, coconut sugar, brown sugar, organic cane sugar, etc.)
Syrup (or any phrase containing "syrup," like brown rice syrup, high fructose corn syrup, maple syrup, etc.)
Anything ending in "-ose" (like maltose, sucrose, fructose, etc.)
What if you see both a word for added sugar and a source of naturally occurring sugar? The ingredients must be listed in descending order of volume, so pay attention to the ingredients listed towards the beginning. Those in the beginning of the list make up the majority of the food.
In the example below, there's naturally occurring sugar from raisins, dried cherries, and dates, but there's also added sugar from corn syrup, sugar, and fructose, dextrose. There are more ingredients in the added sugar list, but the naturally occurring ones are closer to the beginning of the list. For something like this, it is impossible to know exactly how many grams are from naturally occurring and from added sugar.
In an example of applesauce, where one source (apples) is naturally occurring and two sources (high fructose corn syrup and corn syrup) are from added sugar, we could assume that half of the sugar is added, and half is naturally occurring, but it's really hard to know.
Take the time to read food labels and understand what sugar has been added to them. Ask yourself if you really need that extra sugar from the added sources. Should applesauce just contain apples (and maybe some cinnamon)? There are plenty of brands out there that do not include added sugar!
In the example of Sara Lee bread, you would never expect added sugar to be in bread, but unfortunately this is the case with most breads. Breads are one of the worst culprits for added sugar.
Check Out the Difference Paying Attention To Added Sugar Makes!
To show you what a difference paying attention to added sugar can make in your diet choices, check out this day-in-the-life of someone who switches to paying attention to added sugar. This is an exercise I have many of my clients do.
That adds up to 144g difference in added sugar, or the equivalent of 3 cans of soda! Paying attention to the added sugar in products you regularly consume makes a HUGE difference!
I DO NOT suggest giving yourself a free pass on all naturally occurring sugar either. All sugar should be kept in moderation.
14 Day Sugar Challenge
How much you should sugar you should consume is something I work with my clients on in the 14 day sugar challenge. I teach about sugar cravings, how to get back to eating real, unprocessed foods, how to identify triggers to cravings and how to change your lifestyle to stop craving them.
The sugar challenge quickly increases your energy, reduces your cravings and gives you the tools you need to build a healthier relationship with food. For more tips on sugar cravings, sign up for my FREE video series, the Dish On Ditching Diets. There's many helpful tips to get you started!