Low Sugar Berry Cobbler! Made gluten free, dairy free and refined sugar free. Easily baked in a skillet for a healthy Vegan cobbler dessert recipe! Gluten Free + Vegan + Low Calorie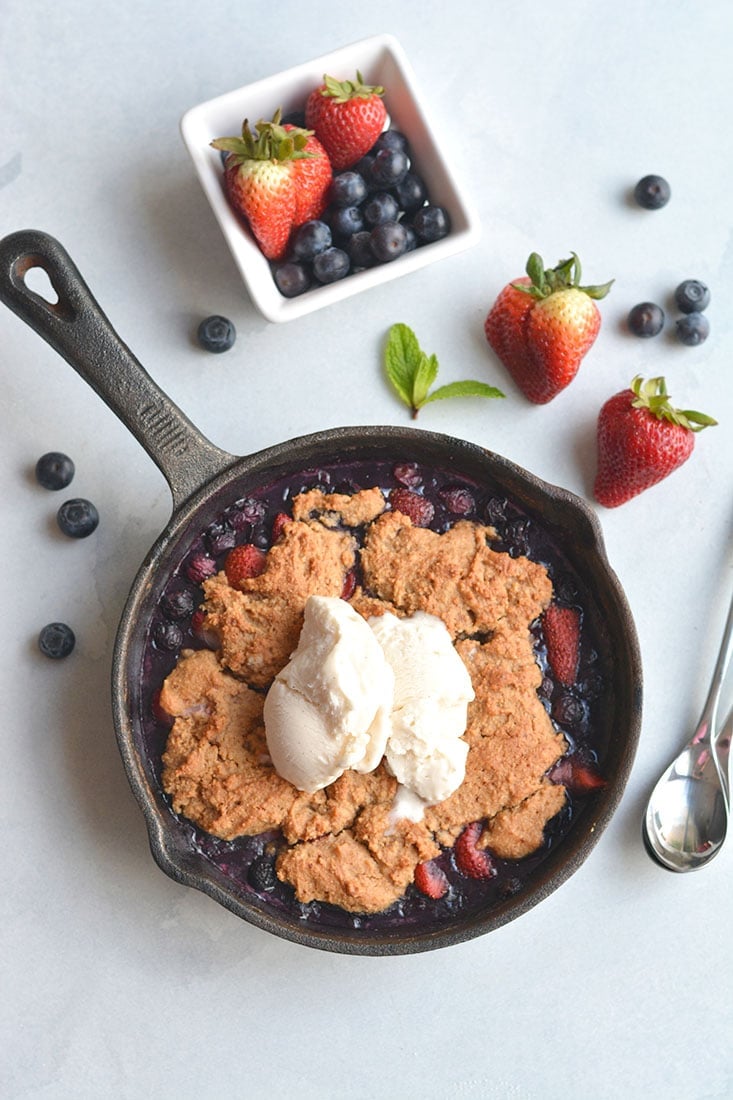 Oh friends, grab your coffee, tea and a few spoons. I'm sharing a Low Sugar Berry Cobbler with you today and I'm sure you're gonna love this one for summer gatherings! But first, let's chat a second about how to incorporate healthy treats into your diet.
My 14 Day Sugar Challenge ended last Sunday (next one coming in Aug/Sept get on the waitlist). Someone in the challenge said they couldn't get over the mental block of eating certain foods.
This was something I struggled with after losing 80 pounds and is very common chronic dieters. It's the lack of trust within yourself and feeling unsure about how your body will react to processed foods.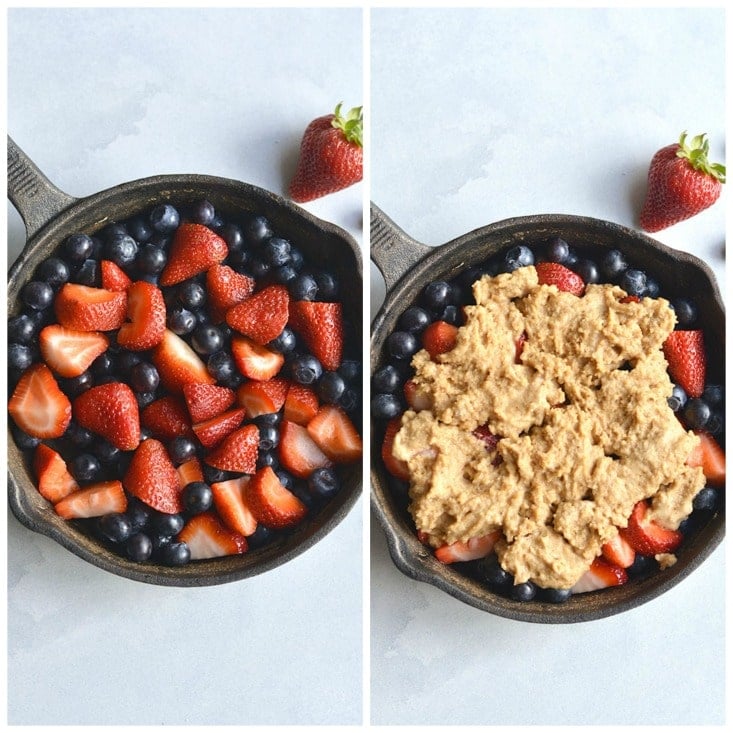 What I've learned is by labeling foods as good or bad or restricting them, you make them more attractive. I rarely crave sweets anymore. The reason I don't is because I follow a healthy diet with a lot of greens and lean protein daily. Those foods keep me full and keep my blood sugar stable.
The other reason I don't crave them is because I allow myself to have a treat whenever I want to. This makes me feel less like I want them. Make sense?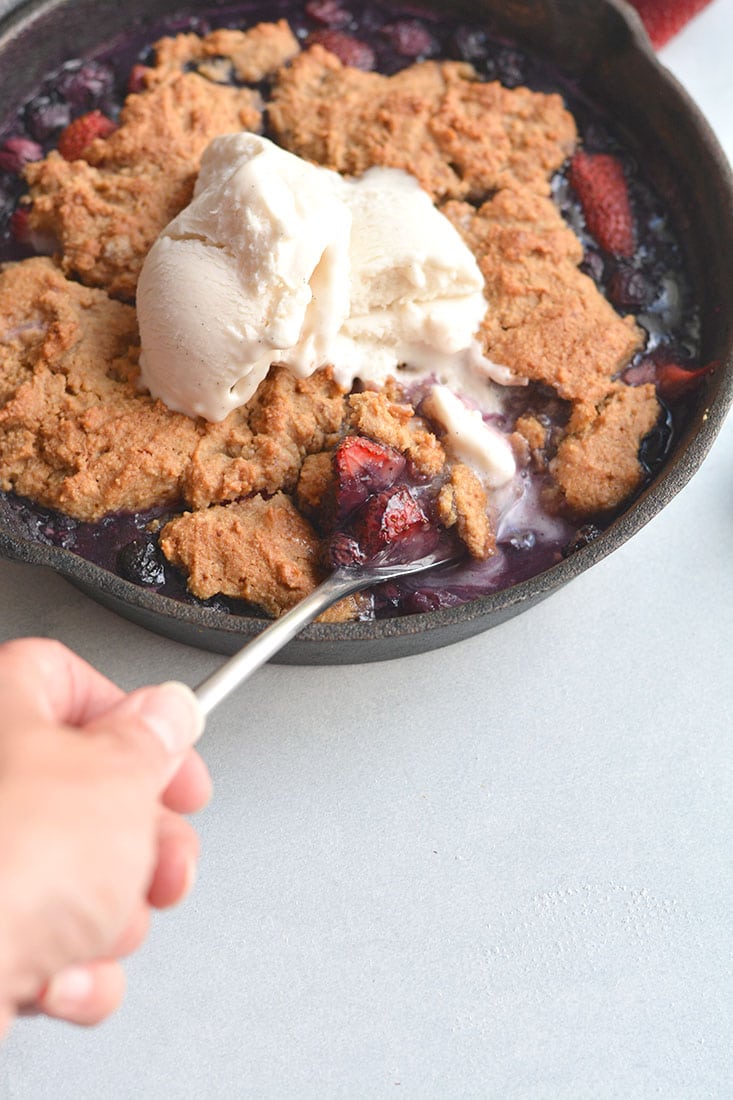 Low Sugar Berry Cobbler
Those two consistent practices have helped me avoid being a stressed out maniac on sugar. In fact, when I made this Low Sugar Berry Cobbler I had two bites and I was satisfied, put the rest in the refrigerator and happily walked away. For someone who used to be highly addicted to sugar and carbs this was huge!
Now about this cobbler! It's low sugar! I used coconut sugar as it has a lower glycemic index meaning it does not spike blood sugar the way other sugars do. And frankly, you don't need a ton of sugar in a cobbler because the fruit has so much natural sweetness!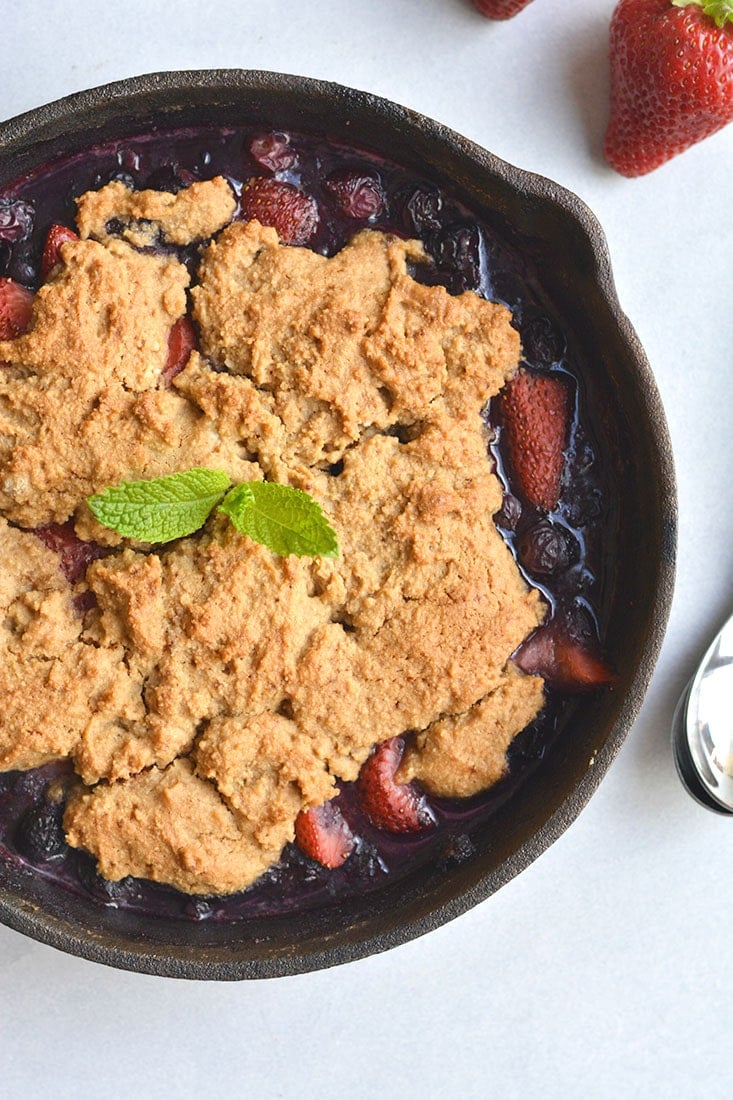 What You Need
Gluten Free Oat Flour
Strawberries
Blueberries
Almond Milk
Vanilla Extract
Coconut Sugar
Baking Powder
Olive Oil
Lemon Juice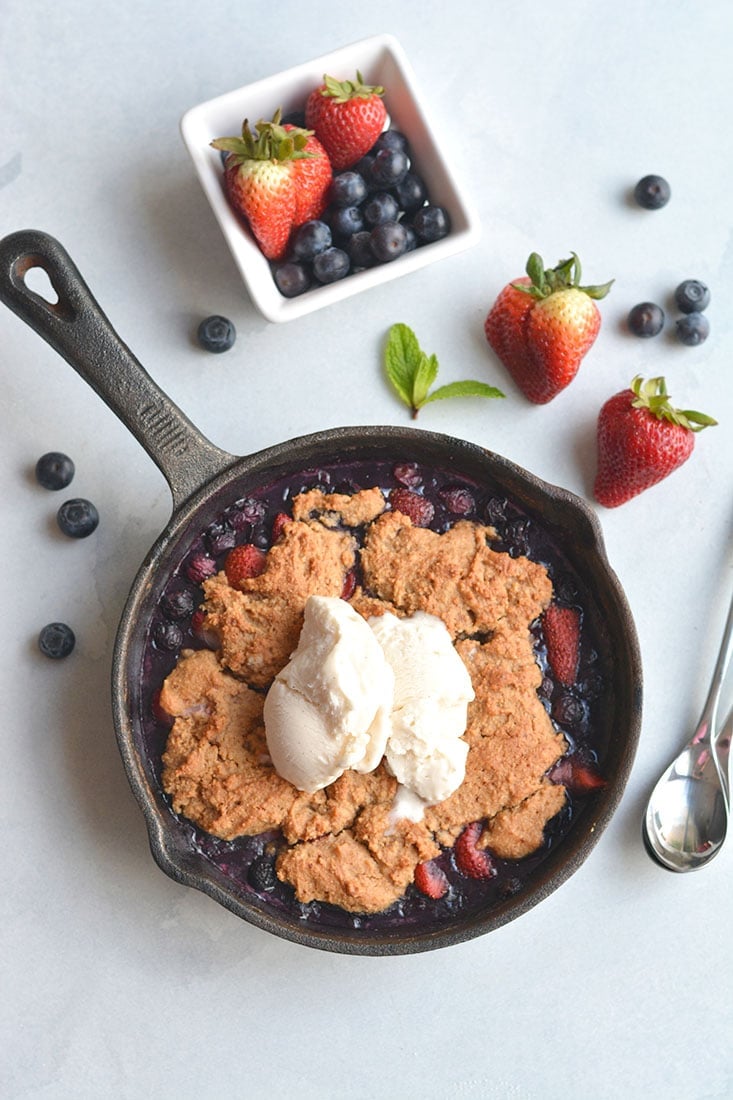 An easy to make warm weather dessert using one skillet with both Paleo and Gluten Free options. Served mine with dairy free vanilla coconut ice cream. It was refreshing on a hot day! Now, enough chatter. Grab your spoon and let's eat!
3 Smart Strategies To Stop Cravings
Low Sugar Berry Cobbler
Low Sugar Berry Cobbler! Made gluten free, dairy free and refined sugar free. Easily baked in a skillet for a healthy Vegan cobbler dessert recipe! Gluten Free + Vegan + Low Calorie
Prep Time 10 minutes
Cook Time 25 minutes
Servings 6 servings
Calories 193 kcal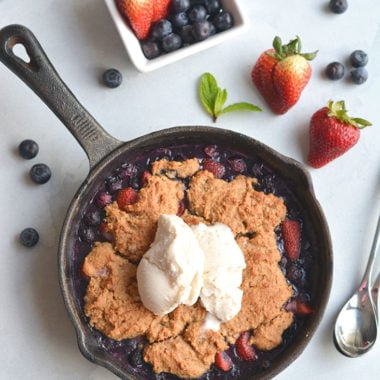 Ingredients
For the berries:
1 1/2 cups strawberries sliced
1/2 cup blueberries
2 tbsp lemon juice
Instructions
Preheat the oven to 375 F. In a 10 inch skillet, add the sliced strawberries, blueberries and lemon juice. Stir to combine.

In a separate mixing bowl, combine the almond flour, tapioca, salt, baking powder. Then stir in the milk, oil and vanilla until it becomes thick.

Top the thick flour over the berries. Using a spatula, spread the flour over the berries. It won't spread very smooth which is ok. It will spread more during baking.

Bake at 375 F 25-30 minutes until the top is golden brown. Cool 5 minutes before serving. It will be hot! Top with dairy free ice cream (I love So Delicious Coconut Ice Cream) for a yummy treat!
Recipe Notes
I've made this recipe with both almond flour and Gluten Free flour and they both work really well.
My Amazon shop has more products similar to those used for this recipe and that I recommend to my nutrition clients.
Paleo version of this recipe using almond flour is click here.
Course Dessert
Cuisine American
Keyword berries, blueberries, cobbler, coconut sugar, dairy free, dessert, gluten free, low calorie dessert, low sugar dessert, oat flour, strawberry, vegan
Nutrition facts per serving (1serving)
Calories 193 kcal
Fat 14 g
Saturated Fat 1 g
Cholesterol 0 mg
Sodium 120 mg
Potassium 148 mg
Carbohydrates 15 g
Fiber 2 g
Sugar 6 g
Protein 4 g
Vitamin A 0 %
Vitamin C 24.3 %
Calcium 94 %
Iron 1 %
Custom Meal Plans
Work with Megan to develop a custom macro or standard meal plan to reach your goals.
Learn More
What I Used For The Recipe