Gluten Free Apple Crisp made with almond flour, cinnamon and lower in sugar. An easy apple crisp that's better balanced in nutrition and dairy free. A healthy dessert recipe that everyone goes crazy for! Gluten Free + Low Calorie + Paleo
Cobbler and crisp dessert recipes are my favorite kind. There's something sooo delicious about the natural sweetness of fruit paired with a sweet crumbly topping served warm with dairy free ice cream. It's EVERYTHING I need in a dessert recipe.
This recipe is an oldie but goodie from November 2014 (that desperately needed updating) when I first started food blogging. Crazy how I lost 80 pounds in 2009 which led me to creating this website which has not only has become a full time business and passion for me, but also a community for you to enjoy healthy, lightened up food.
So without further adieu…
Gluten Free Apple Crisp
This is hands down the best apple crisp recipe I've ever had if I do say so myself. Not only is it gluten free, but it's lighter than most apple crispy recipes. This one is dusted in almond flour giving it a slightly nutty flavor.
I like using almond flour in place of refined flours to better balance the nutrition in dessert recipes. While it does increase the calories, it also increase the protein, fiber and healthy fat. These make a dessert more satisfying and keep your blood sugar more stable.
Don't worry, if you're allergic to nuts you can substitute gluten free oat flour in this recipe.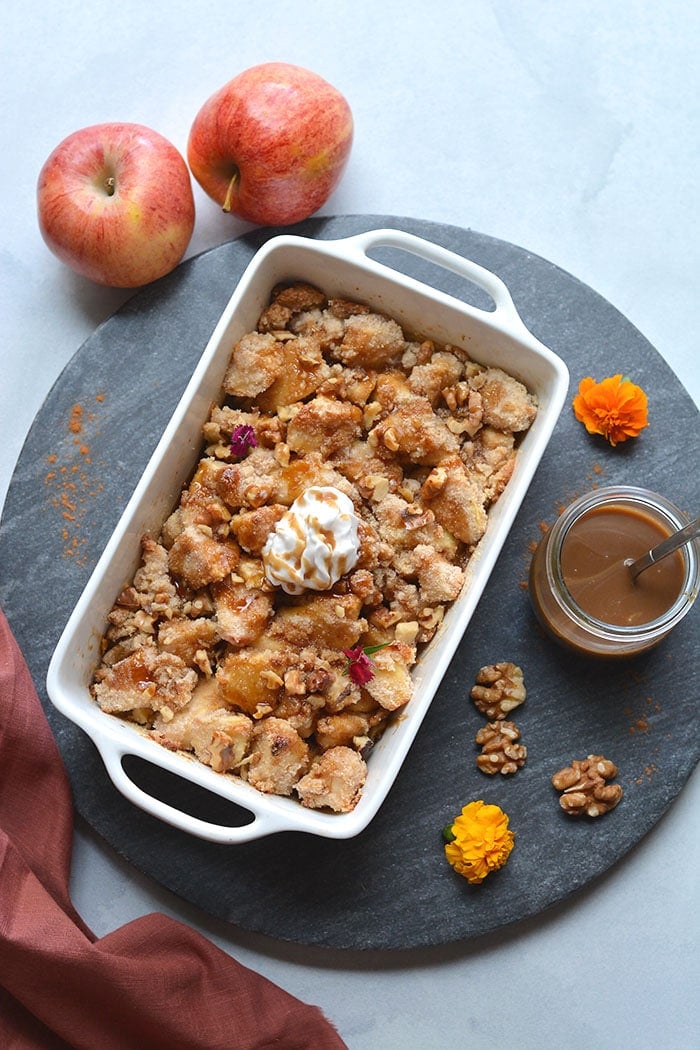 What You Need
Apples
Honey
Coconut Oil
Almond Flour
Nutmeg, Cinnamon
Walnuts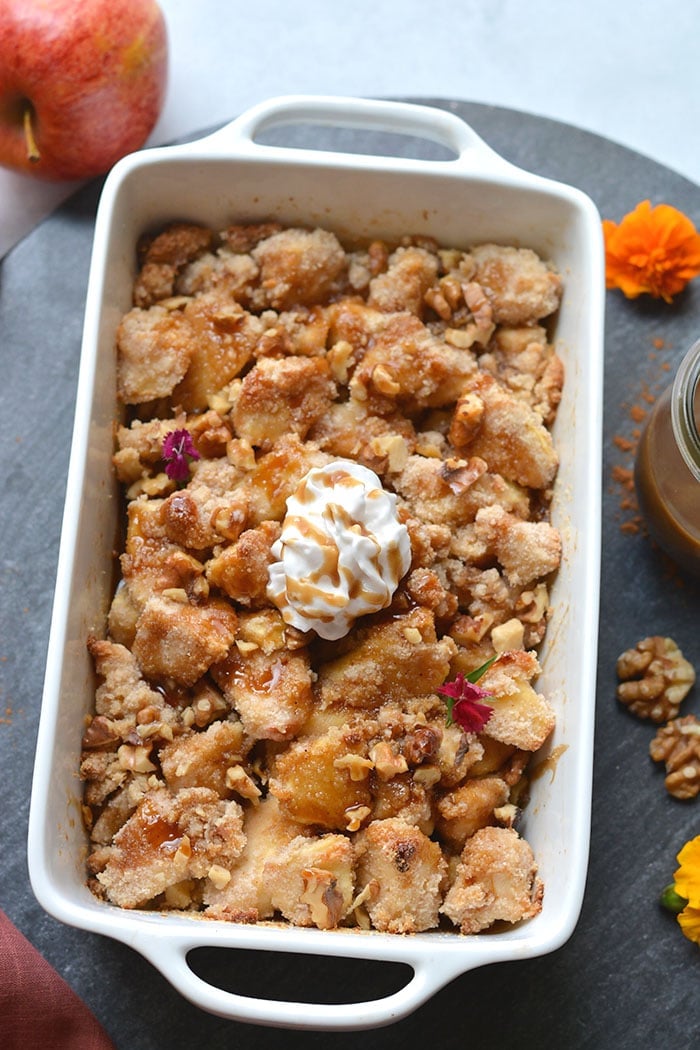 How To Make This Easy Apple Crisp
Most apple crisp recipes I see are layered, meaning the apples are on the bottom and the crisp is on top. This easy apple crisp mixes all the ingredients together then tosses them in a pan saving you time. Not only that, you're able to use less flour using this method.
The almond flour is really a dusting on the apples and I just love that about this recipe. It also a sneaky trick to lightening up a recipe.
Can You Add Other Fruits
Yes! This recipe is super versatile. You could easily add other fruit to the apples or swap the apples for your favorite fruit. Raspberries, strawberries, blueberries, cranberries or pineapple are my personal favorites.
If you're looking for more swaps, check out my favorite crisp and cobbler recipes: Pumpkin Spice Apple Crisp, Paleo Berry Cobbler, Low Sugar Oat Cobbler, Berry Quinoa Cobbler.
Can You Replace The Honey
Honey is a sugar I recommend using in moderation because the liver is the only place it can be metabolized. Usually honey can be swapped for maple syrup, however, in this recipe honey has a job. To hold the dusting of almond flour on top of the apples!
Without the honey, the apple crisp would have a lot of syrup floating on the bottom of the pan. I also never recommend swapping real sugar for zero calorie artificial sweeteners. These sweeteners never come free as they are refined and made from chemicals. They also almost always cause gastrointestinal problems.
Gluten Free Apple Crisp
Gluten Free Apple Crisp made with almond flour, cinnamon and lower in sugar. An easy apple crisp that's better balanced in nutrition and dairy free. A healthy dessert recipe that everyone goes crazy for!
Prep Time 20 minutes
Cook Time 30 minutes
Total Time 50 minutes
Servings 10 servings
Calories 204 kcal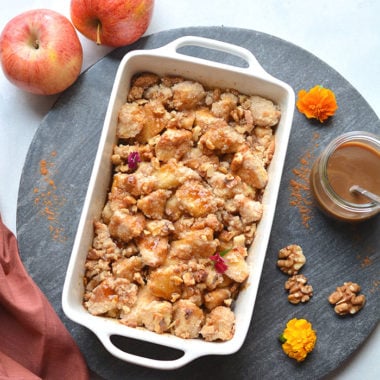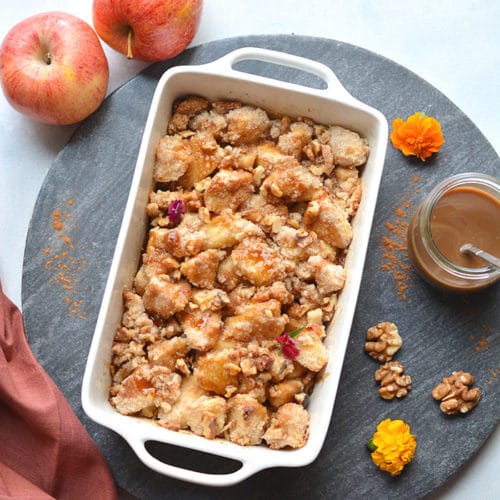 Instructions
Peel apples, remove core and slice lengthwise about 1/2-inch thickness. Place the apples in a mixing bowl with the remaining ingredients and toss together.

Transfer the mixture to a 13x9" baking pan. Spread into an even layer then bake at 350 F for 30 minutes.

Remove from the oven and serve warm with dairy free ice cream or coconut whip.
Course Dessert
Cuisine American
Keyword almond flour, apple, crisp, easy, gluten free, healthy, low calorie, Paleo
Nutrition facts per serving (1serving)
Calories 204 kcal
Fat 14 g
Saturated Fat 7 g
Cholesterol 0 mg
Sodium 1 mg
Potassium 91 mg
Carbohydrates 20 g
Fiber 3 g
Sugar 15 g
Protein 3 g
Vitamin A 39 %
Vitamin C 3 %
Calcium 34 %
Iron 1 %
Custom Meal Plans
Work with Megan to develop a custom macro or standard meal plan to reach your goals.
Learn More
What I Used For The Recipe