This post contains affiliate links. As an Amazon associate I earn qualifying purchases. Click here for more about this policy.
Healthy Caramel Pecan Pie! The best pecan pie made lower in sugar, lightener with less fat topped over a super simple 3 ingredient gluten free crust. The only pie you will ever want to make! Gluten Free + Low Calorie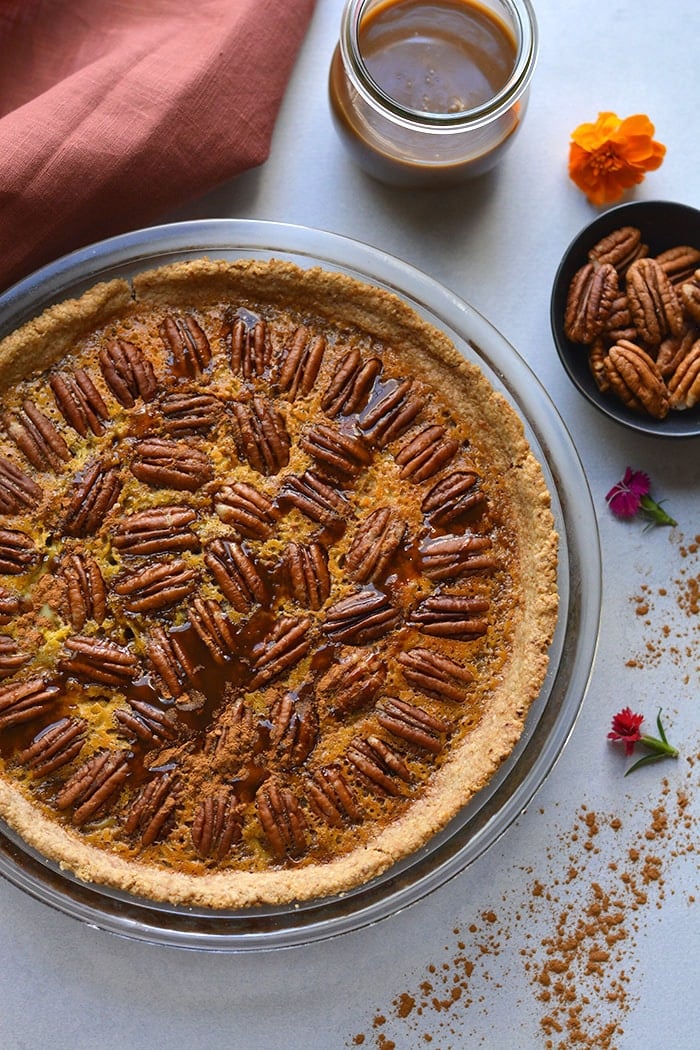 It makes me sad that I don't have my family here or a family of my own to share all my holiday recipes with. Before my Dad was diagnosed with dementia, my parents spent the holidays in Arizona with us every year. My Mom always looked forward to trying my new recipes and not having to cook.
Unfortunately, his dementia has progressed so much now that they can't travel and I'm sad to say that some days he doesn't remember me. While it's tough to see a family member that way, it makes me very grateful for my health after my health battles and for all of you who make my recipes. 
So thank you for being here because it means more to me than I can say in words and I have the BEST healthy pecan pie recipe today to show you my gratitude!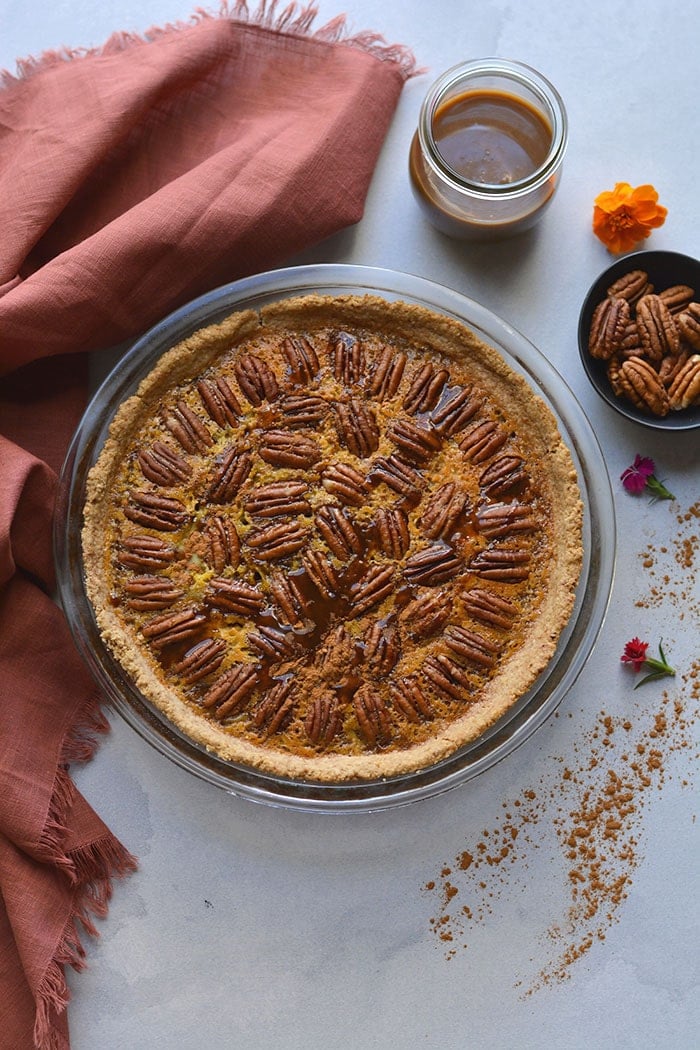 Healthy Caramel Pecan Pie
This lightened up pecan pie uses real maple syrup, but way less sugar than any other pecan pie. This is what makes it healthier. Less sugar! Combing the maple syrup with eggs gives the pie it's custard like texture. It's creamy and delicious. 
It's topped over my easy low calorie pie crust making this a gluten free pecan pie but also an easy pecan pie. One you can whip up for the holidays and feel good about eating knowing its nutritionally balanced!
What You Need
How to make the best pecan pie
Start by making your 3 ingredient pie. It's a very easy homemade pie recipe with no rolling or strange ingredients. You can use a pre-made gluten free pie crust, but they tend to have a lot more sugar and fat than the low calorie pie crust.
I make my pie shell a day or two ahead of time, store in the refrigerator then set at room temperature a few hours before making the filling. More details on making that healthy pie crust is here too.
Once your crust is ready, whisk together the eggs with maple syrup until fluffy. Then stir in the oil and vanilla extract and pour over the pie crust. Arrange the pecans on top, sprinkle with salt and bake.
Let the pie chill at least one hour after removing from the oven before slicing and drizzling with the pre-made caramel sauce. I like to add a bit of non-dairy coconut whip on top with the caramel sauce (Reddiwip now makes one). 
Helpful tips
While this simple pecan pie recipe comes together quickly, I've found it's best served chilled. If you can chill it one or two hours before serving it will taste even better than cooled out of the oven. It also stores well in the refrigerator up to seven days and makes the best leftovers.
I do not recommend replacing the real maple syrup with a zero calorie one. The chemicals in those are shown to increase cravings and it's unclear what those chemicals do to the body. Real maple syrup also has a small amount of minerals our body's need. Remember, free foods never come free. There's always a cost.
Enjoy your healthy pie friends!
More healthy pies to try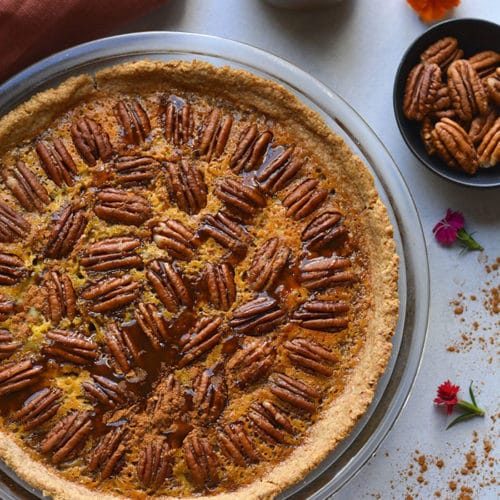 Healthy Caramel Pecan Pie
Healthy Caramel Pecan Pie! The best pecan pie made lower in sugar, lightener with less fat topped over a super simple 3 ingredient gluten free crust. The only pie you will ever want to make! Gluten Free + Low Calorie
Ingredients
For the Caramel Sauce
1/4 cup unsweetened cocconut milk or milk of choice, a higher fat milk works best
1 tablespoon coconut sugar
Instructions
Make the caramel sauce by combing the milk and sugar in a small saucepan and bringing to a medium heat. Whisk the sugar in until it's combined then bring to a simmer. Simmer on medium heat 5 minutes. Then remove from heat. Once cooled, place in a mason jar or container and store in the refrigerator to thicken.

Preheat oven to 375 F and prepare a 9-inch pie dish by lightly greasing with coconut oil.

In a mixing bowl, whisk the egg, egg whites and real maple syrup (not fake) together until frothy 2-3 minutes. Add the vanilla extract and coconut oil then pour into the prepared pie crust.

Top the mixture with the pecans then sprinkle with salt.

Bake 45-50 minutes at 375 F until the crust is brown and the center of the pie is firm. It will raise slightly during baking then deflate a bit after cooling.

Cool at room temperature a minimum of 1 hour before slicing. I like to nudge the crust loose with a wood spatula before slicing to prevent it from cracking off.

Serve with 1-2 teaspoons of caramel sauce on top. If your caramel sauce is runny, you can mix in a 1/4 or 1/2 teaspoon of corn starch, arrowroot power or tapioca to thicken it.
Notes
Nutrition facts do not include caramel sauce. I recommend serving each slice with 1-2 teaspoons of the sauce to keep the calories and sugar lower.
My Amazon shop has more products similar to those used for this recipe and that I recommend to my weight loss clients.
Nutrition
Serving: 1sliceCalories: 183kcalCarbohydrates: 23gProtein: 2gFat: 9gSaturated Fat: 4gCholesterol: 20mgSodium: 332mgPotassium: 120mgFiber: 1gSugar: 19gVitamin A: 30IUCalcium: 41mgIron: 1mg
What I Used For The Recipe