This Almond Flour Apple Pie features an easy to make almond flour crust with sliced apples on top. A dessert recipe that comes together easily, is family approved, Paleo, gluten free and grain free.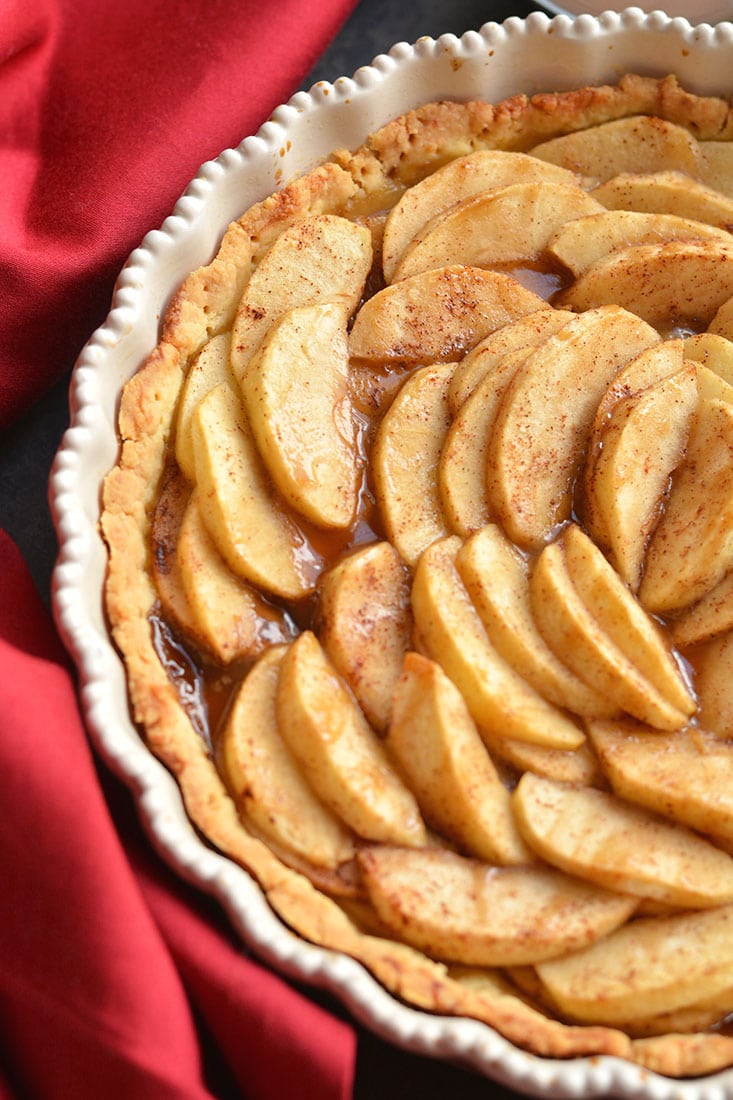 Thanks to those of you who messaged me birthday wishes this weekend. I can't believe I'm really 41. Gulp! Admittedly, I felt a big difference the last 6 months in my energy level, sleep and ability to workout. I just can't go, go, go like I used to. I need more rest and recovery, and you know what? I'm okay with it.
I'm also okay with it almost being the holidays. The guy and I were talking about our holiday plans and realized we need to start planning. I know what I'll be cooking. Whether or not he will eat what I make is a whole other story.
So….it's November and that means it's time for some pie. I'm assuming you're totally okay with that. A few months ago, I realized I only have pumpkin pie recipe on this blog – a lighter one and a grain-free one. Well this needed to change of course because what kind of holiday would it be without pie?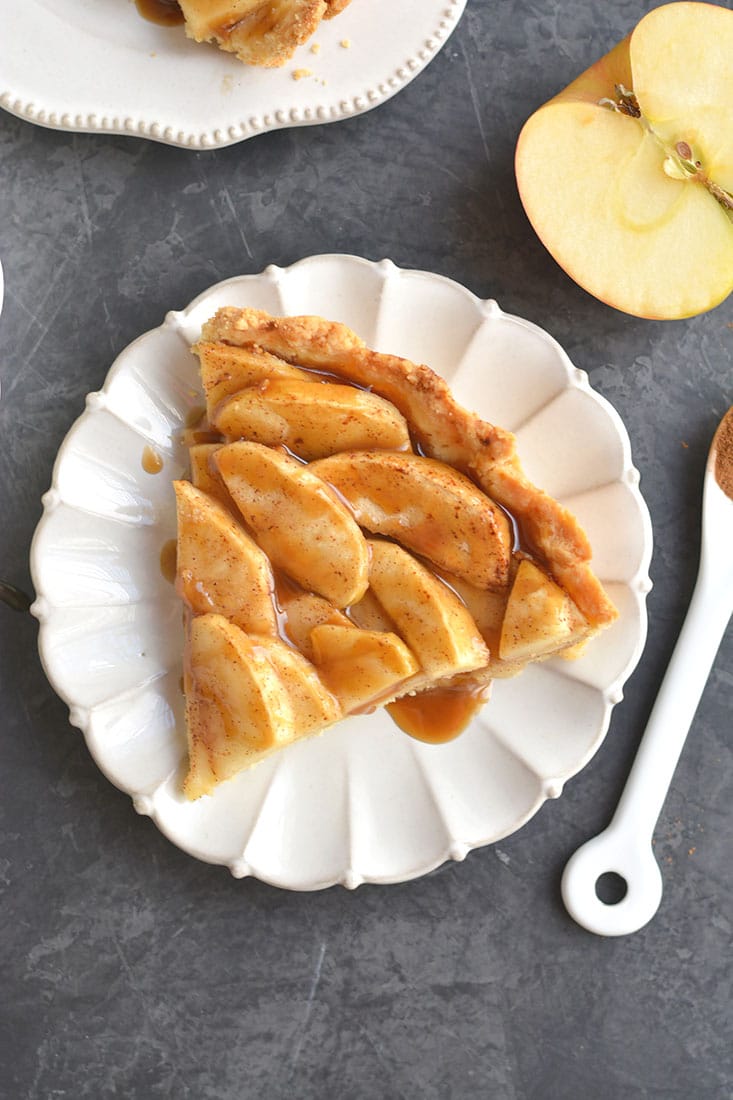 Almond Flour Apple Pie
This pie is made with my go-to almond flour blend crust. Made from the perfect blend of almond flour, coconut flour and tapioca. It comes out perfect every single time.
I've used this crust recipe for everything from pies to quiches to pizzas. It's tried and true and one I've been making for years. Now you get to try it in this almond flour apple pie!
I kept the pie easy really easy by not doing any dough on top. The top is simply apples with a maple syrup and cinnamon mixture so the pie itself is lower in sugar than other pies, but the apples are naturally sweet and this brings that out. It really has amazing flavors.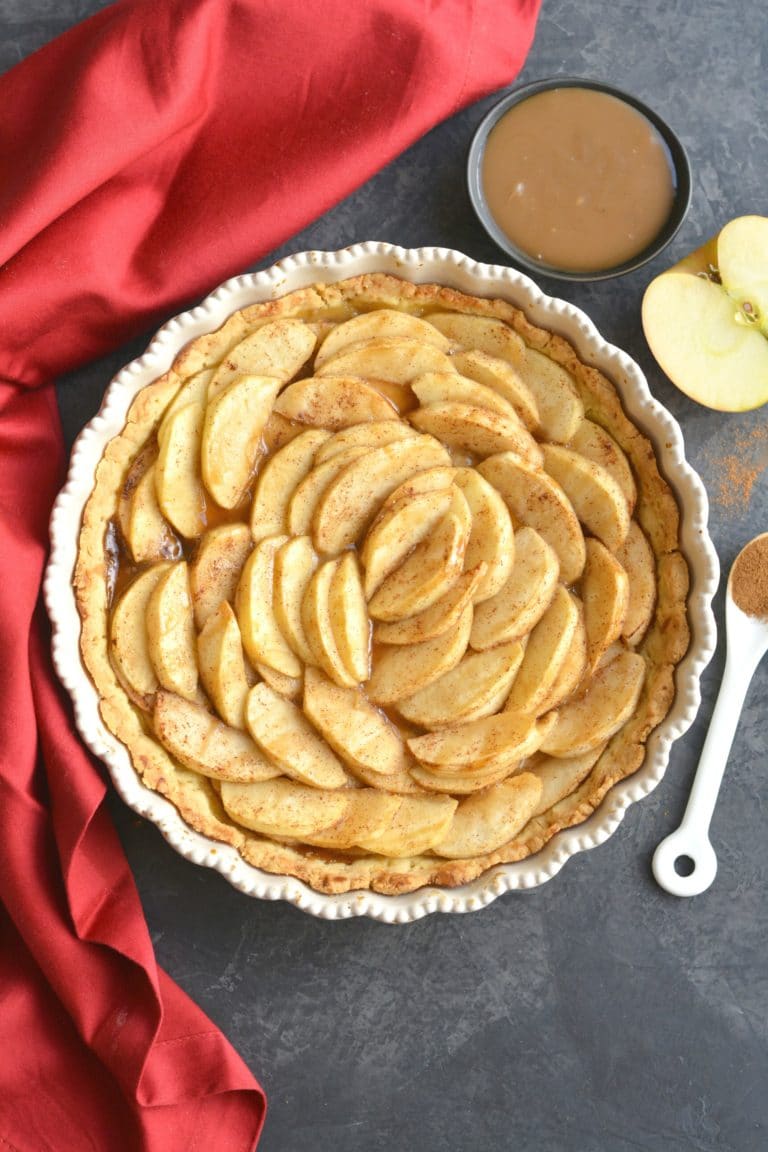 What You Need
Egg
Almond Flour
Tapioca or Arrowroot
Coconut Flour
Apples
Cinnamon
Maple Syrup
Coconut Oil
Lemon Juice
Salt
How To Make It
Make the crust by pulsing the unmelted coconut oil with the almond flour, tapioca and coconut flour until it becomes a crumbly mixture in the food processor. Then blend the egg into the mixture. If you don't have a food processor, start by whisking the egg then add the flour and use melted coconut oil instead of unmelted.
Once the crust is ready, press it into a pie dish until an even layer. Pierce the dough and bake 10-12 minutes. While the crust bakes, slice the apples into 1/8″ to 1/4″ thickness. Place the apples in a mixing bowl with the maple syrup, cinnamon and lemon juice.
Stir to combine then arrange the apples in a circular pattern over the pie crust. Bake another 15 minutes uncovered then remove and let it sit at room temperature 10 minutes before slicing and enjoying!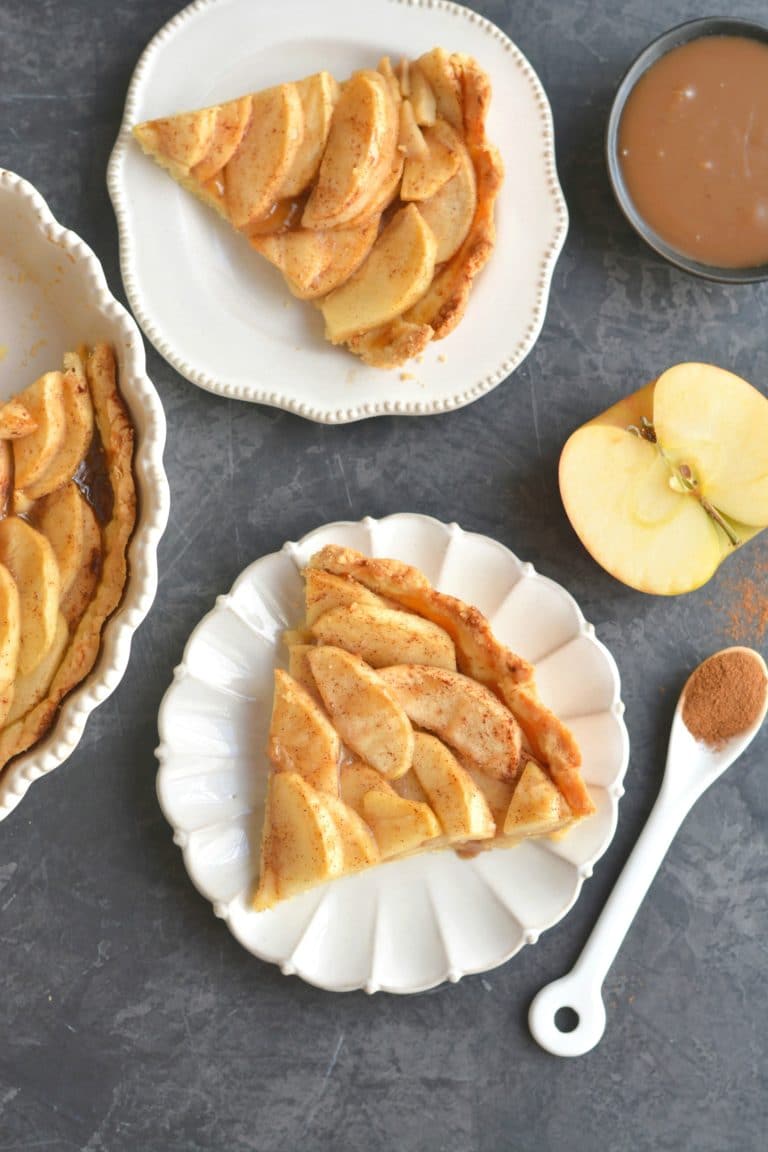 Helpful Tips
Make sure the egg is room temperature before adding to the flour. This is key to ensuring the dough does not fall apart. If your dough is a little too loose or crumbly, cover it in plastic wrap and place in the refrigerator to harden 30 minutes.
No other combination of flours has been tested with this recipe. Feel free to test other combinations and drop a comment below and I'll update the recipe card for others!
Let me know if you try the recipe by leaving a comment on the blog. If you have questions, ask those in the comments. It helps others who want to make the recipe as well!
3 Smart Strategies To Stop Cravings
Almond Flour Apple Pie
This Almond Flour Apple Pie features an easy to make almond flour crust with sliced apples on top. A dessert recipe that comes together easily, is family approved, Paleo, gluten free and grain free.
Prep Time 20 minutes
Cook Time 30 minutes
Total Time 50 minutes
Servings 8 slices
Calories 317 kcal
Ingredients
For the apple pie filling
3 large apples peeled, cored and sliced into 1/8 to 1/4" thick
1/4 cup maple syrup
1/8 tbsp lemon juice
1 tsp cinnamon
Instructions
Preheat the oven to 375 F. Prepare a 9" pie dish by greasing with cooking spray or coconut oil.

In a food processor, add all the ingredients except the egg. Pulse several times until it appear crumbly then add the egg and process until it become a dough.

Transfer the dough to the prepare pie dish and press it into the pie dish - up the tops and into the bottom of the dish. Using a piece of parchment paper to push the dough into the dish prevents it from sticking to your fingers.

Use a fork to pierce the dough with a fork all over to prevent it from rising during baking.

Bake at 375 F 10-12 minutes until lightly browned. Remove from the oven and cool 10-15 minutes while you prepare the filling.

Reduce the oven to 350 F. Transfer the sliced apples to a mixing bowl with the maple syrup, lemon juice, and cinnamon. Toss the mixture to evenly distribute the mixture.

Place the apple slices in the bottom of the pie crust arranging in a circular motion by slightly overlapping them. Pour the remaining sauce over the apples.

Bake at 350 F 15-20 minutes uncovered until the apples appear tender and the crust is golden brown.

Remove the pie from the oven and cool 20 minutes before slicing into 8 pieces and enjoying.
Recipe Notes
My shop has more products similar to those used for this recipe and that recommend to my nutrition clients.
Be sure to measure properly for baking.
Course Dessert
Cuisine Dessert
Keyword almond flour, apple, dairy free dessert, gluten free, grain free, holiday, Paleo, pie
Nutrition facts per serving (1slice)
Calories 317 kcal
Fat 21 g
Saturated Fat 12 g
Cholesterol 23 mg
Sodium 159 mg
Potassium 120 mg
Carbohydrates 31 g
Fiber 4 g
Sugar 15 g
Protein 4 g
Vitamin A 80 %
Vitamin C 3.9 %
Calcium 52 %
Iron 0.9 %
Custom Meal Plans
Work with Megan to develop a custom macro or standard meal plan to reach your goals.
Learn More
What I Used For The Recipe