This post contains affiliate links. As an Amazon associate I earn qualifying purchases. Click here for more about this policy.
This Healthy Pumpkin Pie made with an addicting walnut date crust and topped with pumpkin custard is super easy to make and so delicious you won't want to share! What pumpkin pie dreams are made of! Gluten Free + Low Calorie + Paleo
I just made your pumpkin pie making easy. If you can read, then you can make this Healthy Pumpkin Pie recipe. It's stupid easy and you are going to be blown away by the how real this healthy knock-off tastes. In fact, I may sell this on the street corner if you wanna swing by. Kidding!
So I used to have this friend who loved making pies. Every time I went to her house she'd have a freshly baked pie ready to go. I could never understand how she found the patience or the time to make so many pies. Who does these days?
As far as I'm concerned, pie making is for the birds. Blah. Too many steps involved, too time consuming and buying a pie is out of the question because they're loaded with sugar and fat. It's like a heart attack in a box. Frankly, none of this pie making business would be of any concern to me other than the fact that I'm a complete pumpkin pie fanatic.
Hand me any a slice of any pie and I will gladly pass it by, but tempt me with pumpkin pie and all my defenses come down. Like I have zero ability to say no. If you're a man, I hope you're listening to this. Yep, the way to my heart is pumpkin pie!
That's saying a lot because I'm very particular about what I put in my body. It's taken losing 80 pounds, years of battling medical problems and physically conditioning my body for me to FINALLY figure out what works best for me.
Truth is there are just some foods not worth eating because of how they make me feel, and pumpkin pie like this Healthy Pumpkin Pie, makes my body feel good. Really good!
I'm not just tooting my own horn here either. Okay, so maybe a little but this pumpkin pie is the real deal. Simple, delicious and irresistible.
The best part in my opinion is how easy it is. As in, no multi-baking steps, no complicated crust, no unhealthy ingredients. Only real, whole food ingredients here! Basically, the only thing standing between you and this pie right now is a food processor and baking dish.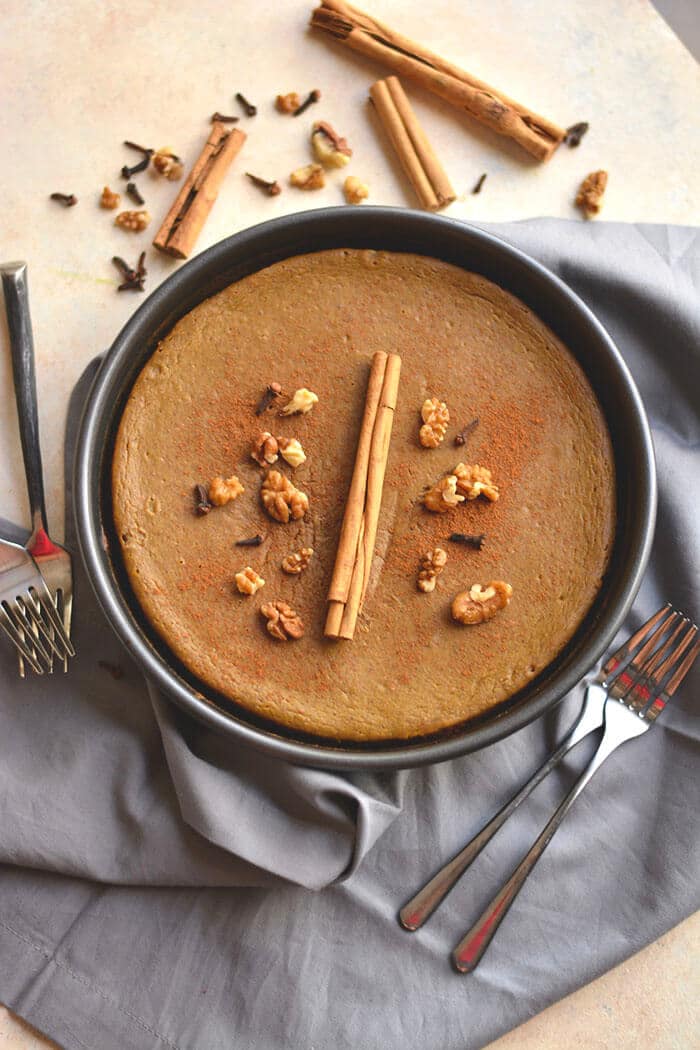 Do you have them? You better get on it because Thanksgiving is around the corner. Either that or I may have to come over and make you a pie. Any takers?
Now I know I'm going to get a zillion comments from people afraid of eating this healthy pumpkin pie recipe because it's made with a walnut crust. Okay, so unless you have a nut allergy or dislike for nuts there's nothing to fear. Fat is good for you, fat is needed to burn fat!
Sounds counterintuitive I know, but science proves when you eat fat you burn fat and when I say fat, I don't mean the greasy McDonald's kind of fat either. I mean the healthy kind found in whole foods like walnuts. Okay, I'll get off my soapbox now. You get the point.
Now where was I? Oh yes! Healthy Pumpkin Pie!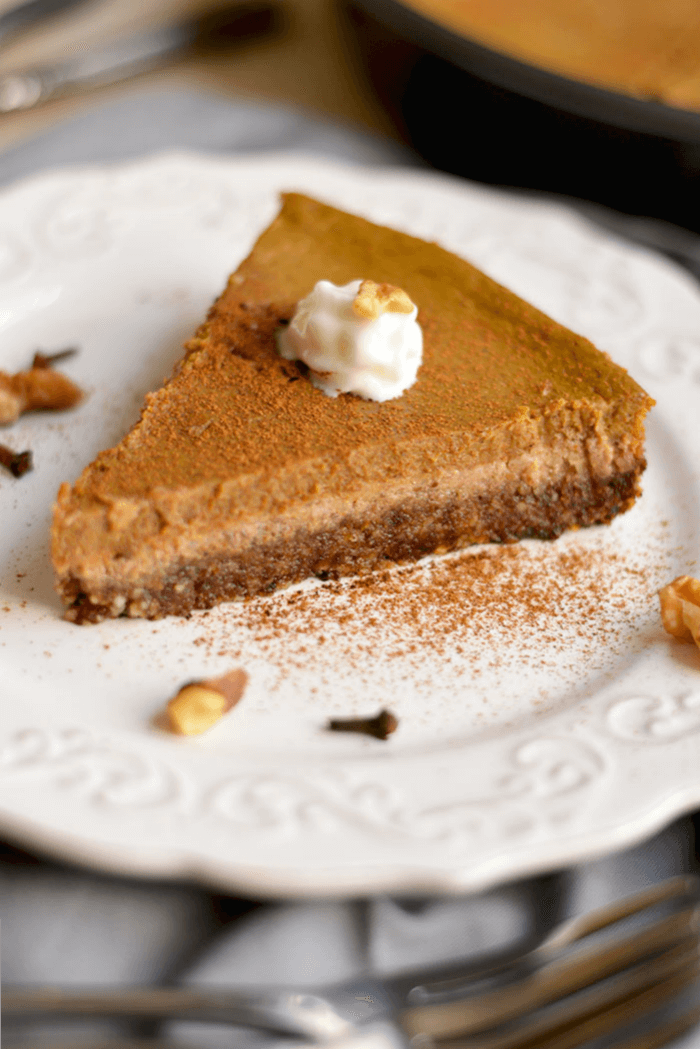 Your pumpkin pie dreams will come true with this Healthy Pumpkin Pie. Simple, healthy, EASY and freaking delicious. I'm that confident you will love it and if you don't, you did something wrong. Just kidding. Merry Christmas, Happy Thanksgiving and YOU'RE WELCOME!
Healthy Pumpkin Pie
This Healthy Pumpkin Pie made with an addicting walnut date crust and topped with pumpkin custard is super easy to make and so delicious you won't want to share! What pumpkin pie dreams are made of!
Ingredients
For the Pumpkin Pie Filling:
Instructions
Preheat oven to 350 F.

Drain the dates and place in a

food processor

or blender with walnuts and cinnamon. Process on high until it becomes crumbs. Keep processing until it becomes a sticky mixture that lumps together. If this doesn't happen, then you need to add more dates to make it stick together.

Transfer the crust to a

round pie dish

. Pressing the crust into an evenly layer, pressing it firmly into the pan and corners.

Next make the pumpkin filling by adding the ingredients for the filling to a food processor or blender. Blend until all ingredients are incorporated and smooth.

Pour the pumpkin filling over the crust.

Bake 45-50 minutes at 350 F until the pie is set and edges are firm.

Remove from the oven and cool 1 hour at room temperature prior to slicing and DEVOURING!
Nutrition
Serving: 1sliceCalories: 391kcalCarbohydrates: 27.2gProtein: 8.8gFat: 30.4gSaturated Fat: 3gSodium: 33.6mgFiber: 5.5gSugar: 18g
What I Used For The Recipe