One day I started walking and that one day changed my whole life. This is how I lost 80 pounds walking.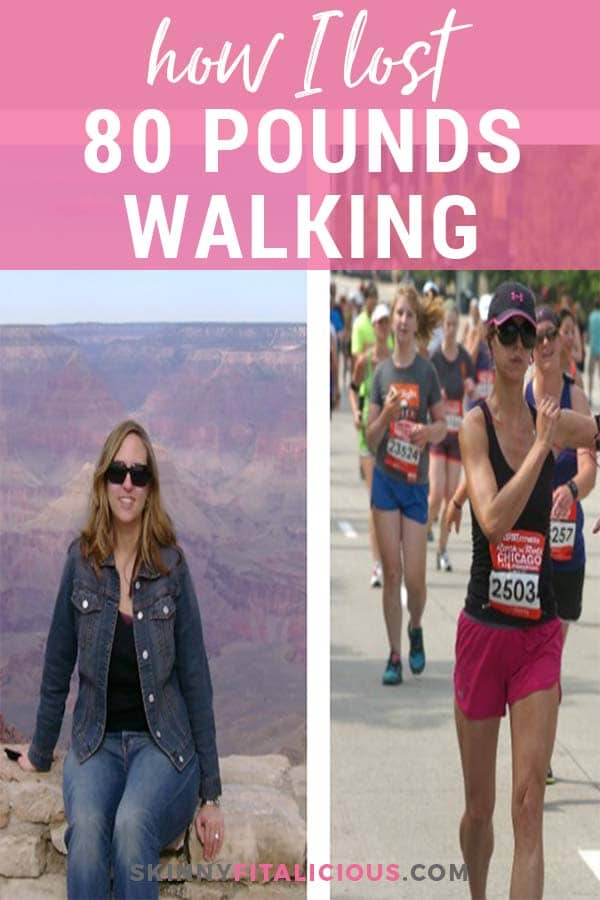 The Beginning of a New Life
My 80 pound weight loss didn't begin with a diet. It began with a walk. In fact, weight loss wasn't even a thought in my mind.
Before you read further, here's a podcast I recorded on how I lost 80 pounds walking and I give you actionable tips for losing weight for good in that podcast that are not in this post.
At that time in my life, I was feeling particularly unhappy and insecure working as a consultant in California unsure of my future, unhappy that I'd sacrificed so much of my personal life to corporate America. One night after a particularly stressful day, a coworker suggested I go to the beach to think.
When I arrived, I saw a path on the strand where people were walking and running. I hadn't been active in over decade due to my avascular necrosis, but something pulled me toward that path. A voice inside me said "you should walk."
So that's what I did. That night as I walked, I realized for once I didn't feel strangled by life. I could breathe. I could just be.
After my walk, I looked back at the ocean and thought to myself "I'm going to walk here every night." And that's what I did. Every night from that day forward, I walked. The first week 10 minutes, the next month 20 minutes the month after 30 minutes, then 40, 60, 90 and eventually I was walking 8-9 miles at a 12-13 minute per mile pace. The pace of a slow runner!
How I Lost 80 Pounds Walking
Walking made me feel good. It cleared my head, helped me see what I wanted more of in my life. One of which was losing weight. Since I was a teenager I'd tried losing weight over and over again, and failed miserably. But I never understood what the missing ingredient was until I started walking.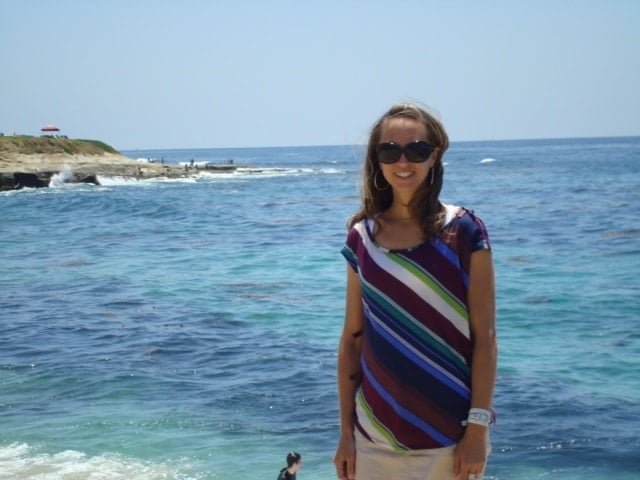 The missing ingredient was living.
Suddenly, my focus became fueling my body with healthier choices so I could do more of the things that inspired me like walking. I was eating better by choice, not by the demands of a diet.
After two months of walking, I lost 10 pounds. Those 10 pounds motivated me to continue walking and eating healthy. Over 18 months, I lost 80 pounds going from a size 14/16 to a size 2 to 4.
At that time, I didn't run, cycle, swim, lift weights or do any of the things I do today. I just walked. And with each step, the weight fell from my body almost effortlessly.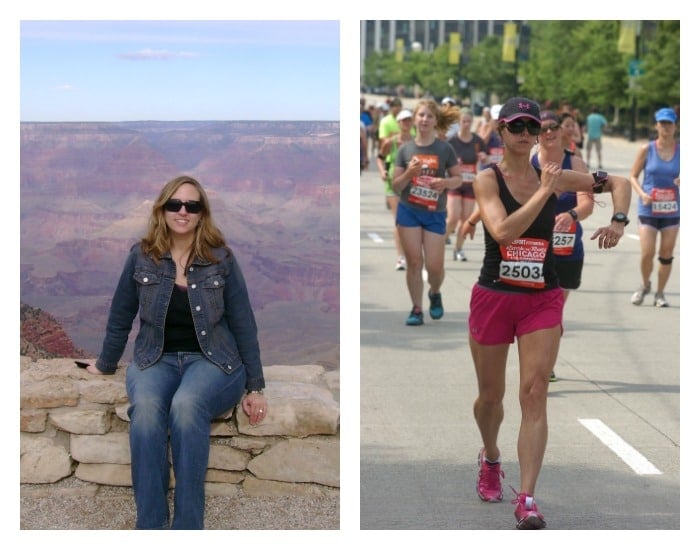 Walking changed me.
Not only did it change my body, it changed everything about me as a person. Suddenly, the world was full of new possibilities. With every pound I lost, part of the old me died. The old me who didn't love herself or think she was good enough. As those parts died, a new me emerged. The me who's confident, secure and proud in her own skin.
Walking taught me I was capable of anything.
Walking fired a passion in me to live life beyond my expectations and experience more of what it has to offer. It sparked a dream that I could live a different and more fulfilling life.
Now years later, I look back at the first day I started walking as the beginning of my new life.
A life where I lost 80 pounds, taught myself to cook, take beautiful pictures of food, started this little blog that transformed into my primary source of income and led me to the path of becoming a nutritionist and starting my own private practice.
Now I help women transform their lives and lose weight. I'm telling you this because it's not just about the food you eat or diet you do. It's about living a healthy life, choosing cleaner, chemical-free products (toxins get stored as fat) and making time for meal prep and activity.
Sometimes dreams aren't as far outside our reach as we think. It's about being willing to take the first step in the direction you want to go.
Having you been walking for weight loss and not losing weight? Watch the video for 6 reasons Why You're Not Losing Weight Walking.
If you haven't been working out, walking is a great way to start with fitness. The key is to walk at a very fast pace to get your heart rate up. This is how you get the cardiovascular benefit that will help you lose weight. It's not guaranteed that everyone will lose weight walking as it depends on your health status and eating habits.