Low Calorie Banana Oat Muffins are made with no flour or oil and no added sugar. A healthy muffin made in a blender, moist and delicious! Low Calorie + Gluten Free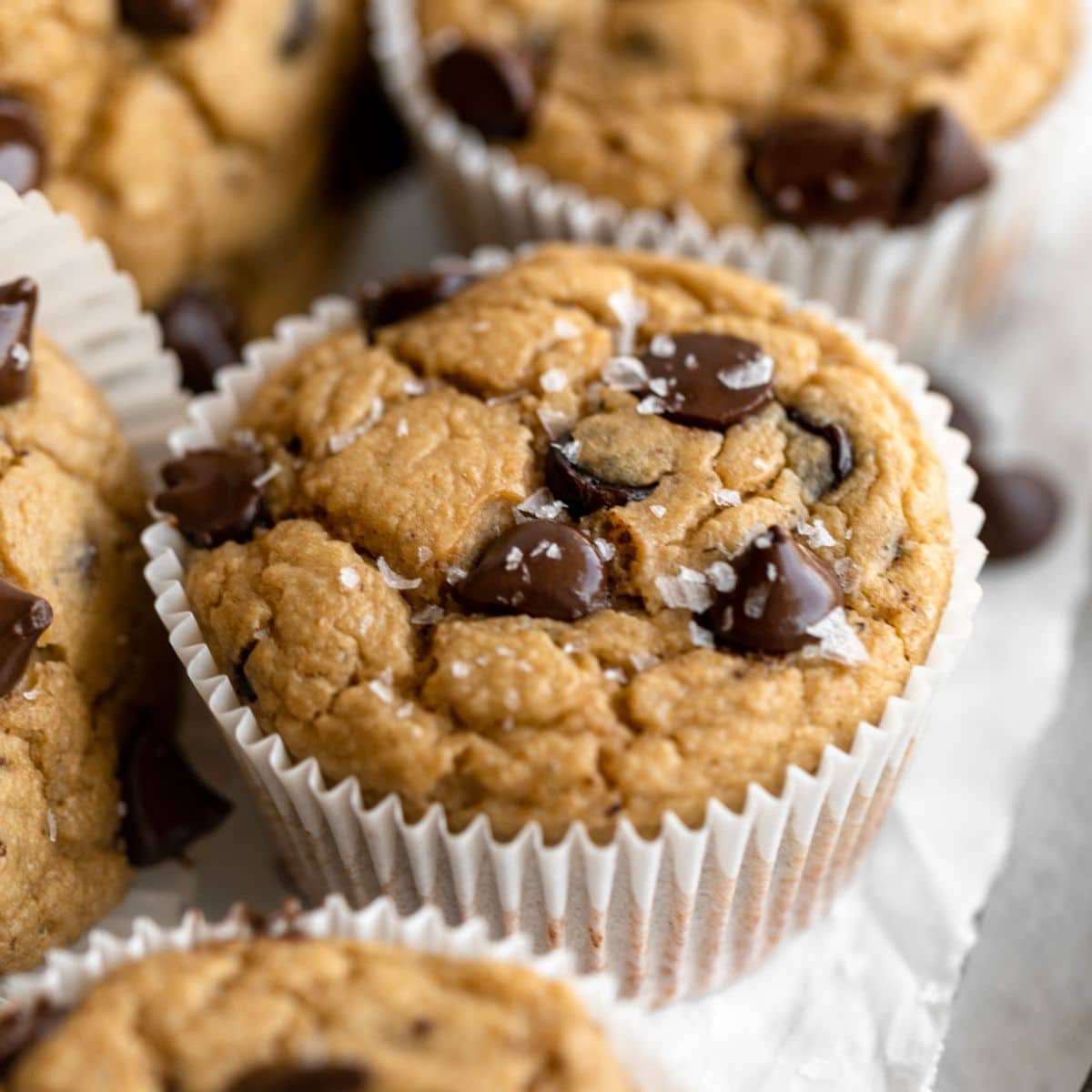 Low calorie muffins are one of my favorite snacks! It's no secret I'm a muffin lover and if you've been following for awhile, there's a good chance you've tried a muffin or two from this blog. They're an easy way to enjoy a perfectly portioned treat without going overboard.
Balancing lighter treats with healthy food is something I promote with my clients. In fact, many of them are surprised when I tell them not to restrict foods they love. When you restrict, you're more likely to binge, feel like a failure and throw in the towel.
Weight loss is about making peace with all foods, learning the right skills to balance foods you enjoy and having the right attitude and mindset to keep going even when you're not eating perfect.
News flash! No one is perfect and if you're always striving for perfection, you'll be less consistent. Making lighter treats like these skinny banana oat muffins are an example of how you can have your treats and lose weight too!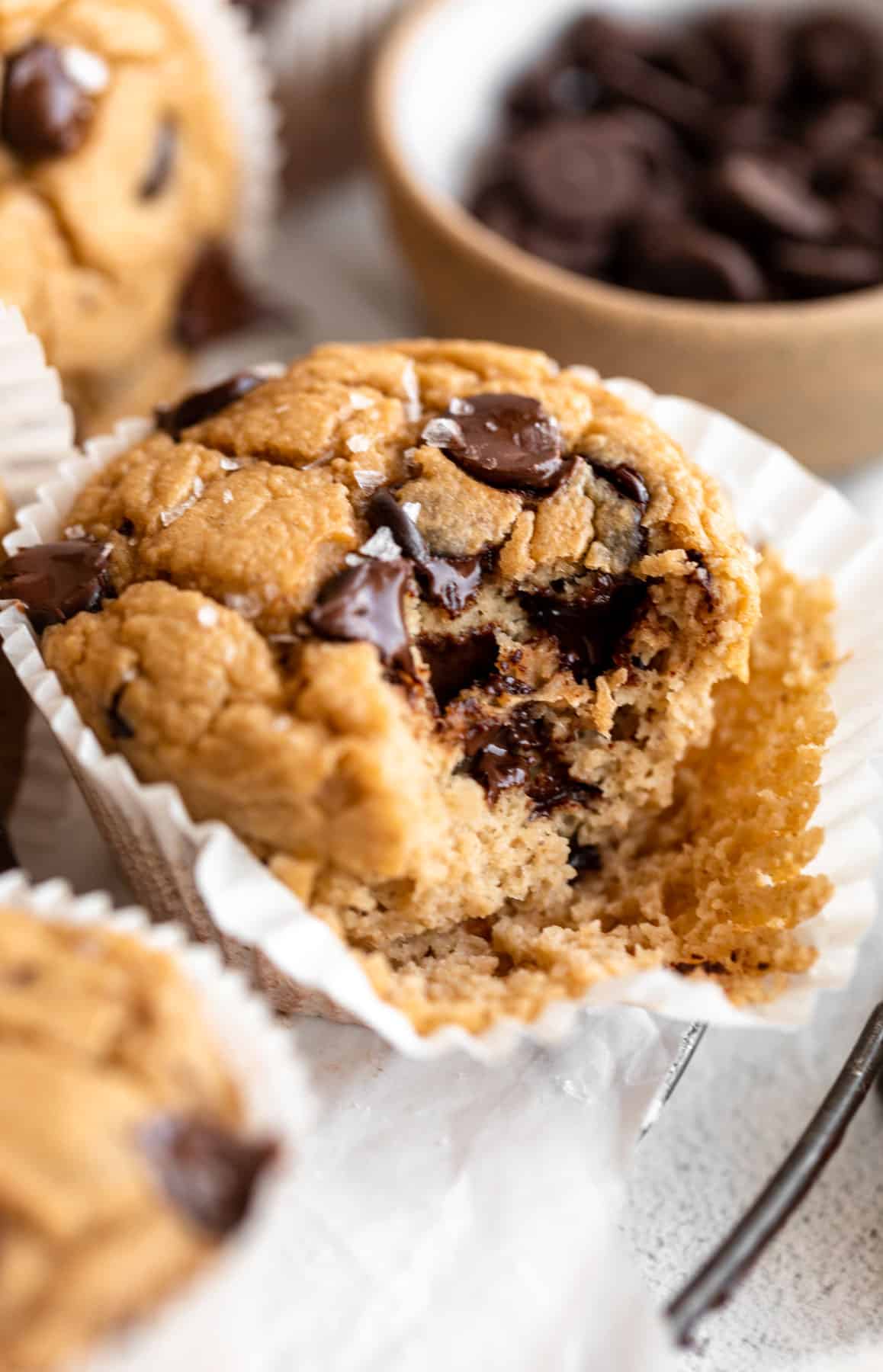 Healthy Banana Oat Muffins
Made flourless with gluten free oats, no added sugar or oil and naturally sweetened with bananas, they're a perfectly delicious treat for just 123 calories!
Greek yogurt adds protein to the muffins to balance the healthy carbs. No sugar is added to this recipe. As long as you use very very ripe bananas, the muffins will be sweet enough. You can always add a tablespoon or two of honey or maple syrup if it's not sweet enough for you.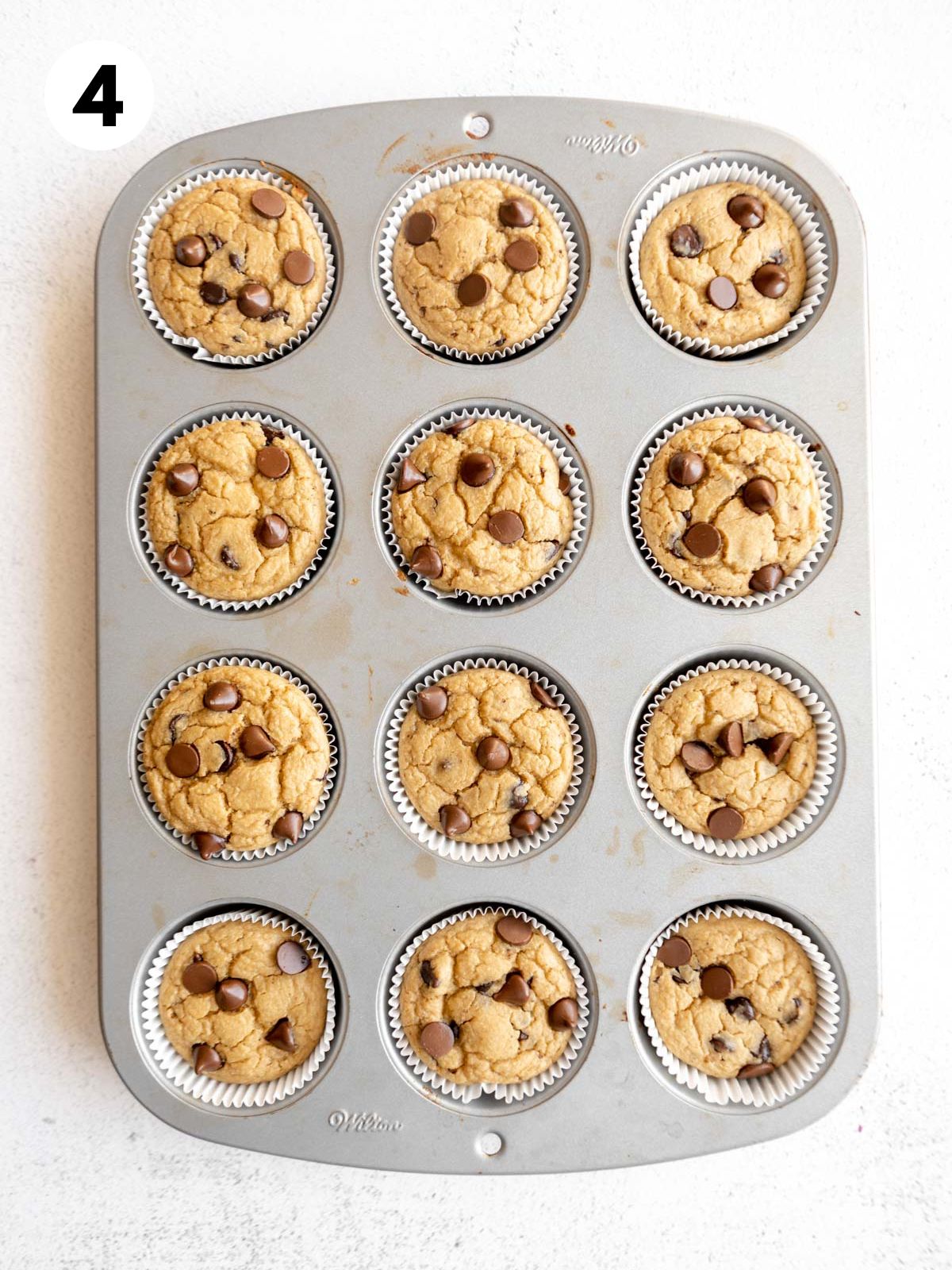 What You Need
Gluten Free Rolled Oats
Bananas, very ripe
Greek yogurt, nonfat
Eggs
Baking Powder
Baking Soda
Vanilla Extract
Honey or maple syrup, optional
Chocolate Chips, optional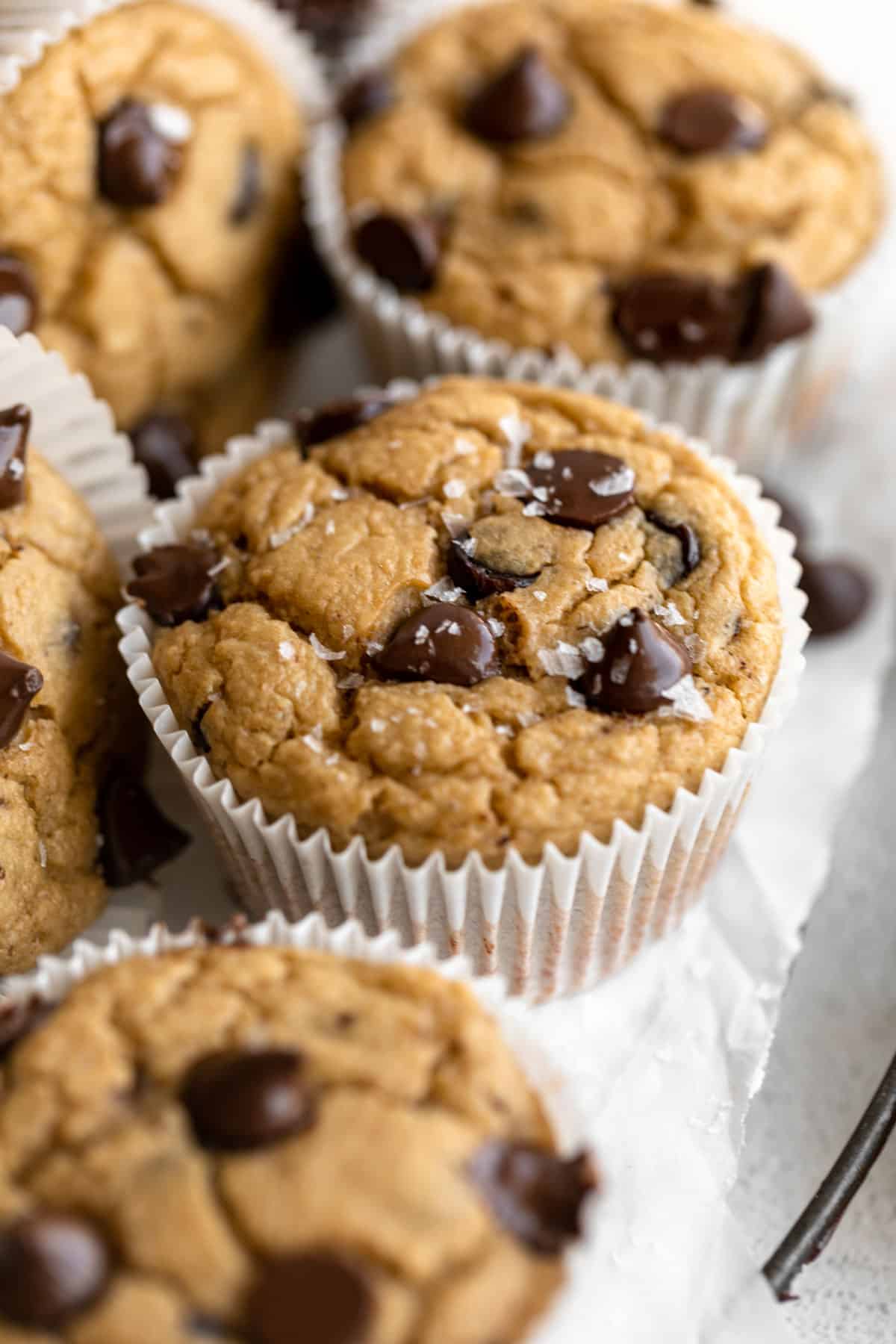 How To Make Banana Muffins
It's so easy! Add all the ingredients except the chocolate chips to a blender or a food processor and mix until fully blended. Add the batter to a prepared muffin tin. I used muffin liners for easy cleanup!
Stir in the chocolate chips then fill each muffin cavity three-quarters of the way full and bake! I added a few dairy free chocolate chips to mine, but you could easily add other toppings like raisins, seeds, chopped nuts, etc. to this banana muffin recipe. It's very versatile!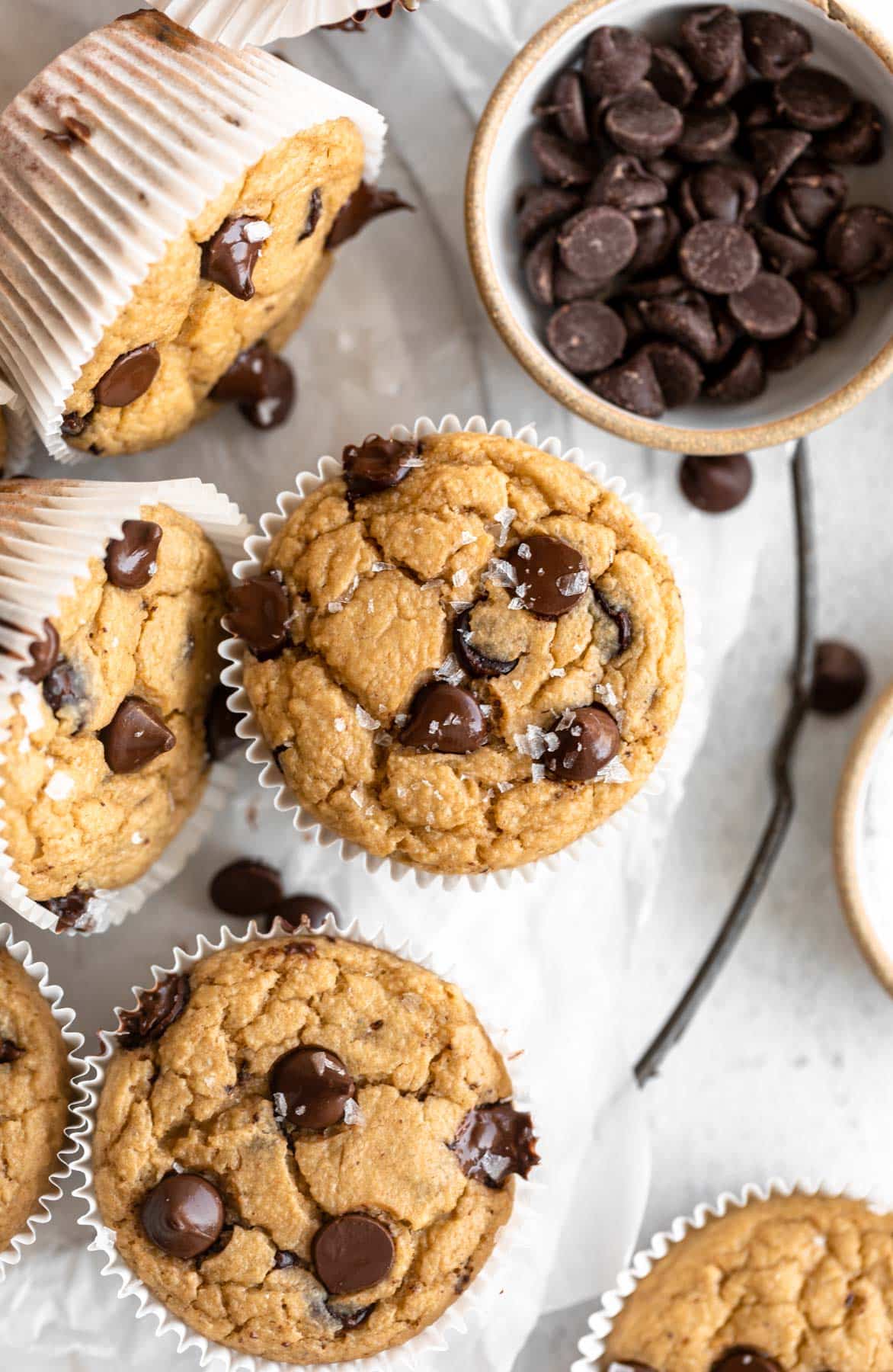 How To Store Your Muffins
The muffins are made with Greek yogurt so they will need to be stored in the refrigerator or freezer. You can refrigerate them up to 10 days in a container or up to 60 days in the freezer.
I love meal prepping two batches at a time so I can freeze a batch for future snacking. Hope you enjoy them!
Low Calorie Banana Oat Muffins
Low Calorie Banana Oat Muffins are made with no flour or oil and no added sugar. A healthy muffin made in a blender, moist and delicious! Low Calorie + Gluten Free
Prep Time 10 minutes
Cook Time 15 minutes
Cool Time 5 minutes
Total Time 30 minutes
Servings 9 muffins
Calories 123 kcal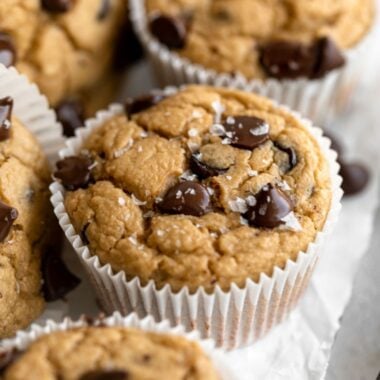 Instructions
Preheat the oven to 400 F. Prepare a muffin pan with liners or spray with cooking spray.

Place all the ingredients (except chocolate chips if using) into a blender or food processor. Process until smooth then mix in the chocolate chips if using by hand.

Divide the batter among the muffin cavities, filling to three-quarters full. Bake 15 minutes until the muffins are set and slightly brown on top.

Remove from the oven and cool in the pan 5 minutes before removing and enjoying.

Store muffins in the refrigerator up to 10 days or in the freezer up to 60 days.
Course Breakfast, Snack
Cuisine American
Keyword banana, flourless, gluten free, healthy, low calorie, muffin, oat, oil free, refined sugar free
Nutrition facts per serving (1serving)
Calories 123 kcal
Fat 2 g
Saturated Fat 1 g
Cholesterol 38 mg
Sodium 95 mg
Potassium 294 mg
Carbohydrates 20 g
Fiber 3 g
Sugar 4 g
Protein 7 g
Vitamin A 70 %
Vitamin C 2 %
Calcium 81 %
Iron 1 %
Meal Plans
Get a meal plan designed to meet your weight loss goals.
Learn More
What I Used For The Recipe