This post contains affiliate links. As an Amazon associate I earn qualifying purchases. Click here for more about this policy.
Healthy Banana Oat Cake made low calorie with less sugar and with a delicious Greek cream cheese frosting. Anyone can bake this simple and healthy cake recipe! Gluten Free + Low Calorie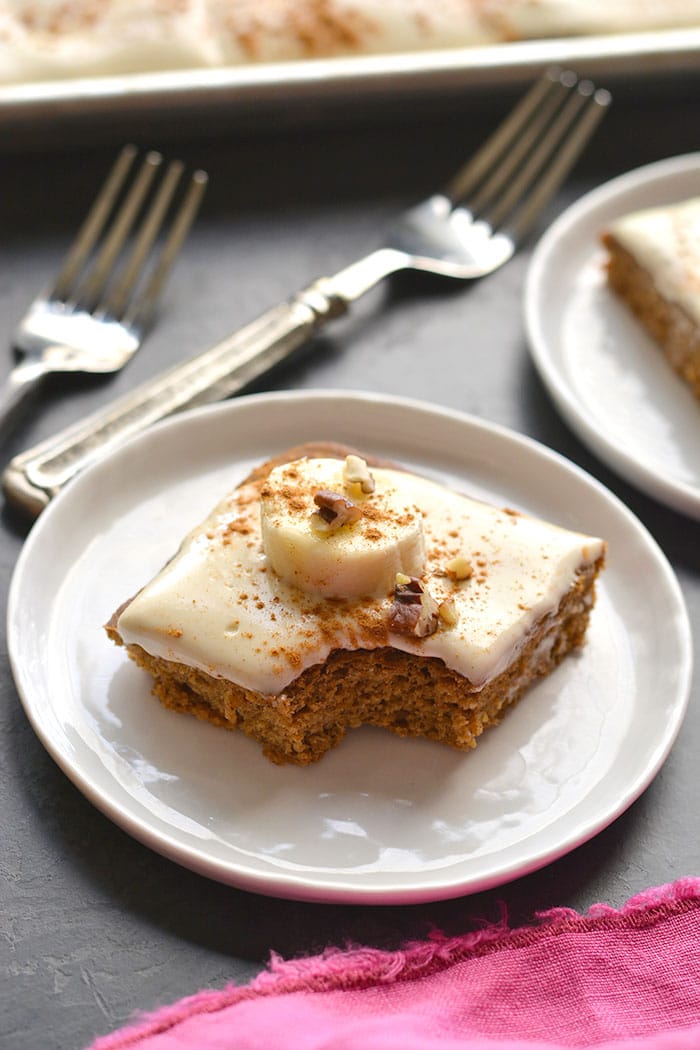 It's no secret that I love treats. My weight loss clients know I'm all about balance and moderation when it comes to treats. It's not like I'm a robot who magically loves eating vegetables and protein everyday. The truth is if I ate sole based on taste, I would live off sugar and treats.
But treats don't make my body feel its best nor do desserts loaded with oil, sugar and flour. Those foods make my body feel like crap which is why I love making healthier treats like this Healthy Banana Oat Cake. You get to eat a treat, but one that makes your body feel good not sluggish and bloated.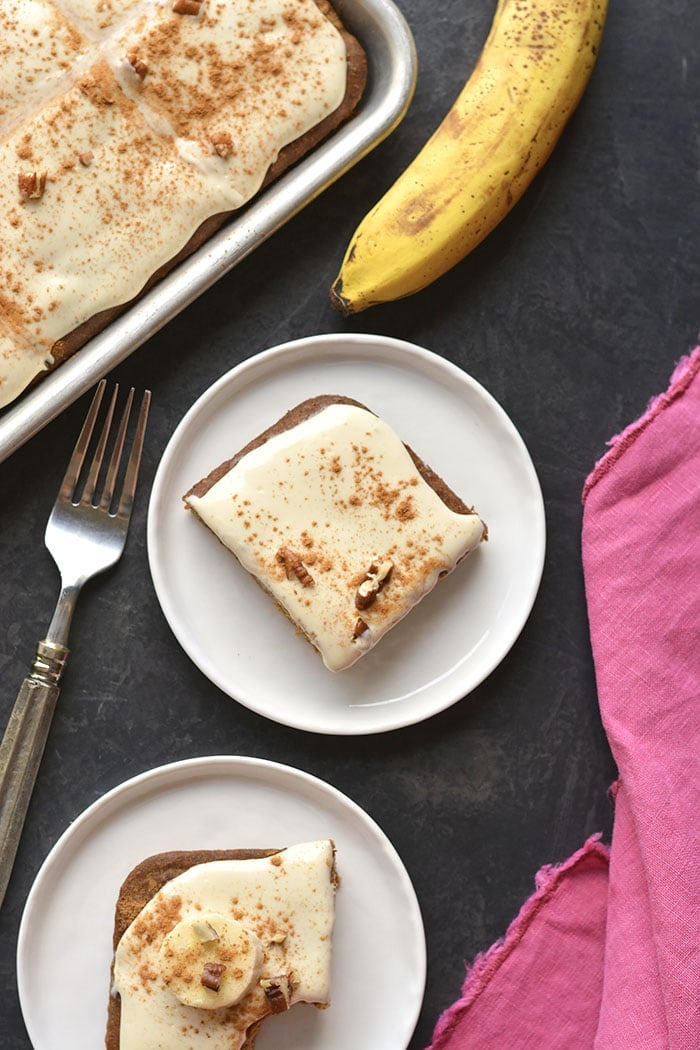 What Makes This Cake Recipe Healthy?
Lower in Fat - This cake is lower fat by replacing oil with Greek yogurt. It's one of my favorite tricks for making healthier cake (see substitution recommendations below for dairy free)!
High Protein - Greek yogurt and Greek cream cheese make this cake slightly higher in protein than other cakes. This cake has 5 grams of protein per slice. Most cakes have 1 gram.
Lower in Sugar - Bananas replace a lot of sugar in this cake recipe and they add fiber which is important for weight management. Maple syrup was used to enhance the flavor, but only 1/4 cup which is very low for a dessert recipe.
Low Calorie - Calories are not everything, the balance of protein, fiber and fat is always most important. This recipe not only has the right balance for a healthier dessert recipe, but each slice of this banana cake is 160 calories with the frosting!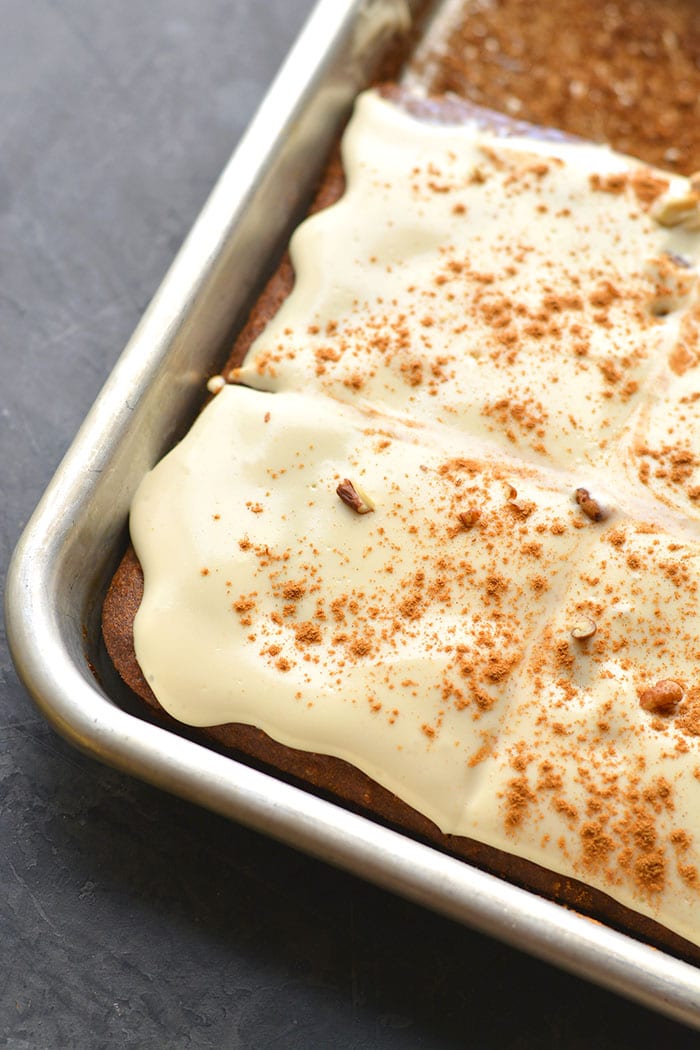 Ingredients for Healthy Banana Cake
Eggs
Bananas, very ripe
Maple Syrup
Gluten Free Baking Flour
Baking Soda
Cinnamon, Nutmeg
Greek Cream Cheese
How To Make Healthy Banana Cake with Oats
Step one to making healthy banana cake is blending the eggs, bananas, maple syrup, Greek yogurt and vanilla extract. I used a food processor, but a blender works too!
Once it's blended smooth, add the oats, flour, baking soda, cinnamon and nutmeg. Blend again until smooth then transfer the batter to a sheet pan that's lightly sprayed with avocado oil (or line with parchment paper).
Step two is to add the batter to the sheet pan and smooth into an even layer with a spatula.
Step three is cooking the cake in the oven at 350 F for 40 minutes or until a toothpick can be inserted clean. Then remove the cake from the oven and cool at room temperature 90 minutes.
Step four blend the maple syrup and Greek cream cheese (Franklin Foods is the brand) in a blender then smooth over the cake. I added a sprinkle of cinnamon on top of mine!
Step five chill the banana cake in the refrigerator at least one hour before slicing and serving.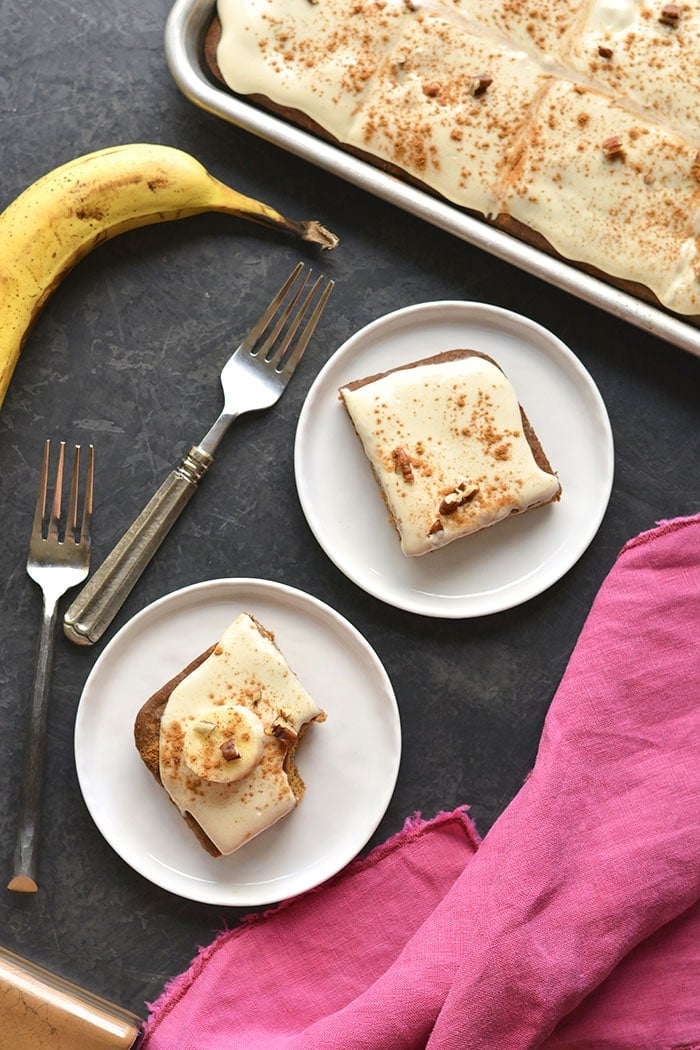 Substitutions For Healthy Banana Oat Cake
Room Temperature - I highly recommend the cold ingredients are room temperature prior to mixing them together with the flour. Otherwise the Greek yogurt may clump in the flour and not bake evenly. Also, cool the bread completely to room temperature prior to adding the frosting. Don't frost it hot. This will result in the frosting melting.
Coconut Flour - You can't substitute coconut flour for the gluten free flour. This would require an entirely new recipe as coconut flour is extremely absorbent and needs a higher fat content.
Other Flours - I used gluten free baking flour and gluten free oats for the flour combination. I find it's the BEST flour combination for lighter and gluten free baking. You could substitute the baking flour with almond flour. I would recommend omitting 1/4 cup if you use almond flour. As for whole wheat or white flours, I never bake with these. They are highly refined and I never recommend using them.
Oats - If you want to omit the oats, you could by substituting a 1/3 cup gluten free flour. Note this may make the batter more dense.
Maple Syrup - You could swap honey for the maple syrup. Coconut sugar, monk fruit and stevia would not work for the batter, however, you could swap those for the frosting. I can't guarantee the same flavor with those swaps.
Dairy Free - Use an unflavored almond milk yogurt or coconut yogurt to swap the Greek yogurt and for the cream cheese you can swap for a dairy free cream cheese OR use the frosting from this dairy free cake recipe.
Mix Ins - You can easily add shredded carrots to your batter to make it a carrot and banana cake. Chocolate, berries, nuts or seeds would be yummy sprinkled on top!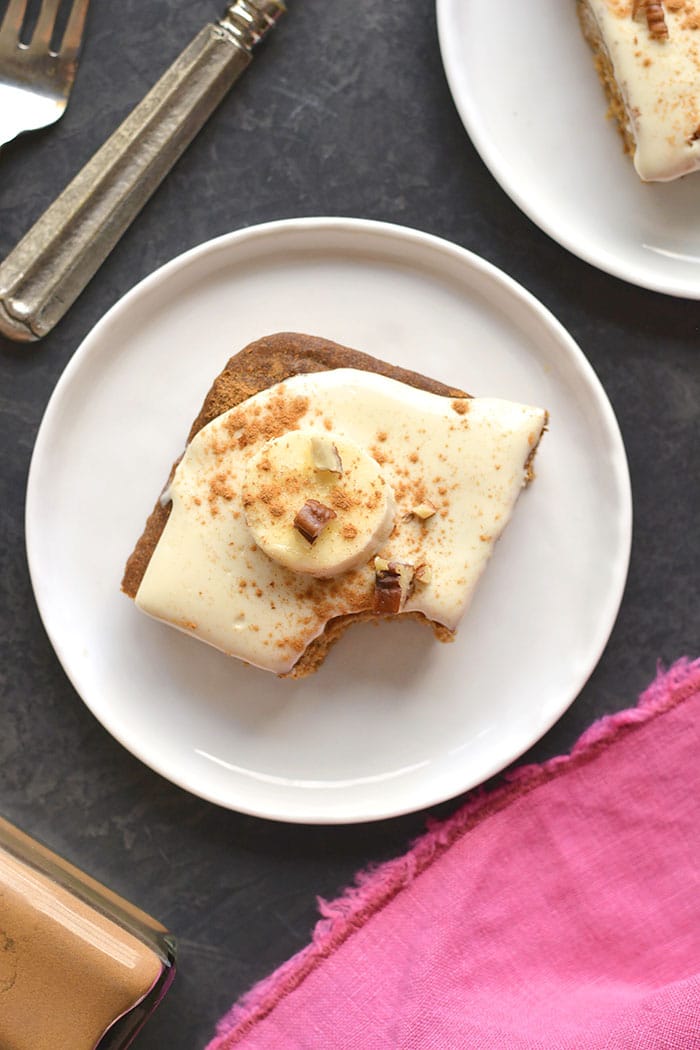 How To Store Banana Cake and Serve Banana Cake
Banana cake should be stored in the refrigerator covered. It will last up to 7 days. You can also freeze this cake after its been frosted. When ready to eat, remove it from the oven and place in the refrigerator 4 hours before enjoying!
Serve your banana cake chilled from the refrigerator. I recommend chilling 1 hour before slicing and eating. The cake will be fine sitting out a few minutes while cutting, serving and eating but be cautious not to leave it sit out too long as the delicious frosting will melt. It tastes so amazing chilled!
More Banana Oat Recipes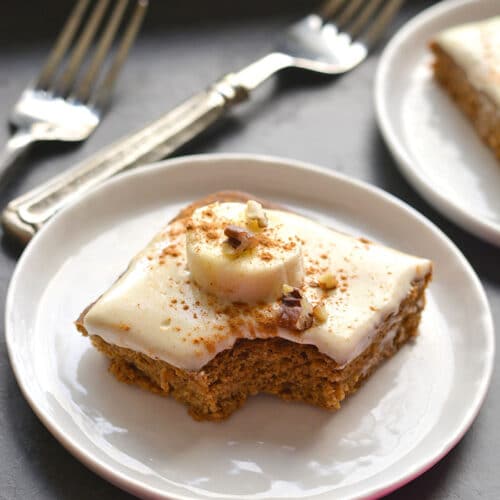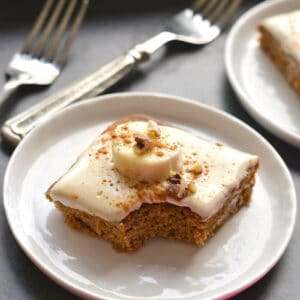 Healthy Banana Oat Cake
Healthy Banana Oat Cake made low calorie with less sugar and with a delicious Greek cream cheese frosting. Anyone can bake this simple and healthy cake recipe! Gluten Free + Low Calorie
Instructions
To a food processor, add the bananas, egg and vanilla extract. Process until smooth than add the maple syrup and Greek yogurt. 

Process again until smooth then add the oats, Gluten Free flour and baking soda. Mix until smooth.

Transfer the batter into the prepared sheet pan and smooth evenly with a spatula. 

Bake at 350 F for 4o minutes or until a toothpick can be inserted into the center clean. 

Cool the cake 1 hour in the sheet pan before frosting.

After the cake cools fully, prepare the frosting by blending the cream cheese with maple syrup until smooth. 

Frost the cake with a spatula. Add optional cinnamon on top if you like. Chill the cake in the refrigerator 90 minutes then slice and serve!
Nutrition
Serving: 1servingCalories: 160kcalCarbohydrates: 28gProtein: 5gFat: 4gSaturated Fat: 2gCholesterol: 35mgSodium: 184mgPotassium: 161mgFiber: 2gSugar: 13gVitamin A: 131IUVitamin C: 2mgCalcium: 65mgIron: 1mg
What I Used For The Recipe