This post contains affiliate links. As an Amazon associate I earn qualifying purchases. Click here for more about this policy.
Healthy Banana Oat Pancakes! Made with simple ingredients, these healthy pancakes are low calorie, high fiber, egg free and have no added sugar. Meal prep them for a healthy breakfast all week long! Gluten Free + Low Calorie + Vegan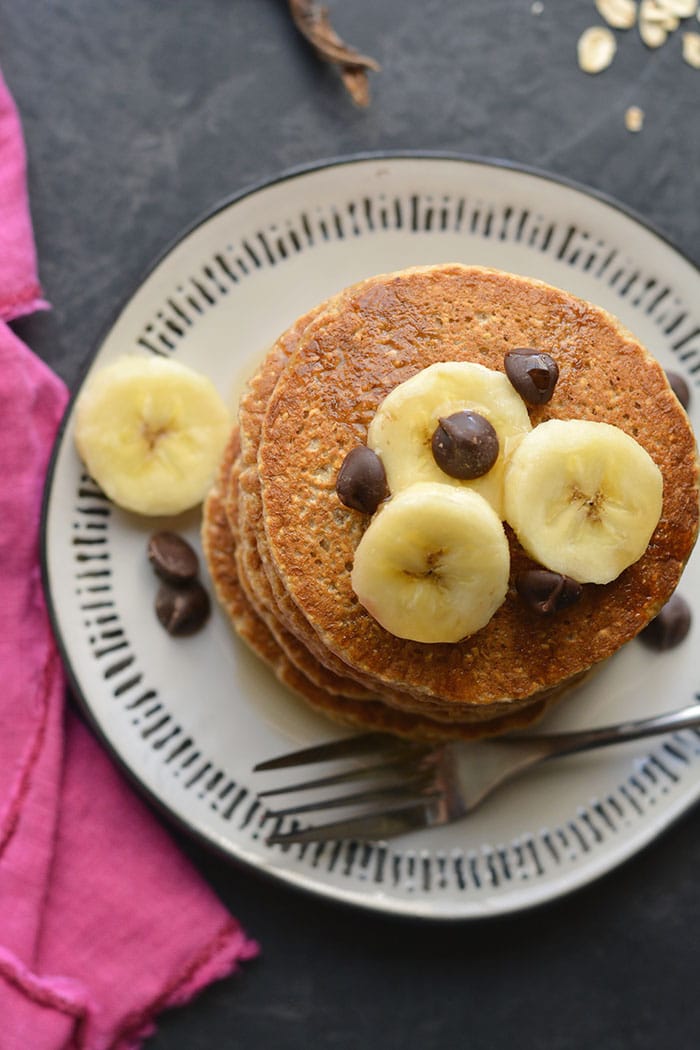 Many of my clients have been dieting for so long that they believe healthy foods like bananas are unhealthy and will make them fat. Not true.
Hormone balance (particularly insulin) is key to weight loss and managing overall health. That means your blood sugar must be balanced at all time. Eat a banana on it's own? Guess what…
Blood sugar goes up then comes crashing down. A recipe for hunger and cravings which is why I have a no carb alone policy with my weight loss clients.
That doesn't mean you can never have a banana or that you should never have pancakes with bananas. It means what you eat on the pancakes and with it is really important!
Click here to pin this recipe!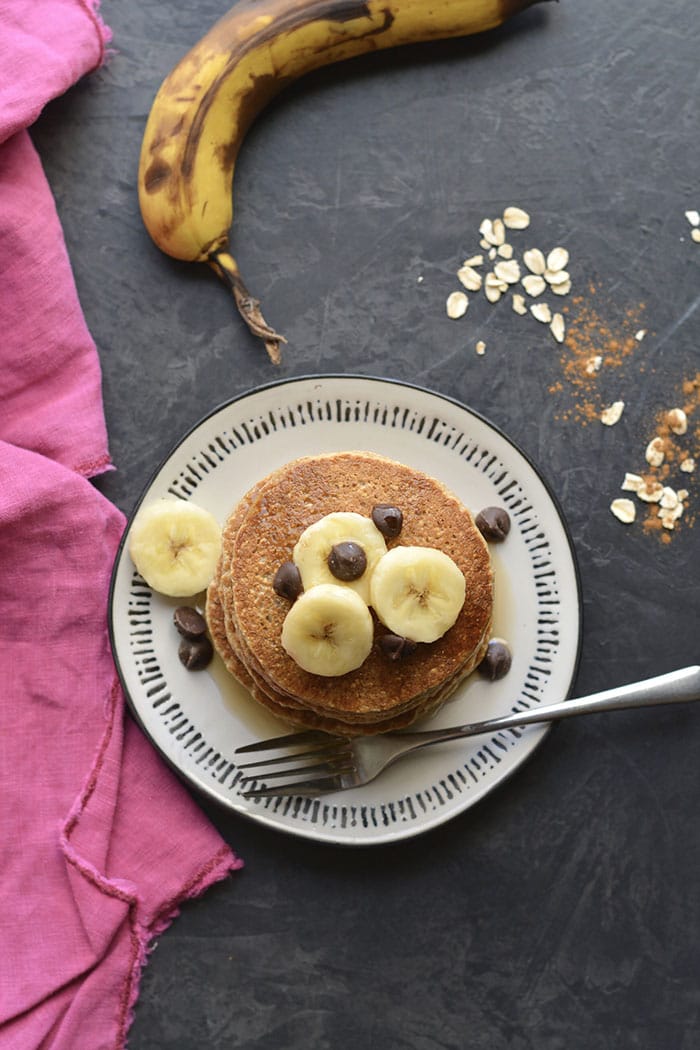 Healthy Banana Oat Pancakes
And these pancakes are so fantastic friends. I don't want you to miss out on them simply because you think a banana will make you fat.
Made with a handful of ingredients, these healthy pancakes are fluffy and delicious! They're high fiber from the flax and oats and have no added sugar. Bananas are great substitutes for real sugar.
Naturally low in calories and a breeze to make!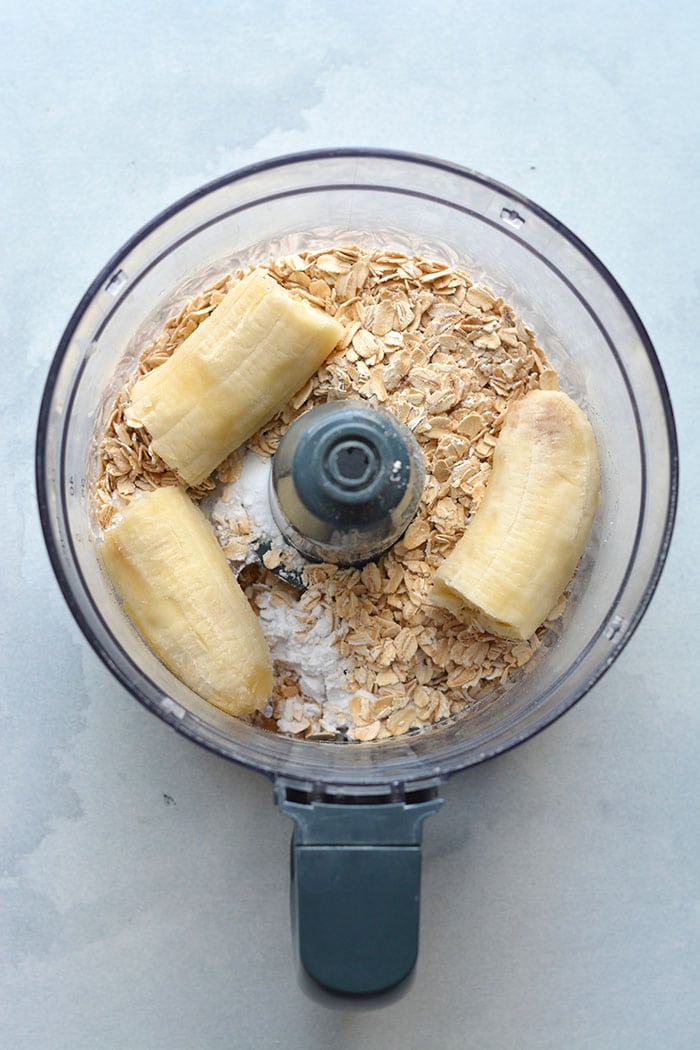 What You Need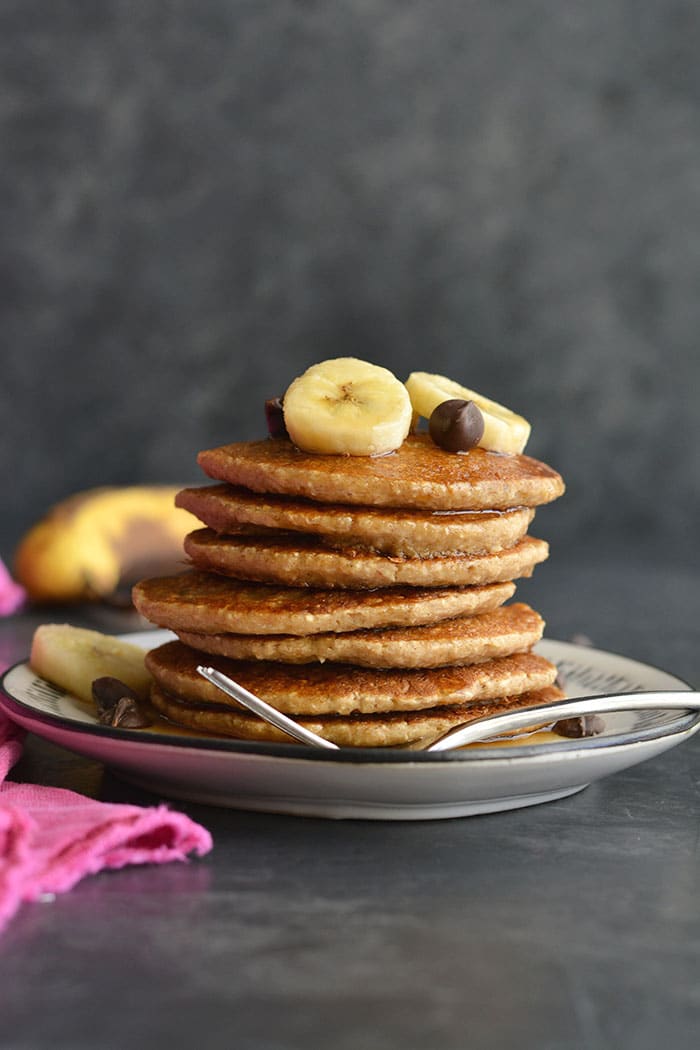 How to make banana pancakes
First, make a flax egg by mixing one tablespoon of flax meal with 2 tablespoons of water in a bowl. Flax eggs are a great way to substitute eggs in recipes and they're high fiber too (I share why fiber is so important in my free weight loss training).
If you don't have flax meal, you can always substitute an egg. I find the flax does make them a bit fluffier.
Once the flax egg looks like a gel, add it to a food processor or blender with the remaining ingredients and blend until smooth. Then cook on an electric skillet by scooping 1/4 cup of the batter onto it to form one pancake.
If you're not using an electric skillet, you really must. It's a game changer! No greasing or spray pans or sticky eggs.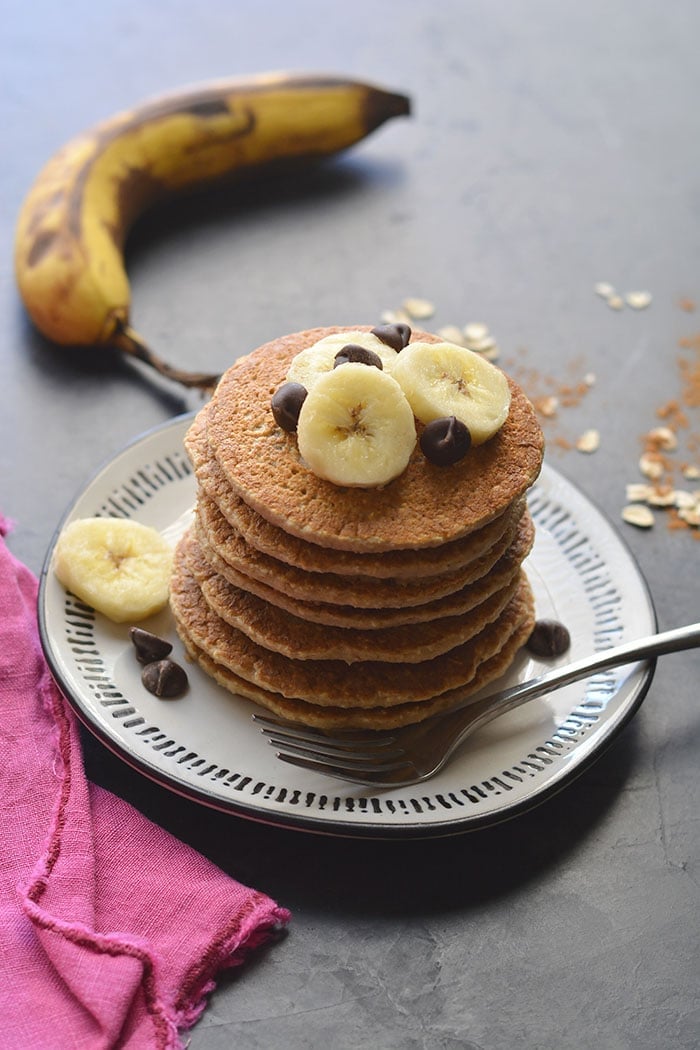 I do recommend if you're eating these pancakes for breakfast that you add protein on the side.
They are healthy, but lower in protein and a high protein breakfast is always best for weight management. I talk more about why your breakfast is so important in my free training!
More Banana Oat Recipes!
Click here to pin this recipe!
Healthy Banana Oat Pancakes
Prep Time 5 minutes
Cook Time 12 minutes
Total Time 17 minutes
Servings 9 pancakes
Calories 85 kcal
Instructions
Make a flax egg by combining the flax meal in a small bowl with 2 tbsp water. Set aside for 5 minutes to set.

Place all ingredients except chocolate chips to a food processor or blender and process until combined well.

Bring an electric skillet to medium heat (or 300 F). Place 1/4 cup of the batter onto the skillet (1/4 cup makes one pancake). Repeat for the remaining batter.

Cook 3-4 minutes until the pancakes bubble then flip and cook another 2-3 minutes then remove from the skillet and place on a wire baking rack to cool.

Serve pancakes immediately or store in the refrigerator up to 7 days or in the freezer up to 60 days.
Recipe Notes
If you love this recipe, check out my cookbook for more delicious, low calorie recipes!
Course Breakfast
Cuisine American
Keyword banana, breakfast, gluten free, healthy, low calorie, no sugar added, oat, pancake
Nutrition facts per serving (1pancake)
Calories 85 kcal
Fat 3 g
Saturated Fat 2 g
Cholesterol 0 mg
Sodium 133 mg
Potassium 147 mg
Carbohydrates 13 g
Fiber 2 g
Sugar 2 g
Protein 2 g
Vitamin A 8 %
Vitamin C 1 %
Calcium 62 %
Iron 1 %
What I Used For The Recipe