This post contains affiliate links. As an Amazon associate I earn qualifying purchases. Click here for more about this policy.
Mint Banana Chocolate Chip Pancakes are egg free, low calorie and high fiber! Made with gluten free ingredients and no added sugar. Perfect for breakfast, brunch or a treat! Gluten Free + Vegan + Low Calorie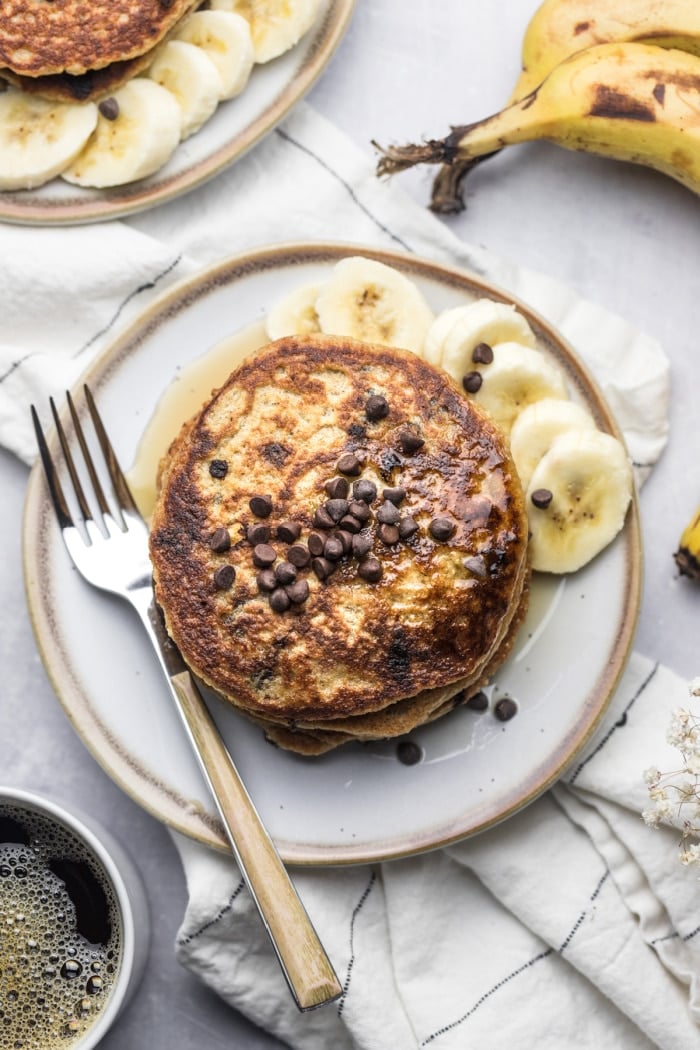 I love making healthy pancakes recipes for you. This one is originally from 2014! There's something so comforting about a stack of pancakes for breakfast.
Often when we have goals like losing weight, we think we can't eat foods like pancakes and end up restricting. My clients learn quickly that they can enjoy all foods including pancakes!
Diet culture has taught so many women that they can't eat things like pancakes, that it's helpful to see you can enjoy pancakes in a healthier way and still reach your health goals!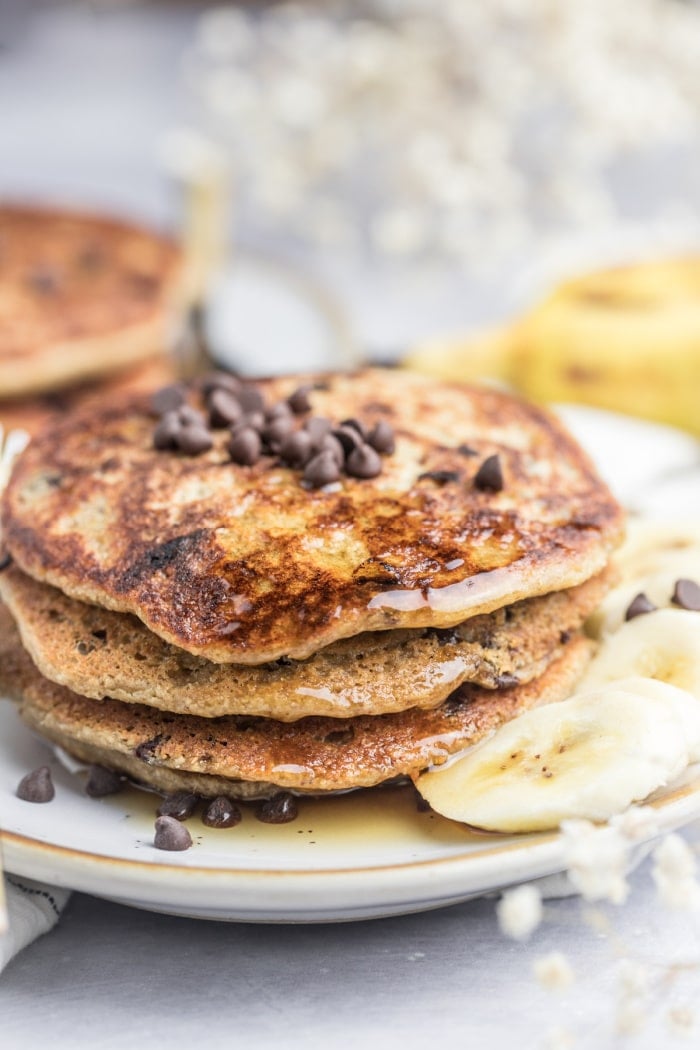 Why These Banana Mint Pancakes Are Healthier
One of the things I love about these banana mint pancakes is how thin and decadent they are. They're almost crepe-like. But if you prefer pancakes that are thicker and more dense, then I recommend these coconut flour pancakes or almond flour pancakes.
This healthy banana pancake recipe I have for you today is made with oats, bananas and chocolate chips and a touch of mint extract. The flavor is like a party in your mouth!
Not to worry, if you don't love mint just swap it for vanilla! Here's a few more reasons why I love this pancake recipe.
Low Calorie - Only 100 calories per pancake. Calories are what drive weight loss, but calories are not everything either. The balance of protein, fat and carbs matters too!
Higher Fiber - Oats and flax meal are used in this recipe making it higher fiber at 2 grams per serving.
Higher Healthy Fat - Total fat per pancake is 4 grams, 1 of which is coming from unsaturated fat (less optimal fat) which means the remaining is coming from heart healthy fat. The healthy fat comes from the flax meal and extra virgin olive oil.
Lower Carb - Only 15 grams of carbohydrates per pancake. Carbs are not bad, but women over 35 should be mindful of carbohydrate intake if weight loss is the goal. I talk about this in this podcast episode.
Gluten Free - All ingredients in this recipe are gluten free.
Dairy Free - All ingredients in this pancake recipe are dairy free.
Vegan / Vegetarian - This pancake recipe is eggless and without any other animal products making it vegan and vegetarian friendly.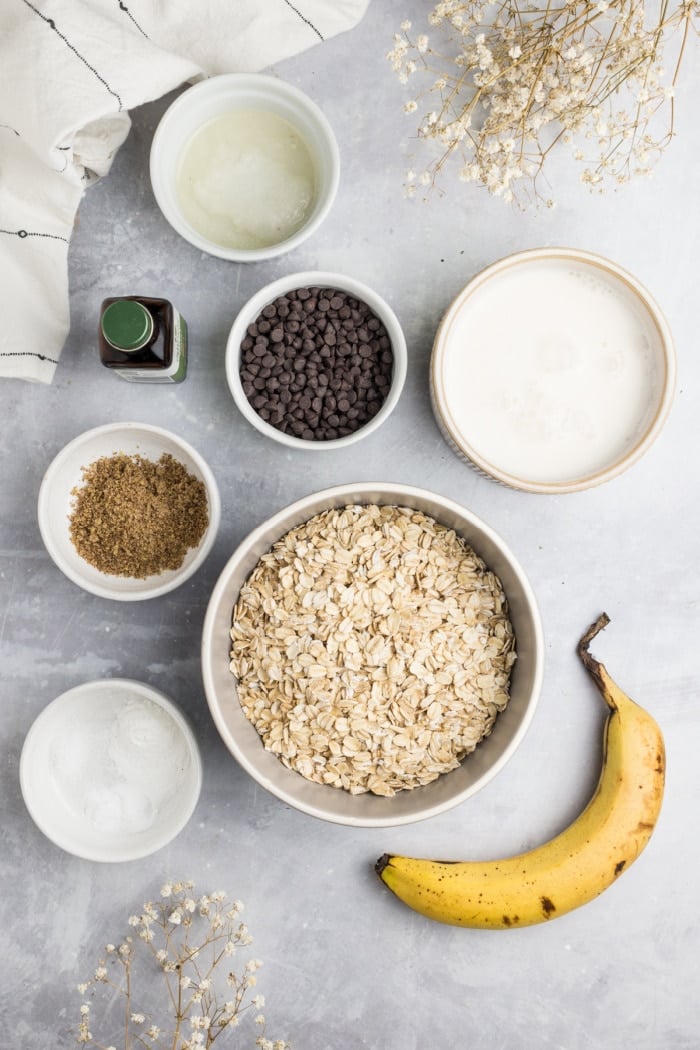 Ingredients For Gluten Free Banana Mint Pancakes
Here's what you need to make these yummy pancakes! I highly recommend using a non-stick electric griddle for making healthy pancakes like these. They don't stick and turn out perfect each time!
Banana, very ripe
Dairy free Milk
Baking Soda
Baking Powder
Flax Meal
Salt
Mint Extract
Mini Chocolate Chips
How To Make Banana Pancakes Without Eggs
Here's how to make banana pancakes without eggs and with mint and chocolate chips! They're so delicious and worth it!
Start by making a flax egg. Mix the flax meal with water in a small ramekin then set aside until it thickens to the consistency of an egg. It should only take about 5 minutes.
Next blend the flax egg and remaining ingredients (except the chocolate chips) in a food processor or blend until smooth. Fold the chocolate chips in by hand.
Using a 1/4 cup measuring cup to scoop out a 1/4 of the batter to form one pancake and drop on a pre-heated skillet. Again, I highly recommend using a non-stick electric griddle. Pancakes turn out perfectly using it every time!
Cook the pancakes 3-4 minutes on the first side then carefully flip and cook another 2-3 minutes or until they are fully cooked through. Repeat the process for the remaining batter. I got 9 pancakes total from this batter.
You can store your banana mint pancakes in the refrigerator up to 7 days or in a freezer up to 60 days. You can reheat them in the microwave, on the stove or in the oven.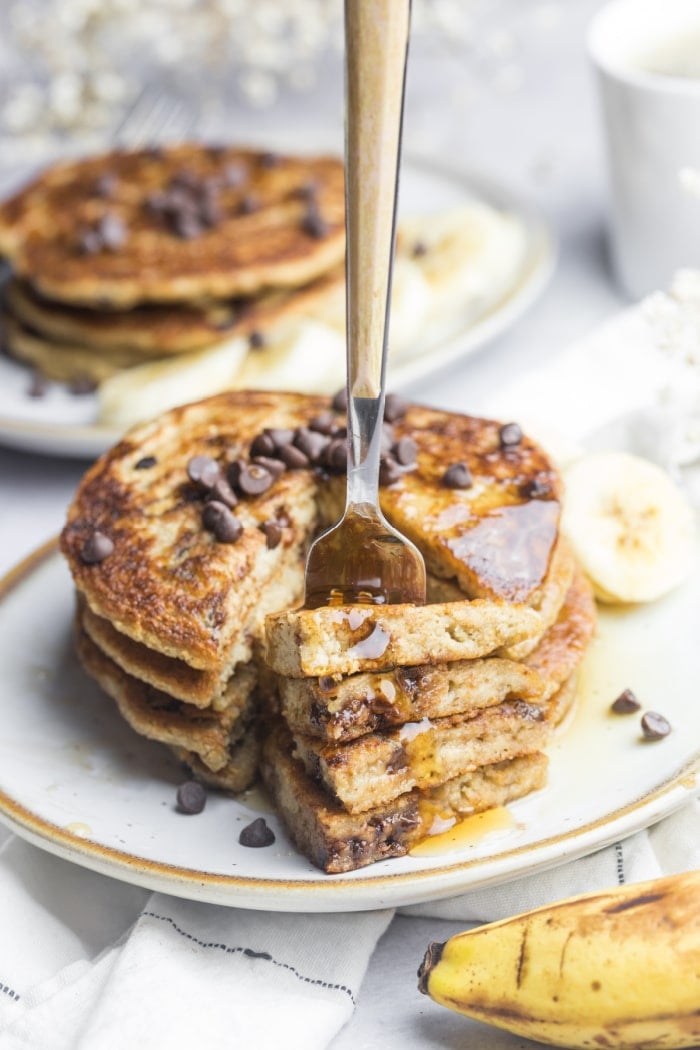 Substitutions For Mint Banana Pancakes
Here's the substitutions you can make for these mint banana chocolate chip pancakes! Please remember that the nutritional values you see calculated in the recipe card below will change if you change, omit or add an ingredient to the recipe.
Gluten Free Rolled Oats - You can use regular oats if gluten free if you do not need gluten free. You can also use regular oat flour, but make sure you measure it properly so that you do not get too much flour.
Flax Meal - You can substitute with chia seeds to make a chia egg or you can substitute with one regular egg. Substituting the flax egg will alter the consistency of the pancakes just so you know!
Mint Extract - Vanilla extract can be substituted.
Olive Oil - Avocado oil or coconut oil can be substituted.
Milk - Any milk can be used for the recipe.
Chocolate Chips - You can use dairy free chocolate chips or omit them if you like.
Banana - If you do not like banana pancakes, this recipe is not the best for you. Instead try almond flour pancakes, coconut flour pancakes or regular oat pancakes.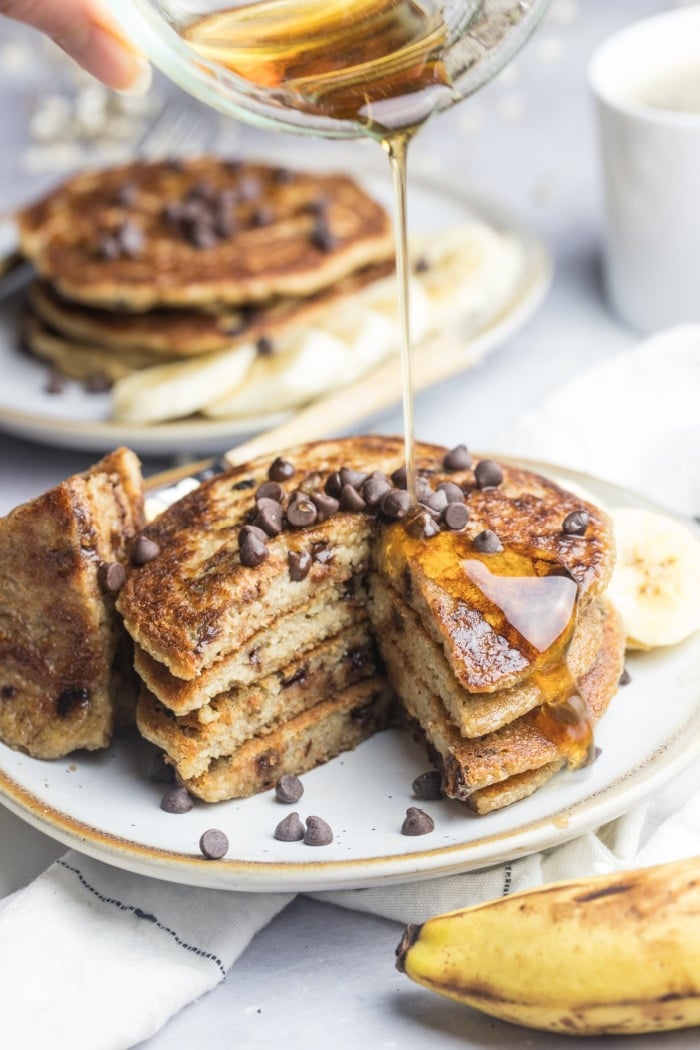 More Healthy Banana Recipes To Try
Blueberry Banana Oat Muffins
Mint Banana Chocolate Chip Pancakes
These Mint Banana Chocolate Chip Pancakes are egg free, low calorie and high fiber! Made with simple ingredients with no added sugar.
Instructions
Make a flax egg by combining the flax meal in a small bowl with 2 tbsp water. Set aside for 5 minutes to set.

Place all ingredients except chocolate chips to a food processor or blender and process until combined well.

Fold the chocolate chips in by hand.

Bring a nonstick electric skillet to medium heat (or 300 F). Place 1/4 cup of the batter onto the skillet (1/4 cup makes one pancake). Repeat for the remaining batter.

Cook 3-4 minutes until the pancakes bubble then flip and cook another 2-3 minutes then remove from the skillet and place on a wire baking rack to cool.

Serve pancakes immediately or store in the refrigerator up to 7 days or in the freezer up to 60 days.
Nutrition
Serving: 1pancakeCalories: 103kcalCarbohydrates: 15gProtein: 2gFat: 4gSaturated Fat: 1gPolyunsaturated Fat: 1gMonounsaturated Fat: 2gTrans Fat: 1gCholesterol: 1mgSodium: 135mgPotassium: 148mgFiber: 2gSugar: 4gVitamin A: 16IUVitamin C: 1mgCalcium: 66mgIron: 1mg