Cottage Cheese Pancakes made with four healthy ingredients and crazy delicious. They're low calorie, gluten free and super simple to make. These protein pancakes are soon to be your new everyday breakfast favorite! Gluten Free + Low Calorie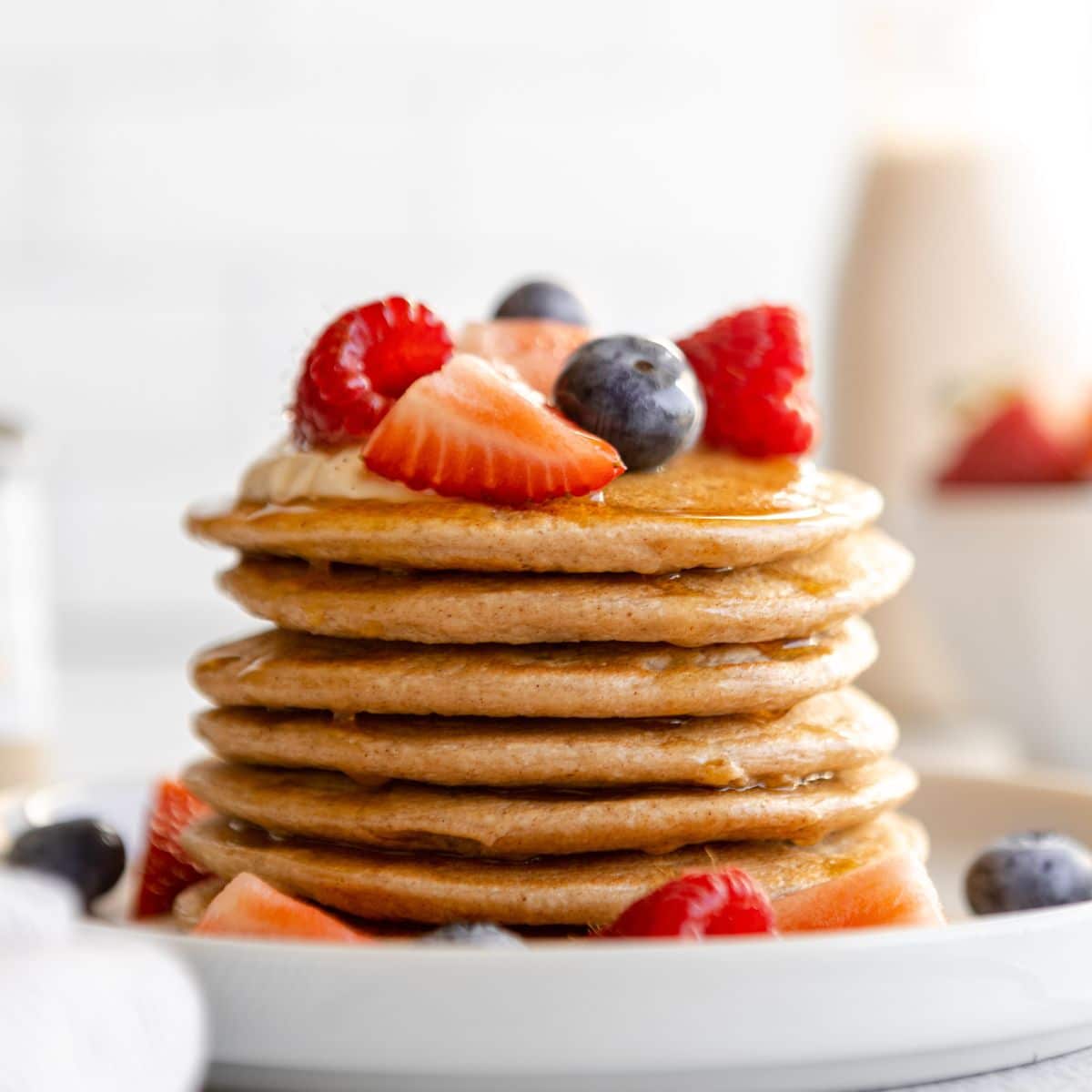 It's Monday peeps and I've got some delicious Cottage Cheese Pancakes for you! I know what you're thinking. Cottage cheese in a pancake? Yes! They're thick, chewy and OMG mysteriously good.
Guys, think of it this way. It's no different than putting Greek yogurt in pancakes. Just as creamy and just as good. You gotta trust me on this one!
A few weeks ago a friend tells me about this amazing protein pancake she's been making every weekend and how I should put it on the blog.
I had to laugh when she told me the ingredients because it was the exact same protein pancake recipe aka cottage cheese pancakes I've been making for years.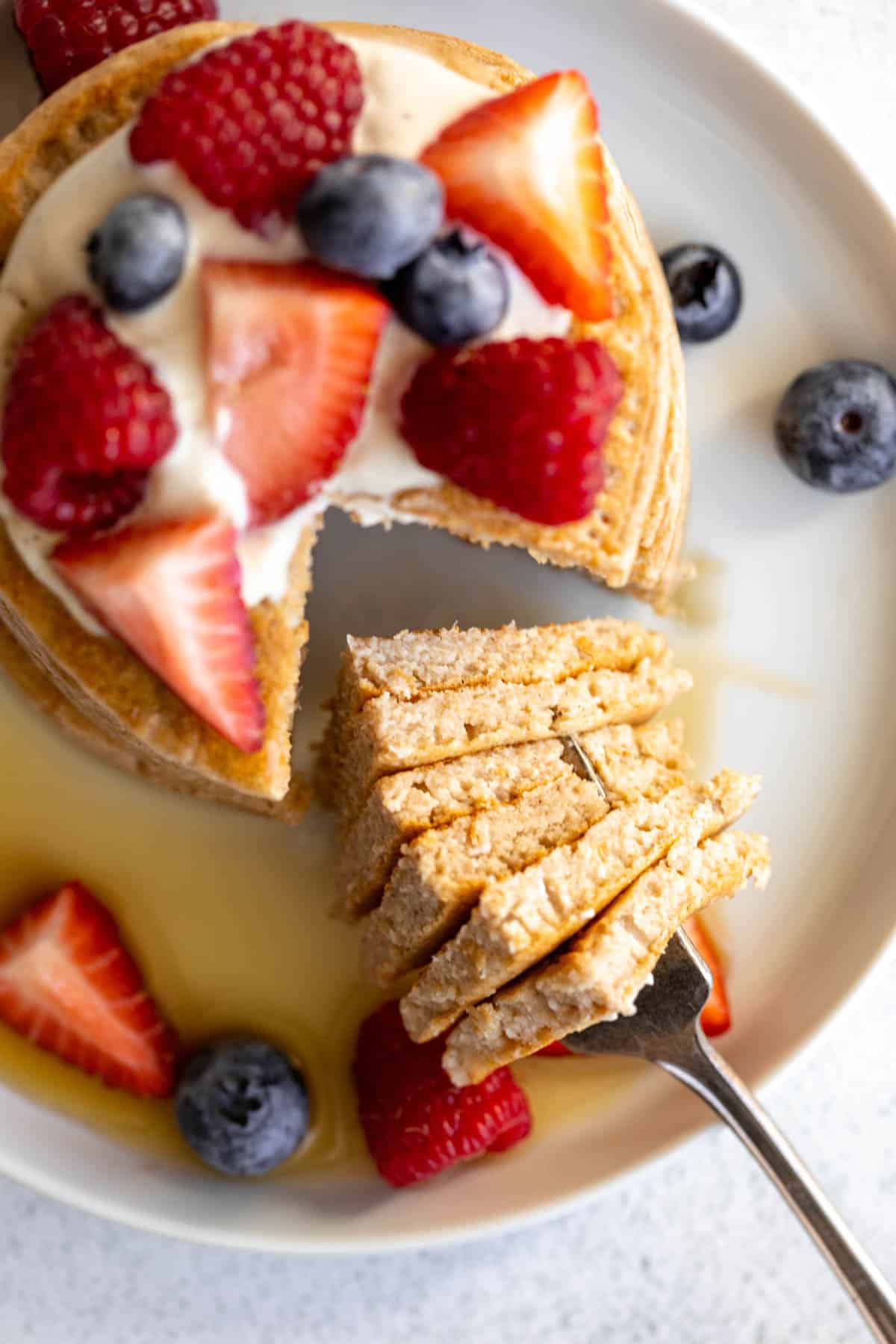 It was then that it dawned on me that I should make it official on the blog. Truthfully I attempted to post these once last year but the pictures were yuck and well, I guess I sort of forgot about them.
BUT I know you'll forgive me once you try them because you will fall in love with them!
Not a cottage cheese fan? Not to worry! I can't stand cottage cheese on its own, but this healthy Cottage Cheese Pancake makes you realize you can eat cottage cheese because in this recipe you can't taste it. They taste like cinnamon-y oats. So before you snub your nose, you need to trust me and give this protein packed stack a try!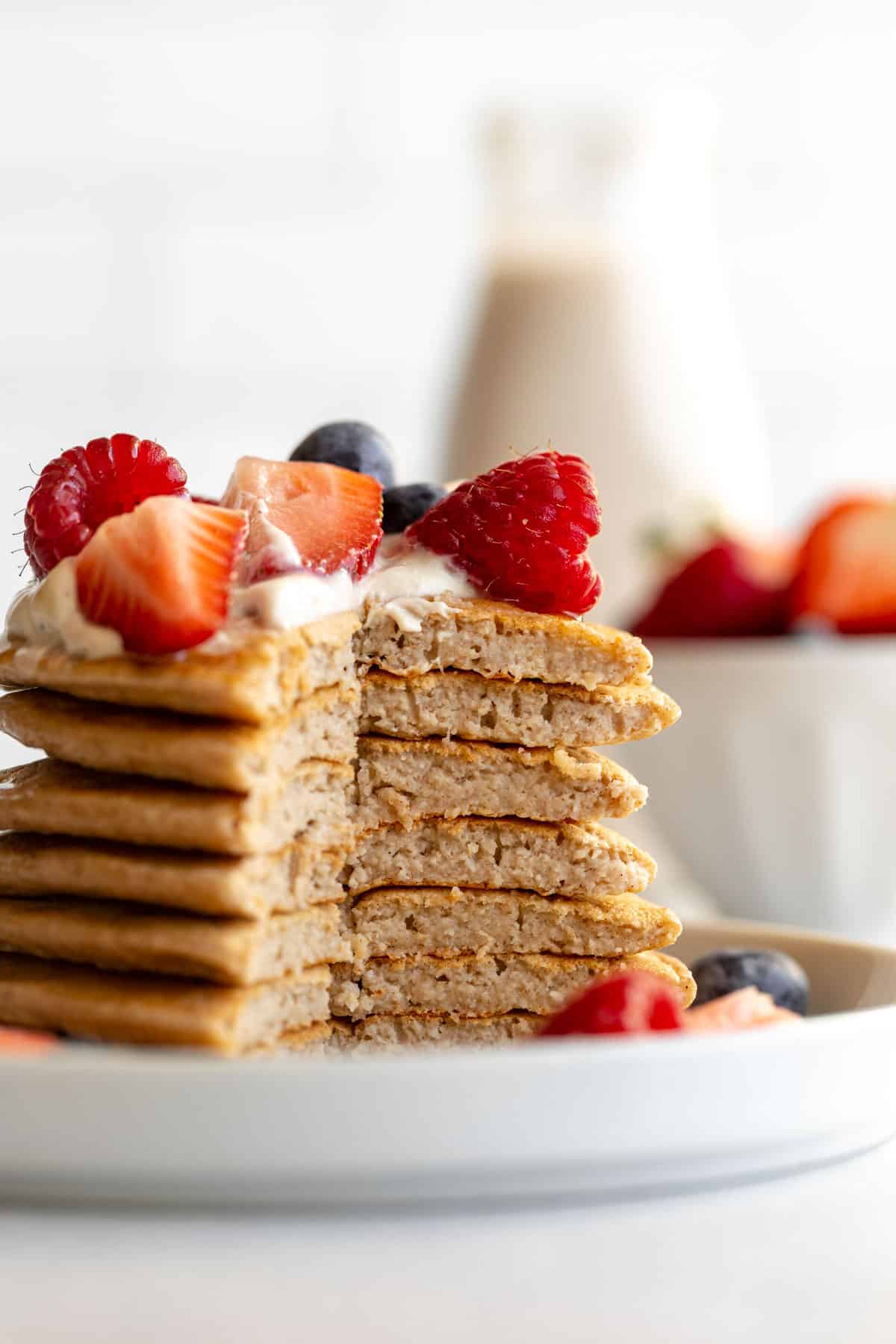 Now I wanna tell you something important so before you run to the kitchen listen up! I am lactose intolerant which means I lack the enzyme in my body to convert lactose to glucose. This means I get really sick when I eat dairy.
YUCK! But I can still eat cottage cheese because I buy one that's lactose free. Holly lifesaver because these are my post workout protein pancakes I don't know what I'd do without my cottage cheese pancakes! They're on my meal plan every week.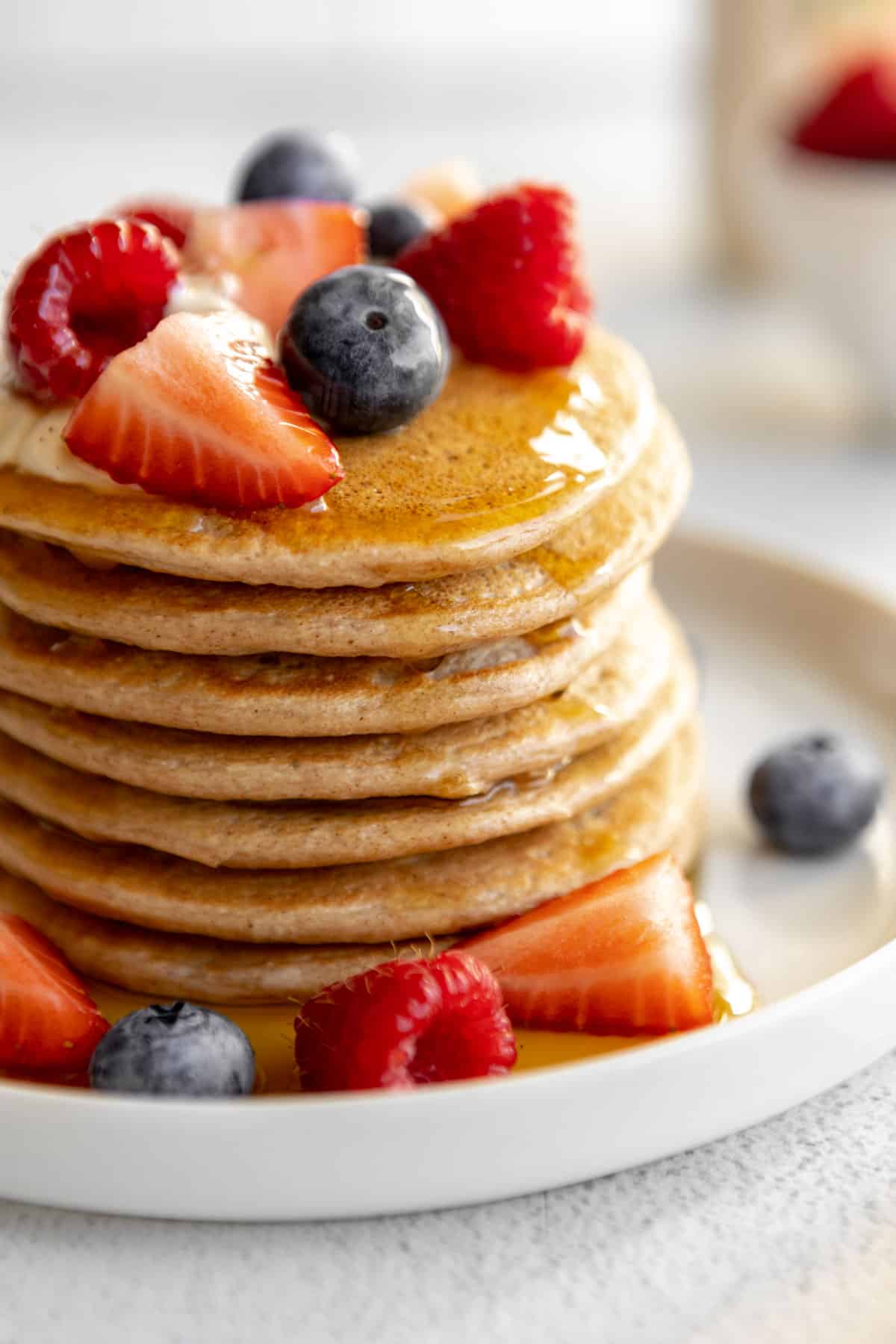 Cottage Cheese Pancakes
These Cottage cheese Pancakes are made with just four ingredients so all you have to do is toss them in a blender and cook. Pancake making could not be easier or better for you so NO EXCUSES peeps.
These Cottage cheese Pancakes are made with just four ingredients so all you have to do is toss them in a blender and cook. Pancake making could not be easier or better for you so NO EXCUSES peeps. I will warn you though.
What You Need
Gluten Free Oats
Cottage Cheese
Egg Whites
Cinnamon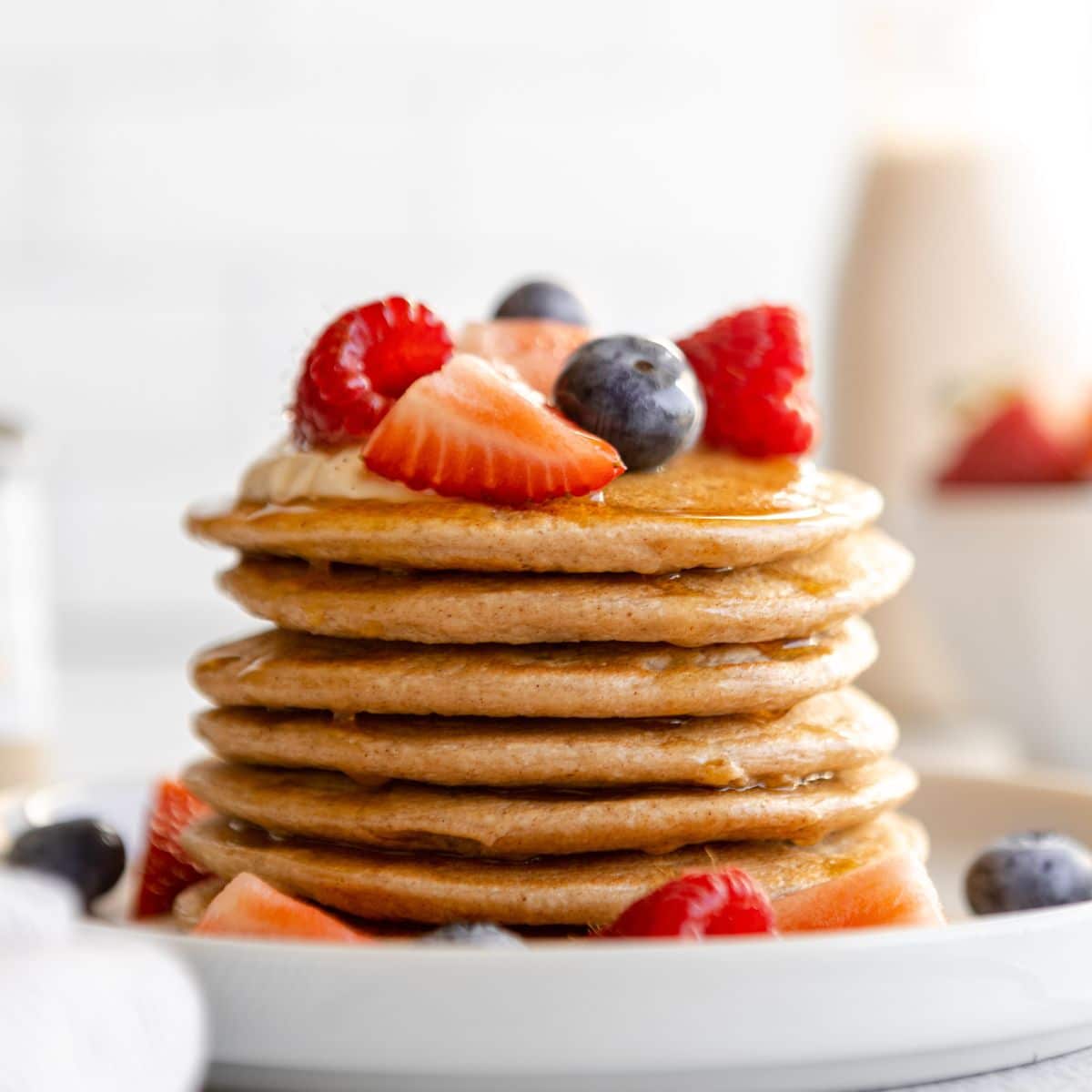 This cottage cheese pancake recipe makes a lot of pancakes. I usually freeze half the batch and they last me two weeks. I hope you love them as much as I do because I have a lot more cottage cheese recipes coming your way!
Cottage Cheese Pancakes
These Cottage Cheese Pancakes are the perfect balance of protein and whole grains with 4 simple ingredients and only 71 calories each!
Prep Time 5 minutes
Cook Time 15 minutes
Total Time 20 minutes
Servings 16 pancakes
Calories 71 kcal
Instructions
Scoop 1/4 cup of the batter onto the skillet to form a pancake.

Cook until small bubbles begin to appear then using a spatula flip and cook another 2-3 minutes.

Remove promptly from the skillet and place on a cooling rack while you repeat the process for remaining batter.

Store in the refrigerator up to a week or freeze up to a month.
Recipe Notes
Freeze pancakes up to 1 month or keep in the refrigerator up to 1 week.
If using whole yolks, divide the egg whites in half. Note, using whole eggs will increase the amount of fat grams per pancake.
My Amazon shop has more products similar to those used for this recipe and that I recommend to my nutrition clients.
Course Breakfast
Cuisine American
Keyword 4 ingredient, cottage cheese, cottage cheese pancakes, gluten free, gluten free breakfast, gluten free oat, gluten free rolled oat, high protein, lactose free, low calorie, low calorie breakfast, pancakes, protein pancake
Recipe Video
Nutrition facts per serving (1pancake)
Calories 71 kcal
Fat 0.8 g
Saturated Fat 0.1 g
Cholesterol 0 mg
Sodium 138.8 mg
Potassium 0 mg
Carbohydrates 7.9 g
Fiber 1.2 g
Sugar 1.4 g
Protein 7.5 g
Vitamin A 0 %
Vitamin C 0 %
Calcium 0 %
Iron 0 %
Meal Plans
Get a meal plan designed to meet your weight loss goals.
Learn More
What I Used To Make The Recipe