This post contains affiliate links. As an Amazon associate I earn qualifying purchases. Click here for more about this policy.
Healthy Cheeseburger Macaroni Skillet is a simple low calorie dinner made with lean beef, macaroni, cheese and packed with the flavors of a cheeseburger while being lighter in calories. This casserole style meal is made easily on the skillet for a quick and delicious meal! Low Calorie + Gluten Free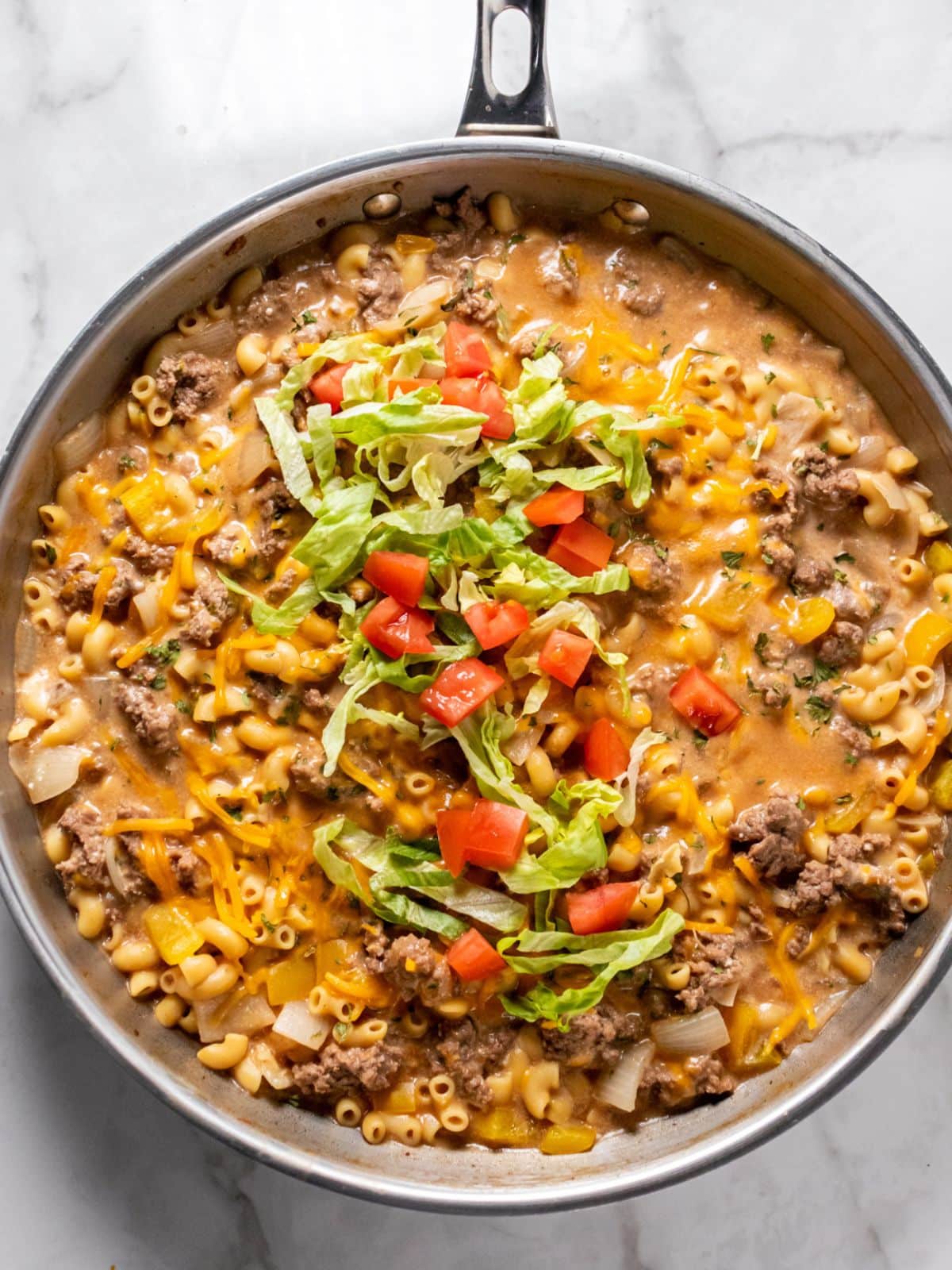 This easy cheeseburger macaroni is a casserole made in a skillet. It's super easy and is great for a simple meal that's satisfying and delicious. Best of all, the whole family will enjoy it!
Cheeseburger macaroni can absolutely be a healthy dinner option when you lighten them up with healthier ingredients, add more veggies and pack them with protein!
This healthy cheeseburger macaroni recipe is similar to my cheeseburger soup recipe in my cookbook. If you loved that recipe, you will enjoy this one too!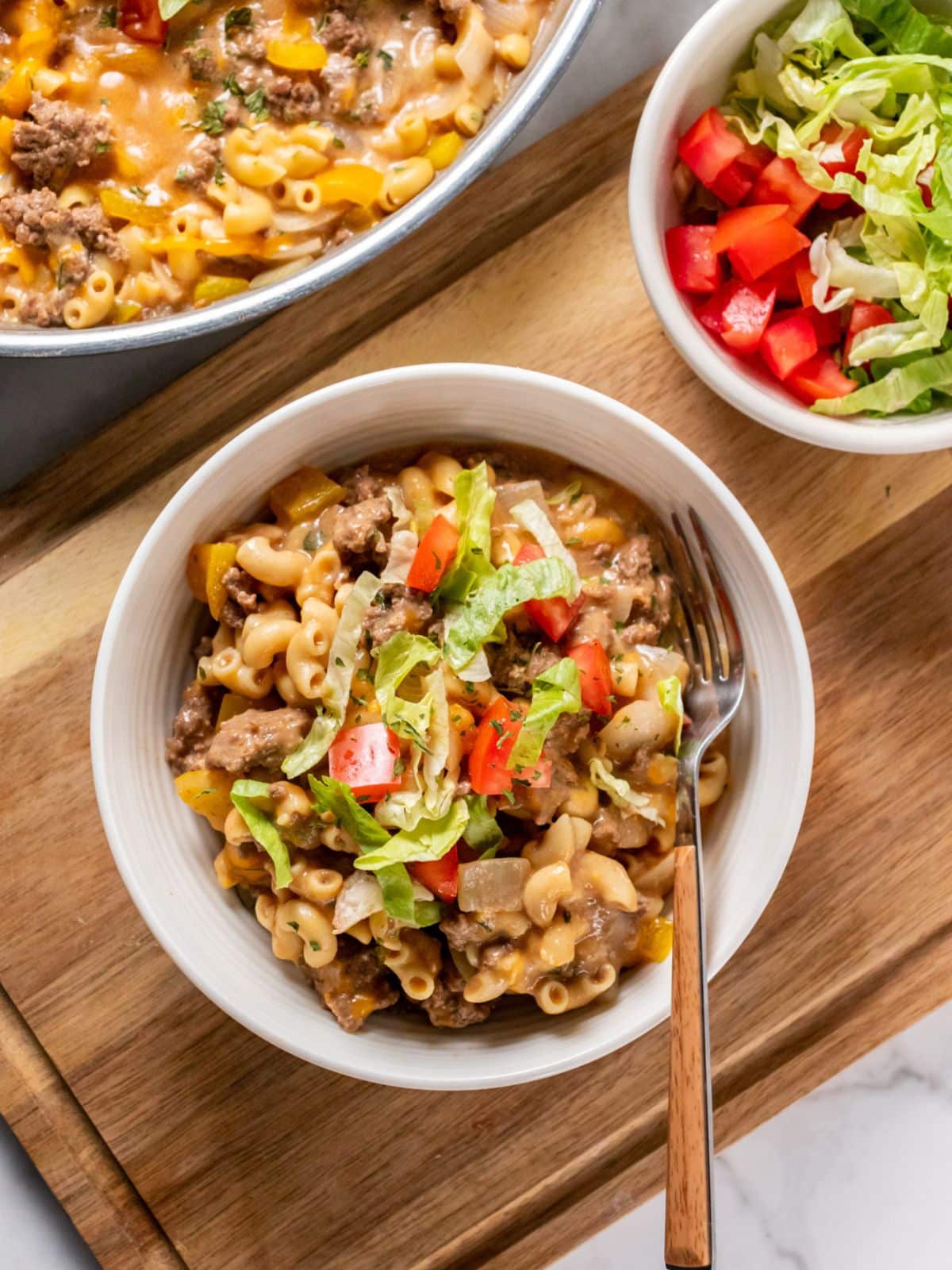 What Makes This Cheeseburger Macaroni Skillet Recipe Healthier
There is so much to love about this ground beef skillet macaroni recipe! Here's why it's one of my favorite dinners and also, why it's better for you!
Simple To Make - All you do is brown the meat, layer in the remaining ingredients for a super easy dinner!
Basic Ingredients - Most of the ingredients are kitchen staples and they're also easy to find.
Low Calorie - This recipe is under 400 calories. Total calories are important for weight management, but so are the sources of the calories and the macronutrient balance. I balanced the recipe so that it is better balanced and has healthier ingredients for you.
High Protein - Protein is so important and the most overlooked nutrient. I often see my clients deficient in lean protein. This recipe has 39 grams per serving from the ground beef, Greek yogurt and high protein pasta.
Lower Fat - Macaroni cheeseburger recipes have a ton of saturated (less optimal) fat in them. This recipe has 9 grams of total fat, only 3 of which comes from saturated fat.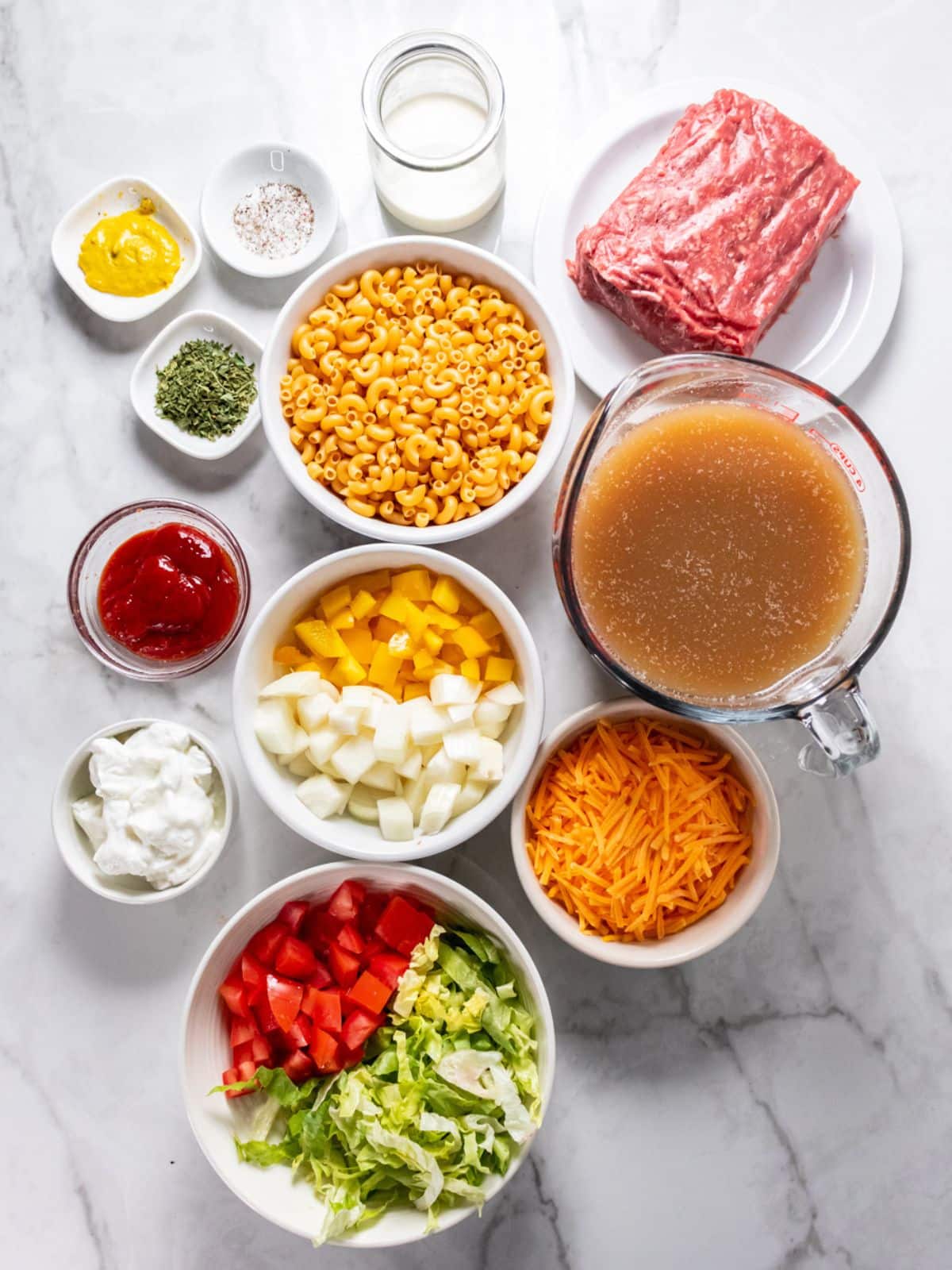 Low Calorie Cheeseburger Macaroni Ingredients
Here's what you need to make this yummy cheeseburger macaroni lighter and healthier! See the full recipe card at the end of the post for full ingredients and methods.
Lean Ground Beef (I use ButcherBox grass-fed, pasture-raised)
White Onion
Yellow Bell Pepper
Ketchup
Mustard
Beef Broth
Milk
Cheddar Cheese
Salt + Pepper
Parsely
Shredded Lettuce + Tomatoes for garnish
For ingredient substitutions, see the section below called 'substitutions.'
How To Make Cheeseburger Macaroni In A Skillet
For full recipe instructions, ingredients and nutritional data, scroll to the bottom of this post.
Step One - Heat a large skillet on the stovetop and add the ground meat, bell pepper and onion. Cook until no longer pink then drain the meat from the pan.
Step Two - Add the broth, ketchup, mustard and stir to combine. Add the pasta, salt and pepper.
Step Three - Bring the skillet to a boil, cover and reduce to a simmer for 10 minutes.
Step Four - Cook uncovered until the pasta is cooked to your liking.
Step Five - Add the milk, yogurt, parsley and 1/2 of the cheese. Stir to combine.
Step Six - Add the other 1/2 of the cheese on top then cover and cook until the cheese is melted.
Step Seven - Sprinkle the top with dried parsley. Serve warm with shredded lettuce on top and chopped tomatoes for garnish.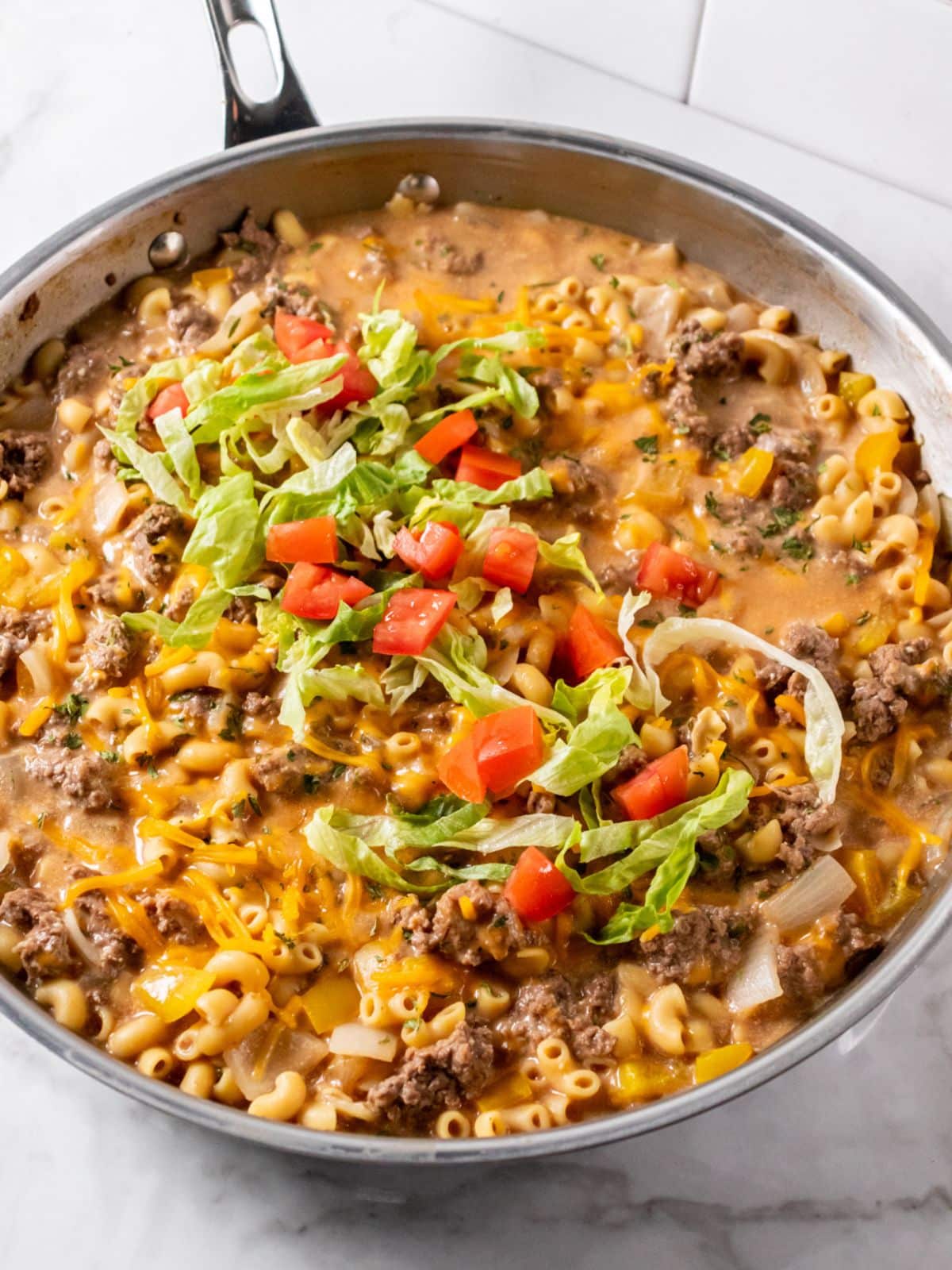 What To Serve With Low Calorie Cheeseburger Macaroni
This healthy recipe is a meal in itself! You can serve with a salad on the side or with additional side of veggies like roasted broccoli or roasted cauliflower. Brussels sprouts, asparagus or baked carrots would be delicious too!
Storing Skillet Cheeseburger Macaroni
Storing - This recipe will last in the refrigerator in an airtight container up to 4 days.
Freezing - You can prepare then freeze this recipe (without the garnish) for up to 3 months. Let the recipe first cool prior to freezing then place in an airtight container or storage bag to freeze.
Reheating - You can reheat this recipe on the stovetop, in the oven or in the microwave.
Ground Beef Cheeseburger Macaroni Recipe Substitutions
Here are the substitutions I recommend for this recipe. Please remember that recipe substitutions are not reflected in the nutritional data you see in the recipe card below. Changing, adding or substituting ingredients will change the nutrition data.
Ground Beef - I used lean ground beef for this recipe to increase the protein and keep the calories moderate. You can use a different version of beef. Ground turkey or chicken would also work in place of ground beef. A vegetarian ground beef substitute would also work here. I recommend adding a tablespoon of olive oil if using ground turkey, chicken or a vegetarian substitute.
White Onion / Yellow Bell Pepper - Yellow onion works as well as other colored peppers! I really don't recommend skipping the onion or pepper as they add a lot of flavor (and veggies!) to the recipe. If you do skip the onion, I recommend adding one tablespoon of onion powder in its place. Instead of bell pepper, you could use diced zucchini.
Beef Broth - I used a no sodium beef broth for this recipe. You can use beef stock, vegetable broth or stock, or chicken broth or stock too. Low sodium or no sodium are what I recommend.
Ketchup - I don't recommend omitting the ketchup from the recipe. The flavor will be bland without it. I use a lower sugar ketchup. The ones with no sugar or sugar substitutes don't taste the same to me!
Mustard - Yellow mustard works best in this recipe. I would not recommend using another type of mustard.
Greek Yogurt - The yogurt adds consistency and protein to the recipe. Dairy free yogurts are not recommended as they are mostly fat content not protein and will not add the same consistency. This brand has a diary-free yogurt that is higher in protein. It's the only one that I've found dairy-free.
Milk - You can substitute a dairy-free milk if you like.
Cheese - I used low fat cheese for this recipe. You can substitute with full-fat, non-fat or use nutritional yeast as a dairy-free option.
Dairy Free - Swap the Greek yogurt for the high-protein dairy-free yogurt I mentioned above and substitute the cheddar cheese for nutritional yeast or a dairy-free cheese and substitute the milk for a dairy free milk.
Vegetarian - Swap the ground beef for a vegetarian ground beef substitute.
Gluten Free - Ensure you use a gluten elbow macaroni like this one.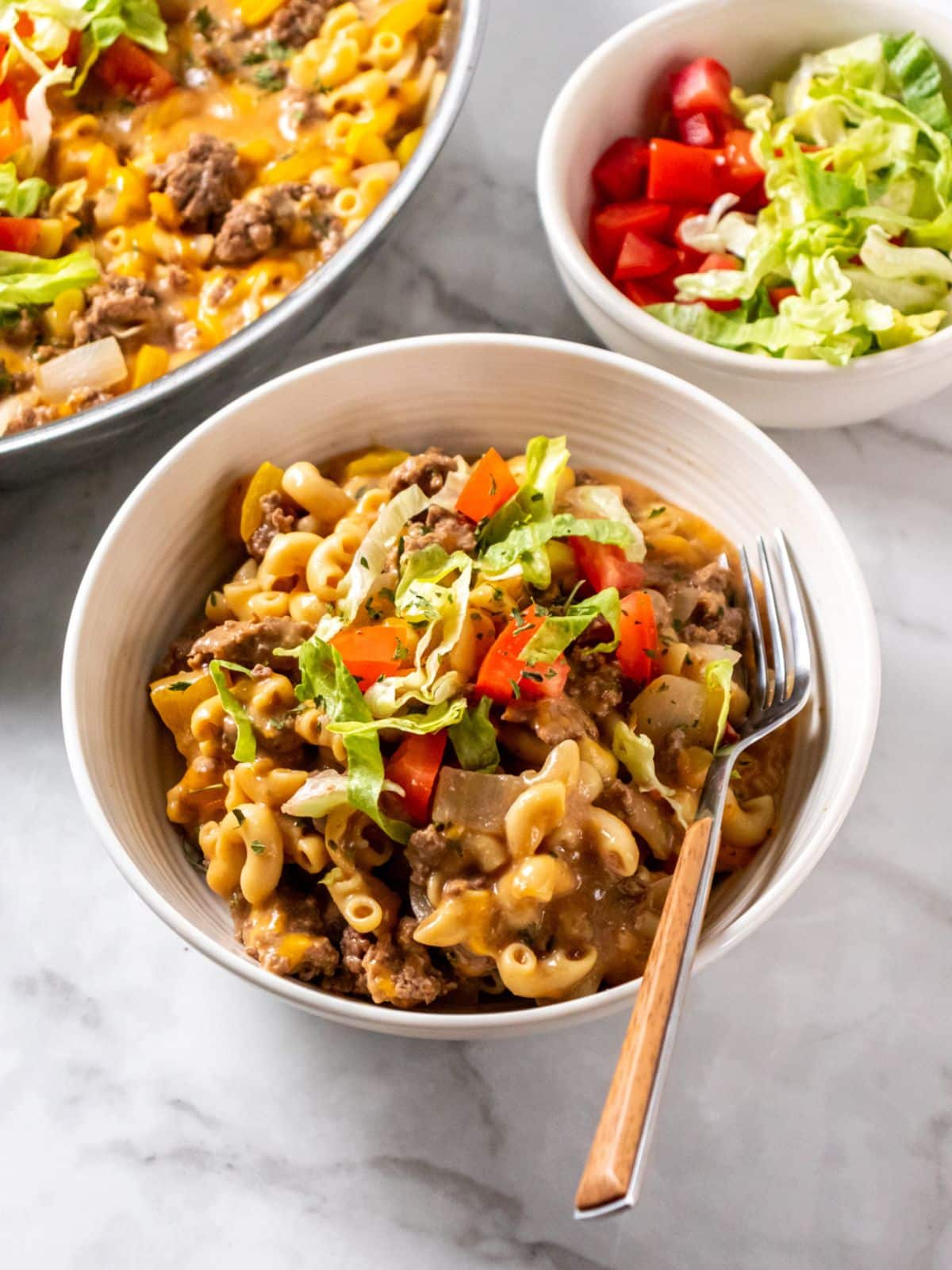 More Healthy Skillet Recipes To Try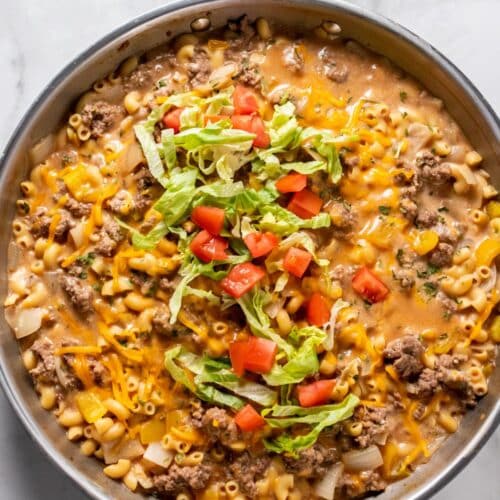 Healthy Cheeseburger Macaroni
Healthy Cheeseburger Macaroni Skillet is a simple low calorie dinner made with lean beef, macaroni, cheese and packed with the flavors of a cheeseburger while being lighter in calories. This casserole style meal is made easily on the skillet for a quick and delicious meal!
Ingredients
1 lb Lean Ground Beef
1/2 cup White Onion diced
1 Yellow Bell Pepper diced
1/3 cup Ketchup low sugar
1 tablespoon Mustard
4 cups Beef Broth no sodium
3/4 lb Elbow Macaroni high protein
1/2 cup Nonfat Greek yogurt
1/4 cup Nonfat Milk
1 cup Low Fat Cheddar Cheese shredded
1 tablespoon Dried Parsley
Salt and Pepper to taste
Shredded Lettuce & Tomatoes for Garnish
Instructions
Bring a large skillet to medium heat. Add the ground beef, bell pepper and onion. Cook until no longer pink then drain and return to the pan.

Add the broth, ketchup, mustard and stir to combine. Then add the pasta with salt and pepper.

Bring the skillet to a boil then cover and simmer for 10-12 minutes, stirring occasionally.

Uncover and cook until the noodles are cooked to your desired consistency.

Stir in the milk, yogurt, dried parsley and ½ cup of cheese.

Add the other half of the cheese on top then cover to melt the cheese on top.

Sprinkle the top with more dried parsley and serve with shredded lettuce and tomatoes for garnish. Serve warm!
Notes
Serving size equal 1/6th of the recipe or approximately 1 1/2 cups.
My Amazon shop has more products similar to those used for this recipe and that I recommend to my weight loss clients.
Nutrition
Serving: 1servingCalories: 377kcalCarbohydrates: 40gProtein: 39gFat: 9gSaturated Fat: 3gPolyunsaturated Fat: 0.3gMonounsaturated Fat: 2gTrans Fat: 0.3gCholesterol: 52mgSodium: 981mgPotassium: 513mgFiber: 9gSugar: 10gVitamin A: 177IUVitamin C: 38mgCalcium: 179mgIron: 8mg