This post contains affiliate links. As an Amazon associate I earn qualifying purchases. Click here for more about this policy.
This Healthy Olive Garden Salad is a copycat recipe that tastes just like the restaurant version you love! A lighter salad recipe with fresh vegetables and topped with a lower calorie dressing! Low Calorie + Gluten Free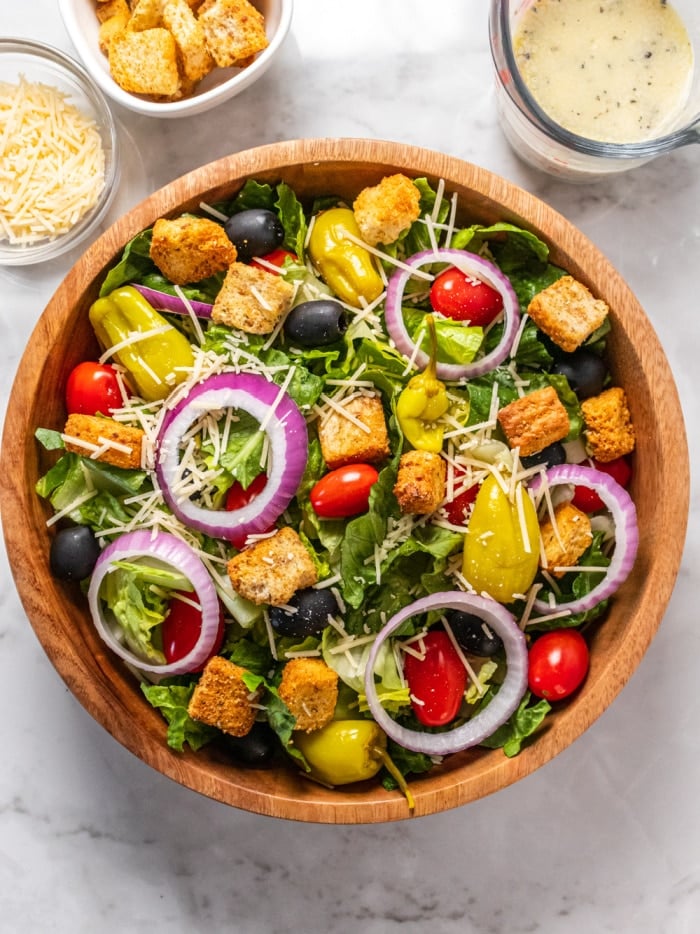 A delicious salad is always a great addition to a healthy meal! Broccoli yogurt salad, tabbouleh quinoa salad and chickpea tomato cucumber salad are favorites to add more veggies and greens to your menu!
One of my all-time favorites is Olive Garden salad. Yum!
This healthier copycat garden salad version is lower calorie and just as delicious as the restaurant version.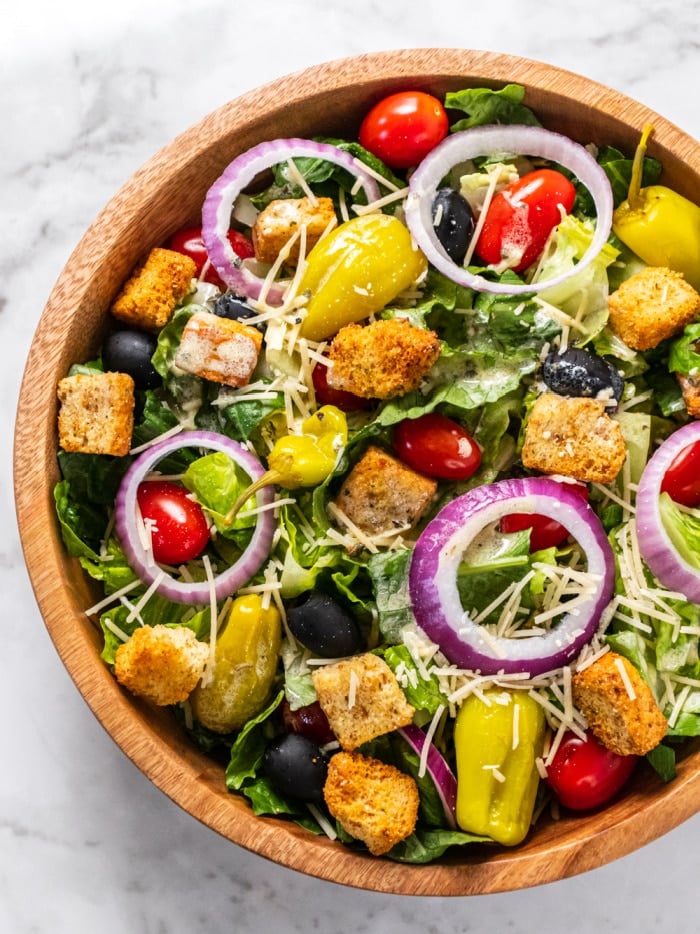 Why I Love This Olive Garden Salad Recipe
Lower Calorie - The original Olive Garden version has 290 calories. This copycat version has 164 calories per serving. One serving is 1/8th of the recipe.
Lower Fat - The reason this copycat salad recipe is lower calorie is the fat content has been reduced by adjusting the parmesan content and lightening up the dressing.
Simple Ingredients - Al the ingredients are basic and easy to find.
Versatile - It's easy to make this healthy salad a complete meal by adding a protein source to it or adding a protein balanced soup or meal on the side.
Olive Garden Salad Recipe Ingredients
Here are the ingredients to make an Olive Garden Salad that's healthier!
Romaine Lettuce
Cherry Tomatoes
Pepperoncinis
Black Olives
Red Onion
Parmesan
Croutons
Olive Garden Salad Dressing Ingredients
Here's what you need to make a copycat Olive Garden salad dressing. See the recipe card at the end of the post for the specific measurements and nutrition.
Apple Cider Vinegar
Lemon Juice
Mayonnaise
Italian Seasoning
Dijon Mustard
Garlic
Salt, Pepper
Parmesan
How To Make Olive Garden Salad
Step One - After chopping and washing the lettuce, combine it in a large mixing bowl with the tomatoes, pepperoncini's, black olives, red onions and croutons.
Step Two - In a small bowl or mason jar, combine the ingredients for the salad dressing. Shake or stir to combine.
Step Three - Pour the dressing over the salad and serve!
How To Make Homemade Croutons
I purchased gluten free croutons to make this recipe. These protein croutons are a great option too!
To make homemade croutons for your Olive Garden Salad, slice half a loaf of bread of choice into 3/4-inch cubes. Places on a large baking sheet and pre-heat the oven to 375 F.
Spray the bread cubes with avocado oil then sprinkle salt, pepper, 1/2 teaspoon of garlic powder and 1 teaspoon of Italian seasoning on top.
Bake the homemade croutons in the oven for 15-20 minutes. The cooking time will vary depending on how thick your bread cubes are so watch them to prevent burning.
Remove the homemade croutons from the oven and cool completely before enjoying!
How To Serve Olive Garden Salad
Serve this copycat Olive Garden Salad recipe alongside our healthy lemon garlic chicken. Add a tasty bowl of healthy minestrone soup and cauliflower garlic bread.
You will feel just like you're eating at the restaurant, only in a healthier way!
Low Calorie Olive Garden Salad Storage
Refrigerator - Store any leftovers from this recipe in an airtight container, or a gallon-sized plastic bag for up to 2 days. If you anticipate having leftovers, I recommend keeping the croutons on the side and serving them individuals to top on the salad. This will prevent the salad from getting soggy. Also, you can keep the salad dressing separate if you expect to have leftovers and this will preserve the salad longer.
Freezer - I do not recommend freezing the recipe.
Copycat Olive Garden Salad Frequently Asked Questions
Can I save leftovers of Olive Garden Salad?
This healthy copycat Olive Garden Salad can be kept in the refrigerator up to 2 days. Leave the croutons off the salad when storing to prevent it from getting soggy.
Can I store leftover salad dressing?
Any leftover dressing can be stored in a mason jar in the refrigerator up to 5 days.
Is Olive Garden Salad Healthy?
Olive Garden Salad is a healthy recipe and this recipe is a lighter version of the original.
Can You Make Olive Garden Salad Ahead Of Time?
You can make this Olive Garden Salad a couple days in advance. I recommend not adding the croutons or dressing to the salad until ready to serve.
How Many Calories In Olive Garden Salad?
According to Olive Garden's website, the salad with the dressing has 290 calories.
What Cheese Does Olive Garden Use?
Olive Garden uses a parmesan Romano shredded cheese in their garden salad recipe.
Healthy Olive Garden Copycat Salad Substitutions
Here are the substitutions you can make for this recipe. Remember when you make substitutions, it will change the nutritional values you see in the recipe card below.
Dressing - Instead of making homemade dressing, you can substitute with a light Italian dressing at the store like this one. Olive Garden dressings are sold at most grocery stores, but I do not recommend them as they have a lot of calories. That said, you could certainly work it into your calories.
Lettuce - Any lettuce variety, bagged salad can be used for this Olive Garden house salad recipe. A bagged salad that's already chopped will save you time!
Croutons - You can buy store bought croutons. If you are gluten free, buy gluten free croutons. These protein croutons are great too! See the section above on making homemade croutons if you want to go that route.
Add-Ins - You can add grilled chicken, shredded chicken, canned tuna or salmon, tofu, tempeh or another protein of choice easily to this healthy Olive Garden salad recipe to make it a complete meal!
More Healthy Salad Recipe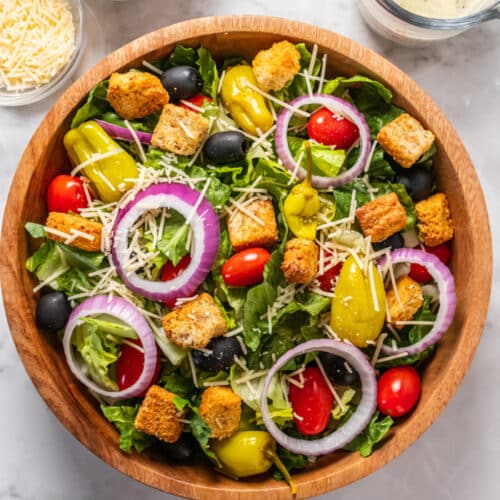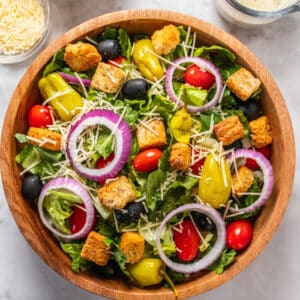 Healthy Olive Garden Salad
Healthy Olive Garden Salad is a copycat recipe that tastes just like the restaurant version you love! A lighter salad recipe with fresh vegetables and topped with a lower calorie dressing!
Ingredients
For the Salad
1 head Romaine Lettuce about 6 cups
1 cup Cherry Tomatoes or grape
2/3 cup Pepperoncinis
1/2 cup Black Olives pitted
1/2 cup Red Onion sliced
1/2 cup Parmesan shredded
1 cup Croutons
Instructions
In a large bowl, combine the shredded lettuce, tomatoes, pepperoncini's, black olives, red onion, croutons and Parmesan.

In a small bowl, add the ingredients for the dressing and whisk together.

Pour the dressing over the salad, toss carefully to combine and serve!
Notes
1 serving equals 1/8th of the recipe.
Store the salad in the refrigerator up to 2 days separate from the croutons.
Nutrition
Serving: 1servingCalories: 164kcalCarbohydrates: 9gProtein: 6gFat: 12gSaturated Fat: 4gPolyunsaturated Fat: 2gMonounsaturated Fat: 6gTrans Fat: 0.2gCholesterol: 14mgSodium: 597mgPotassium: 306mgFiber: 3gSugar: 2gVitamin A: 6997IUVitamin C: 10mgCalcium: 121mgIron: 1mg