This Low Carb Italian Chopped Salad features crisp summer veggies, salami and a lighter, homemade Italian Dressing. A healthier side salad or summer meal that's mouthwateringly good! Low Carb + Paleo + Gluten Free + Low Calorie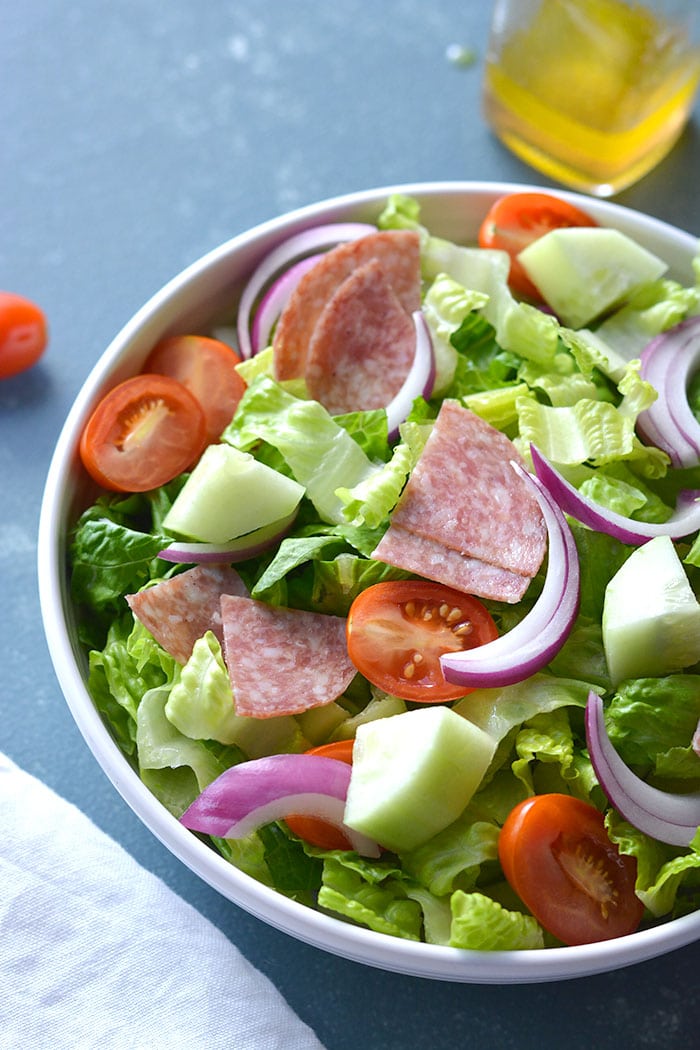 When it comes to salads I'm the type of person that throws ALL THE GREENS in a bowl, adds some protein a little lemon juice and apple cider vinegar and I'm happy camper. But lately…
I've been challenging myself to jump out of my box (I'm an introvert at heart even with food) and add new some new salads to my life. The women in my Facebook group also asked for more lightened up salad recipes so challenge accepted!
I know salads are usually thought to be boring especially when you're losing weight and comparing them to pizza, pasta and all the heavy carbs and sugars galore! But here's my rules with salads… they have to have healthy fat, lots of protein and a variety of veggies to make them interesting, filling and delicious!
Starting with…
Low Carb Italian Chopped Salad
If you've ever been to Olive Garden and had their salad, then this Low Carb Italian Chopped Salad recipe is for you! It's a lighter and higher protein version of Olive Garden's salad that you simply won't be able to resist!
Added salami, cucumber and grape tomatoes, took out the Olive Garden croutons and lightened up the dressing to make this salad a more well rounded one.
I've enjoyed this salad many times this summer for lunch and as a dinner side salad. It would make a great party appetizer too!
What You Need
Mixed Greens
Salami
Grape Tomatoes
Red Onion
Cucumber
Extra Virgin Olive Oil
Red Wine Vinegar
Dried Parsley
Helpful Tips
For the salami, look for a healthier one that's uncured. I personally love the Applegate salami brand. And if salami isn't your protein of choice, sub another protein you love.
Turkey pepperoni, Rotisserie chicken, shrimp, turkey breast, roast beef or any deli meat would be a wonderful protein addition. It's really about what works for you!
I highly recommend prepping the salad, tossing with the dressing and chilling an hour or two before eating. It not only gives the veggies time to marinade with the dressing but also gives them a crunchy, crisp bite.
I personally think it's the best after it's been chilled, but if you're short on time it's still a wonderful salad to add to your meal planning!
More Salads You May Enjoy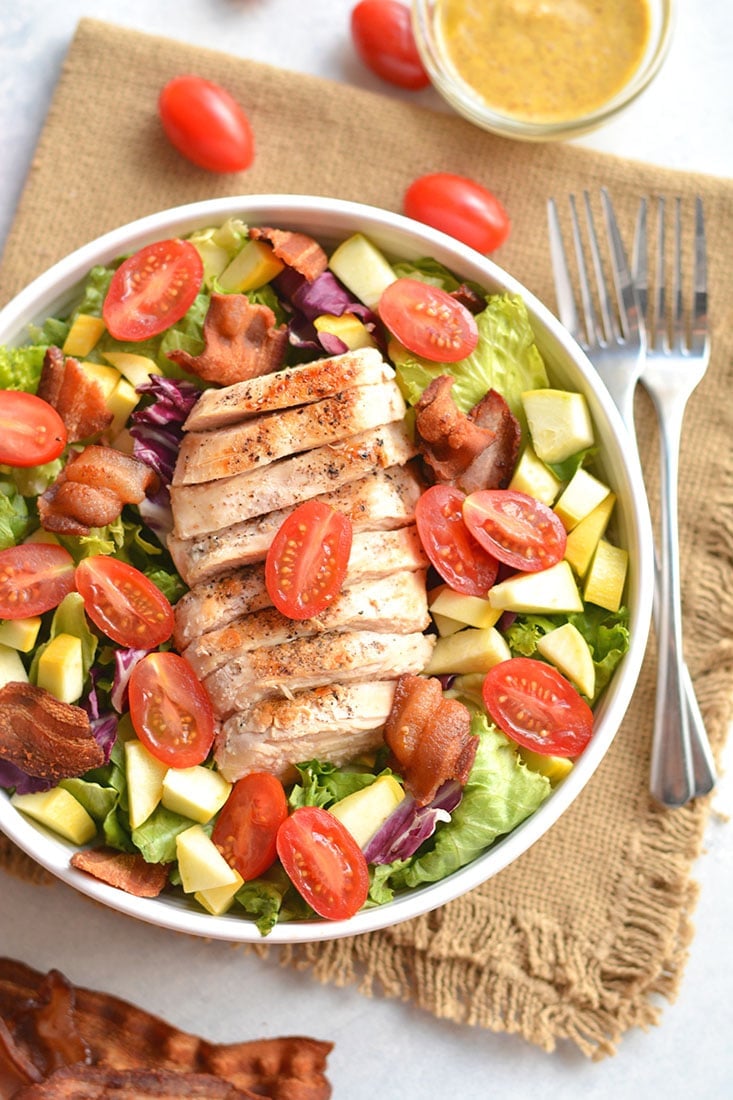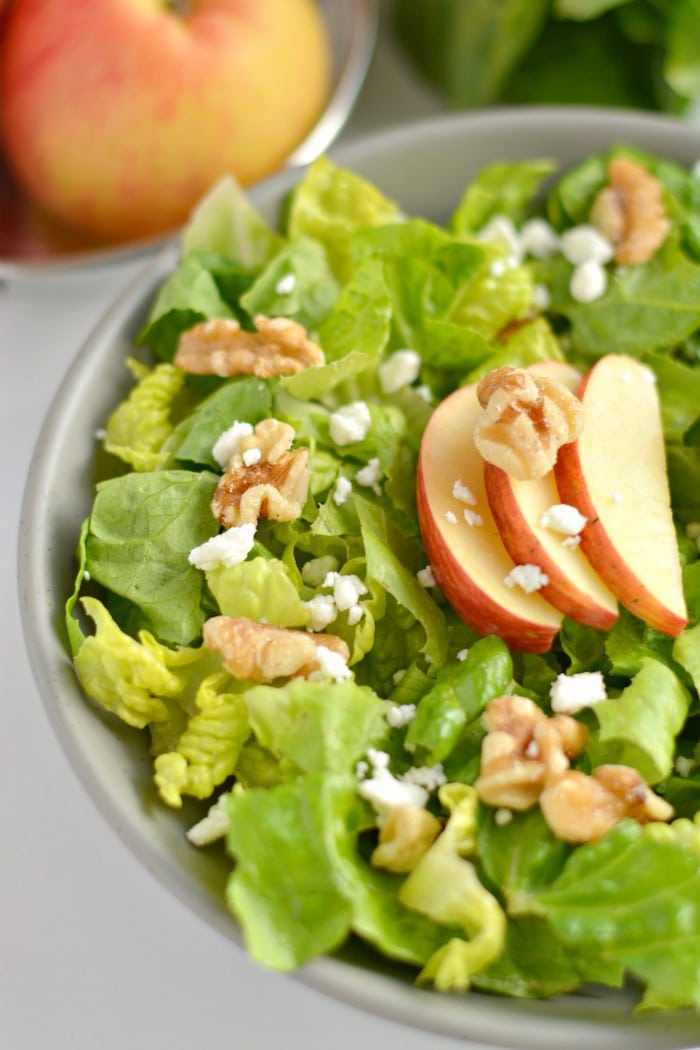 3 Smart Strategies To Stop Cravings
Low Carb Italian Chopped Salad
This Low Carb Italian Chopped Salad features crisp summer veggies, salami and a lighter, homemade Italian Dressing. A healthier side salad or summer meal that's mouthwateringly good! Low Carb + Paleo + Gluten Free + Low Calorie
Prep Time 15 minutes
Servings 2 salads
Calories 252 kcal
Ingredients
For the Salad
4 cups mixed greens chopped
2 ounce salami
1 cup grape tomatoes sliced
1 cucumber diced
3/4 cup red onion diced
Instructions
Mix the olive oil, red wine vinegar and dried parsley in a bowl or mason jar. Set aside.

In a large bowl, toss together the mixed greens, grape tomatoes, cucumber, red onion and salami.

Add the dressing to the salad, toss to combine and serve!
Course Dinner, Lunch, Side Dish
Cuisine American
Keyword dairy free, gluten free, Italian, lightened up, lighter, low calorie, low carb, Paleo, salad, salami
Nutrition facts per serving (1salad)
Calories 252 kcal
Fat 19 g
Saturated Fat 4 g
Cholesterol 11 mg
Sodium 352 mg
Potassium 659 mg
Carbohydrates 15 g
Fiber 3 g
Sugar 7 g
Protein 6 g
Vitamin A 1635 %
Vitamin C 38 %
Calcium 53 %
Iron 1.4 %
Meal Plans
Get a meal plan designed to meet your weight loss goals.
Learn More
What I Used For The Recipe