Low Carb BLT Grilled Chicken Salad! A healthy lunch or dinner topped with fresh lettuce, veggies, turkey bacon and a lighter salad dressing. Gluten Free + Low Calorie + Paleo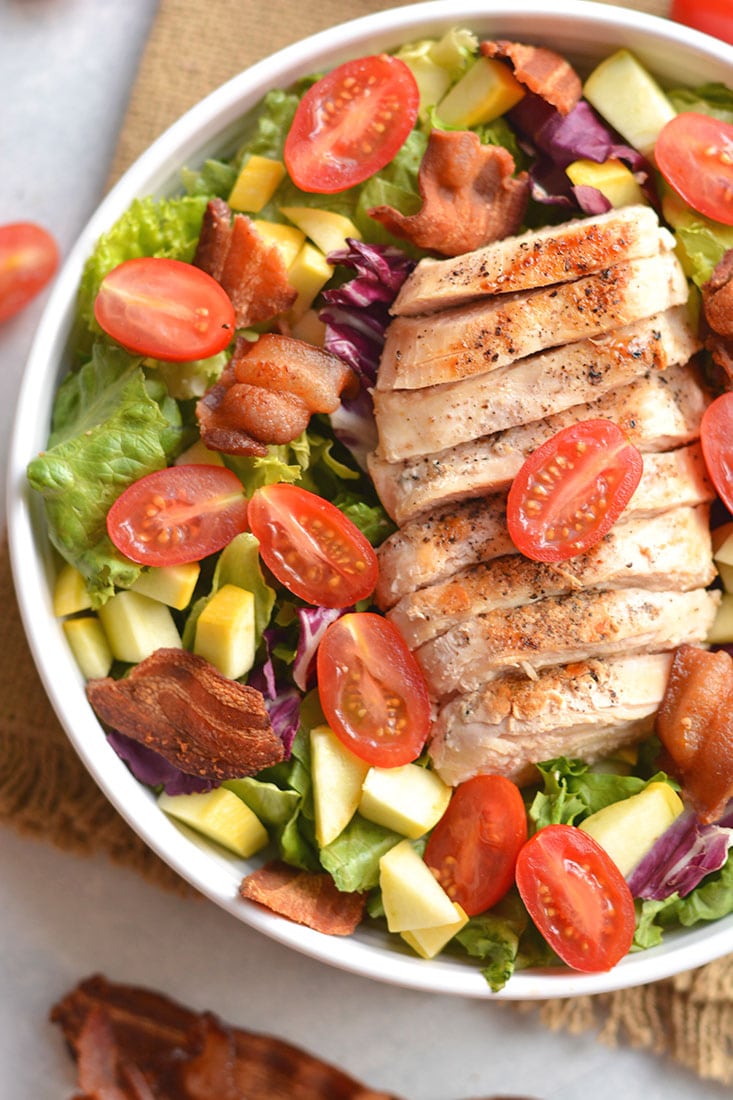 Turn on the grill and bring on grilled summer salads! Since yesterday was 4th of July, I'm guessing many of you are enjoying time off this week.
Grilling, eating, traveling, relaxing while I'm stuck in Phoenix in 120 degree heat covering everyone's spin classes this week, who were apparently smarter than me and fled for the week!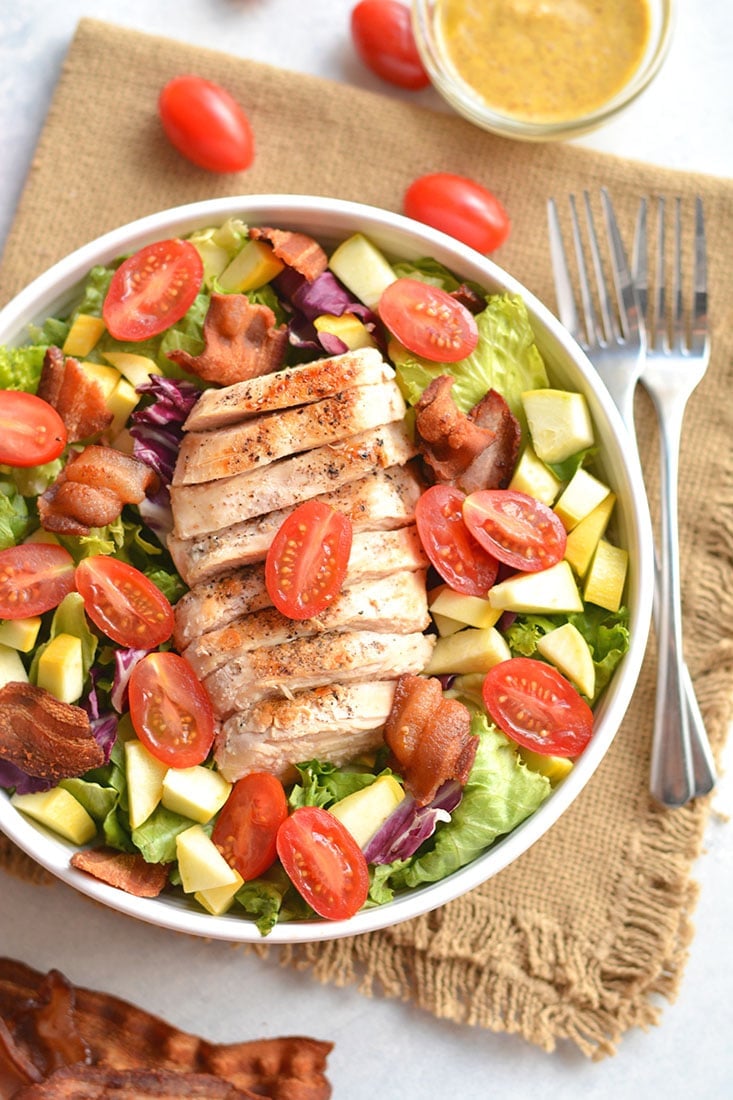 What was I thinking? Of food, of course! No really, what was I thinking?
Oh, yes about a classic BLT Grilled Chicken Salad! Because teaching more classes warrants eating more bacon and chicken.
Two of my favorite foods that never go out of style! P.S. I'm kidding about working out to eat more. Okay, maybe a smidge of truth there. Bacon! YUM!!!
Funny thing is I never would have thought of making this salad had it not been for a grass fed beef company sending me a boatload of red meat last month for a freelance article.
I happily handed the beef over to the guy, and kept the bacon all to myself. Now, I know it sounds weird coming from someone who doesn't eat red meat but bacon is one food I can never say no to.
Truth be told, I never would have thought of making this salad had it not been for my unhealthy guy. We grilled chicken a few nights ago, threw it on salads and called it dinner.
As we were eating, he kept saying how amazing bacon would be on it. And that's how this BLT Grilled Chicken Salad can to be. A healthier, veggie loaded salad version of a sandwich favorite that can be eaten year round!
Sometimes I'm thankful for the unhealthy people in my life reminding me of the foods I used to love so I can turn them into lighter, just as satisfying meals!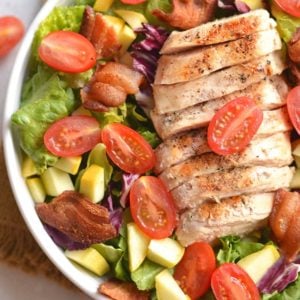 BLT Grilled Chicken Salad
A classic BLT Grilled Chicken Salad! Fresh lettuce topped with tomatoes, squash, crispy bacon and drizzled in a balsamic mustard dressing! Great for lunch or dinner! Gluten Free + Low Calorie + Paleo + Low Carb
Ingredients
For the salad:
4 cups romaine lettuce or mixed greens of choice
6 slices turkey bacon uncured, sugar free
1 cup summer squash diced
1 cup cherry tomatoes sliced in half
Instructions
Spray a grill pan with cooking spray. Bring to a medium heat.

Combine the ingredients for the dressing in a small bowl. Set in the refrigerator to marinade.

Place the chicken breasts on a plate, drizzle the extra virgin olive oil over each breast then the seasonings.

Place on the grill pan and cook 7 minutes then flip and cook another 5-7 minutes until cooked through. Remove from the grill pan and place on a clean plate.

While the chicken rests, add the turkey bacon to the pan and cook 3-4 minutes on each side. Remove from the pan then slice into 1/2-inch pieces.

Prepare the salads by placing the ingredients for the salads in a large bowl with the dressing and tossing together. Divide into two bowls.

Slice the chicken breasts widthwise on an angle and place on top of the salad with the sliced turkey bacon. Serve immediately!
Nutrition
Serving: 1servingCalories: 418kcalCarbohydrates: 12gProtein: 41gFat: 23gSaturated Fat: 5gCholesterol: 114mgSodium: 1463mgPotassium: 1171mgFiber: 4gSugar: 5gVitamin A: 8945IUVitamin C: 32mgCalcium: 71mgIron: 3mg
What I Used For The Recipe