This post contains affiliate links. As an Amazon associate I earn qualifying purchases. Click here for more about this policy.
Healthy Berry Quinoa Crumble! A gluten free, protein-packed warm weather dessert. Lightly sweetened, perfect for sharing and parties! Gluten Free + Vegan
Happy almost 4th of July! I'm re-sharing this Healthy Berry Quinoa Crumble just in time for the week's celebrations. I re-tested, re-shot and lightened up the sugar content from the original recipe. Still equally delicious and I hope you love it!
While I was re-making this Healthy Berry Quinoa Crumble recipe, I kept thinking how much I want to someday own a healthy cafe filled with pancakes, muffins, breakfast sandwiches and more. Along with all the other crazy dreams I have! Of course, the cafe is one at the very top of the list.
Every time I see the movie, It's Complicated I think the woman in this movie is living "my life." Well, sans the whole divorced with 3 kids part. We're both successful business women, both quirky, and my current boyfriend I could easily equate to Steve Martin. Goofy, sensitive, funny and knows when to be serious.
What really equates to my life in this movie though, is her gorgeous, rustic cafe with rainbows of fresh produce, coffee, large chocolate croissants and delectable blueberry scones. Only my baked goods would be healthier and lighter. Every time I watch that movie I think to myself, this is me. This is what I want my life to look like at 50.
It's easy to dream, but will it happen? I tell all my clients they have to imagine themselves losing weight or imagine their body changing. What the mind believes, the body will follow.
The movie came on while I was making this beautiful Healthy Berry Quinoa Crumble, and if I ever do have that cafe guaranteed this will be on the menu!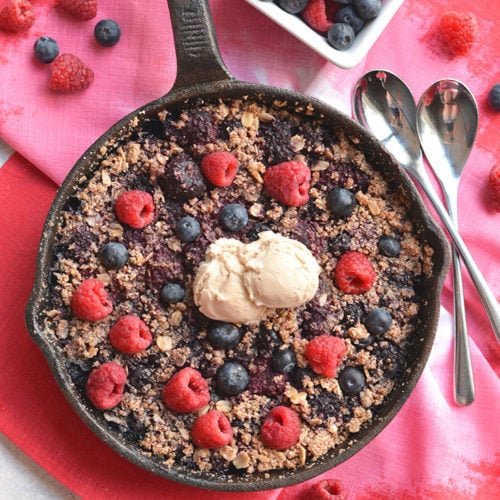 Healthy Berry Quinoa Crumble
Whip up a healthy protein packed dessert this summer with this Berry Quinoa Crumble. This gluten free berry bomb will explode your world! Low Calorie + Gluten Free
Ingredients
For the Berries:
2 cups frozen mixed berries my mix had blackberries, blueberries, raspberries and strawberries
1 tablespoon lemon juice
2 tablespoons arrowroot powder or corn starch
Instructions
Preheat oven to 350 F. Prepare a cast iron skillet with nonstick cooking spray.

To a bowl, add berries, lemon and arrowroot powder and mix together.

To another, separate bowl add quinoa, flour, oats, sugar, salt, cinnamon and combine well.

Add coconut oil to the flour bowl mixing with a spoon until the mixture is moist and crumbly.

Transfer berries to the prepared skillet, spreading in an even layer.

Sprinkle crumble over the top of the berries.

Bake at 350 F for 45 minutes.

Remove from the oven and cool 30 minutes.

Serve with dairy free ice cream or Greek yogurt!
Nutrition
Serving: 1servingCalories: 258kcalCarbohydrates: 22.7gProtein: 5.4gFat: 16.8gSaturated Fat: 8.4gSodium: 202.1mgFiber: 4.1gSugar: 10.4g
What I Used For The Recipe