Zucchini Chocolate Espresso Brownies with an almond butter swirl! Made with almond butter, chocolate, espresso and oats, these brownies are gluten free, vegan and low calorie. Luscious chocolate-y brownies that make healthy eating easy! Gluten Free + Low Calorie + Vegan
This Zucchini Chocolate Espresso Brownies recipe was originally published April 2016. I've retested, updated and rephotographed the recipe for you. Enjoy!
I've decided I need to plant a zucchini garden. This is a scary thing people! Everything I've ever planted dies. Hence, why I live in the dessert and plant cactus. You have to try really hard to kill a cactus. BUT for as many recipes as I make with zucchini, I thought I should at least try because I really do use zucchini in everything.
The only problem? I don't have a garden nor do I have room for a garden because I have a small courtyard. So I asked my all knowing, green finger garden planting mother for advice but even she wasn't sure. So I looked to my friend Google for suggestions and found out I could grown them in pots.
After consulting with Mom, she suggested I buy pots that are low to the ground so the vines could spread onto the patio. I remember her planting squash on the side of the house when I was younger and it literally grew like a weed.
Vines everywhere! Growing up, I mowed the lawn and was always fearful I'd run over a squash and become victim to Mom's wrath.
So now I have a large pot sporting two zucchini plants and already in two weeks the leaves have doubled. I'm taking that as a good sign. Bring on the zucchini!
That means a lot more zucchini oatless oatmeal, zucchini oat cookies, zucchini parmesan fries, zucchini red pepper frittata, zucchini salsa turkey burgers, healthy zucchini chocolate muffins, zucchini cocoa pancakes, zucchini bread and Zucchini Espresso Chocolate Brownies will be happening a lot more around here!
WAIT…back up. Did someone say brownies???
Why yes I did! Zucchini Espresso Chocolate Brownies to be exact!
Zucchini Espresso Chocolate Brownies
And these aren't just any brownies people. They're made with zucchini, cocoa, nut butter, oats and espresso powder. OMG yum! Someone call the chocolate police now.
Now the secret to making these Zucchini Espresso Chocolate Brownies extra creamy is to use creamy almond butter and the key to getting that holy grail chocolate-y chocolate taste is in the espresso powder. If you haven't used it before, I highly recommend it! BUT a little does go a long way. You don't need much and it lasts for-EVER.
What You Need
Zucchini
Almond Butter (creamy)
Maple Syrup
Applesauce
Vanilla Extract
Baking Soda
Salt
Helpful Tips
Allow the brownies to cool completely before removing and slicing into bars. Because they are flourless, they will take slightly longer to cool and firm up.
Use a knife dipped in warm water to slice the brownies into bars and wipe the knife with a towel in between slicing to ensuring you get a clean cut.
I have not tested anything but oats with this recipe, but if you try something new please comment below. This helps others who make the recipe. Now let's bake!
Zucchini Chocolate Espresso Brownies
Creamy Zucchini Chocolate Espresso Brownies with an almond butter swirl! Made with almond butter, chocolate, espresso and oats, these brownies are gluten free, vegan and low calorie. Luscious chocolate-y brownies that make healthy eating easy!
Prep Time 10 minutes
Cook Time 25 minutes
Cool 30 minutes
Total Time 1 hour 5 minutes
Servings 9 brownies
Calories 187 kcal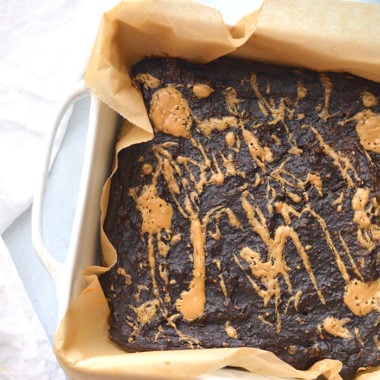 Instructions
Preheat oven to 350 F and prepare an 8x8 baking pan with parchment paper.

In a large bowl, mix together almond butter, applesauce, maple syrup and vanilla until smooth.

Next add zucchini, cocoa powder, ground oats, baking soda, espresso powder and salt and mix ingredients together until well combined.

Pour batter into the prepared baking pan. With a toothpick swirl in the 2 tbsp of almond butter into the batter.

Bake 25-30 minutes until a toothpick can be inserted into middle of the brownies and comes out clean. Remove from the oven and allow to cool in the pan 30 minutes prior to slicing into 12 brownies and devouring!
Recipe Notes
My Amazon shop has more products similar to those used for this recipe and that I recommend to my nutrition clients.
I have not tested other flours with this recipe. If you do, please comment below to help others!
Course Dessert
Cuisine Dessert
Keyword almond butter, applesauce, brownie, cocoa powder, dairy free, espresso, flourless, gluten free, healthy, low calorie, low sugar, maple syrup, oat flour, oats
Nutrition facts per serving (1brownie)
Calories 187 kcal
Fat 11 g
Saturated Fat 1 g
Cholesterol 0 mg
Sodium 210 mg
Potassium 324 mg
Carbohydrates 21 g
Fiber 4 g
Sugar 10 g
Protein 6 g
Vitamin A 41 %
Vitamin C 4 %
Calcium 86 %
Iron 2 %
Meal Plans
Get a meal plan designed to meet your weight loss goals.
Learn More
What I Used For The Recipe