This post contains affiliate links. As an Amazon associate I earn qualifying purchases. Click here for more about this policy.
Roasted broccoli is an easy side dish and I'm going to show you how to roast broccoli so it tastes delicious every time. This roasted broccoli recipe is made with 5 ingredients and is perfect for meal prepping or pairs well with any meal! Low Calorie + Gluten Free + Paleo + Vegan + Low Carb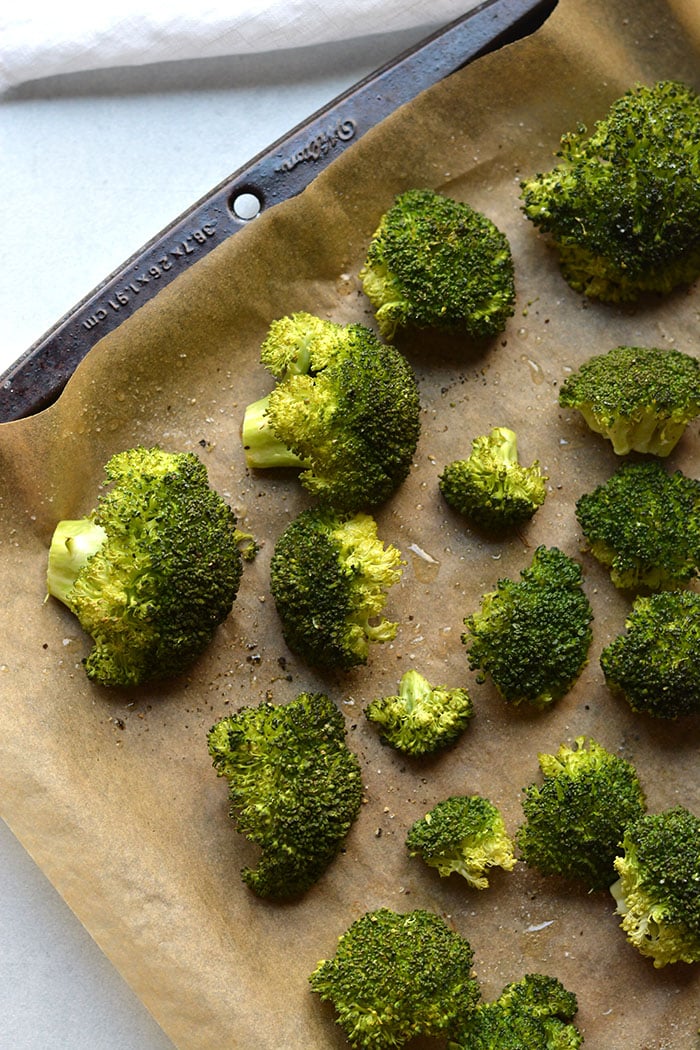 My clients know I'm a huge proponent of eating a lot of veggies. In fact, I recommend 8-10 servings of veggies daily. If you're like most of my clients though, they don't really love veggies at first or know how to cook them in delicious ways.
Learning to love your veggies is definitely a process. When I lost 80 pounds, I certainly did not go from eating one vegetable a day to ten right away. It was a process and took years of experimenting in the kitchen and being willing to get out of my comfort zone to try new things.
The good news is even if you're not a huge veggie eaters, I guarantee you'll love roasted broccoli! It's simple to make and easy to pair with recipes like everything bagel chicken and teriyaki salmon.
Ingredients for Roasted Broccoli
This sheet pan roasted broccoli in the oven has just 5 ingredients and I'm sure you have the in your kitchen already - minus the broccoli :).
Broccoli
Garlic Powder
Sea Salt
Black Pepper
How to Roast Broccoli on a Sheet Pan
Roasted broccoli in the oven is so easy to make. Here's the steps that will help you make your broccoli taste delicious!
Step one is to preheat the oven to 350 F. If you've seen recipes online that have you heat to 400 or 425 to roast broccoli, ignore them! You want the temperature to be lower so that you preserve some of the nutrients in the broccoli. You will still get a nice soft, delicious tasting broccoli at a lower temperature. Guaranteed!
Step two is to wash and chop the broccoli into bite-sized pieces and discard the stem. Line a baking sheet with parchment paper then place the broccoli on the sheet pan without crowding the broccoli too much.
Step three is spray the broccoli lightly with avocado oil or extra virgin olive oil and sprinkle with the garlic powder, salt and pepper. Note, if you do make your broccoli at a high temperature you should NEVER use extra virgin olive oil as it becomes rancid at temperatures higher than 350 F.
Step four is to cook the broccoli in the oven for 15-18 minutes. The time will vary based on your oven, size of broccoli (the smaller, the faster it will roast) and how well roasted you like your broccoli.
Last step is to serve and enjoy your roasted broccoli!
Tips for Making the BEST Roasted Broccoli
Use Fresh Broccoli instead of frozen. It tastes the best in my opinion. You can use frozen broccoli, but you will want to thaw and drain it before roasting. I find frozen broccoli works best steamed or in the air fryer.
Don't Overcrowd The Sheet Pan. When any vegetable is too close together on a sheet pan, it will not roast and get crispy. If you have a lot of broccoli, use two sheet pans and spread them about half inch to one inch.
Use Real Oil. One of the secrets about most vegetables is that they ALWAYS taste better with oil. In fact, the nutrients in vegetables like broccoli are best absorbed by the body when paired with a high quality oil. I like avocado oil for roasting vegetables, but olive oil works as well.
Season Well. Broccoli tastes so much better when it is seasoned with sea salt, black pepper and garlic powder versus serving it bland. Don't be scared to try other seasonings too like smoked paprika, chili powder, curry powder, Italian seasoning!
Consider Add-Ins like cheese, a squeeze of lemon juice, Sriracha sauce or other condiments to enhance the flavor.
How To Eat Roasted Broccoli Or Use Leftover Roasted Broccoli
Here's some of my favorite ways to eat roasted broccoli. You can also add roasted broccoli to many recipes like stir-frys. It's great because it's already cooked and reduces the overall cook time for a recipe.
Salads - Adding warm roasted broccoli to a cold salad with many other veggies and protein can really make the salad taste more filling and leave you more satisfied!
Eggs - Toss your roasted broccoli in with scrambled eggs or an egg bake to increase the veggie power.
Casseroles - You could easily add broccoli to a casserole like this creamy potato chicken one or Italian turkey casserole.
Stir-Frys - Another great option for using leftover roasted broccoli is a stir-fry like this clean out the fridge recipe.
Soups - Add leftover roasted broccoli to any soup like this lighter broccoli cheese soup is a good one!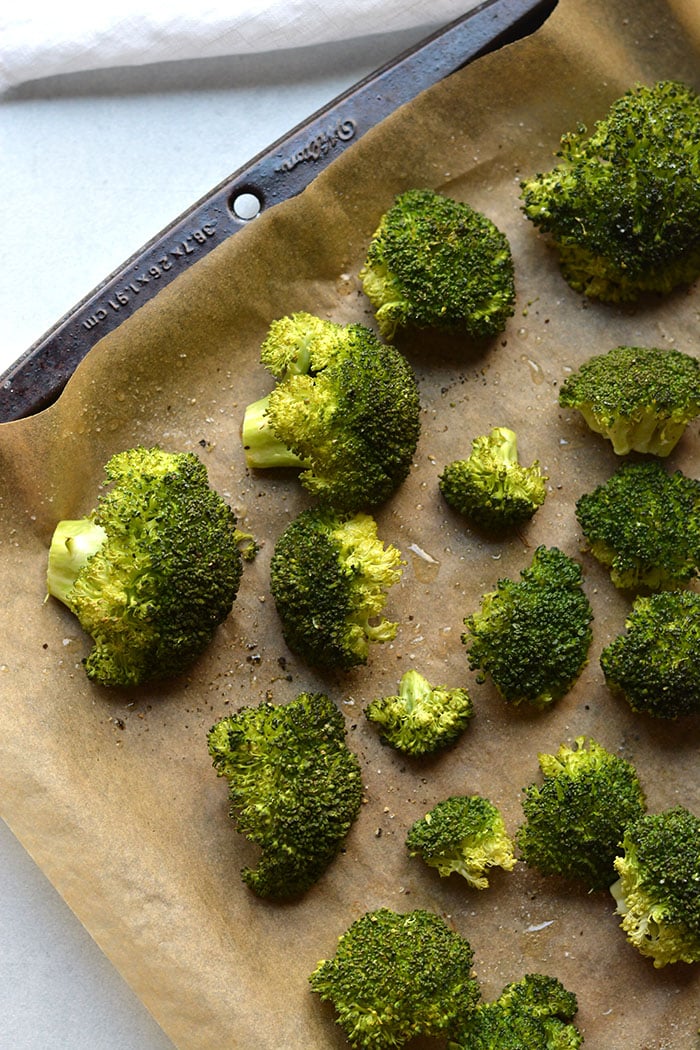 How to Store Roasted Broccoli
You can store roasted broccoli in a container in the refrigerator up to 7 days. It's not ideal to freeze it after it's been cooked. Cooked broccoli can be frozen, but will not have the same flavor or texture.
How to Reheat Roasted Broccoli
Microwave - 30 seconds on high will heat it up; however, it will not crisp up.
Stovetop - Heat on medium heat in a skillet for 5-7 minutes. Like the microwave, it will heat up but not be as crispy as it originally was.
Oven - Reheat at 350 F for 5 minutes and it will come back to life crispy and re-heated.
What Vegetables Can You Roast
You can use this recipe to roast many veggies. Here's a few you can try:
Asparagus, carrots, parsnips, Brussels sprouts, zucchini, summer squash, cauliflower, onions, bell peppers, cabbage, kale.
Note if you're roasting hardier vegetables like potatoes, yams, spaghetti squash, acorn squash, they will need to be roasted at a higher temperature and longer - 400 F 30-45 minutes is what I recommend.
Healthy Roasted Broccoli
Roasted broccoli is an easy side dish and I'm going to show you how to roast broccoli so it tastes delicious every time. This roasted broccoli recipe is made with 5 ingredients and is perfect for meal prepping or pairs well with any meal!
Instructions
Preheat the oven to 350 F and prepare a large baking sheet with parchment paper.

Wash the broccoli then cut the florets from the stem and discard the stem. Lightly spray the broccoli with avocado oil spray then sprinkle the seasonings over the top.

Bake 15-18 minutes until the edges are lightly browned. Remove from the oven and serve!

Store roasted broccoli in the refrigerator up to 7 days.
Notes
My Amazon shop has more products similar to those used for this recipe and that I recommend to my weight loss clients.
If you love this recipe, checkout my cookbook for more delicious recipes!
One serving is approximately one cup of cooked broccoli.
Nutrition
Serving: 1servingCalories: 33kcalCarbohydrates: 6gProtein: 3gFat: 1gSaturated Fat: 1gSodium: 321mgPotassium: 288mgFiber: 2gSugar: 2gVitamin A: 567IUVitamin C: 81mgCalcium: 43mgIron: 1mg
What I Used For The Recipe