Everything Bagel Chicken! Juicy, baked chicken crusted with everything bagel seasoning. An easy 30-minute meal that takes chicken from boring to delicious! Low Carb + Paleo + Gluten Free + Low Calorie
The women in my membership kept telling me I needed to try the everything bagel seasoning from Trader Joe's. I had seen in the store many times, but frankly steered clear of it because my previous relationship with said seasoning on a real bagel lathered with layers of cream cheese. A food I used to love and devour that now makes my stomach churn. Strange how your taste buds change when you eat healthier.
Eventually, I gave in because they were putting it in and on everything. Vegetables, casseroles, soups, burgers, salads and just about anything else you could image. Peer pressure's real when it comes to food. The verdict? OMG…why did I not do this sooner?
After I tried it, I just knew what I had to do…
Everything Bagel Chicken
Enter the BEST chicken you will ever eat, Everything Bagel Chicken! The juiciest, oven-baked chicken crusted in everything bagel seasoning. What's better is it takes just minutes to prep then the oven does the rest of the magic!
Everyone always says chicken's boring. They're sick of chicken, blah blah. But to me…chicken's amazing because you can do so much with it. You can add many flavors and textures to make it more attractive. It just takes a little creativity and honestly, not overcomplicating it.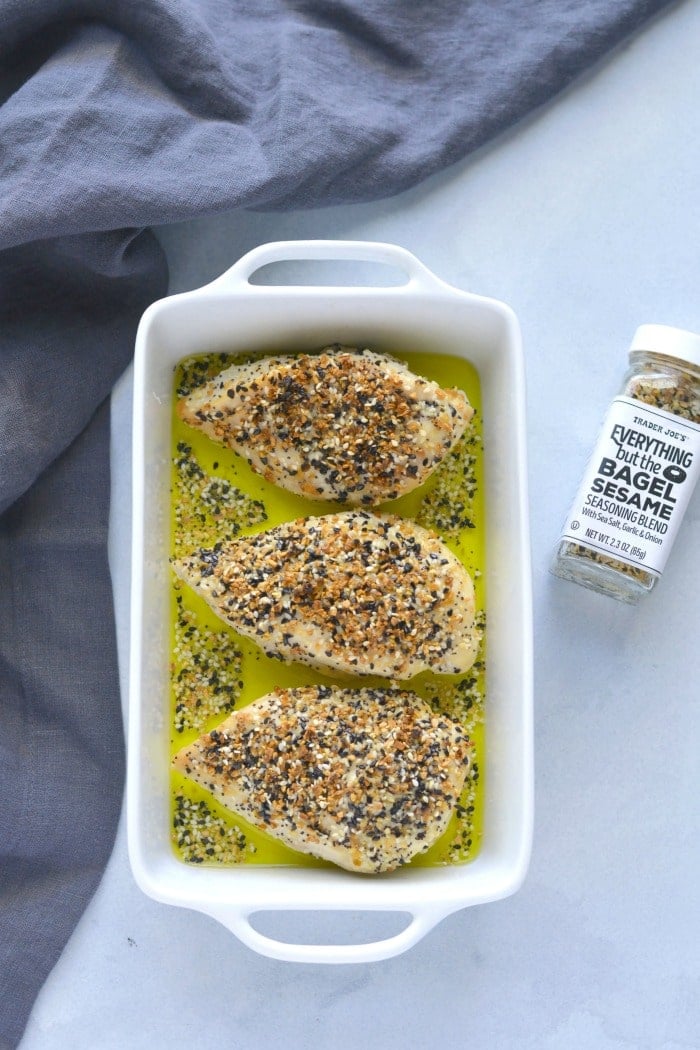 What You Need
Chicken Breasts
Extra Virgin Olive Oil
Salt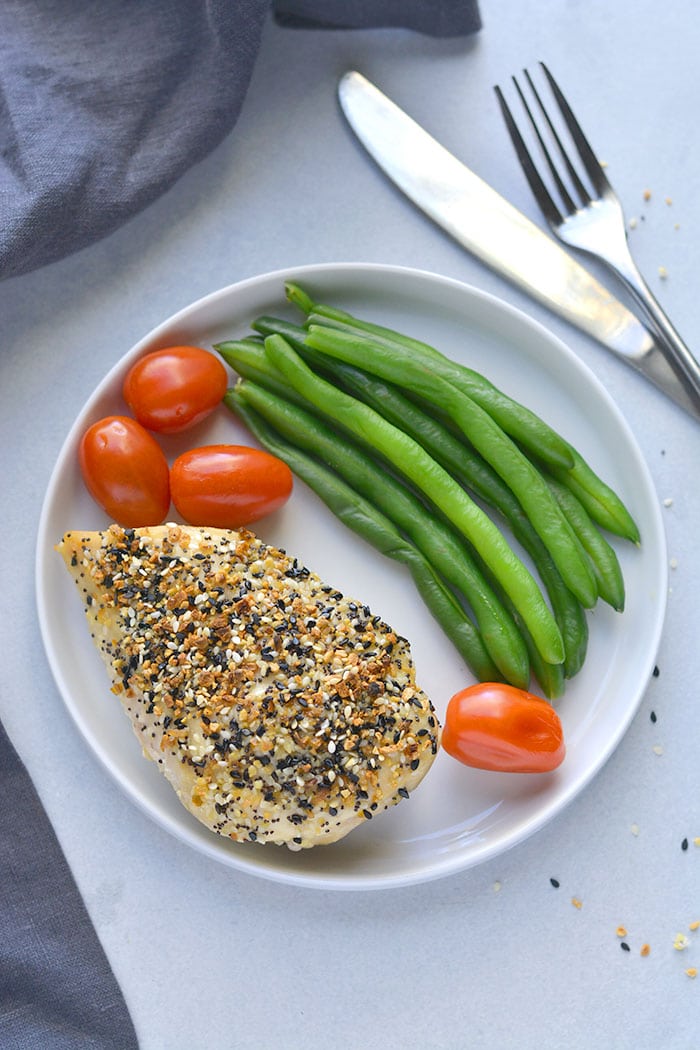 Helpful Tips
Prepare the chicken ahead of time! Clean and cut the fat off prior to baking so all you have to do is brush the oil, sprinkle the seasoning and bake! If your chicken breasts are larger in the center, then I recommend flattening them out so they are even. You can do this by placing the chicken breasts between two pieces of parchment paper and pounding lightly with a meat mallet or the bottom of a plastic cup.
No Trader Joe's in your area? You can buy Everything Bagel Seasoning on Amazon. They have plenty of knock of versions!
If you make this recipe, please tag SkinnyFitalicious on Instagram and Facebook so I can share your creations!
Receive a Sugar Free Meal Plan
When you join the Skinny Fitalicious email list
Everything Bagel Chicken
Everything Bagel Chicken! Juicy, baked chicken crusted with everything bagel seasoning. An easy 30-minute meal that takes chicken from boring to delicious! Low Carb + Paleo + Gluten Free + Low Calorie
Prep Time 10 minutes
Cook Time 25 minutes
Total Time 35 minutes
Servings 4 servings
Calories 278 kcal
Instructions
Preheat oven to 350 F. Prepare an oven safe dish with cooking spray or cover a baking sheet with parchment.

Place the olive oil in a ramekin. Then using a cooking brush, brush the oil generously over the chicken breasts.

Use 2 heaping tablespoons of the everything bagel seasoning to coat each chicken breast by sprinkling the seasoning over the chicken breast then pressing it down with your fingers.

Transfer the chicken to the prepared dish or baking sheet and repeat for all the chicken breasts.

Bake at 350 F 30 minutes or until cooked through and the internal temperature of the chicken reaches 165 F.

Remove the chicken from the oven, tent it with foil and let it sit 10 minutes to absorb the juices then serve!
Recipe Notes
My Amazon shop has more products similar to those used for this recipe and that I recommend to my nutrition clients.
If using avocado oil, you can cook the chicken at 400-425 F for a shorter length of time. Extra virgin olive oil has a lower smoke point and should be baked no higher than 350 F. 
Course Dinner
Cuisine American
Keyword baked, chicken, everything bagel, gluten free, healthy, low calorie, oven, Paleo
Nutrition facts per serving (1serving)
Calories 278 kcal
Fat 16 g
Saturated Fat 2 g
Cholesterol 72 mg
Sodium 131 mg
Potassium 419 mg
Carbohydrates 0 g
Fiber 0 g
Sugar 0 g
Protein 24 g
Vitamin A 0.7 %
Vitamin C 1.6 %
Calcium 0.6 %
Iron 2.8 %
Custom Meal Plans
Work with Megan to develop a custom macro or standard meal plan to reach your goals.
Learn More
What You Need For The Recipe