Low Calorie Italian Casserole made with zucchini, brown rice and artichokes is an easy, make ahead freezer casserole. A nourishing, healthy dinner that's filling and bursting with Italian flavorings. Gluten Free + Low Calorie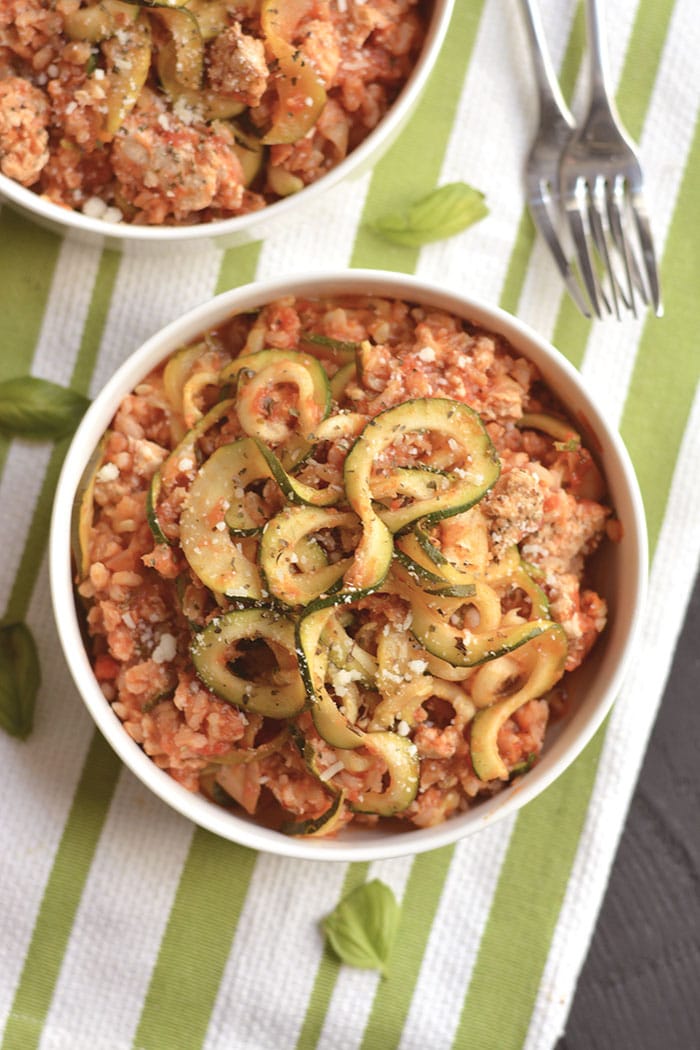 Lately, motivation has been tough. If you've been following me awhile, you know I L-O-V-E working out. Considering the gym is DEAD right now, I should be dying to go so I can have the whole place to myself so I can do circuits without a zillion people everywhere.
One of the perks of living in Arizona is no one goes to the gym in the winter, even in January. Everyone wants to be outside in one of the cooler months of the year.
So how do I push myself through times when I'm not feeling it? Change it up!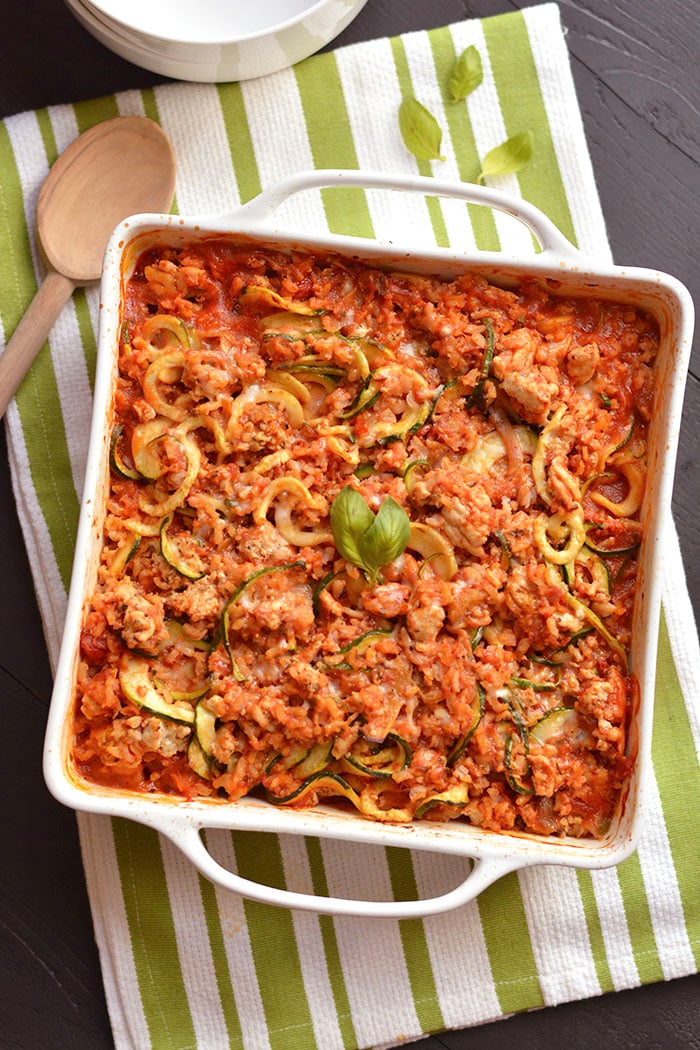 A lot of times when I'm stuck in the same routine or doing the same activities swapping my gym days &/or activities around is enough to get myself going again. For instance, I haven't been wanting to lift as much lately so I switched my routine around so I could do more 8 mile walks.
Instead of pushing myself to do something, I'm not that into at the moment I follow what my soul tells me it need more of.
These changes are really good for your brain. The brain adapts easy to routines which means you work less in your workouts when you're always doing the same thing over and over. This is why if you always drive the same route every day you can drive home on autopilot in the blink of an eye.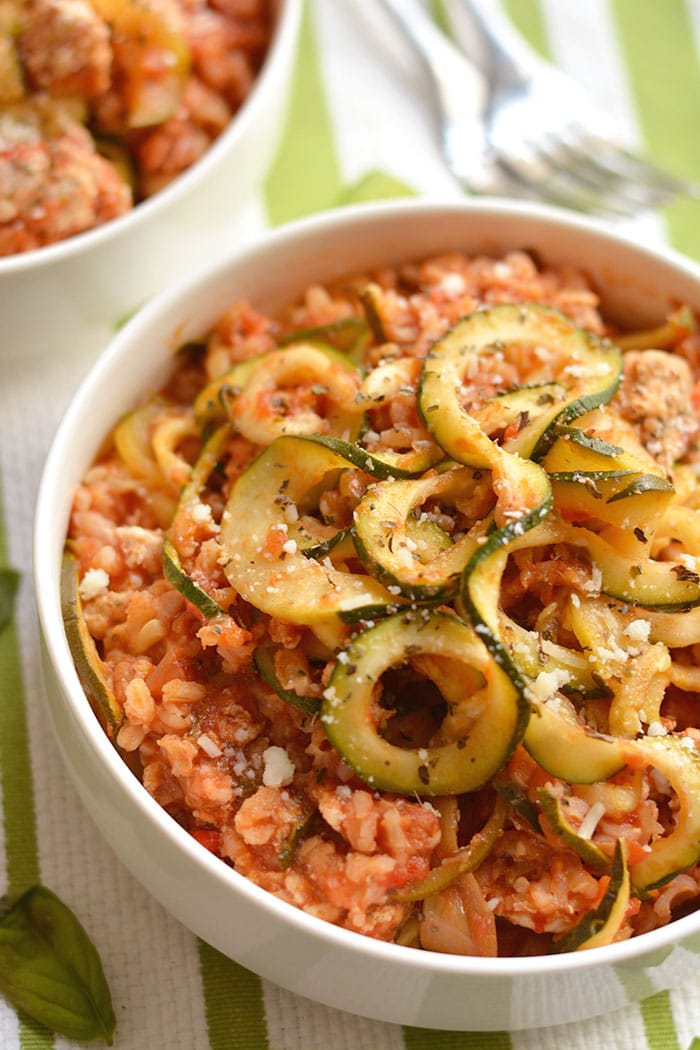 The biggest mistake I see people doing at the gym is doing the exact routine over and over again every day. They never do anything different and that's why they don't see changes in their bodies. You always have to challenge yourself in different ways. That doesn't mean going longer. It means doing things differently or in a different order.
I notice many of my 1:1 clients are this way with food too. Often the body adapts to what you're eating the same way it does with exercise. If things are feeling off or you're feeling under motivated, switching things up can make a big difference.
Speaking of switching things up, I switched up this Low Calorie Italian Casserole. The recipe was originally published in 2015 with horrible pictures. Seriously, I have no idea how you guys stuck with me through those ugly photo years. You're amazing!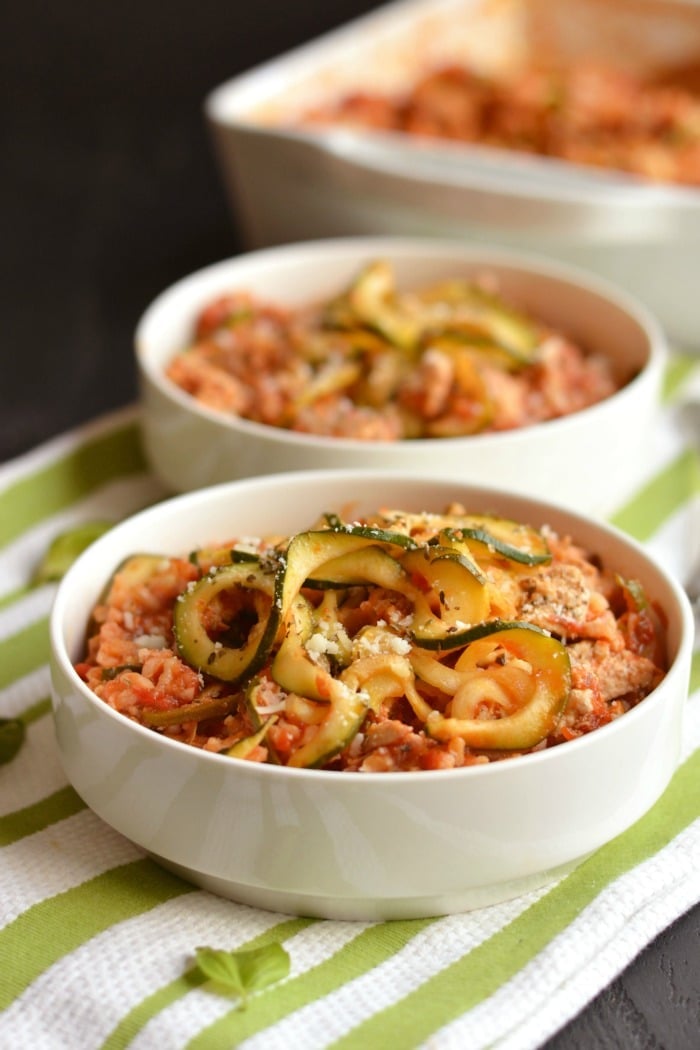 I couldn't allow this recipe to be represented that way any longer though. It's just too shameful for something so delicious! So I upgraded the recipe by adding more seasonings, spiralized zucchini and artichokes which I love sneaking into recipes wherever I can.
Artichokes are prebiotics which are a type of non digestible fiber the body can't break down. They pass through the small intestine then reach the colon where they're fermented by gut microflora.
Essentially, they're "fuel," for good bacteria that live in your gut. Gut health is closely tied to many bodily functions. Prebiotics and probiotics work together in battling inflammation and lowering overall disease risk (helpful for weight loss too!).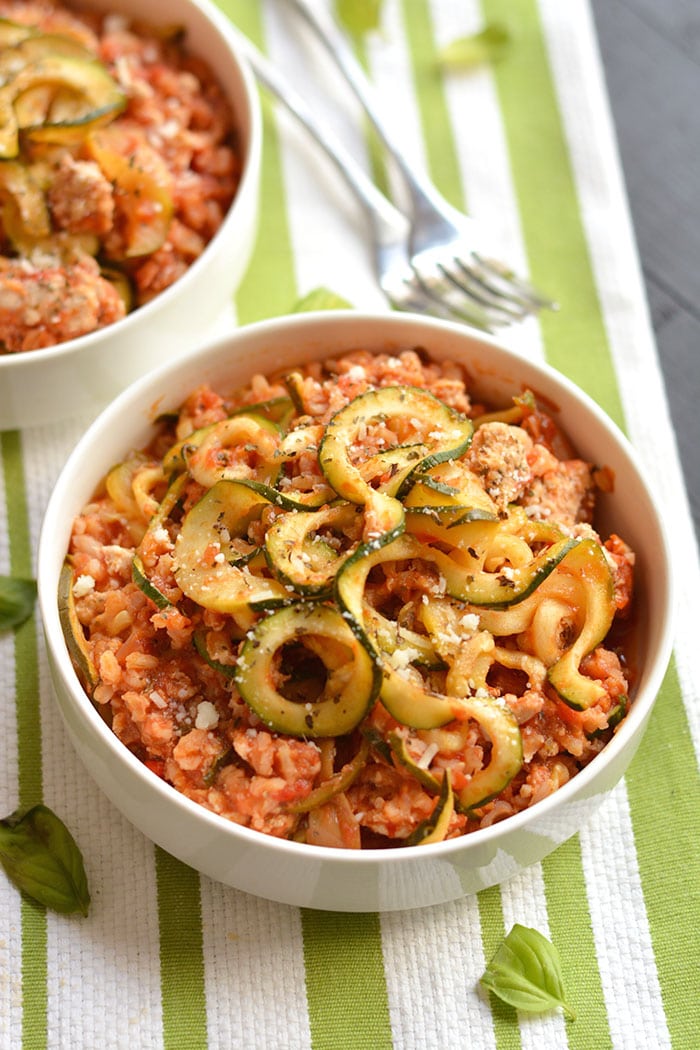 Adding artichokes to this Low Calorie Italian Casserole was an easy way to increase the fiber while preserving the yummy taste. In fact, I think it adds to that amazing flavor!
This Low Calorie Italian Casserole is by far one of my favorite go to dinners. You can prep it ahead of time and freeze then just bake during the week for an easy dinner. It's also high in protein and complex carbs. What I call a balanced meal! Now, if you'll excuse me. I have more horrible pictures to tackle.
P.S. I use this spiralizer and love it. It's cheap too!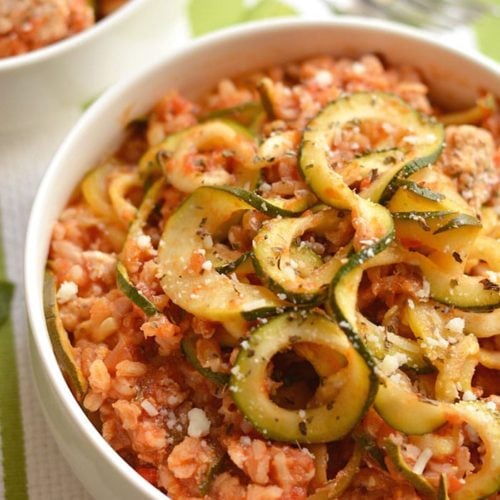 Low Calorie Italian Casserole
Low Calorie Italian Casserole made with zucchini, brown rice and artichokes is an easy, make ahead freezer casserole. A nourishing, healthy dinner that's filling and bursting with Italian flavorings. Gluten Free + Low Calorie
Ingredients
1 lb ground turkey breast
1 1/2 cups marinara sauce
1 cup brown rice cooked
2 zucchini sliced into thin medallions or spiralized
1 1/2 tablespoons oregano
1 teaspoon basil
1 tablespoon garlic minced
1/2 cup artichokes water drained and sliced
1 tablespoon Parmesan
Instructions
Preheat oven to 400 F.

In a large skillet, brown the ground turkey with the seasonings and garlic.

When the turkey is about half way through browning, add the artichokes and marinara sauce to the pan. Stir to combine and cook until meat is browned.

Remove the pan from heat then pour 1/4 of the meat sauce into a 9-inch by 9-inch square casserole dish top with 1/4 of the brown rice then a few slices of zucchini. Repeat this process 3 times until all ingredients are used. Sprinkle the top with the parmesan.

Cover the baking dish with foil and bake for 30 minutes.

Remove the foil then bake another 15 minutes.

Remove the casserole from the oven and allow it to sit 10 minutes before serving.
Nutrition
Serving: 1servingCalories: 334kcalCarbohydrates: 24.7gProtein: 36.1gFat: 9.5gSaturated Fat: 1.7gCholesterol: 67.4mgSodium: 486.6mgFiber: 4.1gSugar: 9.2g