Creamy Chicken Potato Casserole! A comforting meal with potatoes, chicken and a dairy-free cream sauce. A simple, wholesome Paleo dinner that's easy to make and Whole30 friendly. Paleo + Gluten Free + Low Calorie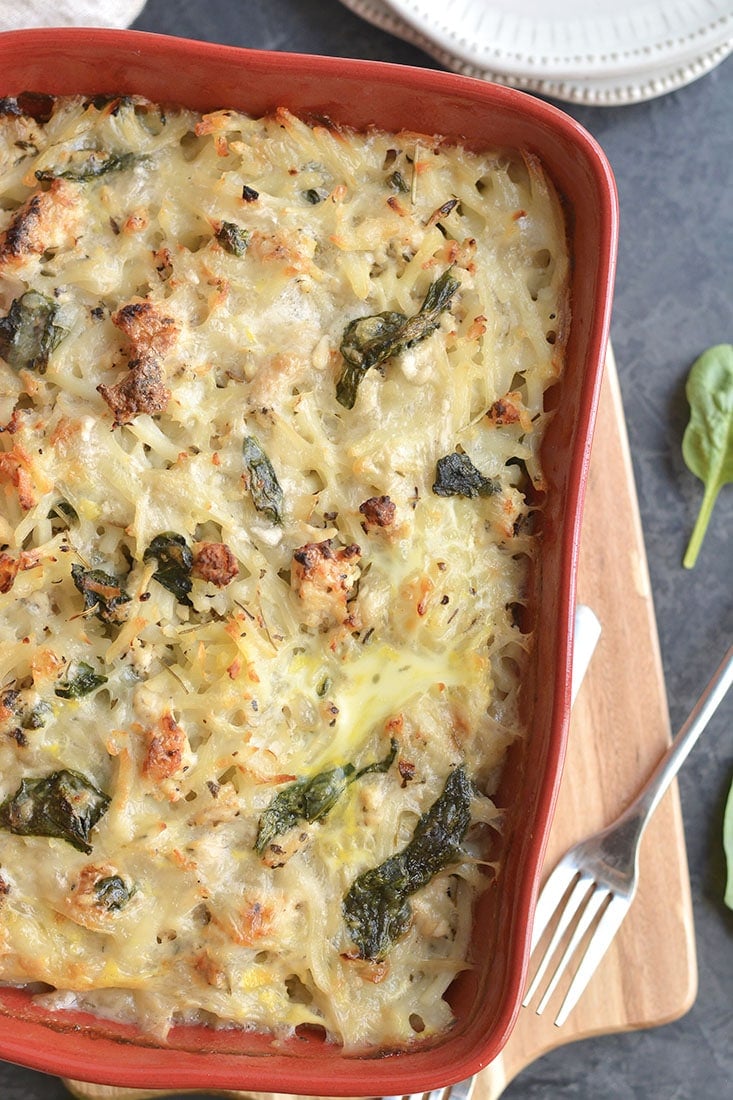 Have you signed up for the free Fall Harvest Meal Plan? A lot of good food coming to my meal plans for the fall/winter and we all know we could use that consistency to help us get through the holidays!
Growing up in Wisconsin, I ate a lot of casseroles. It was a fall and winter staple that always made an appearance on the table at least once a week, and was at every family gathering. That's probably why I think of casseroles now as "comfort food." They're hearty and always enjoyed at the kitchen table by a lot of people.
Now that I'm older I realize the real reason casseroles were made by mother so often – they're easy! Only one dish to deal with and not a lot of work to assemble or prepare. I firmly believe that's important whether you're feeding a family of 1, 2, 4 or more!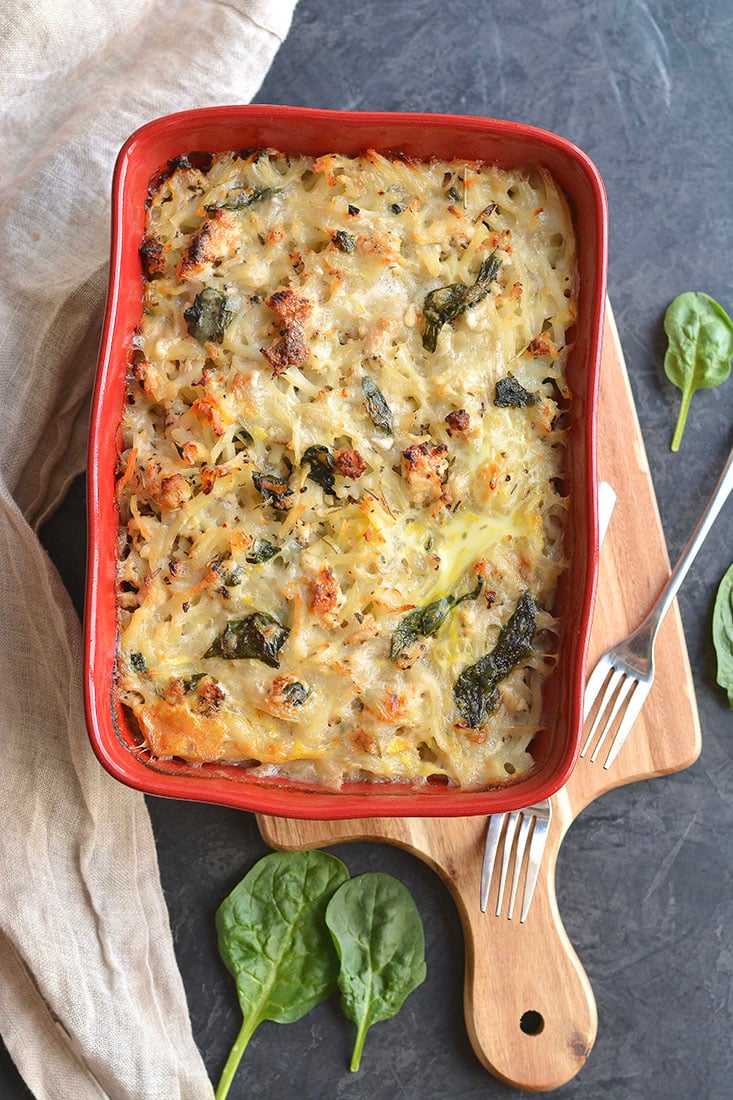 This Paleo creamy chicken potato casserole does require a skillet to brown the ground chicken and a mixing bowl but I assure you, it's worth the extra effort! This casserole is so good you'll want to eat if for breakfast, lunch and dinner. It truly is versatile and the ingredients are simple.
Ground chicken, shredded potatoes, spinach and a dairy free cream sauce. I used canned coconut cream, almond milk and broth with a touch of arrowroot powder to thicken the cream.
We are dairy sensitive in my house and I love adding coconut cream as a healthier substitute. The sauce also adds healthy fat to balance out the carbs and protein in this dish. So you'll walk away feeling satisfied and full!
To make the prep work "easier," I browned the meat and added all the ingredients to the dish ahead of time, stored in the refrigerator (up to 2 days) then pulled it out and baked for dinner. Much easier when you split the steps up over a few days.
This creamy chicken potato casserole isn't complicated or fancy. Just a hearty dish with real food ingredients balanced in nutrition. The best part? You would never know how good it was for you because it tastes like real comfort food.
Love casseroles? Try this Paleo Turkey Sweet Potato Casserole and Mexican Quinoa Casserole next!
Chicken Potato Casserole
Creamy Chicken Potato Casserole! A comforting meal with potatoes, chicken and a dairy-free cream sauce. A simple, wholesome Paleo dinner that's easy to make and Whole30 friendly. Paleo + Gluten Free + Low Calorie
Prep Time 10 minutes
Cook Time 1 hour
Total Time 1 hour 10 minutes
Servings 6 servings
Calories 330 kcal
Instructions
Heat a large skillet over medium heat. Add the extra virgin olive oil, onions and minced garlic. Cook 2-3 minutes until the onion is translucent. 

Add the ground chicken to the pan with the salt, pepper, thyme, basil and rosemary. Use a wooden spoon or spatula to break up the meat as it cooks so it's not clumpy.

Once the meat is cooked, transfer the contents of the skillet into a large mixing bowl. Add the spinach and stir it in with the meat. It will wilt from the heat. Then add the thawed potatoes to the bowl and stir in.

Return the skillet to the stovetop and add the almond milk, broth and coconut cream to the skillet. Simmer at a medium heat about 5 minutes until it bubbles.

Add the arrowroot flour to the mixture and whisk it continuously for 2 minutes to thicken the sauce. Turn off the heat.

Transfer the meat mixture to the prepared casserole dish then pour the sauce over it. Add the beaten egg over the top of the casserole.

Bake at 400 F 40-45 minutes uncovered or until the casserole is set in the center.
Recipe Notes
1 serving is 1 heaping cup
For Paleo/Whole30, make sure the potatoes you buy are compliant.
My Amazon shop has more products similar to those used for this recipe and that I recommend to my nutrition clients.
Course Casserole, Dinner
Cuisine American
Keyword 100 calorie, chicken, coconut cream, dairy free, gluten free, Paleo, potato, shredded potato, Whole30
Nutrition facts per serving (1serving)
Calories 330 kcal
Fat 21 g
Saturated Fat 12 g
Cholesterol 92 mg
Sodium 450 mg
Potassium 1012 mg
Carbohydrates 19 g
Fiber 3 g
Sugar 0 g
Protein 18 g
Vitamin A 975 %
Vitamin C 17.7 %
Calcium 83 %
Iron 4.9 %
Meal Plans
Get a meal plan designed to meet your weight loss goals.
Learn More
What I Used For The Recipe