This post contains affiliate links. As an Amazon associate I earn qualifying purchases. Click here for more about this policy.
Mexican Quinoa Casserole! Made with black beans, chicken and array of vegetables, this is tasty dish is one the entire family will love! Gluten Free + Low Calorie!
This post is sponsored by S&W Beans as part of an Influencer Activation for Influence Central and all opinions expressed in my post are my own.
Look no further for your favorite healthy Mexican recipe because I'm handing it to you today in the form of Mexican Quinoa Casserole!
If there's one food I truly love, it's Mexican. Actually, I worked in Mexico for two years crossing the border between Texas and Mexico. That was during 9/11 timeframe when border crossing was insane. Seriously, a two hour wait to get home at night. But those were the two best years of my life. So much fun and I experienced many new things included good food!
Instead of dealing with the insane border crossing line every night, we ate out in Mexico after work, and did other things to this day I have no idea how I survived. Haha! That's a story for another day. Needless to say, I spent a lot of time eating delicious Mexican food!
But that food wasn't always healthy. Tortillas, chips, fried. Oh, my! Good things in moderation but not all every night.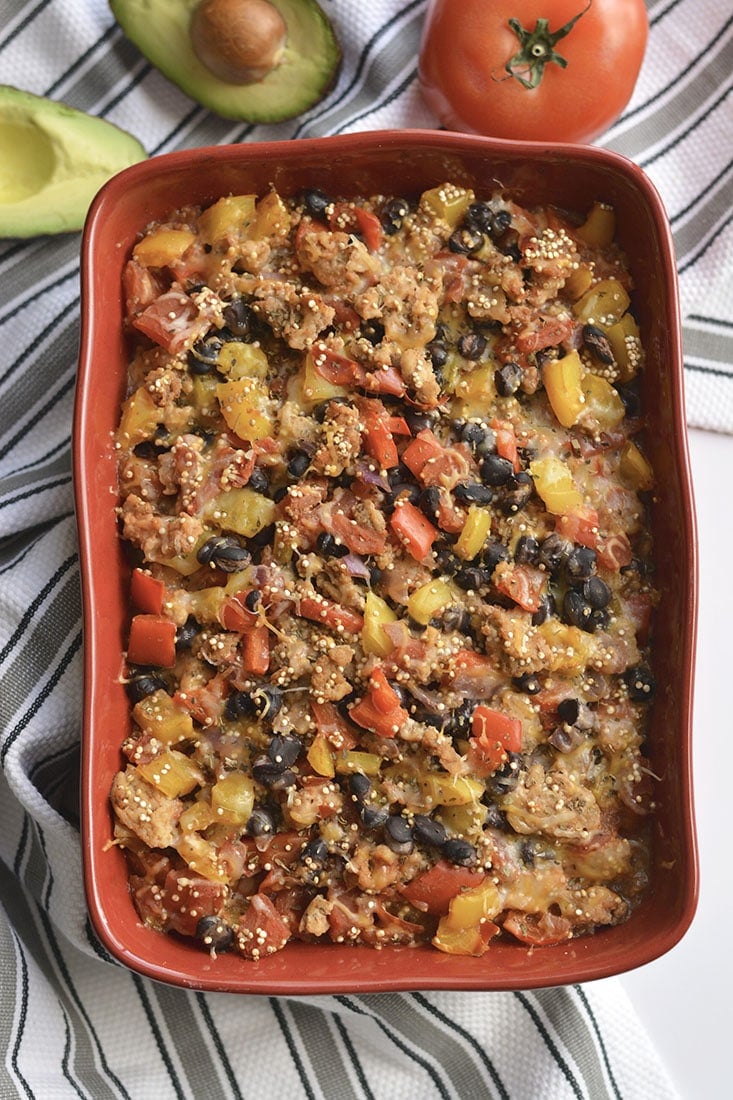 So today I'm showing you how Mexican can be done healthy and incredible flavor with this Mexican Quinoa Casserole. A dish the whole family is sure to love!
Even better, this Mexican dish is a nutrition powerhouse! It's loaded with a rainbow of fresh vegetables because I don't know about you, but I can always use more of those snuck into my food. Ground chicken for lean protein, quinoa for a healthy carbohydrate, and black beans!
The real star of the show are the black beans though. Not only are they high in protein, but also carbohydrates which are made up with a high amount of fiber. Why is fiber important? Well...let me tell you.
When I work with one-on-one clients who are trying to lose weight, I have many of them track their food. When I review their food, I notice most people aren't eating enough fiber. High fiber diets are shown to help with weight loss and improve overall health. They're an tasty, healthy and versatile addition to meals that we often forget about.
S&W Beans offers convenience for those who have limited time, but want to include healthier options in their meals.
I've been buying S&W Beans for years. Not only do they look great but they taste great too! Because we all know there's no point in making food that doesn't look or taste good. If you've been reading awhile, you know I can't resist pretty food.
S&W Beans come in many varieties to choose from and even offer organic and 50% less sodium options. Sometimes I have trouble choosing. So many options!
Mexican Quinoa Casserole
Mexican Quinoa Casserole! Made with black beans, chicken and array of vegetables, this is tasty dish is one the entire family will love! Gluten Free + Low Calorie!
Ingredients
Optional toppings
Mexican cheese blend, avocado, cabbage or shredded lettuce, salsa, Greek yogurt
Instructions
Preheat the oven to 350 F.

Bring a large skillet to medium heat. Add ground chicken, bell peppers, red onion, salt and seasonings. Stir to combine, breaking up the meat as it browns.

Once browned, turn off the heat. Stir in the tomatoes with juices. Then stir in the black beans and uncooked quinoa. Not you will not need to add water for the quinoa as the juices from the meat, vegetables & tomatoes will be enough to cook it.

Transfer the contents from the skillet into a 8x8 casserole dish.

Bake in the oven for 25 minutes.

Remove from the oven, serve immediately topping with cabbage, avocado, salsa, cheese and Greek yogurt as desired.
Nutrition
Serving: 1servingCalories: 250kcalCarbohydrates: 32.1gProtein: 22.5gFat: 5.4gSaturated Fat: 1.2gCholesterol: 60.5mgSodium: 298.6mgFiber: 8gSugar: 4.5g
What I Used For The Recipe