This post contains affiliate links. As an Amazon associate I earn qualifying purchases. Click here for more about this policy.
Healthy Crockpot Tomato Sauce is a low calorie pasta sauce. Made easy in a slow cooker, this sauce is perfect for a healthy pasta night! Low Calorie + Gluten Free + Paleo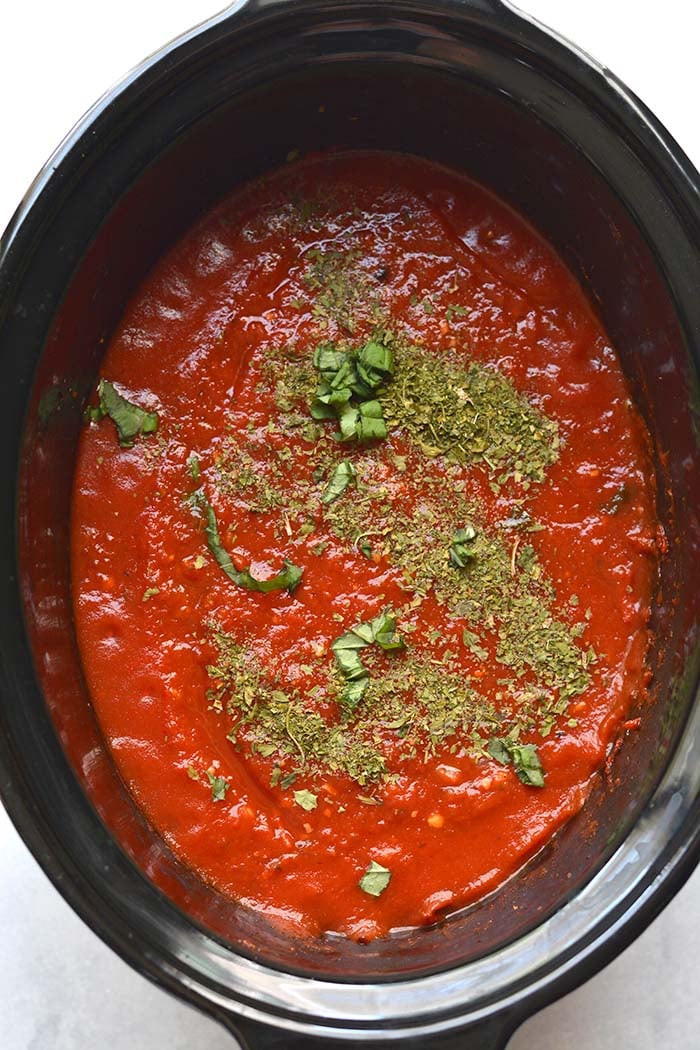 Crockpot recipes are my favorite way to make dinner easy and to meal prep and fill my freezer stash. I have many healthy crockpot recipes on the site and they're the recipes I make most often because the slow cooker does the work and it makes a ton of food!
If your family is anything like mine, they cherish our meatballs, chicken parmesan and pasta nights. While you can buy tomato sauce or past sauce at the store, they are generally filled with sugar and many additives. The sugar-free ones are crazy expensive. Just ask my boyfriend! He was shocked when I sent him to the store for an $8 jar of sugar-free pasta sauce. He was also shocked to discover sugar was added to them. Yep! It sure is.
Making your own sugar-free tomato sauce will not be healthier, but will save you money and it's so easy to do in a slow cooker, and TASTIER! While you could make tomato sauce on the stove, making it homemade in a crockpot makes it taste a MILLION times better.
What You Need To Make Tomato Sauce In A Slow Cooker
Crushed Tomatoes
Onion
Carrots
Garlic
Basil
Oregano
Thyme
Parsley
Salt, Pepper
Optional: Red Pepper Flakes, Fresh Basil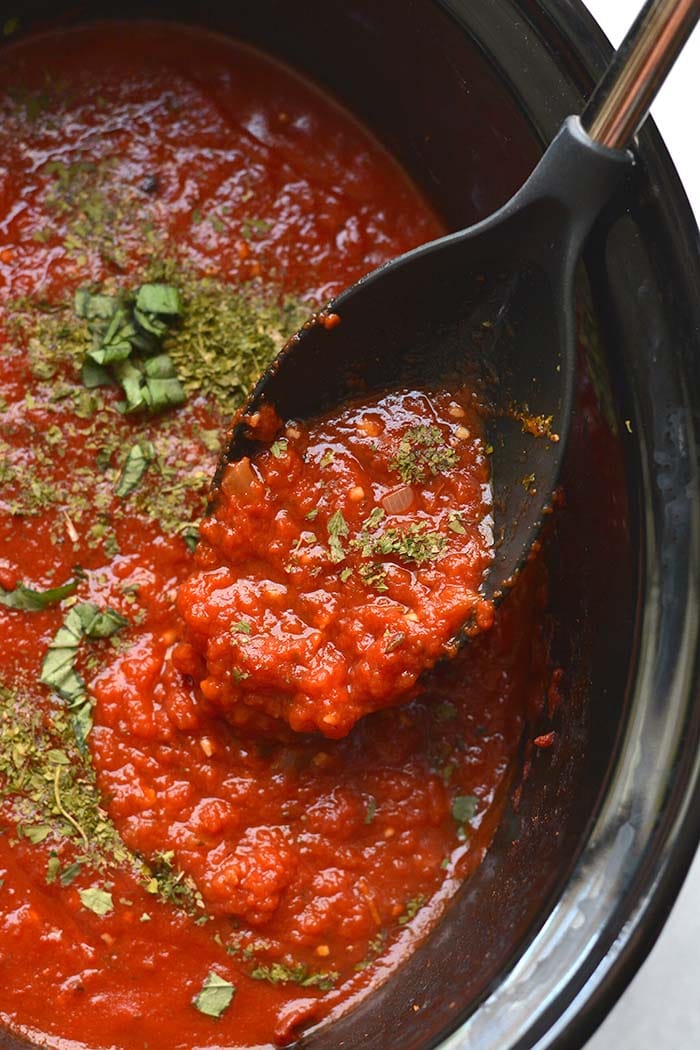 How To Make Healthy Crockpot Tomato Sauce
Step one is to add the carrots and onions to a food processor or blender. Then pulse it until the veggies are finely diced. I like my little Ninja food processor for this and it's a huge timesaver for me!
Second step is to transfer the veggies from the food processor into a slow cooker then add the remaining ingredients minus the red pepper flakes and fresh basil.
Third step is to set the slow cooker to high for 4 hours or low for 8 hours. Either will work, but I find the high setting for hours does better at breaking down the veggies than the low setting. Just sharing my personal experience!
Last step is serve the healthy pasta sauce your favorite way or cool and store for future meals.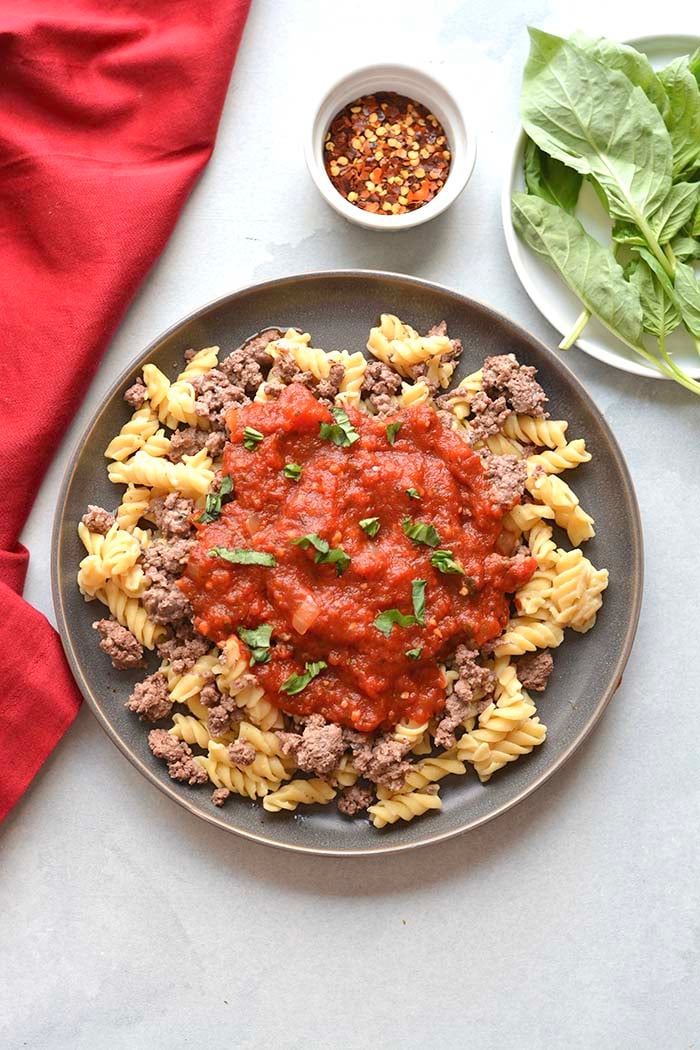 Tips For Making The BEST Tomato Sauce
Herbs - Adding fresh basil is optional in this recipe, but it really brightens the flavor of the sauce when you stir it into the already cooked sauce!
Add Veggies - I added carrots and onions to this healthy tomato sauce recipe and veggies always add so much flavor to recipes. Bell pepper, eggplant or zucchini could easily be added to this recipe too!
Red & White Pasta Sauce - Also known as pink pasta, when Alfredo and tomato sauces are mixed together. You can use my lighter Alfredo sauce recipe or for a dairy-free version you can soak 1 cup of raw cashews in water for 30 minutes then drain and blend with the 2-3 tablespoons of water.
Use A Slow Cooker - Tomato sauce can easily be made on the stovetop but it does not have the same incredible flavor as cooking it in a crockpot.
Substitutions For Crockpot Tomato Sauce
Carrots - I love sneaking veggies into recipes. They secretly add nutrition and flavor, but you can easily omit the carrots or replace with another vegetables. Bell peppers, eggplant or zucchini would substitute well!
Tomatoes - If you prefer using fresh tomatoes, you can puree your own and add them in place of canned tomatoes.
Herbs - You can use fresh herbs in place of dried herbs in this recipe. If you use fresh herbs, I recommend using 2-3 tablespoons of each one. Dry herbs always have more flavor in a smaller amount than fresh.
Instant Pot - You can make this recipe in an Instant pot using the slow cooker setting OR you can pressure cook for 30 minutes. I prefer the slow cooker method, but this is another idea for you!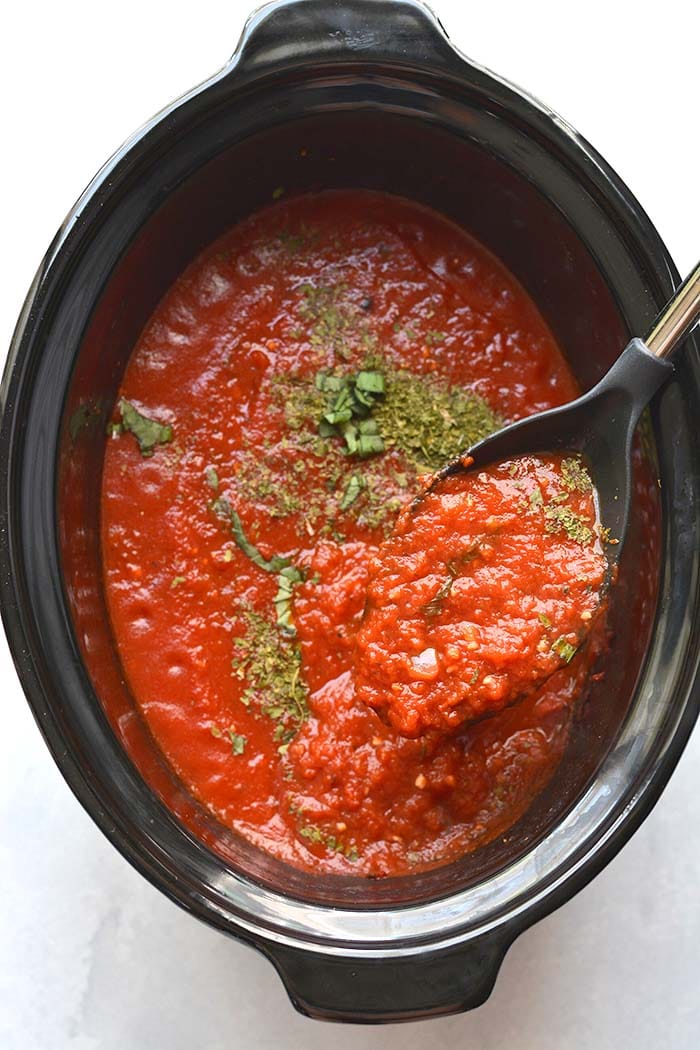 How To Freeze Homemade Tomato Sauce
You can freeze tomato sauce. Whether you buy it from the store, make your own in a slow cooker or on the stovetop, freezing pasta sauce is definitely something you can do.
To freeze this healthy tomato sauce recipe, allow the sauce to cool to room temperature first. Then fill glass mason jars and place in the freezer up to 180 days. To eat, thaw the sauce at room temperature or you can place the glass mason jar in a bowl of lukewarm water to speed up the process.
I highly recommend you double the batch of this recipe so you can freeze some of this deliciously healthy pasta sauce for quick and easy meals!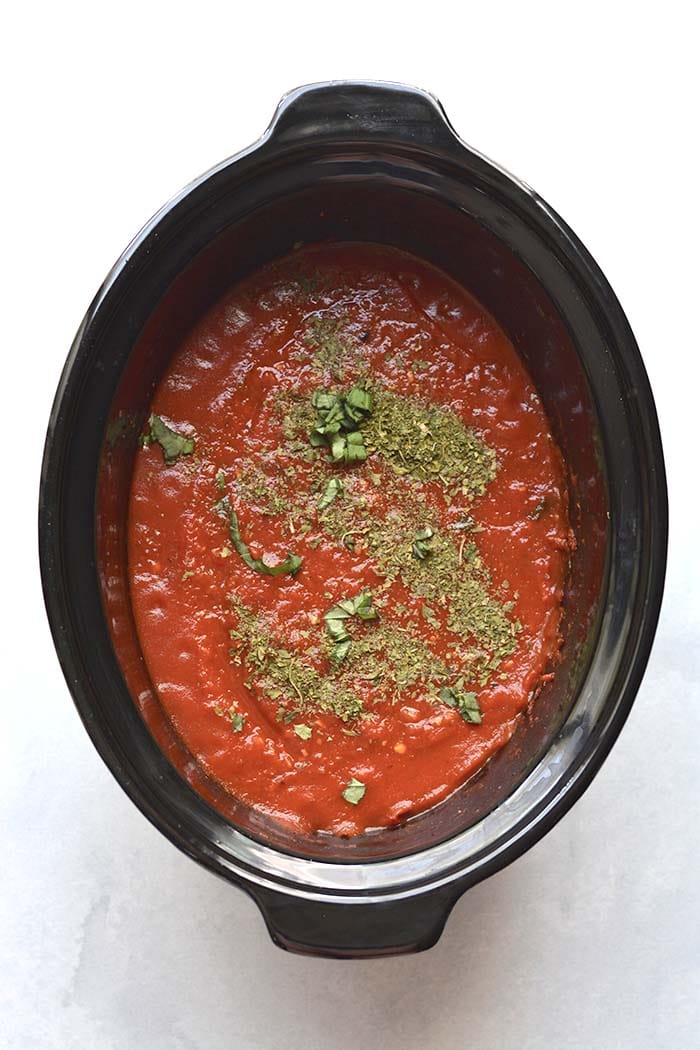 What To Serve With Tomato Sauce
Ground Meat - Cook ground meat in a skillet with a extra virgin olive oil until browned. Drain and add to the sauce! Chicken, turkey or grass-fed beef works!
Meatballs - Healthy Turkey Meatballs with pasta sauce are always a dinner winner.
Zucchini Noodles - I love using my spiralizer to make veggie noodles. Zucchini is hardy and has a nice crunch. I secretly add zucchini noodles to a little pasta so I'm not feeling deprived by getting both my veggies and a pasta.
Pasta - I highly recommend plant based pastas instead of whole grain or white pastas. Plant-based pastas have more protein and are made with ingredients most people are deficient in. Lentil, chickpea and edamame spaghetti are my favorite plant-based pastas.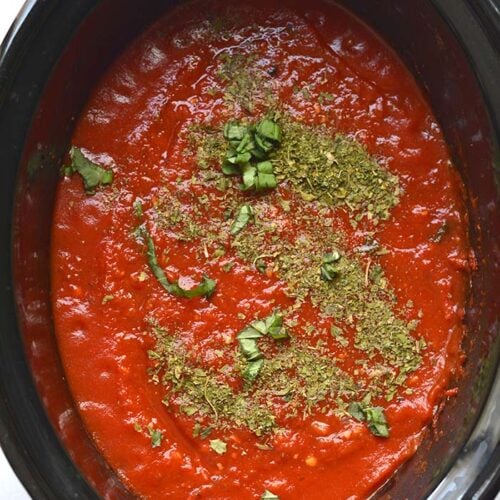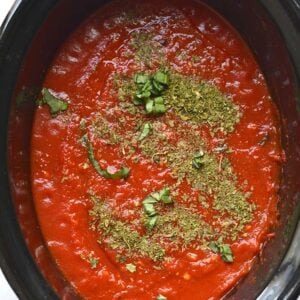 Healthy Crockpot Tomato Sauce
Healthy Crockpot Tomato Sauce is a low calorie pasta sauce. Made easy in a slow cooker, this sauce is perfect for a healthy pasta night! Low Calorie + Gluten Free + Paleo
Ingredients
Instructions
Place the carrots and onions in a small blender or food processor and pulse a few times until the vegetables are finely diced.

Transfer the carrots and onions along with the other ingredients to a slow cooker reserving the basil leaves for serving if using. Set the slow cooker to high and cook 4 hours (or 8 hours on low).

Serve immediately or cool to room temperature and store in glass jars in the refrigerator up to 10 days or freezer up to 180 days.
Nutrition
Serving: 1servingCalories: 103kcalCarbohydrates: 23gProtein: 5gFat: 1gSaturated Fat: 1gSodium: 358mgPotassium: 855mgFiber: 6gSugar: 13gVitamin A: 2383IUVitamin C: 27mgCalcium: 117mgIron: 4mg
What I Used For The Recipe