Crispy, cheesy Sheet Pan Chicken Parmesan baked to perfection with a kick of spice & juicy marinara sauce. A healthy alternative to deep frying that will win over any hungry heart. Gluten Free + Low Calorie Weight Loss Friendly Recipe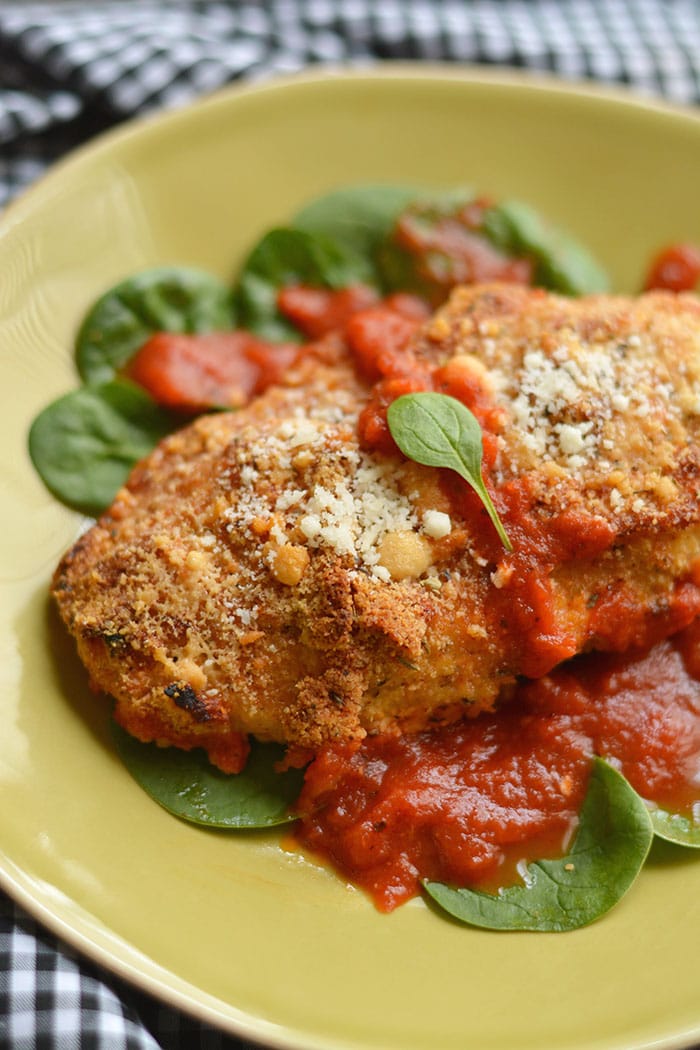 One week! Guys,
my group coaching program
starts next Monday, March 6th for spring. I would love to see your happy faces in the group. One of the winter participants, lost 12 pounds by week 5. This could be you! For those of you who weren't around for the winter launch, here's a quick run down.
My group coaching program is done virtually via Facebook. When you
sign up
, you get access to my membership portal with my transformation coaching videos! The program has over 40 videos that walk you through changing your mindset, balancing your plate with food tracking and answering common weight loss questions.
Let's face it. There's a lot of confusing information out there about foods and many foods are marketed as healthy but they are not. I break it down and make it easy so you can navigate that sea of confusion! As one of the ladies said, it's like having a
personal nutritionist
with the motivation of a community and the right education.
But this isn't just any online course where I send you a bunch of videos and say adios. This is your opportunity to work with me 1:1 VIRTUALLY! During the 8 weeks of
the program
, you email me your questions as you watch the videos and get real answers.
Perfect for those who need flexibility or don't have the ability to work with me 1:1!
Okay, so the really REALLY important thing you need to know is there is a cap on the number of participants. Because I work with you virtually throughout the 8 weeks, I only allow so many people into the program. This is so I can give you the attention you need so you can succeed!
This time around I'll be throwing in a challenge for the group & a prize for the person who loses the most weight! What do you have to lose? Haha…kidding! I think it's appropriate given the topic.
Now that we got that business out of the way, let's talk about one of my all time favorite recipes Chicken Parmesan! Except this isn't just any old chicken parmesan. This is healthy, chicken parmesan made with wholesome ingredients baked to perfection on a single sheet pan.
Oh wait, did someone say sheet pan? Oh yeah…I'm kind of obsessed with the one pan/sheet pan recipes.
I started making one pan dinners last summer because they made cooking and cleanup so easy. I love to cook, but seriously cleaning up is for the birds. Boo…who's got time for that when you're eating deliciousness like this Sheet Pan Chicken Parmesan?
Crispy, cheesy, oven baked chicken with a spicy kick! Chicken that tastes fried but is secretly baked, or is it really a secret now that I'm telling you? Either way, you'll be able to fool all the unhealthy eaters in your house with this recipe. It's like the unfried version of your favorite southern fried chicken.
Add marinara sauce to the sheet pan with spinach to bake with the chicken. It makes it extra juicy and moist! Serve the chicken with marinara and spinach on top giving it that Chicken Parmesan feel. Add whole grain pasta to the dish if you're feeling if you're feeling pasta-licious!
Sheet Pan Chicken Parmesan
Crispy, cheesy Sheet Pan Chicken Parmesan baked to perfection with a kick of spice & juicy marinara sauce. A healthy alternative to deep frying that will win over any hungry heart. Gluten Free + Low Calorie Weight Loss Friendly Recipe
Prep Time 20 minutes
Cook Time 30 minutes
Total Time 50 minutes
Servings 3 servings
Calories 436 kcal
Instructions
Preheat oven to 375 F. Prepare a nonstick baking sheet by sprinkling 1 tbsp. of almond flour over it. Set aside.

In a small bowl, add the egg with 2 tbsp. water. Whisk together until frothy.

In a separate bowl, combine the remaining almond flour with spices, salt, pepper & cheese. Sift together until mixed well.

Create an assembly line by lining everything in the following order - egg wash bowl, almond flour then sheet pan.

Dip a chicken breast into the egg wash, then immediately into the flour mixture. Coat the chicken generously with the mixture then shake off a bit before placing on the sheet pan. Repeat for remaining chicken breasts.

Drizzle the chicken with the extra virgin olive oil, dividing it evenly among the chicken breasts.

Bake 15 minutes then remove from the oven, add marinara sauce & spinach surrounding the chicken breasts.

Bake another 10-15 minutes until the chicken is crispy & slightly brown and the marinara sauce is bubbly.

Serve immediately by drizzling each chicken breast with marinara sauce from the pan and spinach leaves.
Course Dinner, Sheet Pan
Cuisine Italian
Keyword almond flour, baked, chicken, dairy free, fried, gluten free, healthier, healthy, low calorie, Paleo, parmesan, sheet pan, sheet pan recipe
Recipe Video
Nutrition facts per serving (1serving)
Calories 436 kcal
Fat 21.9 g
Saturated Fat 3.9 g
Cholesterol 137.6 mg
Sodium 188.5 mg
Potassium 0 mg
Carbohydrates 18.9 g
Fiber 5.9 g
Sugar 8 g
Protein 39.9 g
Vitamin A 0 %
Vitamin C 0 %
Calcium 0 %
Iron 0 %
Custom Meal Plans
Work with Megan to develop a custom macro or standard meal plan to reach your goals.
Learn More
What I Used For The Recipe