Crispy, cheesy Sheet Pan Chicken Parmesan baked to perfection with a kick of spice and juicy marinara sauce. A healthy alternative to deep frying that will win over any hungry heart. Gluten Free + Low Calorie Weight Loss Friendly Recipe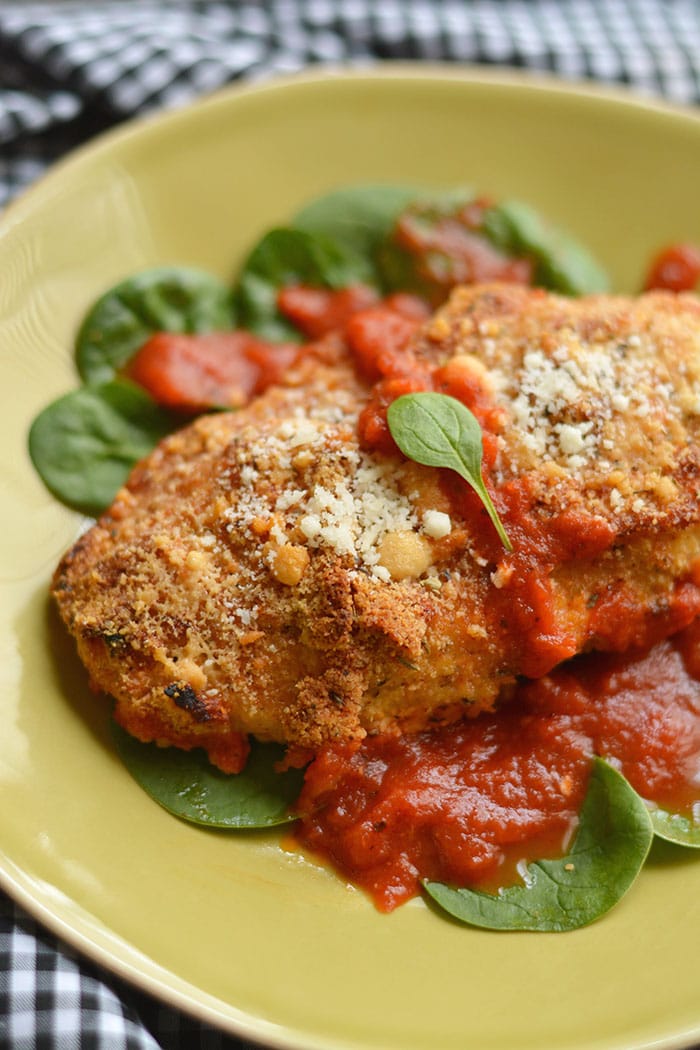 Okay guys! I'm hosting a free class on how hormones impact weight loss and I hope you join me. I'll share my 5 Steps to Lasting Weight Loss plus 5 Diet Myths every woman keeps repeating that are just plain wrong and keeping them stuck and frustrated.
Those who attend will also be offered a special opportunity at the end of the class so make sure you watch it to the end!
Let's face it. There's a lot of confusing information out there marketed to women about dieting and weight loss that are simply plain wrong and backed by little science. This frustrates me as much as it frustrated you.
It took me decades to figure out how to lose 80 pounds and I really wish I would have had someone like me to have gotten me on the right path sooner because I feel I lost so much of my life to hiding behind my weight and not participating in opportunities.
One really important thing you need to know is that I can only work with so many woman each month. I only work with woman one-to-one which means I have limited availability and I'm only working with women over 35 with 20 to 50 or more pounds to lose who are 100% committed to losing the weight for good.
There's a lot of programs out there that really just teach you some information. I'm about transforming women's lives. If you think that might be you, join me for the free training and find out if we're a good fit!
Healthy Chicken Parmesan
Now that we got that business out of the way, let's talk about one of my all time favorite recipes. Chicken Parmesan! Except this isn't just any old chicken parmesan recipe. This is HEALTHY CHICKEN PARMESAN made low calorie with wholesome ingredients and baked to perfection on a sheet pan.
Oh wait, did I say sheet pan? Yes! I'm kind of obsessed with making healthy recipes on sheet pans. They're easy and simple to clean up!
I have a few sheet pan recipes here on the blog for you to checkout. Some of my personal favorites are One Pan Lemon Garlic Shrimp and Brussels Sprouts, One Pan Coconut Shrimp and One Pan Salmon Asparagus and Sweet Potato.
Crispy, cheesy, oven baked chicken with a spicy kick! It's fried chicken that's lighter, juicer and NOT fried!
Add marinara sauce to the sheet pan with spinach to bake with the chicken. It makes it extra juicy and moist!
Serve the chicken with the marinara and spinach on top. It will give you Healthy Chicken Parmesan the real deal feel. You can add whole grain pasta to the dish too if you're really feeling pasta-licious!
What I Used For The Recipe