Turmeric Protein Bites made oil and sugar free! These gluten free healthy protein packed snacks have a boost of antioxidants and creamy flavor! Gluten Free + Low Calorie + Paleo + Vegan + Low Carb
Disclosure: This shop has been compensated by Collective Bias, Inc. All opinions are mine alone. #StopPainNow #CollectiveBias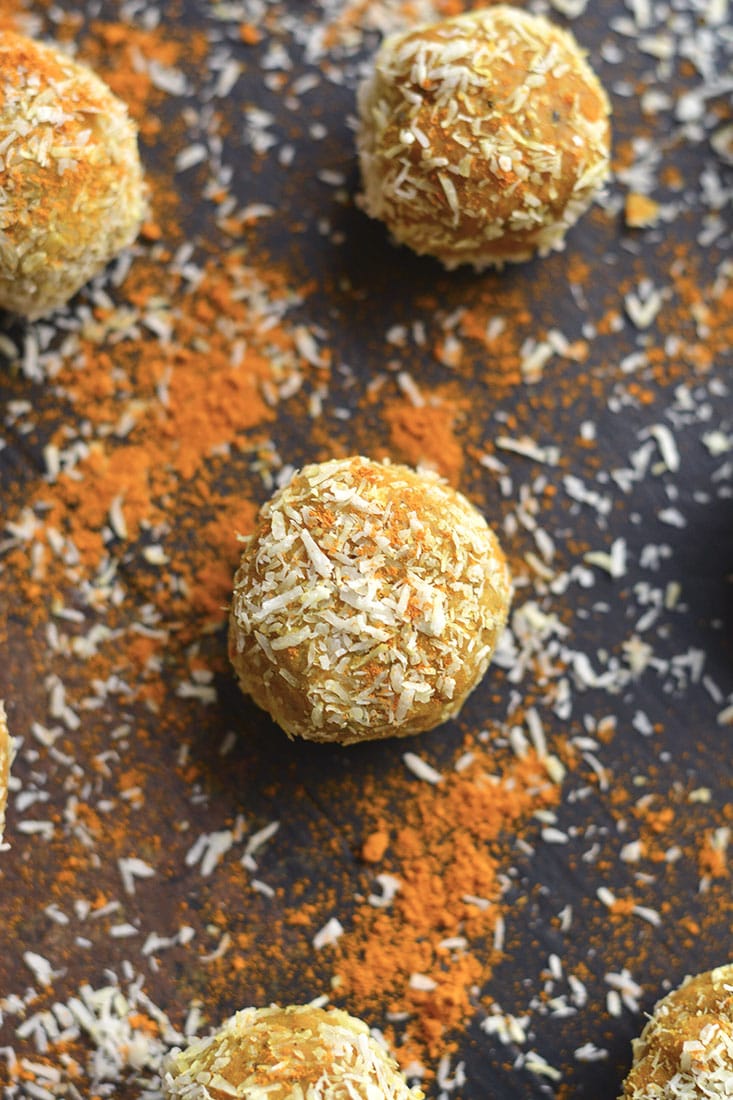 It's been 5 months since my hip surgery. I haven't talked about my recovery much because truthfully, I I forgot I had hip replacement until a friend texted me asking about it last week. I guess that's a good sign!
Looking back on the months and years leading up to surgery, I can't believe the horrible arthritic pain I lived with everyday. I couldn't do simple things like get in and out of a car, stand on my feet too long or get off the couch easily.
It impacted every aspect of my daily life. The scary thing is I didn't realize how much pain I was until I had surgery, or how much I had to modify my life around my condition.
Living with avascular necrosis for 18 years, is not something I would wish on my worse enemy. I was told I had arthritis of an 80 year old woman in my hip. It was a miracle I was able to stay as active as I did swimming, biking, walking, hiking, lifting weights and teaching spin class on a daily basis.
The truth is staying active and taking Curamin® Stop Pain Now helped me manage the pain.
Curamin® supports pain relief and is recognized throughout the natural product industry for pain relief with 28 awards and counting.
It contains a curcumin , an anti-inflammatory chemical found in turmeric produced by plants that may be beneficial for inflammation and chronic pain. It's a safe, effective, non-addictive herbal formula- different from over-the-counter pain meds and prescription drugs that can sometimes have negative side effects.
I've been taking Curamin® for years and I swear by it!
Last week I was at Sprouts stocking up and exchanged stories with a clerk's about Curamin®. She explained she takes it daily for arthritis, making it possible for her to work on her feet all day.
It's comforting knowing I'm not the only one dealing with chronic pain and to hear how much others love Curamin® as much as I do!
While I don't have the same type of pain now, I still take it to manage different pain. Pain I have from muscle weakness, lack of range of motion and balance, which I'm working on. There's 18 years of muscle atrophy and it will take time for it to come back.
In the meantime, I'm being good to my joints by doing lower impact workouts and feeding my body things that reduce inflammation.
Homemade snacks like these Turmeric Protein Bites are another way to I like to do that. Packed with healthy fat, antioxidants, protein and carbs, they're the perfect post workout snack. Great for packing in your gym bag and eating on the go!
Making the snacks is simple. No baking required! Combine all ingredients in a bowl, stir to combine, roll into balls, roll over coconut flakes, refrigerate and enjoy! Store in the refrigerator or freezer for an easy breezy healthy snack.
Enjoy these Turmeric Protein Bites with a daily serving of Curamin®, to to help with chronic pain and inflammation because no one should miss out on living life due to chronic pain!
Curamin® is a available at nationwide health food stores. Check out the store locator to find a retailer near you!
More Facts About Curamin®:
Curamin is the #1 Selling Brand
Curamin is the award winning pain relief product that has provided life changing benefits for hundreds of thousands of people around the world.
The clinically studied ingredients in our formula are carefully selected for safe pain relief.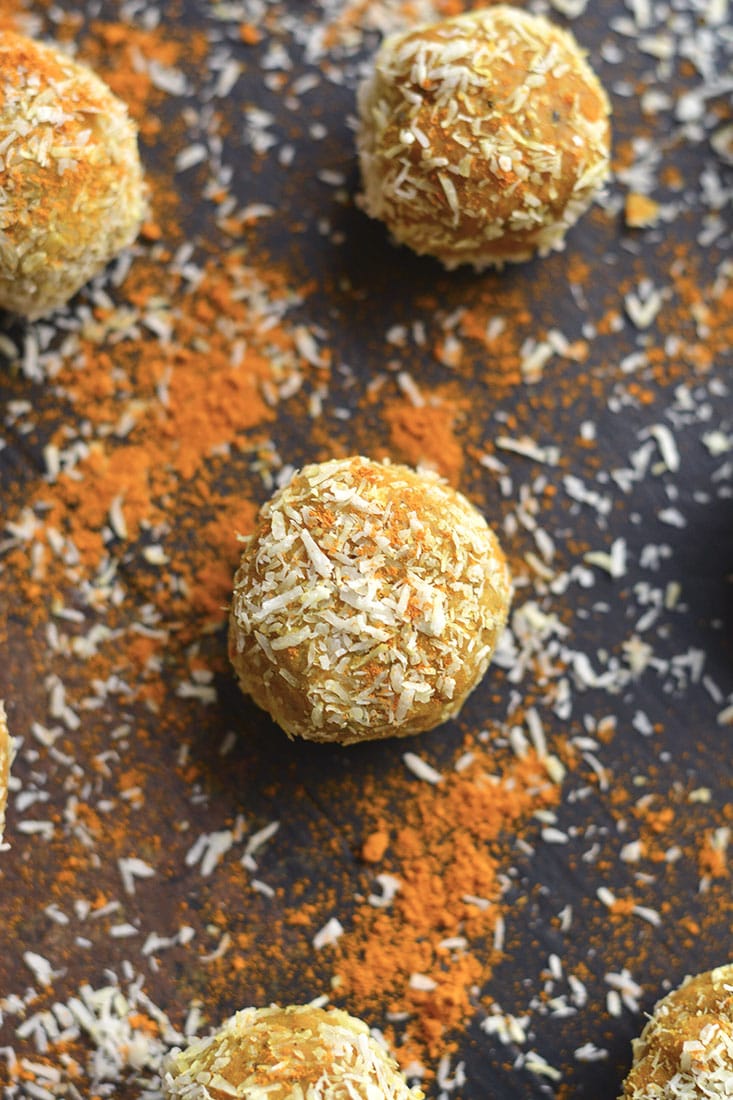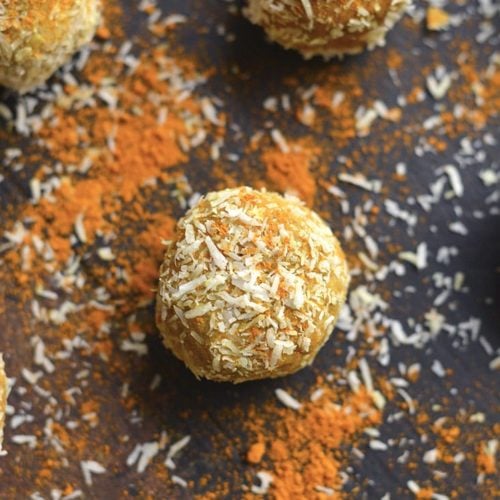 Turmeric Protein Bites
Turmeric Protein Bites made oil and sugar free! These gluten free healthy protein packed snacks have a boost of antioxidants and creamy flavor! Gluten Free + Low Calorie + Paleo + Vegan + Low Carb
Instructions
In a mixing bowl, combine all ingredients omitting the shredded coconut flakes. Stir to combine. You can also use a blender or food processor!

Once combined, place two plates on the counter. One with the shredded coconut flakes. Another for set the bites on.

Scoop a tablespoon of batter and roll into balls. Wetting your hands will help to make the balls stick together and roll easier!

Roll the ball over the shredded coconut flakes then place on the empty plate. Repeat until the batter is complete.

Place in the refrigerator 20-30 minutes to harden and enjoy!
Nutrition
Serving: 1biteCalories: 122kcalCarbohydrates: 4.7gProtein: 4.7gFat: 9.2gSaturated Fat: 1.8gSodium: 69mgFiber: 2.1gSugar: 0.9g
What I Used For The Recipe