This post contains affiliate links. As an Amazon associate I earn qualifying purchases. Click here for more about this policy.
Healthy Chocolate Chip Banana Oat Bread made low calorie and lower sugar. A healthy gluten free banana bread made flourless with oats and dairy free. A lower calorie baked good that's better for you! Gluten Free + Low Calorie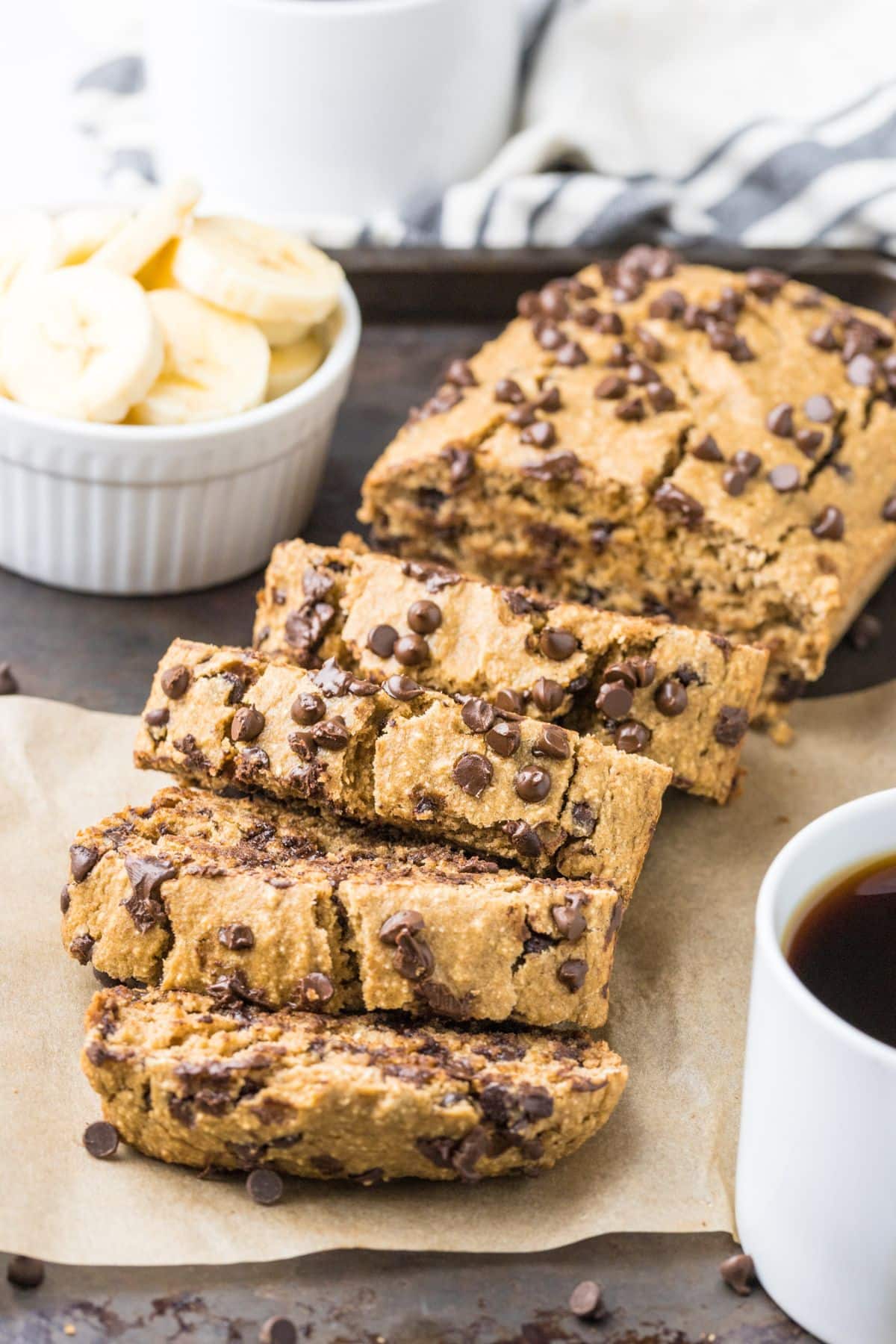 Nothing better than a warm slice of banana bread with a cup of coffee or tea! It's the sweetest snack around and contrary to popular belief, banana bread is NOT a breakfast food - it's a TREAT food. I always tell my clients to think about how they can make treats foods better so that they don't feel restricted or like they're on a diet.
Treat foods are part of a weight loss lifestyle, but they do not replace nutrient dense meals balance for hormonal weight loss and they should be healthier and lower in calorie. This Healthy Banana Oat Bread recipe is better balances and made lower calorie for you!
What Makes This Banana Oat Bread Healthier?
Here's a few more reasons why I love this healthier banana oat bread and why it's also considered low calorie.
Low Calorie - Each slice is 134 calories. A calorie deficit is required for weight loss HOWEVER, the quality of the ingredients is more important than the calories which is why I work hard to ensure the components of each of my recipes is better balanced and not just about being a low number. When I lost 80 pounds, I was eating fiber one bars and starving all the time. They may be low calorie, but they won't fill you up and balance your hormones!
Low Sugar - Unsweetened applesauce, bananas, cinnamon and maple syrup are used to sweetened this banana bread recipe. There is just 1/4 cup of real maple syrup in the recipe and that is divided among 12 slices. This is very little added sugar for a baked good recipe. I personally prefer real sugar in my recipes, but I have options for swapping the maple syrup under the substitutions section below.
Low Fat - There is just 2 grams of fat per slice, 1 being saturated fat. There is no oil added to the recipe as the applesauce acts as the oil in this recipe.
Higher Fiber - Each slice has 3 grams of fiber thanks to the rolled oats in this recipe. I've shared so many times how important fiber is for hormones and weight management. I talk all about this in my free class if you're interested.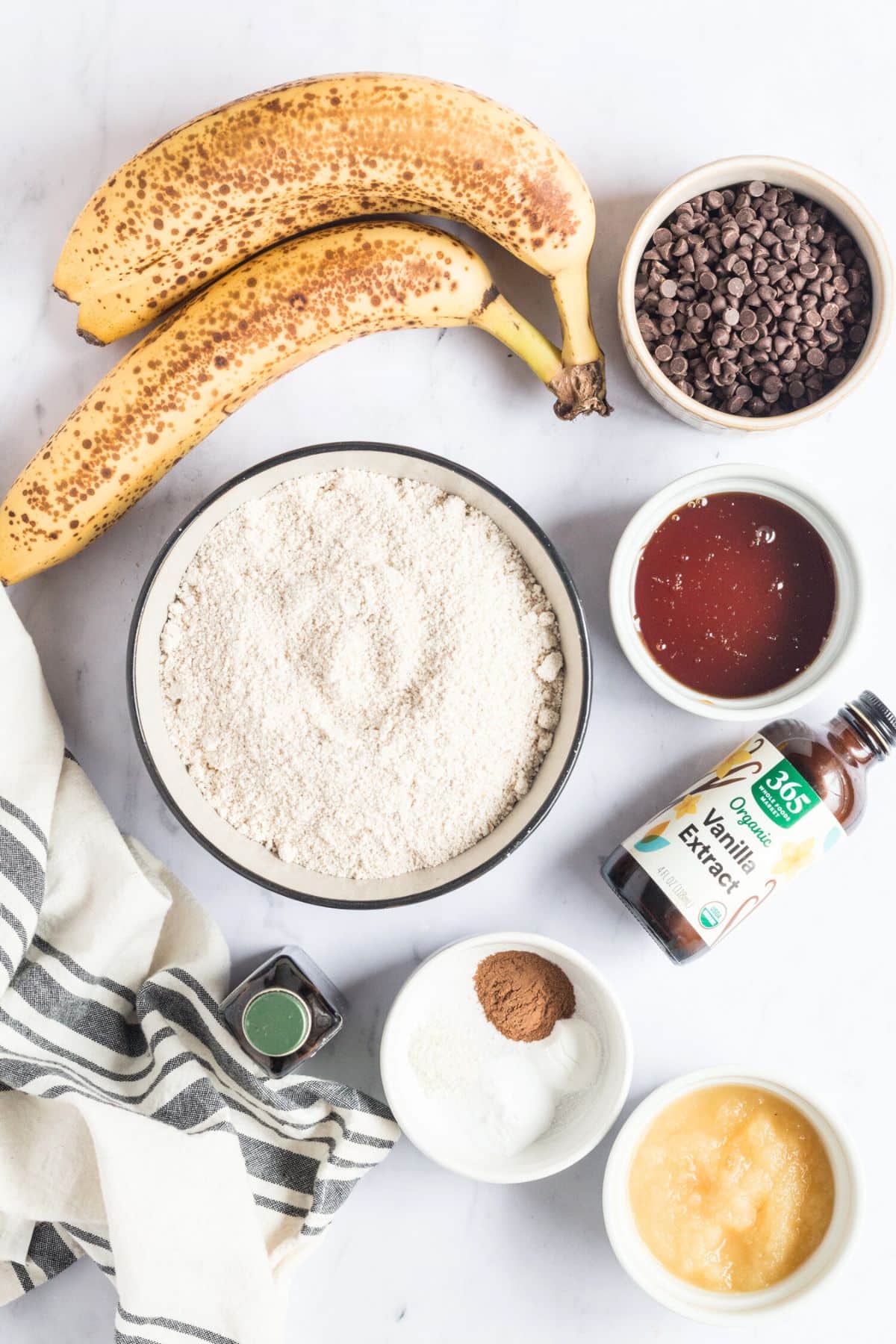 Ingredients For Low Calorie Banana Oat Bread
Here's what you will need to make your healthy banana oat bread. I also recommend having a loaf pan, blender and parchment paper.
Bananas, very ripe
Applesauce, unsweetened
Maple Syrup
Baking Powder
Baking Soda
Cinnamon
Salt
Dairy Free Mini Chocolate Chips
How To Make Banana Bread With Oats
First, I recommend using very ripe bananas for this recipe - as in almost black. Black bananas are much sweeter and since this is a lower sugar recipe, you want most of the natural sweetness of this bread to come from the bananas.
Step one is to bananas, vanilla, honey and applesauce to a blender and blend until smooth. You can also do this in a mixing bowl or food processor. Once the ingredients are smooth, add the remaining ingredients (minus the chocolate chips) and blend again until the oats are broken down and ingredients fully combined. Stir the chocolate chips into the batter. You can do this in the blender or transfer to a bowl to mix them in.
Step two transfer the batter into a prepared loaf pan. I recommend lining your loaf pan with parchment paper for easy removal. Bake the bread 30-35 minutes in a preheated oven then remove and cool 30 minutes at room temperature before slicing and enjoying.
How To Store Banana Bread
I recommend storing your banana bread in the refrigerator after it has cooled fully to room temperature. The bread can be left covered at room temperature, but may get soggy and if you place it in the refrigerator too quickly it may lose the moisture quickly.
I recommend tightly wrapping in plastic wrap then storing in a container in the refrigerator to maintain as much moisture and freshness as possible.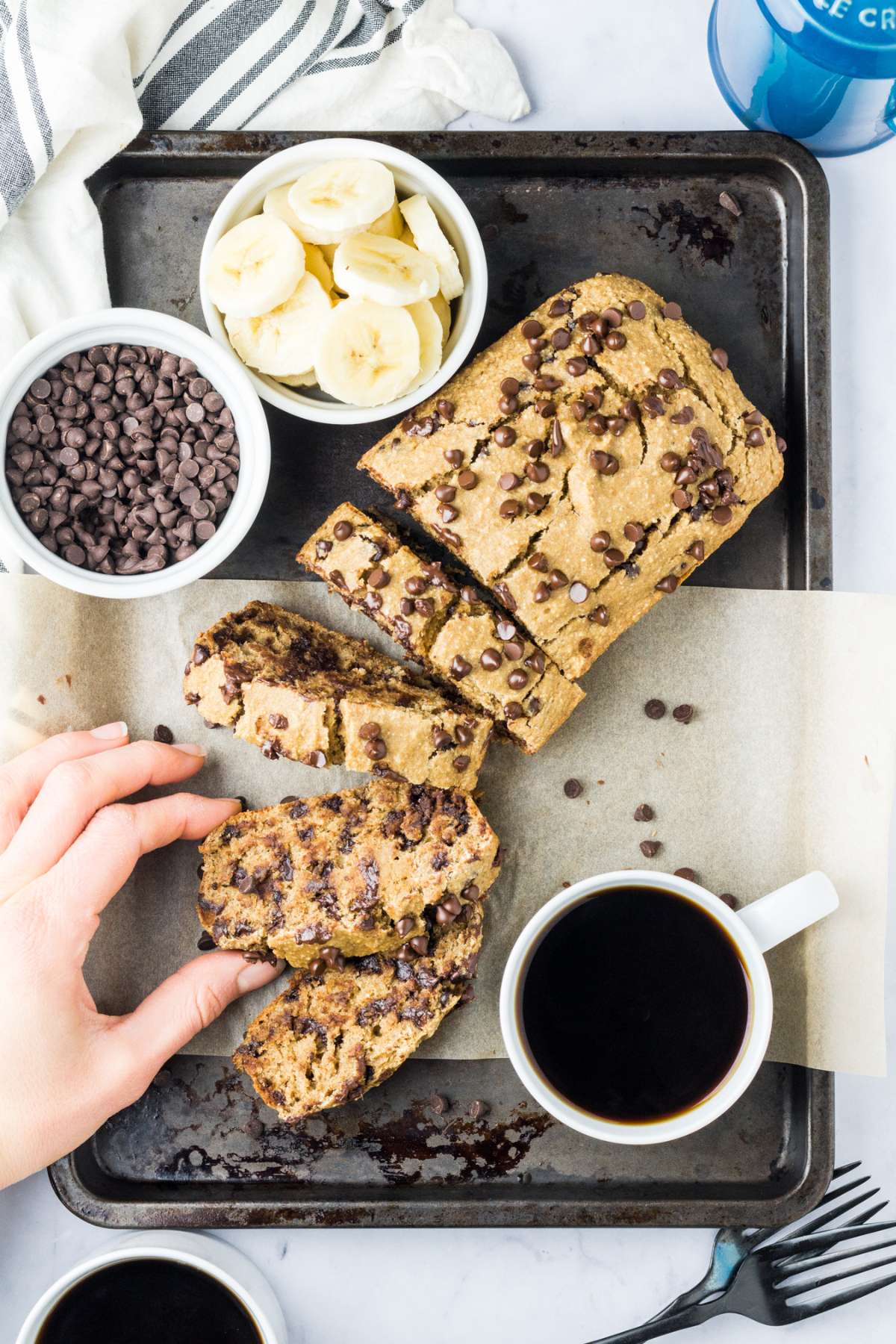 Can You Freeze Banana Bread
Banana bread can be frozen. I recommend cooling the bread fully for two hours at room temperature before freezing. Slice the bread after it has cooled fully then store in a freezer friendly container wrapped in plastic wrap or plastic storage bag wrapped in plastic wrap before placing in the freezer.
Substitutions For Gluten Free Banana Oat Bread
Here's the substitutions you can make for this recipe. Keep in mind that whenever you substitute an ingredient the nutritional facts shown in the recipe card will change.
Gluten Free Oats - Regular rolled oats can be substituted if you are not following a gluten free diet. Instant oats are not recommended. Oat flour can also be substituted. I have not yet tested gluten free all purpose flour or almond flour. If you test these, please leave a comment as this helps others. Coconut flour will not work with this recipe.
Honey - Maple syrup can be substituted or a zero calorie flavored monkruit sweetener like this one.
Chocolate Chips - You can use regular if you are not dairy free or omit.
Cinnamon - Can be omitted if you prefer. Since this is a lower sugar bread, the cinnamon adds natural sweetness.
Optional Add-Ins - This recipe is very versatile and you can definitely add to it if you like. Nuts, seeds, cacao nibs, fruit etc. could easily be added to this banana bread.
More Popular Banana Oat Recipes
Healthy Chocolate Chip Banana Oat Bread
Healthy Chocolate Chip Banana Oat Bread made low calorie and lower sugar. A healthy gluten free banana bread made flourless with oats and dairy free. A lower calorie baked good that's better for you! Gluten Free + Low Calorie
Instructions
Preheat oven to 350 degrees F. Spray a 9-inch x 5-inch loaf pan with nonstick cooking spray or place parchment paper in it.

To a blender, add the bananas, vanilla extract, honey, applesauce, and blend until smooth.

Add the oats, baking powder, baking soda, cinnamon and salt and blend until well combined.

Remove the batter from the blender and fold the chocolate chips into batter by hand to disperse evenly throughout the batter.

Pour the batter into the prepared loaf pan. Spread the batter evenly with a rubber spatula

Bake 30-35 minutes or until a toothpick can be removed from the center of the loaf clean.

Cool the bread in the pan 30 minutes on a wire rack. Remove from the pan, cut into 12 slices and enjoy!

Store in the refrigerator in a container up to one week.
Nutrition
Serving: 1sliceCalories: 134kcalCarbohydrates: 27gProtein: 3gFat: 2gSaturated Fat: 1gTrans Fat: 1gCholesterol: 1mgSodium: 99mgPotassium: 186mgFiber: 3gSugar: 13gVitamin A: 32IUVitamin C: 3mgCalcium: 25mgIron: 1mg