This post contains affiliate links. As an Amazon associate I earn qualifying purchases. Click here for more about this policy.
Healthy Chocolate Banana Bread with greek yogurt! Made flourless with gluten free oats and low sugar, this is the perfect healthy low calorie treat! Gluten Free + Low Calorie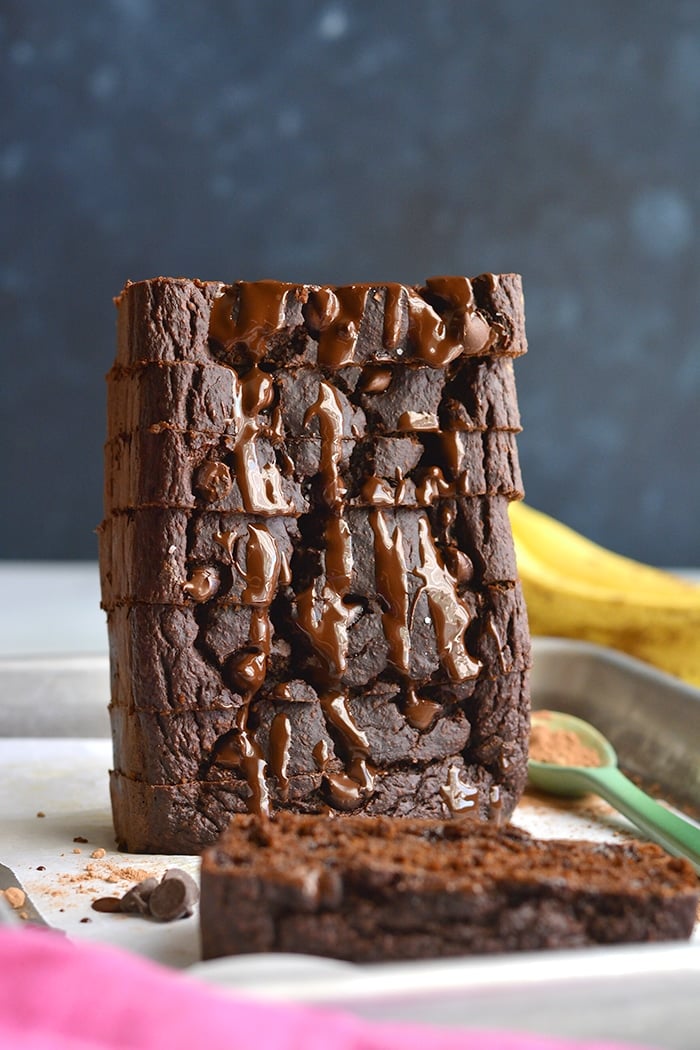 I was reminiscing about this low calorie banana bread the other day. It's one of my favorite treats and a great way to get extra fiber in my diet.
Fiber is so important for weight loss, weight management and health. I talk about this important carb and more in my weight loss training.
Trust me when I say this healthy chocolate banana bread is a game changer. Perfectly sweet, moist, creamy and rich with chocolate flavor!
As someone who keeps their pantry full of "the basics" when it comes to baking, I'm excited about this bread because it uses simple ingredients that you probably already have and bake with.
Click here to pin this recipe!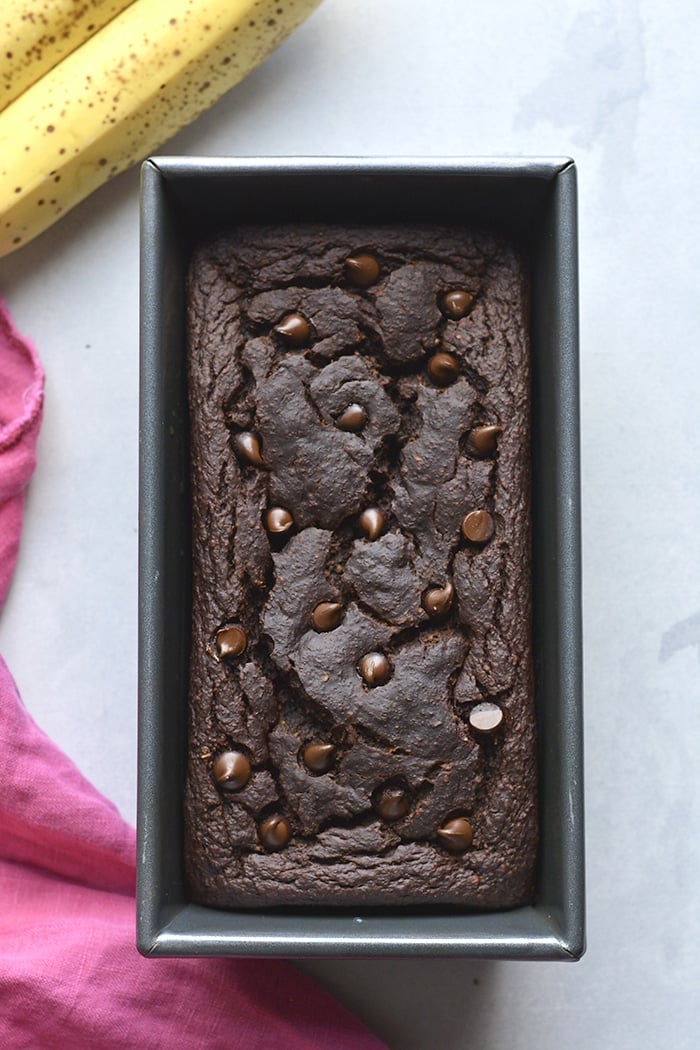 Healthy Chocolate Banana Bread
This low calorie chocolate banana bread is made flourless with gluten free rolled oats and lower in added sugar.
Not only that it's made higher in protein than other banana breads thanks to Greek yogurt! Greek yogurt is one of my favorite sneaky ways to add moisture to baked goods while boosting the protein power.
Protein is so important for keeping blood sugar stable!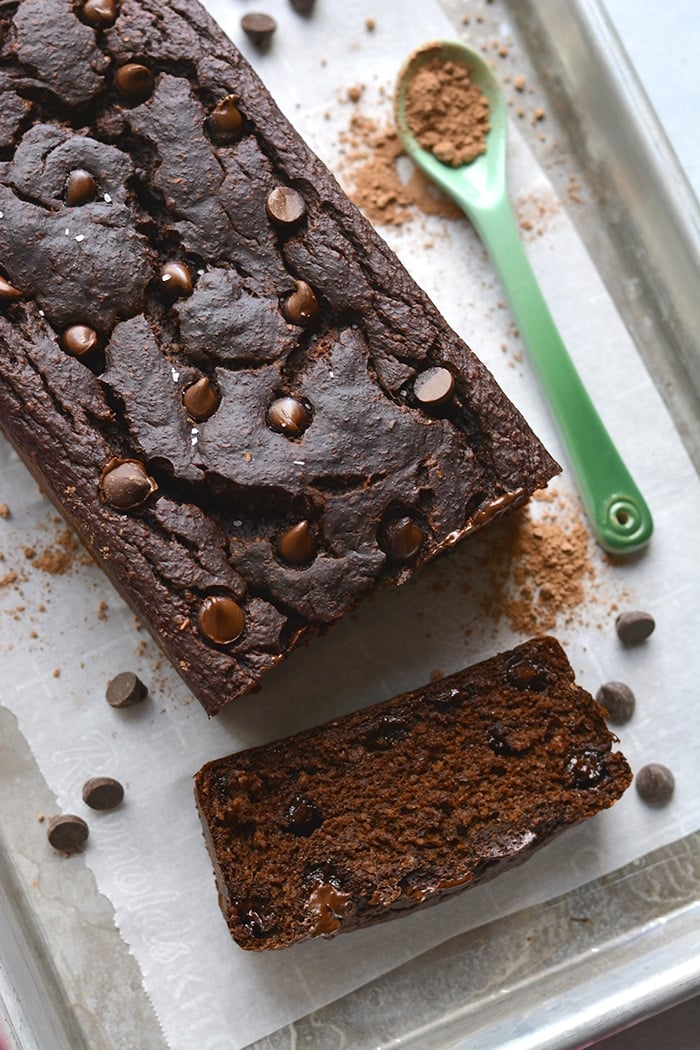 What You Need
Bananas (very ripe!)
Eggs
Unsweetened Cocoa Powder
Baking Powder + Baking Soda
Salt
Chocolate Chips
How To Lighten Up Healthy Chocolate Banana Bread
To make this chocolate banana bread lighter and healthier, we're swapping oil for Greek yogurt (or a dairy-free option if you choose), using oats for higher fiber, a smaller amount of added sugar and chocolate chips.
When you really begin paying attention to other recipes, you'll notice they go way overboard on the added sugar, chocolate chips, oil and flours. Those things can always be better balanced which is what this bread does!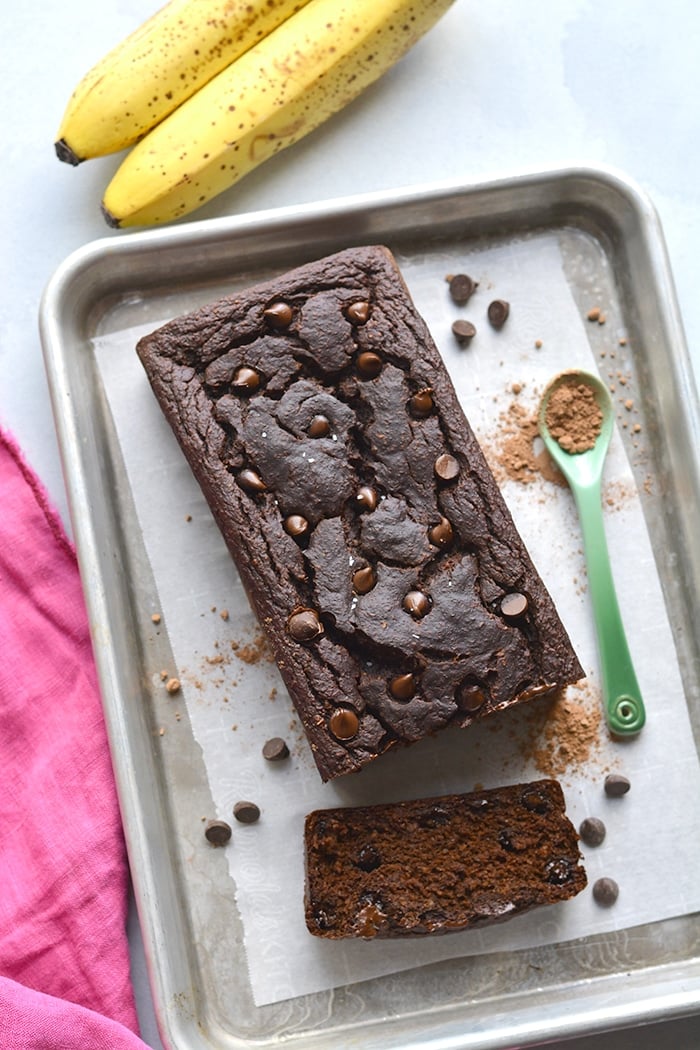 How To Make Chocolate Banana Bread
Preheat your oven to 350 F then prepare a loaf pan with parchment paper. I highly recommend this over cooking spray. The cooking sprays make breads soggy whereas, parchment paper makes it easy to remove from the pan.
Next add your bananas, Greek yogurt, vanilla extract, eggs and coconut sugar to a food processor or high-speed blender. Blend until smooth then add the oats, unsweetened cocoa powder, baking powder, baking soda and salt.
Blend again until smooth then fold the chocolate chips in by hand. Transfer the batter to your prepared loaf pan and bake 50-55 minutes, or until a toothpick can be inserted clean.
Remove from the oven then let it sit in the pan for 1 hour before slicing and enjoying!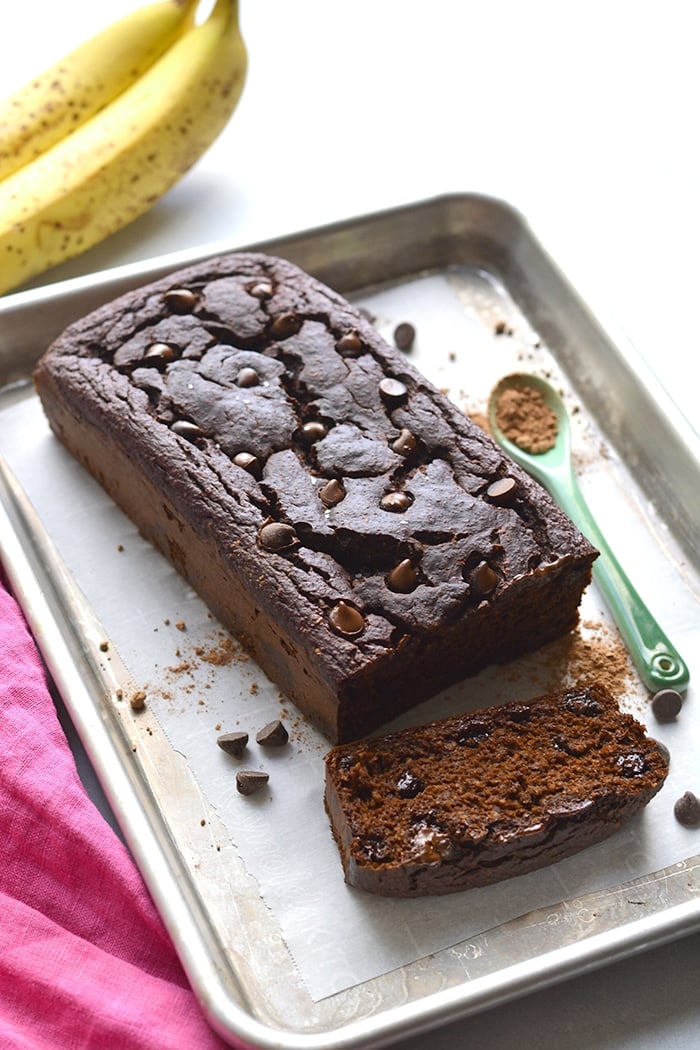 Do Bananas Have To Much Sugar
I know I'll get this question so I'll answer it here.
The short answer is no. Bananas are a healthy source of natural sugar and are balanced with nutrients and are actually a great source of fiber. Fiber balances the blood sugar spike.
What's really important when making recipes is to watch the amount of added sugar you use – coconut sugar, maple syrup, honey, maple sugar, monk fruit, stevia etc.
The added sugars are what cause long term health problems. Think of it this way, you can always eat and eat and eat sugar BUT you will never overeat bananas. Fruit is always a better substitute for sugar!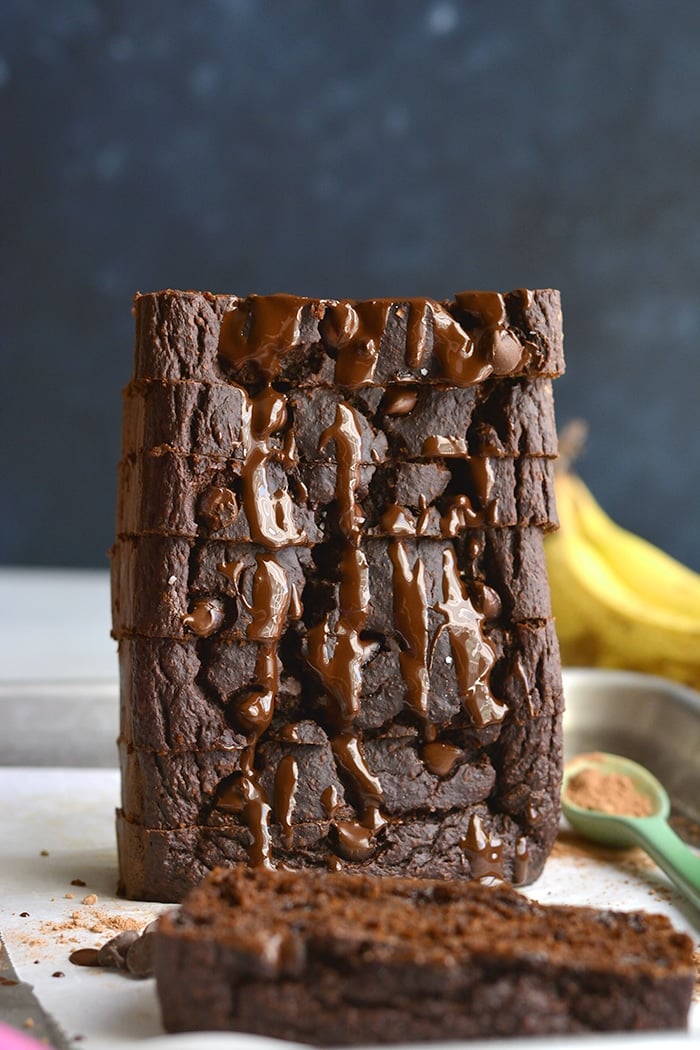 Substitutions
Greek yogurt – Substitute a dairy-free version like coconut or almond.
Gluten free oats – I haven't tested other flours, however, almond flour generally can be subbed for oats. I recommend spooning the almond flour into a measuring cup loosely. Do not pack or it will be too much flour.
Coconut sugar – Substitute maple syrup or maple sugar. Monk fruit could also be used, but use less as it is sweeter.
Click here to pin this recipe!
Healthy Chocolate Banana Bread
Healthy Chocolate Banana Bread with greek yogurt! Made flourless with gluten free oats and low sugar, this is the perfect healthy low calorie treat! Gluten Free + Low Calorie
Prep Time 10 minutes
Cook Time 1 hour
Resting Time 1 hour
Total Time 2 hours 10 minutes
Servings 12 slices
Calories 127 kcal
Instructions
In a food processor or blender, combine the eggs, Greek yogurt, bananas, vanilla extract and coconut sugar until smooth 1-2 minutes.

Add the oats, baking powder, baking soda and salt to the batter. Process another minute or so until the oats are broken down and combined with the wet ingredients.

Test the batter at this point to ensure it meets your liking. I prefer less sugar in my baked goods, but if you like more you can add more coconut sugar if you like.

Remove batter from the food process and stir in the chocolate chips reserving a few chiips for the top.

Transfer the batter to the prepared loaf pan and sprinkle the remaining chips on top.

Bake 50-55 minutes or until a toothpick can be removed clean from the center.

Remove from the oven and cool in the pan 60 minutes before slicing.

Store the bread up to 10 days in the refrigerator or in the freezer up to 60 days.
Course Breakfast, Snack
Cuisine American
Keyword banana bread, chocolate, flourless, gluten free, greek yogurt, healthy, low calorie, low sugar, oats, simple
Nutrition facts per serving (1serving)
Calories 127 kcal
Fat 3 g
Saturated Fat 1 g
Cholesterol 29 mg
Sodium 228 mg
Potassium 264 mg
Carbohydrates 23 g
Fiber 3 g
Sugar 9 g
Protein 5 g
Vitamin A 70 %
Vitamin C 3 %
Calcium 51 %
Iron 1 %
What I Used For The Recipe