This post contains affiliate links. As an Amazon associate I earn qualifying purchases. Click here for more about this policy.
Readers, friends and women I help lose weight frequently ask for my recommendations on weight loss products. Today I'm sharing Tools To Help You Lose Weight. Regardless of where you are in your weight loss, these can be easily added to your lifestyle. Many of the tools are ones I used for my own 80 pound weight loss and still use to this day.
Tools To Help You Lose Weight
Scales are valuable tools to help you lose weight. A body composition scale is best because as you lose weight and increase lean muscle mass, the number on the scale can be deceiving and it's easy to get frustrated.
This body composition scale is the coolest one I've seen. It syncs with Apple health, Fitbit and Google Fit, and has 10 Precision Body Measurements - body fat, BMI, muscle, hydration, and bone mass. Definitely one to consider!
Lots of pedometer options out there. Some simple, some no so simple. Fitbit is my favorite. I still have my original Fitbit from when I started walking to lose 80 pounds and use it to this day. I like this one vs. the arm one. Those don't track activities like cycling or stairclimber well.
If you're a watch person, this Withings Activite Steel is one I've had my eye on. It's sleek and tracks everything a Fitbit does PLUS it's water resistant for swimmers!
Food tracking is a must for weight loss! Most clients that come to me for weight loss are overeating and don't realize it until they start tracking their food. Seeing it written down helps them make better choices. Lose It has been my go to app. It free, scans food barcodes, let's you build your own recipes, and more. My FitnessPal is also another free option.
Another one to add to your tools to help you lose weight. Between measuring and tracking food, this can help you make better portion choices.
A lot of clients who come to me to lose weight think they're drinking enough water until I tell them how much they should be drinking. This bluetooth water bottle tracks via an app how much water you're drinking so you don't have to think about it. Easy!
Speaking of water... sparkling water is a great option to get more water and replace soda. It has that fizzy, bubbly, soda-like taste and fills you up. La Croix is by far my favorite sparkling water and they have so many yummy flavors. A great option to motivate yourself to drink more water and ditch the soda!
Extra virgin olive oil, vinegars and spices are the best tools for weight loss. They take things like chicken from boring to tasty. Keep your pantry stocked & organized with a cool spice rack!
While cooking oils like extra virgin olive oil are healthy additions to meals, they're high in calories and it's easy to add more than you need. Having a spritzer like this reduces the amount you use and it's a great replacement for cooking sprays.
A blender is a kitchen staple for weight loss. You can whip up protein pancakes, protein cookies, smoothies and all kinds of goodies in minutes. This is the one I use. For the number of times I've used it, I've more than gotten my money back.
Something about transforming veggies into long circular rings makes them more enticing to eat. Spiralizing also is a great replacement for higher calorie foods like pasta. You still get the same texture, but with for less calories, more nutrients and fiber!
Blue Apron is a meal delivery service that ships all ingredients and the recipe to your door. All you have to do is prep and cook. So easy! I've used them in the past and their recipes are crazy delicious.
Vital Proteins
Collagen is a protein found in muscles, connective tissues, skin and bones. It makes up 25-30% of the body. Collagen naturally declines with age though. Taking collagen has been shown to improve joint health, increase lean muscle mass, improve liver health and arthritic conditions, decrease formation of wrinkles and balance hormones.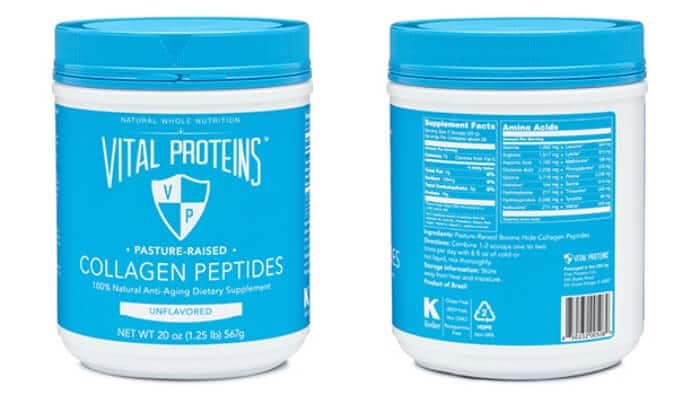 By balancing hormones and increasing lean muscle mass, collagen when combined with a healthy diet and exercise, promotes weight management and a healthy cardiovascular system. I add collagen to my coffee every morning. It's odorless and dissolves so you don't even know it's there.
Getting enough protein is critical when trying to lose weight. It keeps you full and helps build lean muscle mass. A protein supplement is a great option for those on the go. The problem with most protein supplements though is they're packed with sugar and processed ingredients. I love Vega, but their Clean protein powder is by far my favorite.
Anyone who wants to lose weight needs to read these books! The Science Of Skinny explains how processed foods prevent weight loss and disrupts hormone balance. It was written by one of my professor's who lost over 200 pounds. She's a chemist with a wealth of information on food biochemistry. Don't worry! The book is an easy read.