Healthy One Pan Lemon Garlic Shrimp and Brussels Sprouts! An amazing flavor combination of tender, garlicky shrimp that comes together in 20 minutes! Gluten Free + Low Calorie + Paleo + Whole30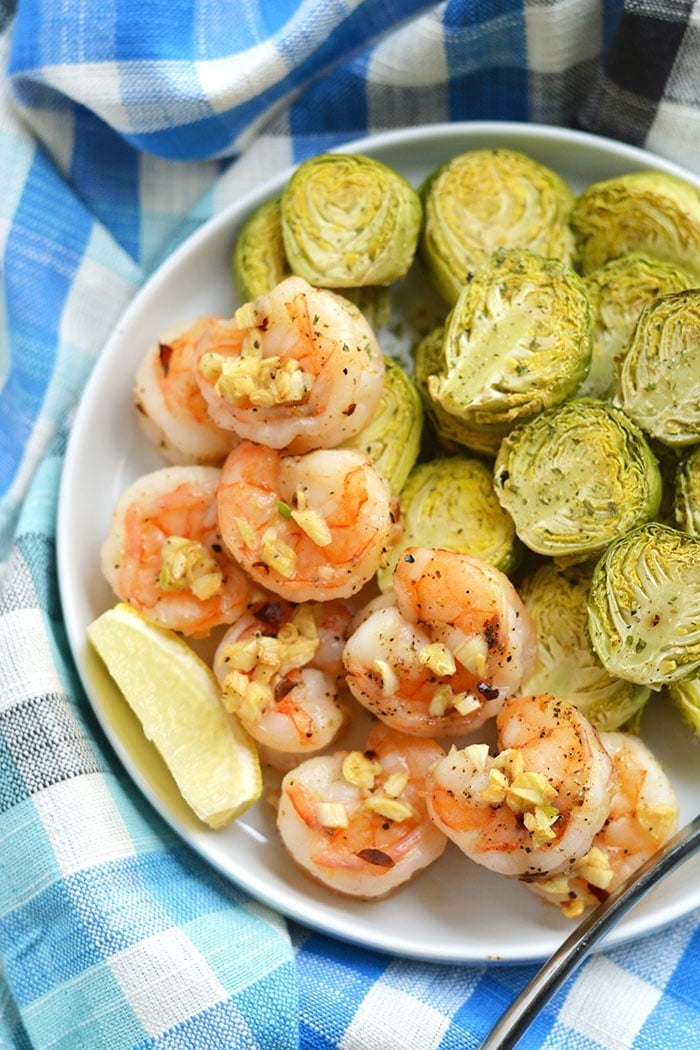 Whoa Wednesday…you snuck on me! This week has been crazy, but in a good way. The first week of January means a lot of client appointments and with the launch of Master Your Cravings next week it's been a lot of fun.
It's great to see so many of you jumping on the "I'm gonna get healthy" band wagon! It sure makes for a busy time of year, but in a good way.
For those of you who need help reaching your goals, take a look at my one on one nutrition coaching. I had one client tell me how I opened her eyes to certain things she was doing to sabotage her goals. Sometimes you need that outsider to help you move past being stuck. I promise I won't take you from hamburgers to kale overnight. My one-on-one program is customized to YOU and your needs. I work with you where you are right now and design small steps that help you move in the direction of detoxing your body of old habits and embracing new and improved ones!
I understand many of you feel intimidated working with a coach. I felt the EXACT SAME WAY when I started working with my business coach. It was super intimidating at first.
But you know what? I'm so glad I did it because she's helped me move my business forward in so many ways. I would 100% do it again!
I've poured everything from my 80 pound weight loss and nutrition schooling to help you get unstuck from where you are and move you in the direction of meeting your goals.
The program launches Monday, January 9th and closes January 9th. After January 9th, you won't be able to register until my spring session. So if you haven't signed up yet get on it! What do you really have to lose except for the weight?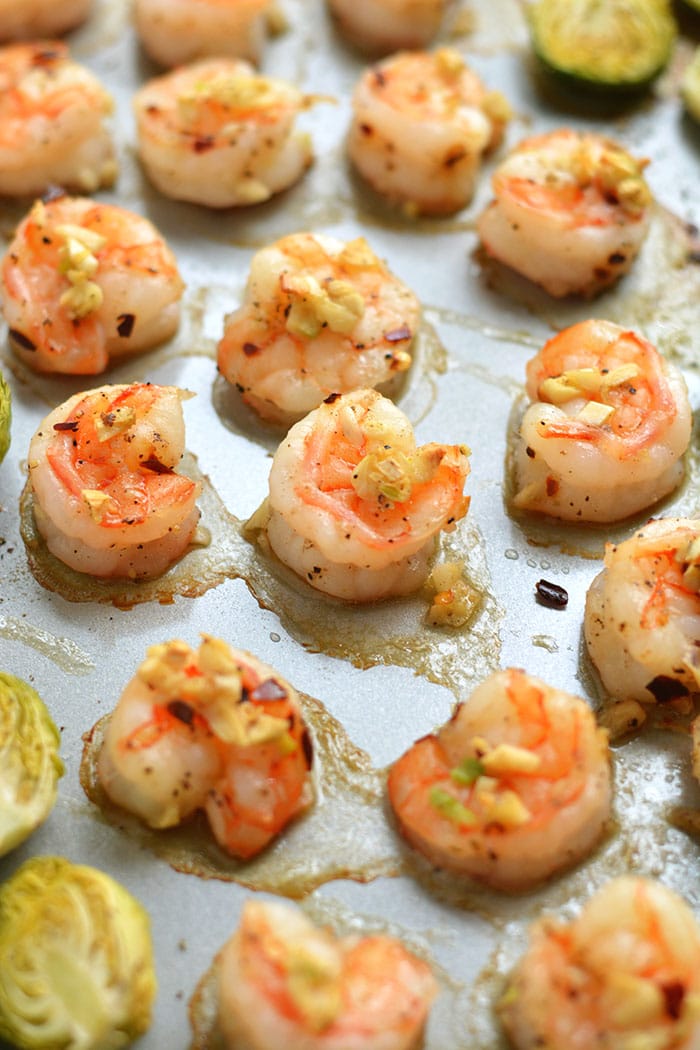 So now do you get why I've been busy? Yeah, it's been a little bit of juggling act lately which is why meals have been quick, fast and easy like this Healthy One Pan Lemon Garlic Shrimp & Brussels Sprouts. This is probably the easiest dinner I've ever made on a whim.
It only takes 20 minutes. Just toss the shrimp with extra virgin olive oil, fresh garlic, lemon juice and seasonings toss it on a plate with a veggie like brussels sprouts and WAM BAM, dinner is served.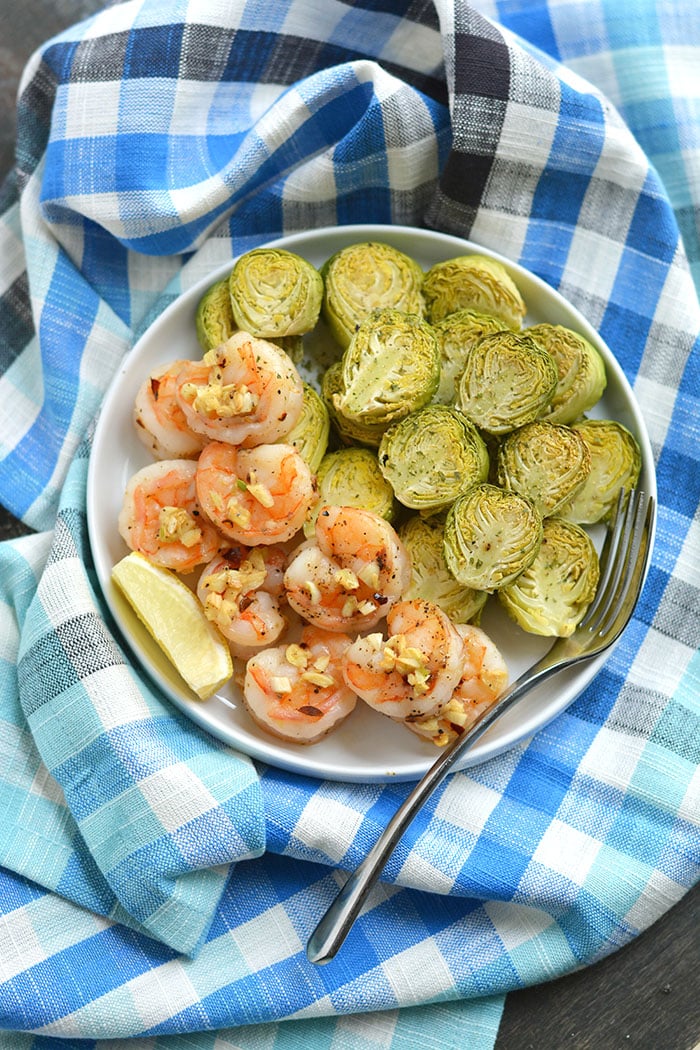 The best part is there's only one sheet pan to clean. I hate cleaning dishes, and there's nothing worst than having dozen pans to clean when life is hectic. Needless to say, the last few weeks I've been living off this One Pan Lemon Garlic Shrimp, my crockpot meals and freezer soups.
So when people tell me they don't have time to eat healthy, it's really a matter of getting back to basics with cooking. Not every meal has to be a elegant production.
Pick up a fresh veggie at the store and order Sizzlefish straight to your front door and you've got a dinner that's guaranteed satisfying and filling. Nothing better than an easy, delicious, REAL FOOD meal!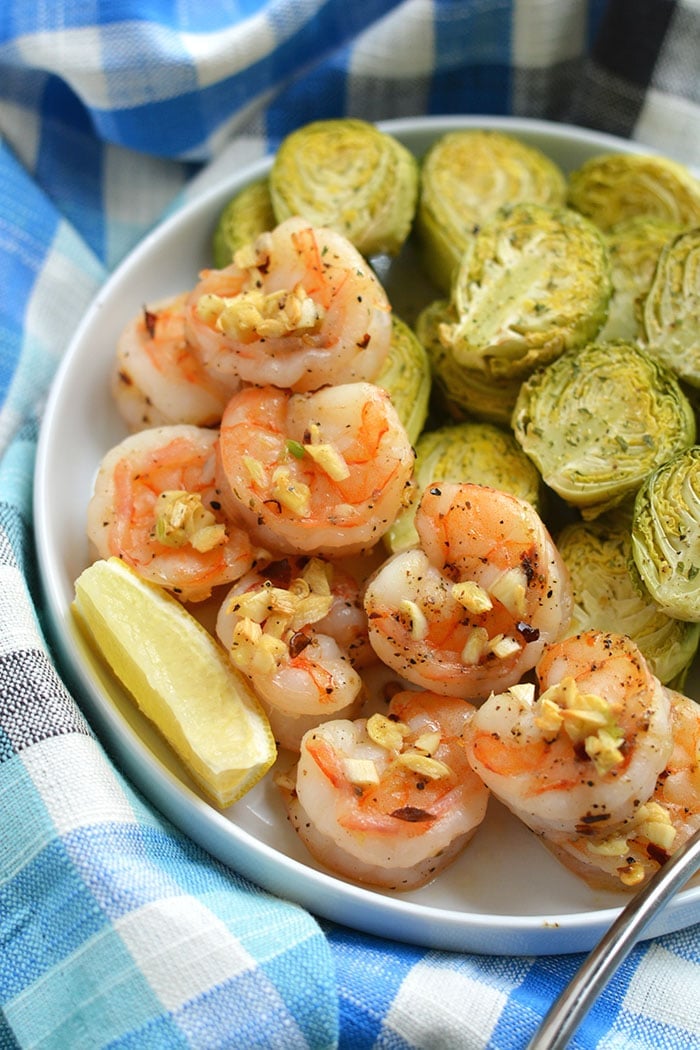 More Shrimp Recipes





One Pan Lemon Garlic Shrimp and Brussels Sprouts
Healthy One Pan Lemon Garlic Shrimp & Brussels Sprouts! An amazing flavor combination of tender, garlicky shrimp that comes together in 20 minutes! Gluten Free + Low Calorie + Paleo
Prep Time 10 minutes
Cook Time 20 minutes
Total Time 30 minutes
Servings 2 servings
Calories 227 kcal
Instructions
Preheat oven to 350 F. Prepare a baking sheet with parchment paper.

In a small bowl, combine lemon juice, extra virgin olive oil, garlic and pepper flakes, salt, pepper and parsley, toss shrimp in the marinade. Let it sit 20 minutes to marry the flavors.

Place the shrimp on the prepared baking sheet in the center.


Surround the shrimp with the sliced brussels sprouts and sprinkle with garlic powder, salt and pepper.

Bake in oven at 350 F for 20 minutes until shrimp is pink.

Remove from the oven, serve immediately with fresh lemon slices.
Course Dinner, Main Course
Cuisine American
Keyword brussels sprouts, dairy free, garlic, gluten free, lemon, low calorie, low calorie recipe, low carb, low carb dinner, low carb recipe, Paleo, paleo dinner, sheet pan recipe, shrimp, Whole30
Recipe Video
Nutrition facts per serving (1serving)
Calories 227 kcal
Fat 10.3 g
Saturated Fat 1.3 g
Cholesterol 88.9 mg
Sodium 696.1 mg
Potassium 0 mg
Carbohydrates 9.4 g
Fiber 3.2 g
Sugar 2.3 g
Protein 28 g
Vitamin A 0 %
Vitamin C 0 %
Calcium 0 %
Iron 0 %
Meal Plans
Get a meal plan designed to meet your weight loss goals.
Learn More
What I Used For the Recipe