Bursting with winter spices, these fluffy and skinny Gingerbread Pancakes are Christmas on a plate! A delicious breakfast made for any morning as a seasonal treat! Gluten Free + Low Calorie + Dairy Free
Merry Christmas! You know I have dreams of waking up Christmas morning to my very own large family to cook for, singing holiday carols by the fire, listening to Christmas music and watching Elf in pajamas on repeat all day as everyone is pleasant and kind to one another. Haha! Yes, my dreams are ever so big. I don't know anyone who has said picturesque life.
Maybe Santa? Since I don't have that big dreamy family, I suppose cooking for Mom and Dad will have to do…for now. 😉 Mom's been holding out on me though. After living with me for six months this year while I was confined to crutches, she finally handed over her infamous gingerbread pancake recipe to me and let me tell you guys they are AH-mazing! Bursting with molasses, ginger, nutmeg and cinnamon. These are truly Christmas on a plate!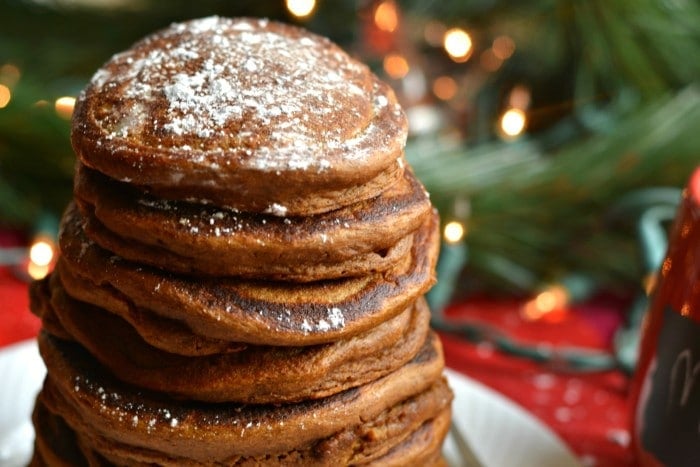 What's funny about this recipe is it only works if your mother gives you the right recipe. She likes to prank a lot and people, I believe I got pranked. Before leaving last month, she gave me a chicken scratch paper with ingredients scribbled on it that I had to decode.
Thankfully, I know her process well enough that I didn't need specific instructions like how she whips the egg whites until they're as fluffy as a clouds before folding into the batter. That much I knew. What she neglected to tell me though was how she doubled the amount of eggs from the original recipe. Would have helped to know that! Needless to say, the first batch turned out very sorry.
Flat as pancakes (no pun intended), burnt and crumbly. It was a pancake funeral. When I finally got the right ingredients, the second batch was pancake heaven! Fluffy, thick and laden healthy gingerbread pancakes bursting with winter flavors. Not to mention low calorie, low fat and gluten free too. These gingerbread pancakes are pure bliss. I hope you love them as much as we do. Have a very Merry Christmas! xoxo
Skinny Gingerbread Pancakes
Bursting with winter spices, these fluffy and healthy Gingerbread Pancakes are made for Christmas morning. A delicious breakfast for any morning for a healthy seasonal treat!
Prep Time 10 minutes
Cook Time 20 minutes
Total Time 30 minutes
Servings 18 pancake
Calories 112 kcal
Instructions
In a small bowl, stir molasses and milk together. In a large mixing bowl, combine dry ingredients combining well and breaking up any clumps.

In a small bowl, beat egg whites 4-5 minutes until they become white peaks form.

Make a well in the dry ingredients then add molasses and buttermilk spooning batter from the sides into the liquid to combine. Once the batter is combined, gently fold fluffy egg whites into the batter (do not over mix).

Heat an electric griddle. Add 1/4 cup of the batter to the griddle to form 1 pancake. Repeat for remaining batter.

Cook 4-5 minutes until bubbles begin to appear and edges are set. Flip pancakes, cook another 2-3 minutes until cooked through.

Remove from the griddle and place on a wire rack to cool slightly before serving.
Course Breakfast
Cuisine American
Keyword gingerbread, gluten free, healthy, lightened up, low calorie, low sugar, pancake, skinny
Recipe Video
Nutrition facts per serving (1pancake)
Calories 112 kcal
Fat 2 g
Saturated Fat 1 g
Cholesterol 0 mg
Sodium 259 mg
Potassium 249 mg
Carbohydrates 19 g
Fiber 2 g
Sugar 5 g
Protein 4 g
Vitamin A 0 %
Vitamin C 0 %
Calcium 106 %
Iron 1 %