Bursting with winter spices, these Gingerbread Protein Pancakes are cozy, comforting & healthy! A seasonal protein packed breakfast that's easy & delicious! Gluten Free + Low Calorie
Sometimes I just want to sleep through the month of December because I hate being alone during the holidays. I shouldn't say I'm alone. I have my parents, but you know what I mean. It's not the same.
Truthfully, the holiday slump hadn't crossed my mind because I've been so preoccupied recovering from my surgery. Then I went to physical therapy this week and was quickly reminded of my winter slump when my therapist flashed me her fancy engagement ring.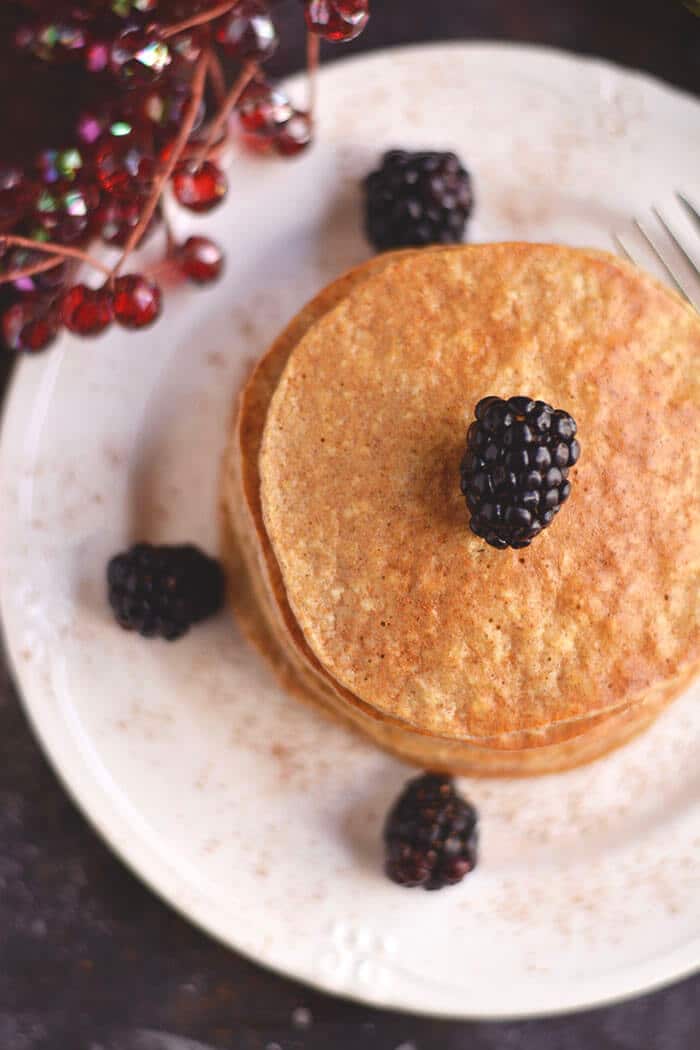 Now she's not just my therapist. She's a very good friend. We've know each other for three years. She knows every bit of my medical history. She's the one who pieced together my mysterious stress fractures to my unstable hip. To make things even more creepy we are the same age, have the exact same personality and can finish each other's sentences. It's like we're the same person in two different bodies. Maybe that means I'll be engaged soon. Haha, wishful thinking!
When she told me she was engaged, my heart swelled with joy for her. Then immediately sunk into sadness. Sad to be losing a friend (she's moving to California) and sad to be alone with my single self again. But I have you guys so there you go!
But seriously, life isn't always fair and sometimes the challenges our lives present us with don't make sense. I've had my fair share of challenges and they've never made sense while I'm in the midst of dealing with them; however, there have been transition points in my life where suddenly, I understood why certain things happened the way they did.
My point is good things don't come easy. They don't fall in your lap. Like weight loss or having a healthy relationship with food. You have to work for them. Like REALLY work for them. Not just sort-of work for them like on a part-time basis. Every day, you have to put in the work and dedication.
And sometimes you may have to work harder for them than another person does to get the same results. I know, not fair. But once you achieve whatever it is that you want, you will appreciate it so much more. Trust me! How does this fit in with Gingerbread Protein Pancakes? It does. Remember, this is a lesson in trust.
I've learned talking to you guys through my email list that meal prepping is a huge challenge for many of you, especially breakfast. Specifically, protein packed breakfasts.
So I'll let you in on a BIG secret to help you un-meal prep your breakfast and make it protein packed. It's called protein pancakes (oh yeah, and can't forget those easy egg muffins either)!
Make a batch on the weekend and you have a protein packed, microwavable breakfast all week long. Sometimes I even make two batches. Freeze one for the following week. That way you're only prepping breakfast twice a month. Score! At first it may seem like a challenge planning the time to prep them, but once you get into the routine of making them it will be a breeze!
These Gingerbread Protein Pancakes are based on my popular Cottage Cheese Pancakes which have only three ingredients! I winterfied the recipe by adding tons of ginger, cinnamon, cardamon and other goodies to spice things up!
They're good for you in disguise pancakes, and if you don't like eggs or cottage cheese I'll have you know you can't taste either or them in here. How's that for tackling meal prep challenges and holiday flavors in one recipe?
Get the SKINNY on the latest recipes & weight loss tips!
Sign up to receive a FREE eBOOK & weekly email tips!
Gingerbread Protein Pancakes
Bursting with winter spices, these Gingerbread Protein Pancakes are cozy, comforting & healthy! A seasonal protein packed breakfast that's easy & delicious! Gluten Free + Low Calorie
Prep Time 5 minutes
Cook Time 20 minutes
Total Time 25 minutes
Servings 16
Calories 72 kcal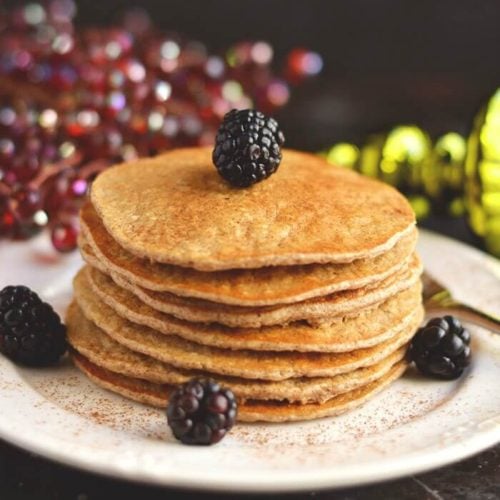 Instructions
Heat a skillet to medium high heat and spray with nonstick cooking spray.

Add all ingredients to a food processor or blender and blend until mixed thoroughly.

Scoop 1/4 cup of the batter onto the skillet to form a pancake.

Cook until small bubbles begin to appear then using a spatula flip and cook another 2-3 minutes.

Remove promptly from the skillet and place on a cooling rack while you repeat the process for remaining batter.

Store in the refrigerator up to a week or freeze up to a month.
Nutrition facts per serving (1g)
Calories 72 kcal
Fat 1.1 g
Saturated Fat 0.3 g
Trans Fat 0 g
Polyunsaturated Fat 0.8 g
Monounsaturated Fat 0 g
Cholesterol 2.5 mg
Sodium 136.4 mg
Potassium 0 mg
Carbohydrates 9.2 g
Fiber 1.2 g
Sugar 1.2 g
Protein 7 g
Vitamin A 0 %
Vitamin C 0 %
Calcium 0 %
Iron 0 %
Custom Meal Plans
Work with Megan to develop a custom macro or standard meal plan to reach your goals.
Learn More
What I Used To Make The Recipe
Want more? Don't forget about Mom's Skinny Gingerbread Pancakes!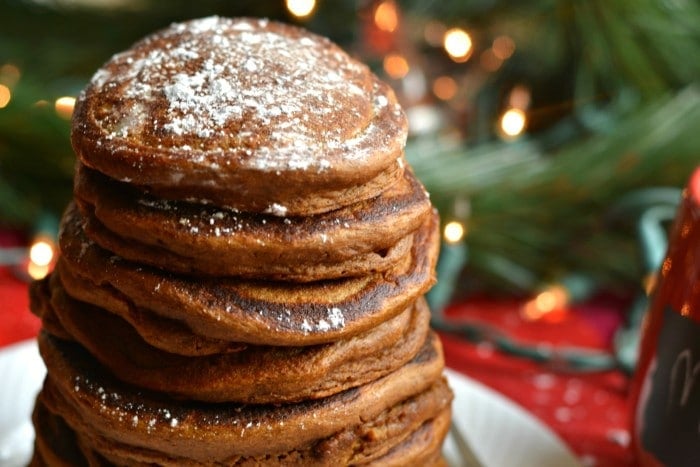 Do you get the winter slumps? What challenge are you working on now?
[Tweet "These Gingerbread Protein Pancakes have a spicy flare wiht a serious health kick! #GlutenFree"]