Almond Flour Gingerbread Muffins with collagen frosting. Spiced with warm flavors and high in protein & healthy fats! An easy breakfast or portable snack! Paleo + Gluten Free + Low Calorie  
Happy Monday! Hope you had a wonderful Thanksgiving weekend! Email subscribers! Make sure you check your inbox for my once a year discount. This discount is only good today. If you're not an email subscriber, email me or leave me a comment below. I will email you the code!
It ended up being just the guy and I for Thanksgiving. After he dropped his girls off in the morning, he came over and we started the Thanksgiving feast prep. I have to say, he's a huge help in the kitchen. He loves being involved in cooking. He's my food prep man.
Since it was just the two of us, I didn't end up making that much food. Turkey breast, mashed potatoes with cauliflower, healthy green bean casserole, homemade biscuits (recipe coming soon!). For dessert, I ate raw pumpkin pie from the freezer and the guy had one of those mini cherry pies.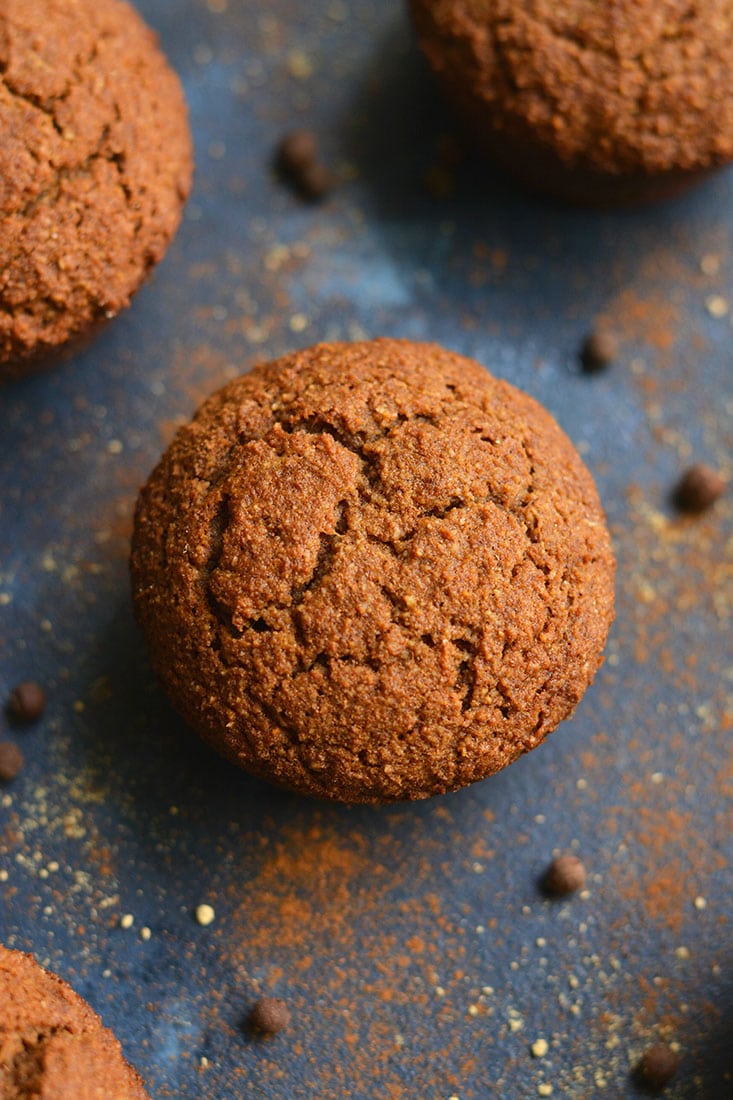 After we ate, he helped me put up my Christmas tree which he was not excited about. Once he realized it was a pre-lit tree he was much happier. Can't say I blame him. I don't know anyone who likes struggling with lights.
Over the weekend, I was busy testing the software for my healthy and custom meal plans launching in January. I'm really excited about it because it's not a PDF meal plan! Everything's online and you have the ability to move around your plans to different days, print a grocery plan, etc. It's so cool! If you're interested, fill out the form on this page and I will be in touch with details soon!
The weekend wasn't all work though. I spent a fair amount of time cruising the internet for gifts for the guy. Too bad I can't pay him in muffins because these Almond Flour Gingerbread Muffins are present worthy. The winter spices make them warm, cozy and they're filling with the healthy fat. I like these muffins because they're lower in carbs and higher in protein. A better way to snack!
I added a collagen frosting on top. Totally optional, but higher recommended! Collagen is an easy way to add protein without a lot of effort. I didn't sweeten the frosting, but you could add a touch of maple syrup or liquid stevia to sweeten it up. Either way these muffins are perfect for winter eating!
3 Smart Strategies To Stop Cravings
Almond Flour Gingerbread Pancakes
Almond Flour Gingerbread Muffins with collagen frosting. Spiced with warm flavors and high in protein & healthy fats! An easy breakfast or portable snack! Paleo + Gluten Free + Low Calorie

Prep Time 10 minutes
Cook Time 15 minutes
Total Time 25 minutes
Servings 12 muffins
Calories 188 kcal
Instructions
Preheat oven to 350 and lightly spray a muffin tin with nonstick cooking spray.

Using a standing mixer or hand mixer, blend together the eggs, honey, molasses, and vanilla until smooth.

In a separate bowl, stir together the spices, flours, and baking soda.

Add half the flour mixture to the liquid mixture and stir to combine. Then stir in the oil and remaining flour.

Divide the mixture evenly among 12 muffin cavities. Bake 15 minutes at 350 F or until a toothpick can be inserted in the center clean.

Cool the muffins on a wire baking rack. While the muffins cool, prepare the optional frosting by stirring the ingredients together. Drizzle the muffins with the frosting.

Enjoy immediately, or store in the refrigerator up to 7 days or freezer 30 days.
Recipe Notes
Nutrition Facts do not include the optional frosting.
You can also sub the almond/coconut flour with a simple Gluten Free flour or Gluten Free Oat flour. I buy my health food staples from Thrive Market.  
Nutrition facts per serving (1muffin)
Calories 188 kcal
Fat 14.3 g
Saturated Fat 2 g
Cholesterol 31.2 mg
Sodium 121.9 mg
Potassium 0 mg
Carbohydrates 9.2 g
Fiber 2.5 g
Sugar 4.7 g
Protein 5.9 g
Vitamin A 0 %
Vitamin C 0 %
Calcium 0 %
Iron 0 %
Custom Meal Plans
Work with Megan to develop a custom macro or standard meal plan to reach your goals.
Learn More
What I Used For The Recipe
[Tweet "Almond Flour Gingerbread Muffins make perfect stocking stuffers! #paleo #grainfree"]