Skinny Zuppa Toscana! This lightened up twist is made with lightened up ingredients and insanely delicious! Creamy, savory and well balanced for a yummy winter meal. Gluten Free + Low Calorie + Paleo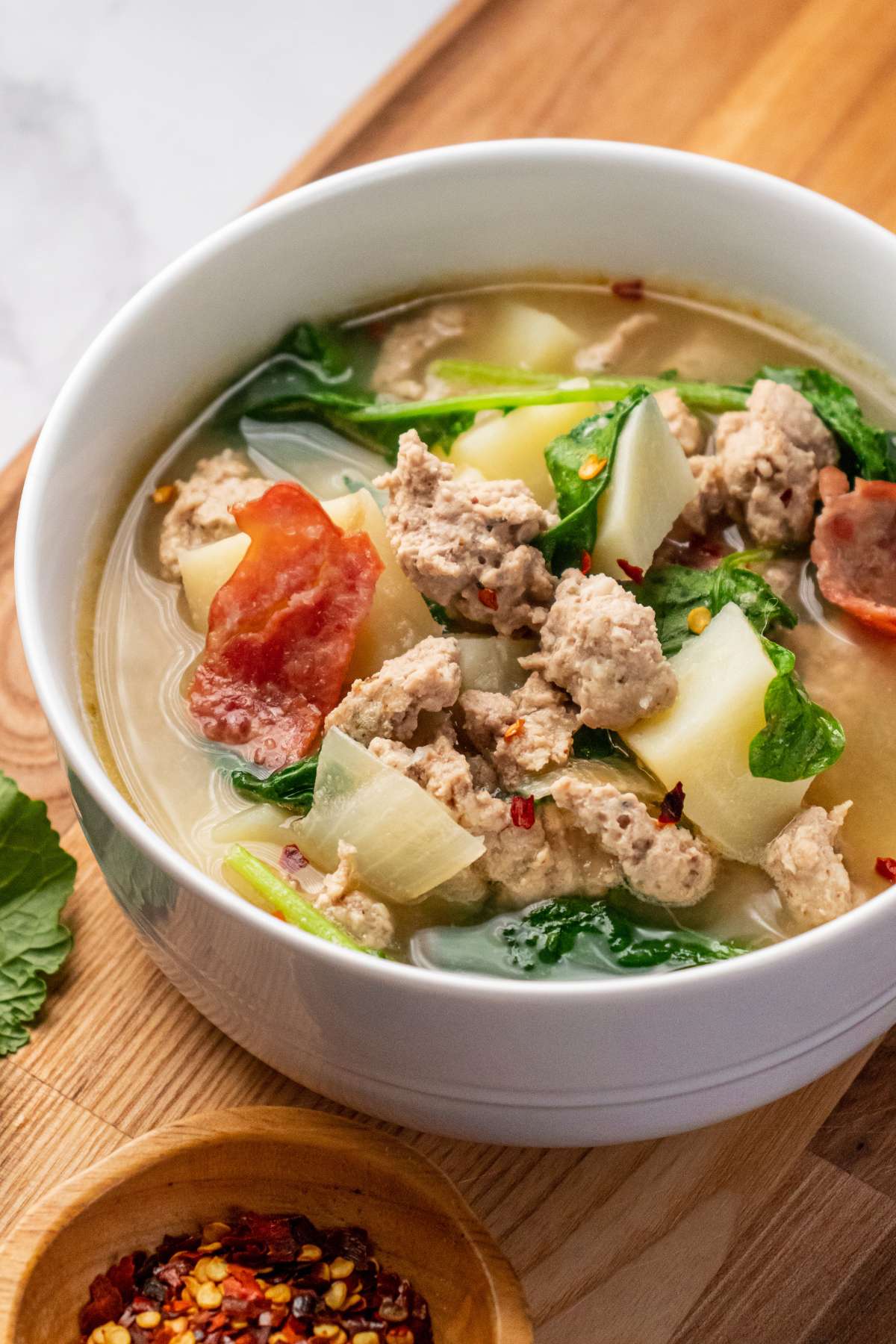 My pre 80 pound weight loss days were filled with over consuming large portions of Olive Garden bread, pastas, salad and my favorite soup Zuppa Toscana! It was my favorite place to eat and overeat until the point of discomfort. Today…it has zero appeal to me.
These foods I have no cravings for because I know they will make me feel lazy, give me low energy and leave me craving more and more carbs and sugar. Funny how when you really pay attention to how food makes you feel, how different you choose to eat. It DOES happen!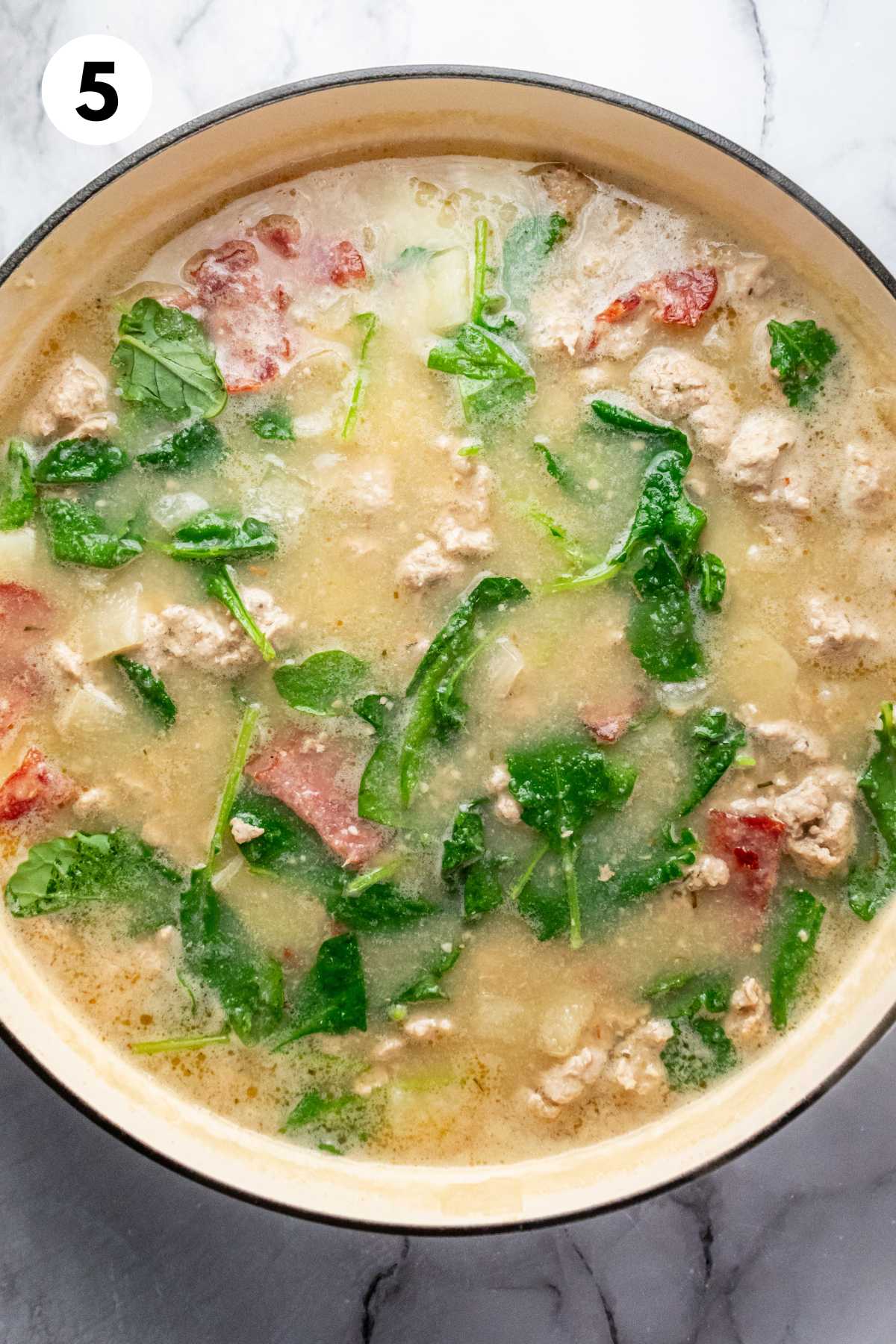 Skinny Zuppa Toscana
This healthy twist on Zuppa Toscana is made lighter and healthier, but equally creamy and delicious as the real deal! Fewer calories and better balanced in nutrition than the Olive Garden one and online versions that say "healthy."
I've seen a lot of other versions called "healthy" on the internet too that aren't that healthy. Many people think that something healthy if it's made with real food ingredients so they'll label their recipe as "healthy." That's really misleading.
A "healthy" recipe is one that's always balanced in nutrition (carbs, protein and fat) so pay attention to that balance when searching for recipes online!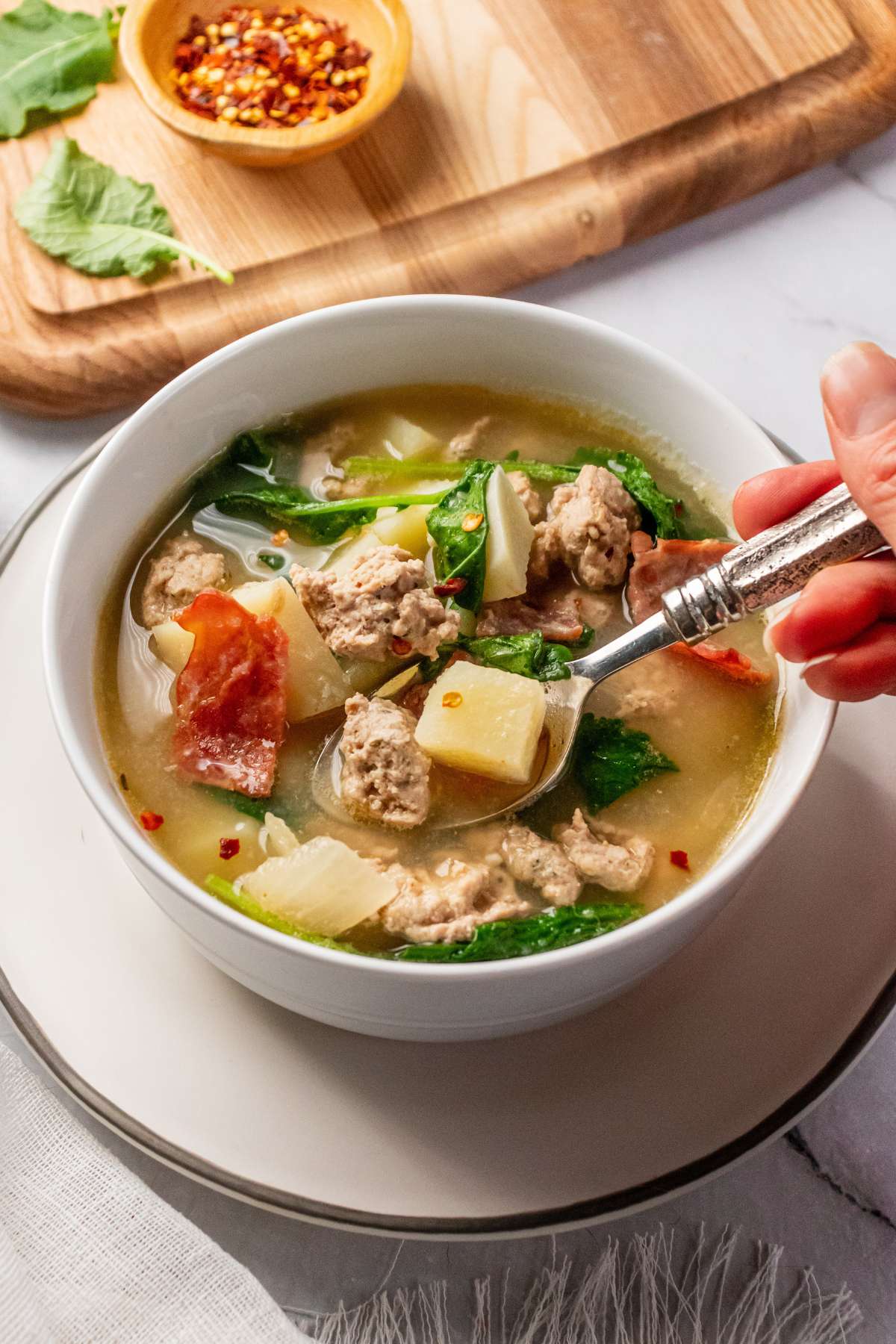 What You Need
Chicken Sausage or turkey sausage
White Sweet Potatoes
Kale
Garlic
Onion
Broth
Almond Milk, unsweetened
Red Pepper Flakes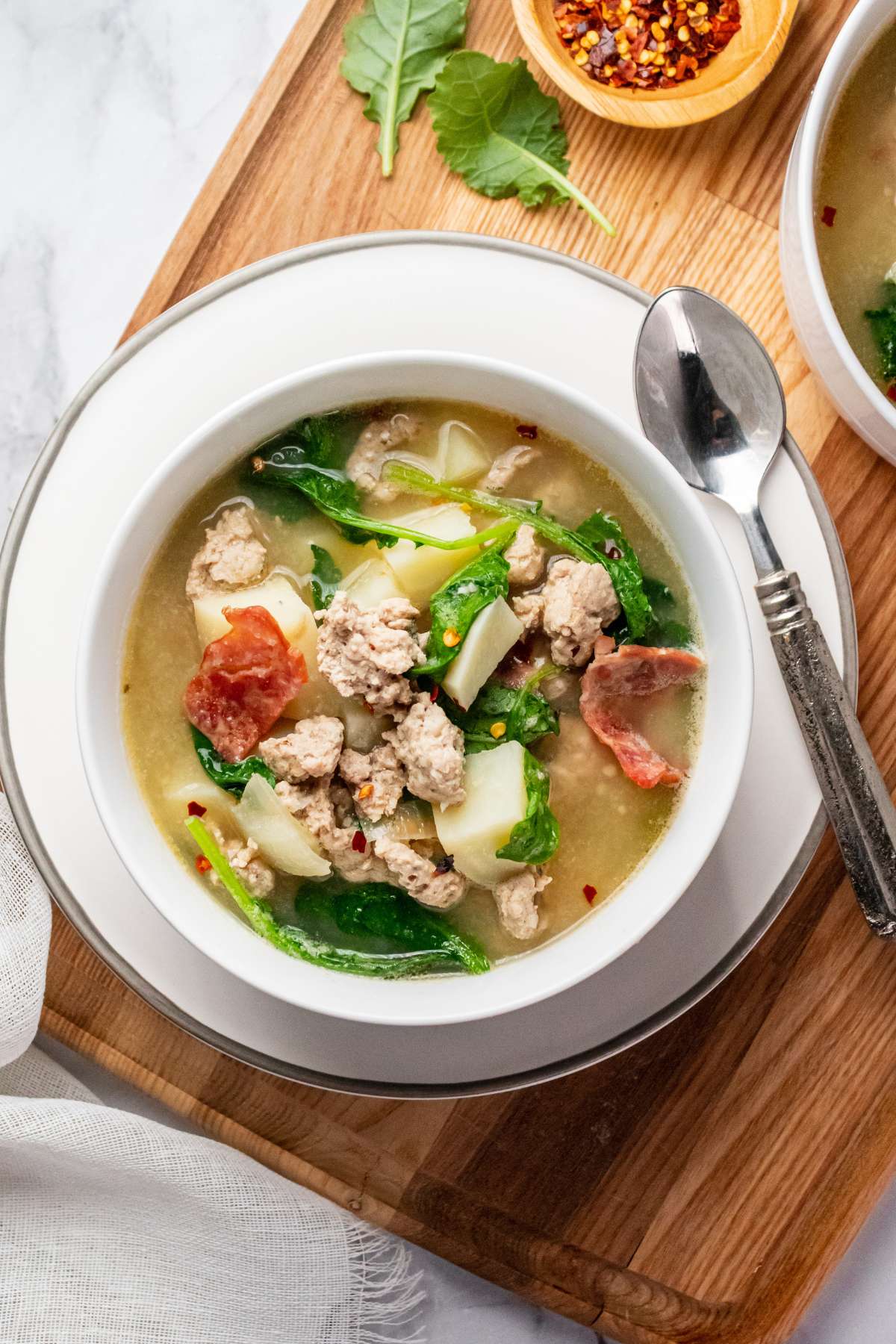 How to make Zuppa Toscana lighter
A few simple swaps make this Zuppa Toscana lighter better balanced than other versions. First, swapping pork sausage and pork bacon for a lighter sausage like chicken or turkey and turkey bacon which reduces the fat and calorie content significantly.
Fat isn't bad by any means and in fact, is a necessary component of a healthy diet for hormone production and brain function. There is also a time and place for adding pork sausage or pork bacon into your diet, but when you're combing a heavy starch like potatoes, you want to keep the fat slightly lower to keep the nutrition balanced. This is really important if weight loss is your goal.
Second, swapping the heavy cream for unsweetened almond milk significantly lightens up the recipe without sacrificing creaminess. If you're allergic to nuts, you could do unsweetened coconut milk (not canned) and if dairy isn't a problem for you, a low fat milk or buttermilk would be options too.
Last, this healthy Zuppa Toscana recipe also adds a lot of kale to up the veggie content. Always add those greens! They're naturally low calorie and make a recipe much more filling.
How to make Skinny Zuppa Toscana
Start by adding the onion to a nonstick pot and brining to a medium heat. If it's sticking add a little avocado oil spray. Once the onions are translucent, add the garlic, red pepper flakes and chicken sausage.
Use a wooden spoon to break up the chicken sausage as it cooks. When it's cooked, add the potatoes and broth then bring to a boil. Cover and reduce to a simmer for 25 minutes. While the soup cooks, cook the turkey bacon according to the package instructions. Roughly chop the bacon into one inch pieces and set aside.
Check to see the potatoes are cooked. Once they're cooked, stir in the milk and kale. Let it simmer a few minutes until the kale is wilted. Serve a heaping bowl and enjoy!
Skinny Zuppa Toscana
Skinny Zuppa Toscana! This lightened up twist is made with lightened up ingredients and insanely delicious! Creamy, savory and well balanced for a yummy winter meal. Gluten Free + Low Calorie + Paleo
Prep Time 15 minutes
Cook Time 35 minutes
Total Time 50 minutes
Servings 5 servings
Calories 326 kcal
Instructions
Heat a large pot to medium heat and add the onion. Cook 2-3 minutes until transclucent. Add the garlic, red pepper flakes and chicken sausage.

Break up the chicken sausage with a wooden spoon and stir occassionally until cooked through about 5 minutes.

Add the potatoes (add salt and pepper if using ground chicken or turkey) and broth. Bring the pot to a boil then reduce to a low simmer, cover and cook 25 minutes.

While the potatoes cook, cook the turkey bacon slices according to package instructions. Slice into 1-inch pieces and set aside on a plate.

Once the potatoes are soft, stir in the milk, kale and bacon. Serve immediately!

Keep soup in the refrigerator up to 7 days or in the freezer up to 60 days.
Recipe Notes
Depending on the size of your potatoes, you may need more liquid. You can either add more broth or add filtered water. 
My Amazon shop has more products similar to those used for this recipe and that I recommend to my nutrition clients.
Course Dinner, Lunch
Cuisine American
Keyword dairy free, gluten free, healthy, lightened up, low calorie, low fat, Olive Garden, Paleo, skinny, soup, toscana, zuppa
Nutrition facts per serving (1serving)
Calories 326 kcal
Fat 16 g
Saturated Fat 3 g
Cholesterol 70 mg
Sodium 1945 mg
Potassium 598 mg
Carbohydrates 31 g
Fiber 3 g
Sugar 7 g
Protein 20 g
Vitamin A 17515 %
Vitamin C 70 %
Calcium 174 %
Iron 2 %
Meal Plans
Get a meal plan designed to meet your weight loss goals.
Learn More
What I Used For The Recipe