This post contains affiliate links. As an Amazon associate I earn qualifying purchases. Click here for more about this policy.
Blueberry Chickpea Donuts are baked for a healthier donut that is low calorie, low in sugar, naturally gluten free and delicious! No one will ever guess these donuts are made with chickpeas! Gluten free + Low Calorie + Vegan option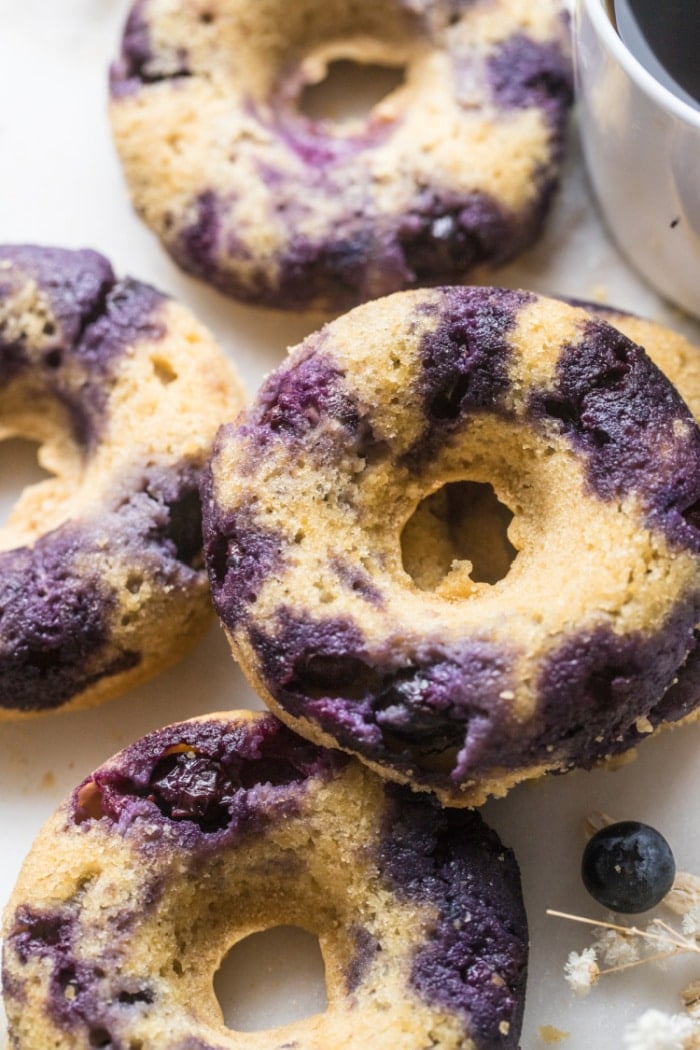 You are lucky today because I have an awesome healthy treat for you! Healthy Blueberry Chickpea Donuts! They're baked in the oven instead of fried and made with oats and chickpeas for a low calorie treat that's packed with the right balance of nutrition and flavor!
My chocolate chip chickpea blondes and chickpea muffins are two of my most popular dessert recipes so I know you will enjoy these as much as you enjoy those goodies! P.S. if you have not tried the chickpea blondes and muffins, you need to do that too!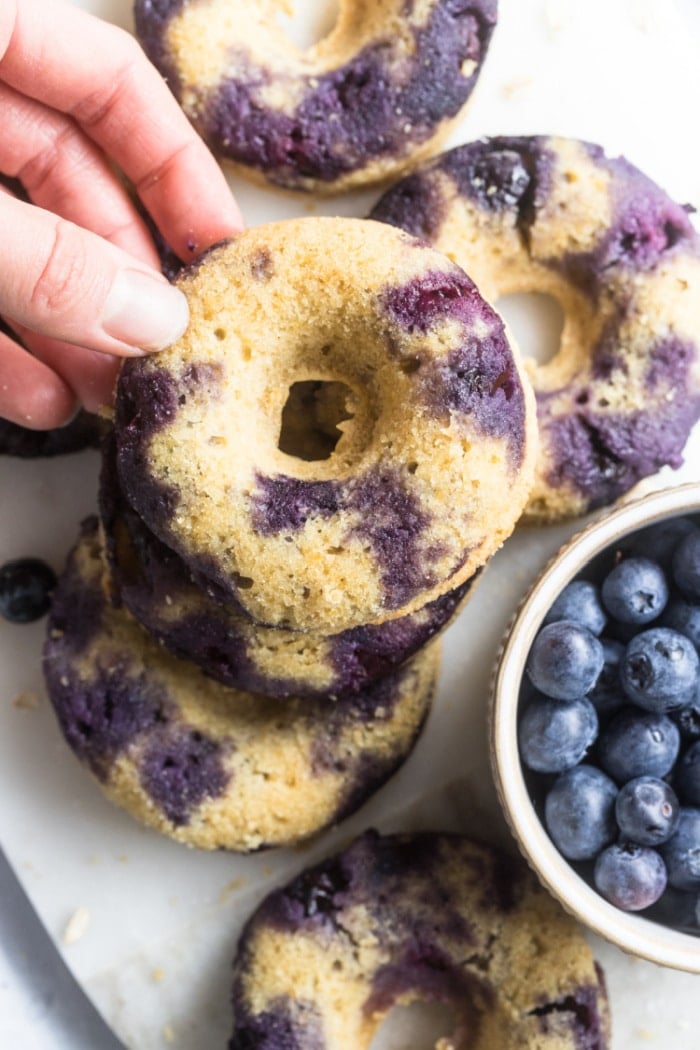 Healthy Chickpea Donuts
Canned chickpeas make the BEST donuts and are incredible for baking healthy desserts and treats. They make your goodies thick and creamy without adding significant calories, not to mention they're a healthy plant-based food packed with nutrition!
Don't worry either. Chickpeas have a very mild flavor so you can pretty much transform them into anything you want. Here's a few more reason why these baked chickpea donuts are healthier for you!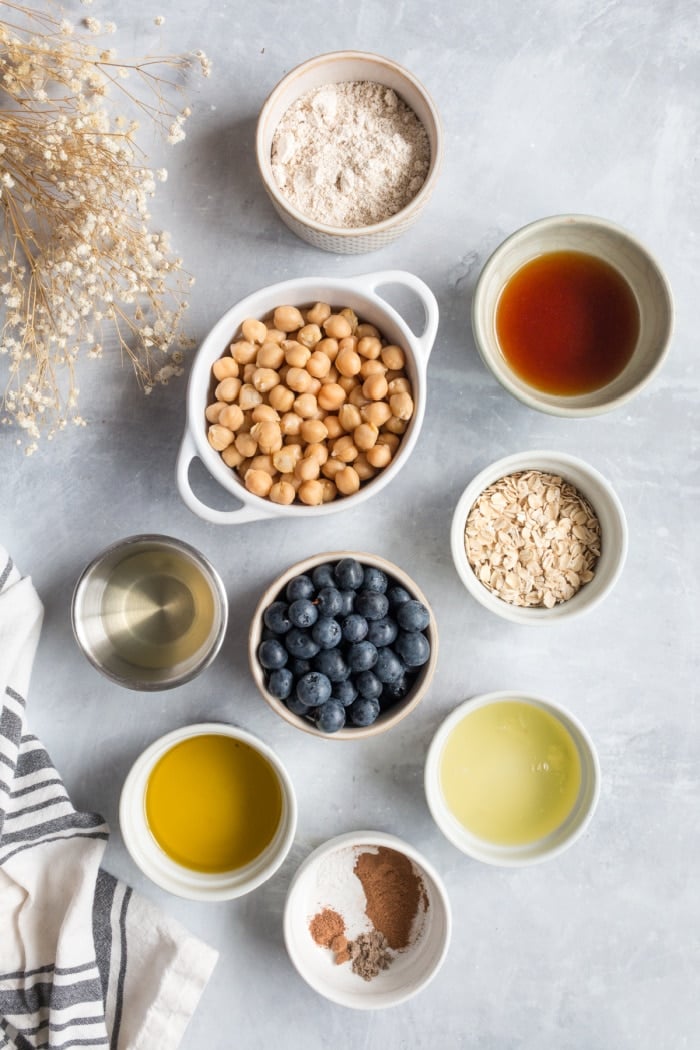 Ingredients for Chickpea Donuts with Blueberries
Here's what you need to make these yummy chickpea donuts with blueberries! You will also need a donut pan (I recommend this one) as well as a food processor or blender.
Chickpeas, canned
Blueberries, frozen
Gluten Free Oats
Baking Powder
Maple Syrup
Egg Whites
Apple Cider Vinegar
Nutmeg, Cinnamon, Cardamom, Salt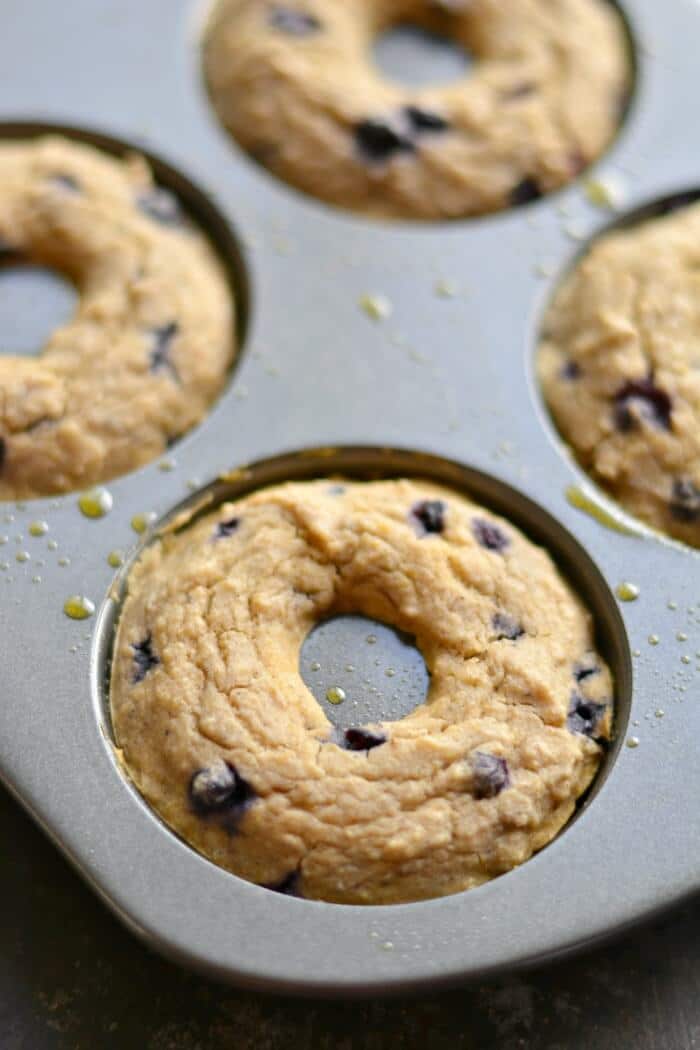 How To Make Chickpea Donuts Baked in the Oven
You won't believe how easy it is to make donuts with canned chickpeas! To get started, preheat the oven and prepare your donut pan by lightly spraying with cooking spray. I have this bottle that I refill with olive oil so I never have to buy cooking spray.
Next add the ingredients except the blueberries to a blender or food processor and blend until smooth. You may need to scrape the sides down a few times and repeat blending. Stir the blueberries in by hand then bake.
When you remove them from the oven, allow it to cool in the pan a few minutes before GENTLY turning the donut pan over a wire baking rack to remove. Cool the donuts completely on the wire baking rack before enjoying!
I didn't glaze the donuts, but if you would like to glaze your donuts then I recommend using this cinnamon glaze. It goes well with everything!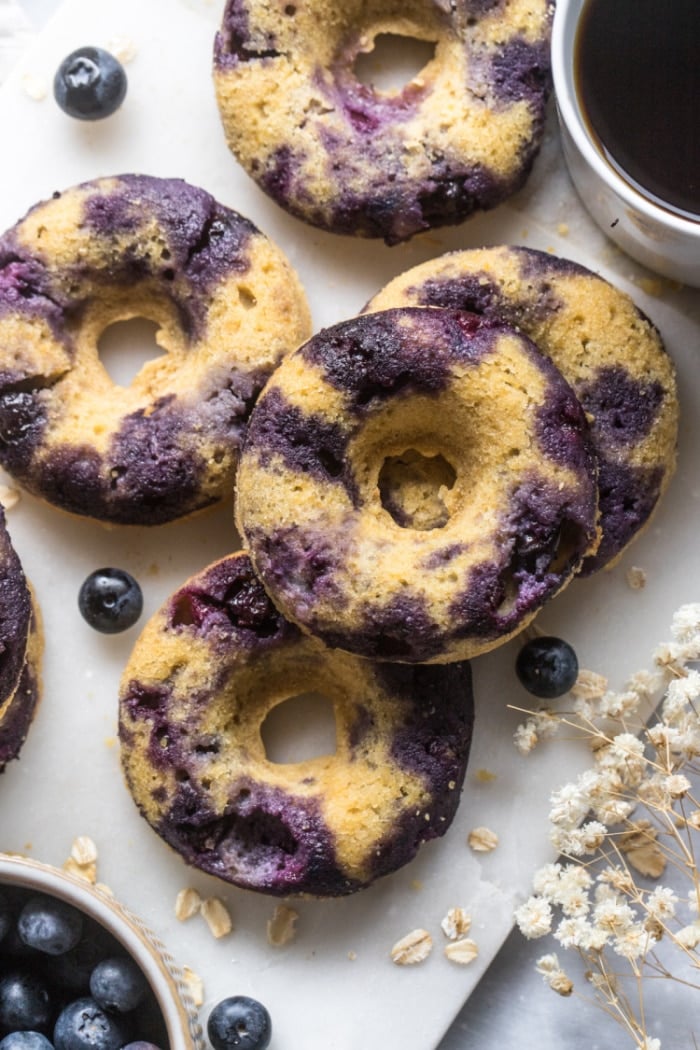 How Do You Store Healthy Donuts
When baking donuts at home in the oven, whether it's this recipe or another recipe, you will want to store them in the refrigerator or they will go bad quickly. These cannot sit out at room temperature like fried donuts can. I have not tried freezing these donuts; however, I suspect they could be frozen. I recommend no longer than 30 days. To enjoy, remove from the oven and place in the refrigerator the night before to thaw.
Substitutions For Healthy Donuts Made With Chickpeas
Here are the substitutions I recommend for this chickpea donut recipe. As always, remember that when you do substitute, omit or change something that it does change the nutrition values you see in the recipe card below.
Chickpeas - Garbanzo flour cannot be substituted for the chickpeas and I would not recommend garbanzo flour as it has a stinky taste. You can, however, replace the garbanzo beans in this recipe with another legume like white or great northern beans would work well.
Oats / Oat Flour - I have not tested other flours with this recipe so I cannot guarantee they will work. I do know coconut flour will not work as it can never be replaced in recipes one to one.
Blueberries - You can use frozen or fresh blueberries for this recipe. I recommend using frozen if possible. You can also substitute another berry in place of the blueberries.
Maple Syrup - I do not recommend substituting with brown sugar, coconut sugar etc. This recipe does need the liquid to hold the flours and chickpeas together. If you want a lower calorie sugar substitute, I recommend a maple syrup made with monkfruit like this one.
Egg Whites - You can substitute 1 whole egg for the 2 egg whites, but keep in mind that this approach will reduce the protein content and increase the calories. For a vegan option, you can replace the egg whites with 2 flax eggs (2 tablespoons of flaxmeal mixed with 6 tablespoons of water).
Extra Virgin Olive Oil - Avocado oil or coconut oil are the substitutes I recommend.
Spices - Cinnamon is really the only spicy required for this recipe. I find the nutmeg and cardamom make the flavor extra special.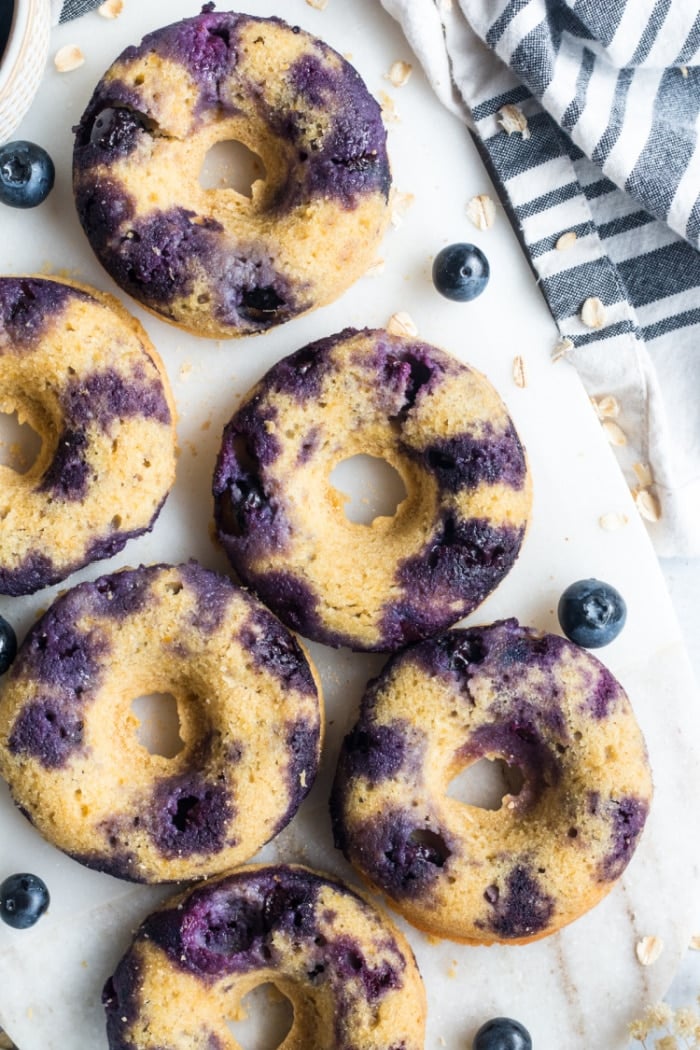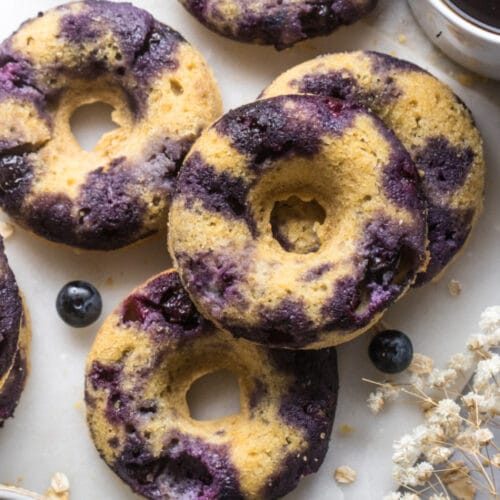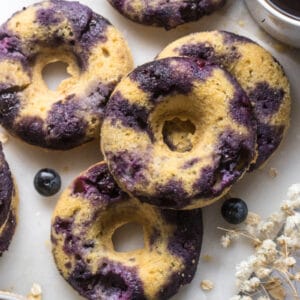 Blueberry Chickpea Donuts
Blueberry Chickpea Donuts are backed for a healthier donut that is low calorie, low in sugar, naturally gluten free and delicious! No one will ever guess these donuts are made with chickpeas! Gluten free + Low Calorie + Vegan option.
Instructions
To a blender or food processor, add all ingredients layering the dry ingredients first, then the chickpeas, then the liquid.

Blend on high until a smooth batter appears. Add blueberries to blender and fold by hand. Fill the donut cavities with the batter, filling until flush.

Bake 12-13 minutes until donuts are slightly browned around the edges. Remove from the oven and cool 2-3 minutes before flipping the donut tin upside down onto a cooking rack. The donuts should easily slide out. Cool donuts another 15 minutes on the wire rack prior to enjoying.

Keep donuts in refrigerator to maintain freshness up to 7 days.
Nutrition
Serving: 1donutCalories: 120kcalCarbohydrates: 23.5gProtein: 4.7gFat: 1.2gSodium: 68.7mgFiber: 3.8gSugar: 7.4g
What I Used For The Recipe