This post contains affiliate links. As an Amazon associate I earn qualifying purchases. Click here for more about this policy.
Baked Blueberry Chickpea Donuts are low in sugar and big on flavor! The creamiest donuts you'll ever make, and no one will ever guess their made with chickpeas! A yummy high protein, complex carb breakfast or treat. Gluten free + Low Calorie + Vegan option
I swear, the best ideas come to me when I workout. I always figure out the answers to my biggest problems, what to do when something's nagging me and the best recipe ideas pop into my head like meteorites.
I don't know what it is about working out but somehow, it clears the tangled web in my head long enough for everything to makes sense.
I honestly have no idea how I ever got through life without working out. I must have been an indecisive cluster. Oh yes, I was.
This is one of many reasons why I can't stand it when a doctor tells me I can't workout. My brain can't function without it. Good thing my upcoming hip surgery requires walking as recovery as in the same day you start and the day after you start PT.
This is good because I'm only one injury away from the looney bin. In case you're new, I'm not nuts I've just had a lot of injuries.
Anyway you guys are lucky today because I have an awesome healthy treat for you. Baked Blueberry Chickpea Donuts! And these donuts are ones that magically appeared in my head while working out.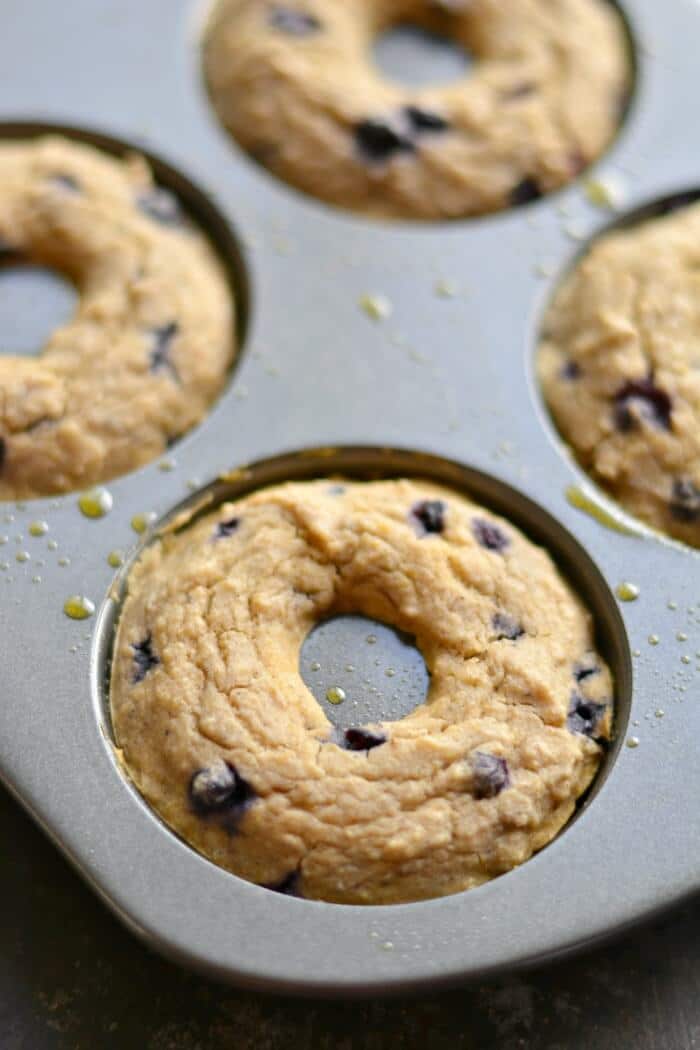 After they came to me, I kept obsessing over whether the idea would work. I came home and made them right away. I was sure they would work because last year I made chocolate chip chickpea blondes and chickpea muffins and they turned out amazing.
Blueberry Chickpea Donuts
Chickpeas make a great base for baked goods. It's thick and creamy, yet is has a very mild flavor so you can pretty much transform them into anything you want.
With all my food allergies, I'm surprised how well I tolerate them. In fact, they're one of the few beans I can tolerate. Others make my stomach go WHOA, but not chickpeas.
Aside from texture and flavor, chickpeas have an awesome nutritional profile. One cup of chickpeas has 15 grams of protein, 12.5 grams of fiber (half the daily requirement), and is a great source of folate and manganese.
Folate is important for brain cell communication and protecting against cell mutations that happens with cancer. Manganese is good for wound healing and keeping bones strong.
That said, these Blueberry Chickpea Donuts make an awesome nutrient-dense breakfast or treat. High protein and fiber, good complex carbs and antioxidants from blueberries.
I know that's a lot of corny nutrition, but I think it's important for you to know why I put certain foods in recipes. This also helps me prepare for my board exam next year. 🙂
Nutrition aside, you are gonna love these Blueberry Chickpea Donuts! They're thick, creamy and melt-in-your-mouth. A donut you can definitely feel good about eating!
A couple notes on the recipe.
I do not recommend swapping canned chickpeas for garbanzo bean flour. I'm not a fan of garbanzo bean flour. No matter what you do to it, it tastes bean-y which is why I avoid it in my recipes.
If you can tolerate it, feel free to experiment. Otherwise to be on the safe side, use canned garbanzo beans. It makes a big difference! Everything's going in the blender anyway so you're not saving time with the flour.
To sweeten the donuts, I used a small amount of maple syrup and that was plenty for me.
Since everyone has a different sugar tolerance, I recommend you test the batter after blending to decide if you want to add more. You can always add more, but once it's there it's there. See the recipe notes for further instructions.
I also didn't glaze the donuts. Instead, I dusted them with a small bit of powdered sugar. If you want to fancy them up, I recommend using this cinnamon glaze. It goes well with everything!
With that peeps, I leave you to working out and making delectable Blueberry Chickpea Donuts! I wonder what recipe will come to me next???
Blueberry Chickpea Donuts
Baked Blueberry Chickpea Donuts are low in sugar & big on flavor! The creamiest donuts you'll ever make, and no one will ever guess their made with chickpeas! A yummy high protein, complex carb breakfast or treat. Gluten free + Low Calorie + Vegan option.
Prep Time 10 minutes
Cook Time 13 minutes
Total Time 23 minutes
Servings 9 donuts
Calories 120 kcal
Instructions
To a blender or food processor, add all ingredients layering the dry ingredients first, then the chickpeas, then the liquid.

Blend on high until a smooth batter appears. Add blueberries to blender and fold by hand.

Fill the donut cavities with the batter, filling until flush.

Bake at 12-13 minutes until donuts have set.

Remove from the oven and cool 2-3 minutes before flipping the donut tin upside down onto a cooking rack. The donuts should easily slide out. Cool donuts another 15 minutes on the wire rack prior to enjoying.

Keep donuts in refrigerator to maintain freshness up to 7 days.
Recipe Notes
*Any flour will work in this recipe including coconut flour. If you use coconut flour, omit the oats and add 1/4 cup tapioca flour instead.
**I do not like things too sweet. Test the batter and if you would like it sweeter, you can add up to 1/2 cup maple syrup total.
***For Vegan, swap the eggs with 2 flax eggs. 2 tbsp flax + 6 tbsp water
***I did not add anything to the top of the donuts, but if you want to fancy them up, you can use the cinnamon glaze from this recipe.
I do not recommend using chickpea flour for this recipe. It has a very different flavor than canned chickpeas.
My Amazon shop has more products similar to those used for this recipe and that I recommend to my nutrition clients.
Course Breakfast
Cuisine American
Keyword blueberry, chickpea, dairy free, donut, gluten free, healthy, lighter, low calorie, oat flour, vegan
Nutrition facts per serving (1donut)
Calories 120 kcal
Fat 1.2 g
Saturated Fat 0 g
Cholesterol 0 mg
Sodium 68.7 mg
Potassium 0 mg
Carbohydrates 23.5 g
Fiber 3.8 g
Sugar 7.4 g
Protein 4.7 g
Vitamin A 0 %
Vitamin C 0 %
Calcium 0 %
Iron 0 %
What I Used For The Recipe