Healthy Stuffed Acorn Squash is low calorie, gluten free and delicious. A simple, healthy dinner packed with flavor that's filling, better balanced in nutrition and has fewer calories! Low Calorie + Gluten Free + Paleo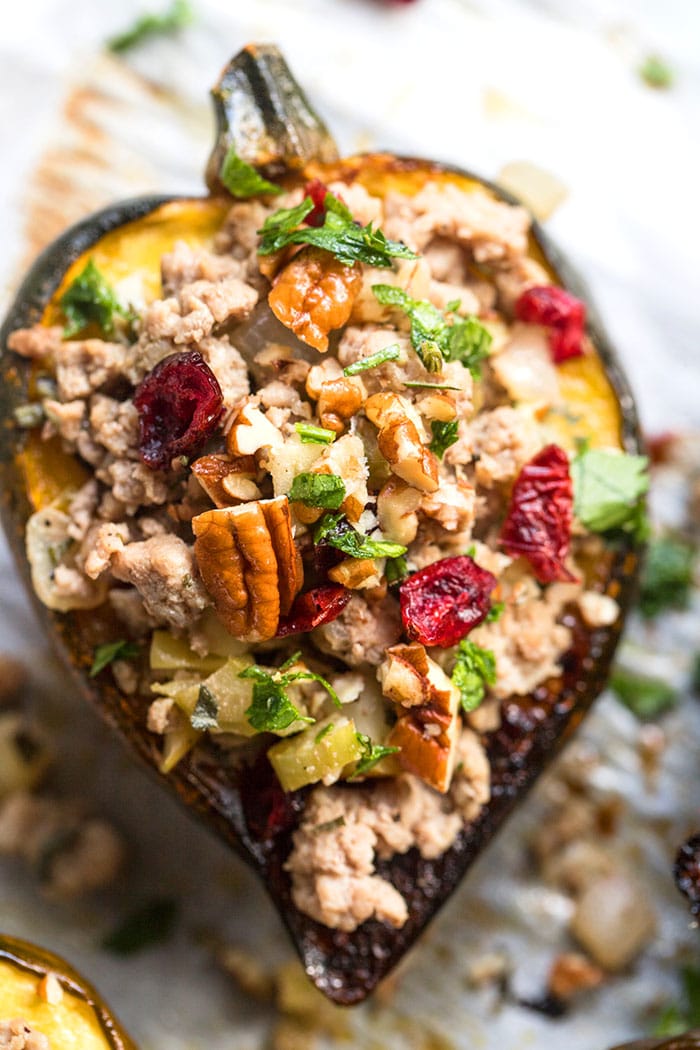 If you're ready for cozy, fall eating then look no further! This yummy turkey stuffed acorn squash recipe is perfect for cold weather dinner.
If you've never made stuffed squash before, you're in for nature's candy treat! They're super easy to make, a great way to eat on a budget and in season.
Some of my most popular recipes on this website are squash! My Spaghetti Squash Pizza Boats, Spaghetti Squash Lasagna and Buffalo Chicken Spaghetti Squash are very popular and my personal favorites too!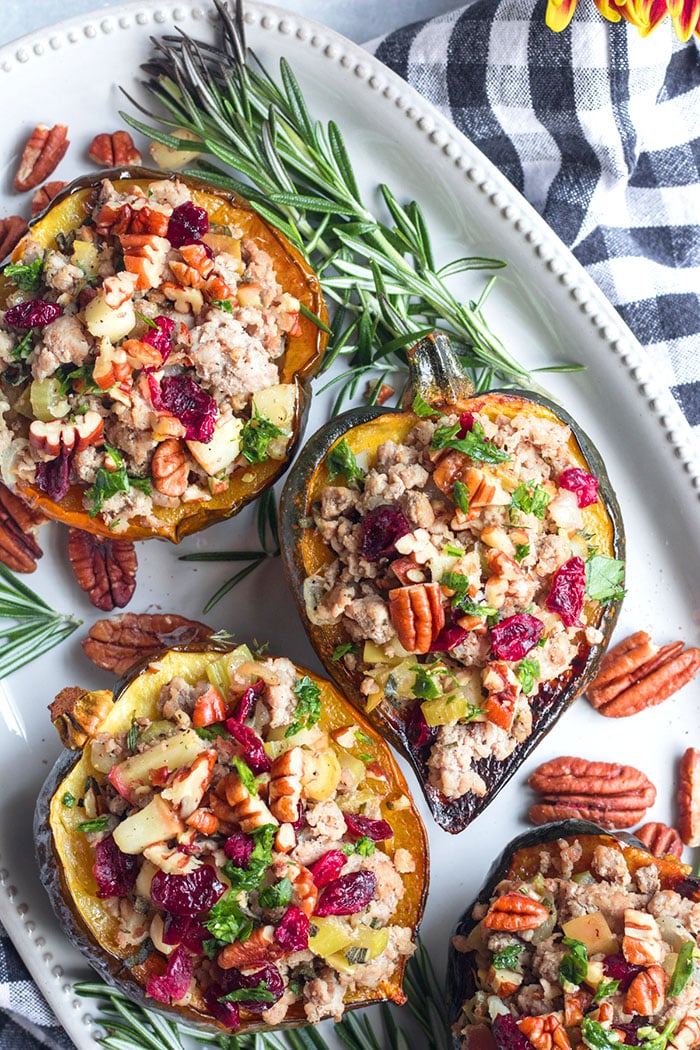 Healthy Turkey Stuffed Acorn Squash
Perfectly roasted acorn squash packed with leaner protein combined with produce and seasonings makes for a perfect sweet and savory meal! It's also low calorie, gluten free, Paleo and ready in 30 minutes. Here's a few more reasons why this recipe is nutritionally better for you!
Low Calorie - This recipe is 391 calories per serving and the serving is HUGE! Compared to other squash recipes that use higher calorie meats and full sugar dried cranberries, this one is more mindful of the calories making the nutrition better balanced for you.
Lower Fat - This stuffed acorn squash recipe uses turkey sausage which is leaner than pork sausage. This simple swap reduces the fat and calories.
Higher Protein - Each serving is 24 grams of protein. Using turkey sausage instead of pork, makes the protein higher while keeping the fat lower.
High Fiber - 6 grams of fiber per serving. That great fiber is coming from the squash and produce in the filling! I talk about the importance of eating more fiber for hormones and weight loss in this free class.
Paleo - This recipe is dairy free and gluten free.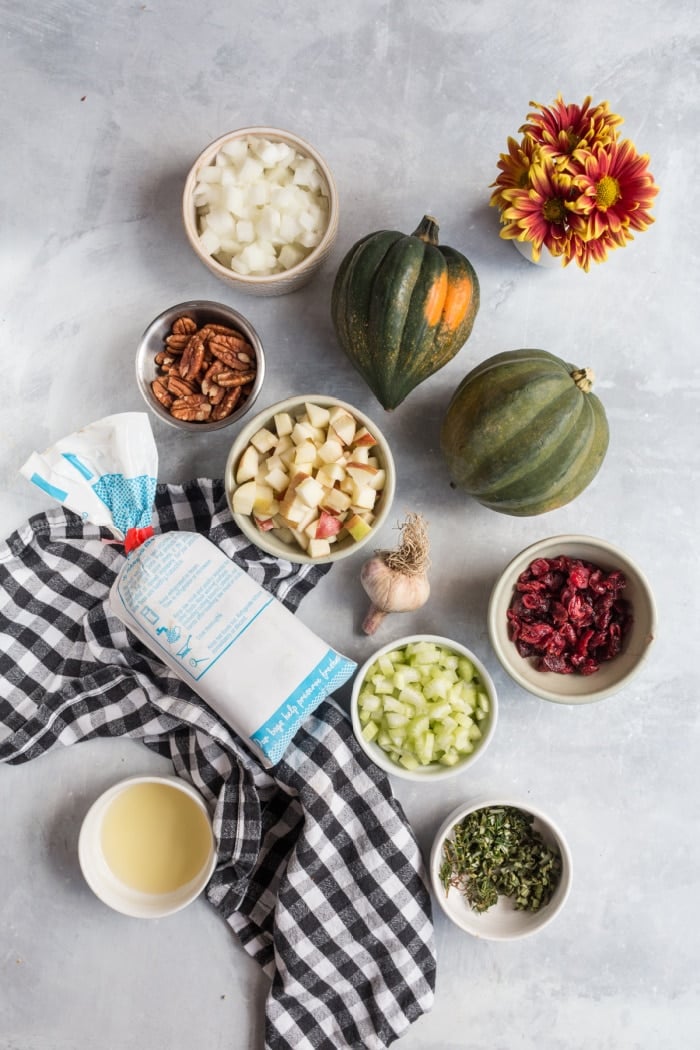 Ingredients For Healthy Stuffed Acorn Squash
Here's what you need to make this low-calorie stuffed acorn squash recipe with turkey sausage! You will also need a large mixing bowl and baking sheet.
Acorn Squash
Turkey Sausage
Apple (any variety)
Onion
Celery
Garlic
Rosemary
Olive Oil
Dried Cranberries, low sugar
Pecans
Salt, Pepper
Parsley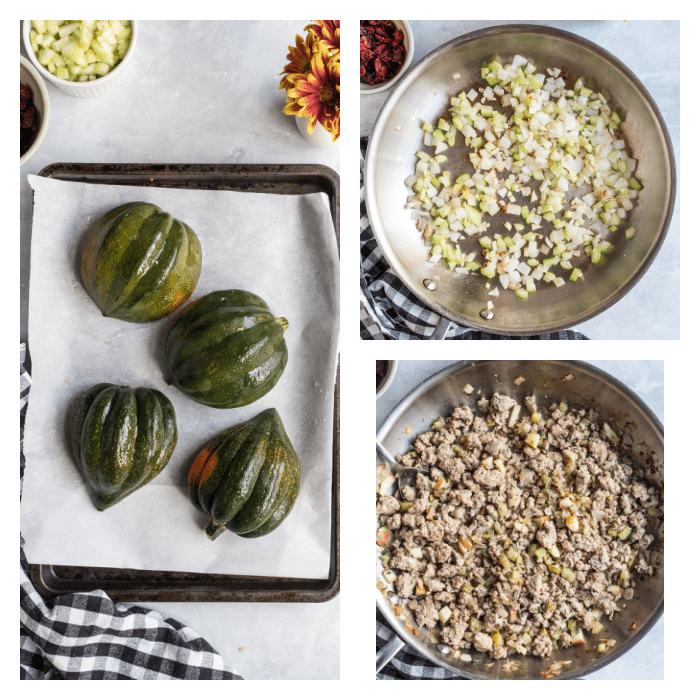 How To Make Stuffed Acorn Squash with Turkey
Stuffed acorn squash is really easy to make! I find many of my clients are intimidated by cutting squash and avoid making it. But no need to fear, it's actually quite easy!
The first step is cutting the squash in half by slicing from the stem directly down the middle to the pointed bottom. Once the squash is cut in half, use a spoon to scoop out the seeds and discard them. Remove any strings.
Next roast the squash in the oven on a baking sheet about 30 minutes, or until the squash is fork tender.
While the squash roasts, prepare the turkey filling on the stovetop then fill each acorn squash boat with the filling evenly after the squash has been roasted and removed from the oven. Top with cranberries, pecans and parsley and serve warm!
Stuffed acorn squash can be refrigerated up to 3 days in a container. I do not recommend freezing it as the acorn squash will get mushy. As a note, you can prep the filling ahead of time then later roast the acorn squash, warm the filling and fill too. This makes weeknight eating a bit easier!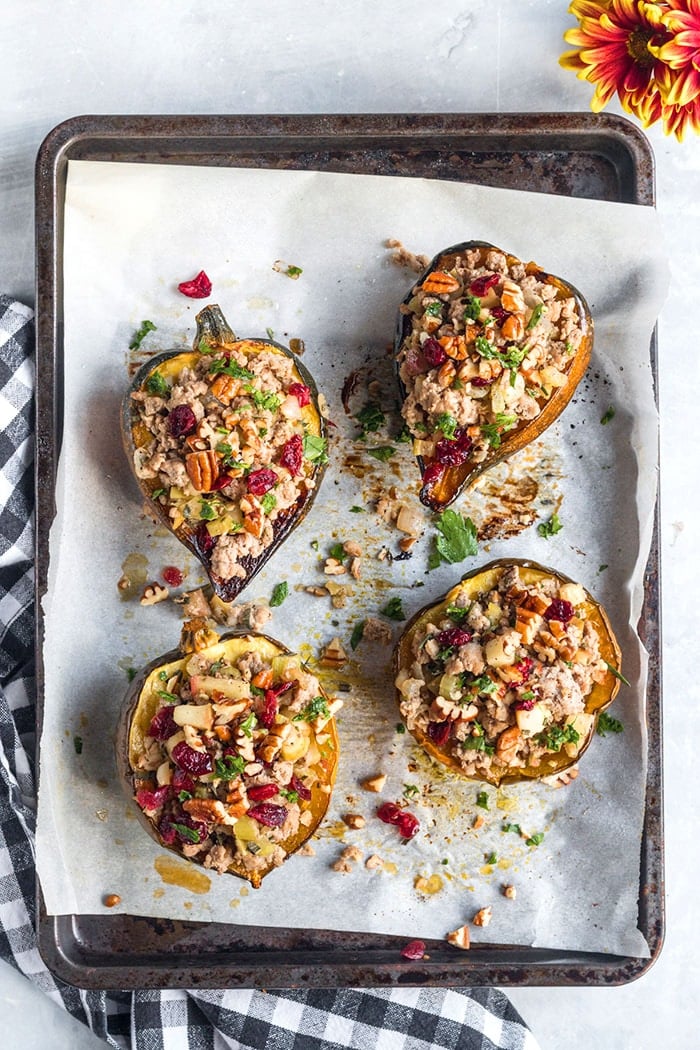 What Does Acorn Squash Taste Like
Acorn squash tastes similar to butternut squash. It's slightly sweet and has a soft texture. The skin of acorn squash is edible. It's tough and has a waxy feel like cucumber. I prefer not to eat the skin of acorn squash, but it's totally up to you!
Ingredient Substitutions For Stuffed Acorn Squash
Here are the substitutions you can make for this recipe! Remember when you substitute an ingredient, it does change the nutrition data that you see in the recipe card below.
For the full recipe ingredients and instructions, scroll to the bottom of the post!
Turkey Sausage - Ground turkey, ground chicken, ground pork, lean ground beef and pork sausage could be subbed. For a vegetarian and vegan option, beyond meat ground "meat" would be a good substitute or tempeh or tofu.
Acorn Squash - I recommend spaghetti squash instead.
Celery - Leek and fennel are options for substituting celery.
Onion - Shallot or scallions are good substitutions.
Dried Cranberries - You can use whole cranberries if they are available where you are and cook them with the turkey stuffing in the skillet. I always recommend low sugar dried cranberries.
Pecans - These can be omitted or swiped with walnuts, almonds, cashews or another nut or seed you enjoy.
Rosemary - Thyme or sage may be subbed.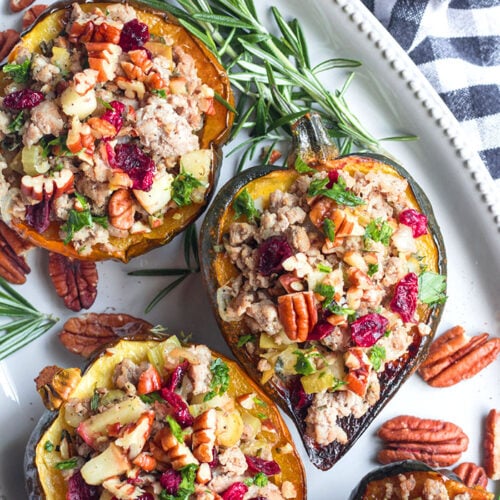 Healthy Stuffed Acorn Squash
Healthy Stuffed Acorn Squash is low calorie, gluten free and delicious. A simple, healthy dinner packed with flavor that's filling, better balanced in nutrition and has fewer calories!
Ingredients
2 small Acorn Squash
1 tablespoon Extra Virgin Olive Oil
1 lb Turkey Sausage
1 Apple diced with skin on
2/3 cup White Onion diced
1/2 cup Celery diced
2 cloves Garlic minced
1 tablespoon Rosemary dried
1/4 cup Dried Cranberries Low Sugar
2 tablespoons Pecans chopped
Salt and Pepper to taste
Parsley for garnish
Instructions
Preheat over to 425 F. Prepare a baking sheet with parchment paper. Slice the acorn squash in half, scoop out the seeds leaving a dip or bowl in the center for the filling. Spray with cooking spray and sprinkle with salt and pepper. Place flesh side down on the baking sheet and roast 30 minutes.

Heat a large skillet over medium heat. Add the extra virgin olive oil, onions, celery and garlic. Cook 3-4 minutes then add the sausage. Break it up with a wooden spoon while it cooks. 

Add the sliced apple with seasonings. Cook another 3-4 minutes until the apples soften.

Remove the squash from the oven once it is cooked. Add the sausage filling to each squash, dividing it evenly among each one. Top with cranberries, pecans and garnish with sliced parsley before serving.

Store leftovers in the refrigerator in a container up to 3 days. Reheat in the oven at 350 F for 8-10 minutes.
Nutrition
Serving: 1servingCalories: 391kcalCarbohydrates: 40gProtein: 24gFat: 17gSaturated Fat: 3gPolyunsaturated Fat: 4gMonounsaturated Fat: 8gTrans Fat: 1gCholesterol: 85mgSodium: 691mgPotassium: 1200mgFiber: 6gSugar: 11gVitamin A: 976IUVitamin C: 32mgCalcium: 120mgIron: 3mg